From data to impact
Fellowship program supports 32 communities to advance understanding and use of data to drive results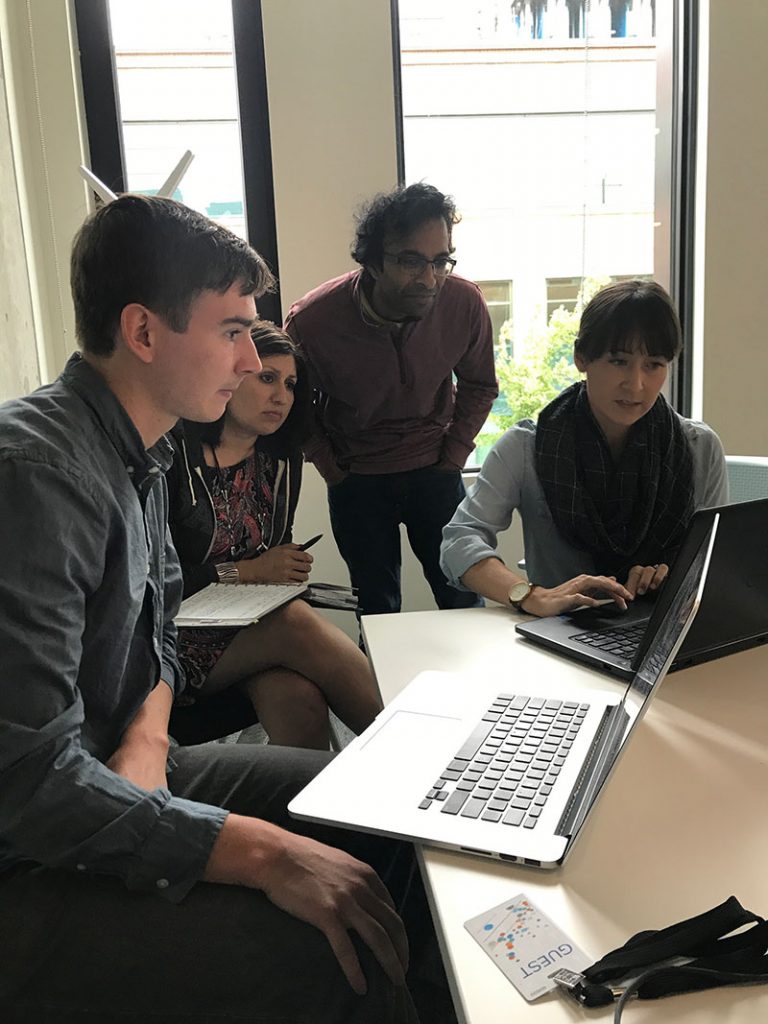 In September 2016, a group of about 100 people gathered at the historic Frank Lloyd Wright-designed Wingspread house in Wind Point, Wisconsin. The event was an opportunity for leaders from surrounding Racine County to hear about the county's progress in creating a "fully capable and employed workforce."
During the event, participants visited computer kiosks to look at interactive graphs and charts showing the latest data on everything from kindergarten readiness and elementary school reading to unemployment rates in the county.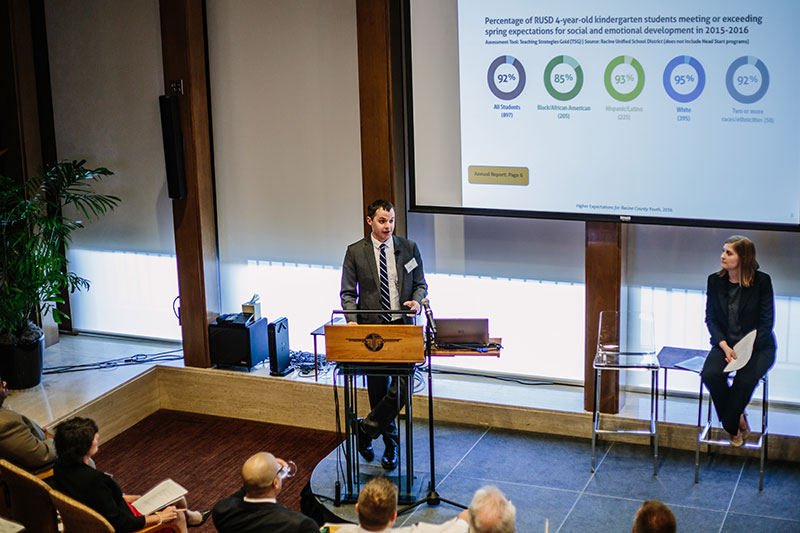 The "data dashboards" were the creation of Matt Snyder, data manager with Higher Expectations for Racine County. Snyder developed the dashboards during a nine-month fellowship program for data managers from across the StriveTogether Cradle to Career Network. The fellowships were offered by StriveTogether in partnership with the Tableau Foundation, the charitable arm of the data visualization company Tableau Software, and with assistance from InterWorks, one of Tableau's training partners. The aim of the fellowship program: to support Snyder and his peers across the Cradle to Career Network to go to the next level in their use and presentation of data to drive better educational outcomes.
"Getting people to act on data is as much of a challenge in the social sector as it is in business," said Jason Schumacher, senior program manager with the Tableau Foundation. "With this initiative, we wanted to help data managers in the StriveTogether Network think bigger about how to operationalize data and get people to use it."
Snyder said the program offered an opportunity to "break the pattern" of how Higher Expectations presents data to its partners and the local community. Using Tableau, Snyder has transformed the organization's data analysis and reporting.
While Higher Expectations used to present static statistics on local trends, now Snyder's dashboards provide up-to-date, customizable snapshots of educational and employment outcomes broken out by geography, demographics and more. Snyder also is using Tableau to gauge the real-time impact of various partner projects — such as a local United Way effort to improve elementary school reading scores with the help of one-on-one tutoring. (See Snyder's interactive map of access to quality childcare across Wisconsin here; and some of his other recent data visualizations here.)
"The fellowship gave me the opportunity to figure out how to do my work in a way where you really advance people's understanding and drive them to better results," he said. Snyder added that his favorite quote from a partner he works with in the community is this: "Matt, I can't believe I'm saying this: You're actually making me like data."
The fellowship takes flight
In 2014, while Tableau was launching its foundation, a series of conversations between the data visualization company and StriveTogether sparked the idea for the fellowship program. Wanting to connect with organizations using data in the social sector, Tableau reached out to StriveTogether at the recommendation of a mutual contact at the Bill and Melinda Gates Foundation.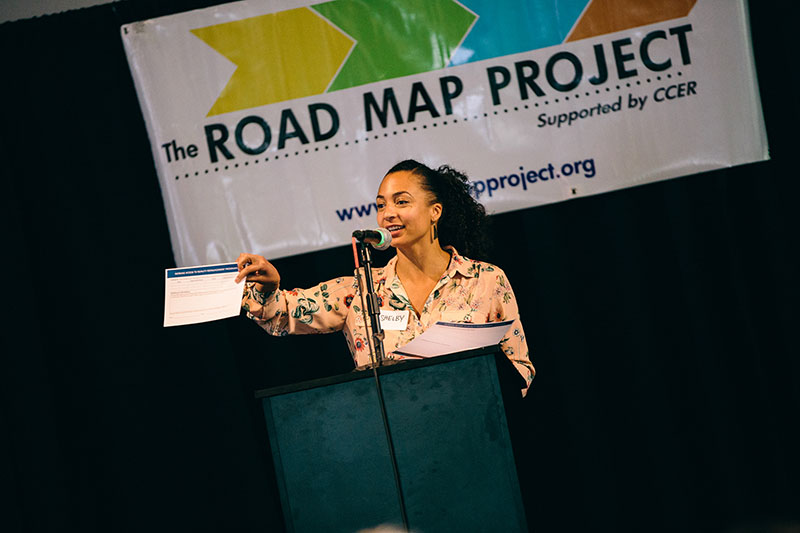 In the first year of the StriveTogether Tableau Fellowship, Geoff Zimmerman, senior director of continuous improvement at Cradle to Career Network member StrivePartnership, helped guide the program's development. At the time, Zimmerman was supporting StriveTogether's efforts to strengthen local partnerships' capacity for data use.
"This was a super interesting idea and it was something we had never tried before," Schumacher said. "The idea was to get a critical mass of people working on a specific set of community issues trained in the ins and outs of data storytelling and visualization, so they could then apply those skills to help their communities make better, smarter decisions."
After a group of Tableau employees overseeing the foundation approved the proposal, StriveTogether and Tableau set to work designing the fellowship program. When the call for applications for the first cohort went out in early 2015, Schumacher said the response was "amazing." StriveTogether and Tableau invited 15 participants to the fellowship's kick-off meeting at StriveTogether's national Cradle to Career Network convening in Minneapolis in October 2015. The Fellows represented communities from Birmingham, Alabama, to Bellevue, Washington, and points in between.
Over the following nine months, the Fellows participated in a range of activities designed to help them use Tableau software as a tool for building a culture of continuous improvement and data-driven decision-making across their community partnerships. In webinars and in-person sessions with Tableau experts, they learned strategies and best practices for data visualization, while sharing current projects with the group for coaching and feedback. Tableau provided software licenses to the Fellows at no cost, as well as a private server where they could upload their visualizations for others to review.
Presenting the data people need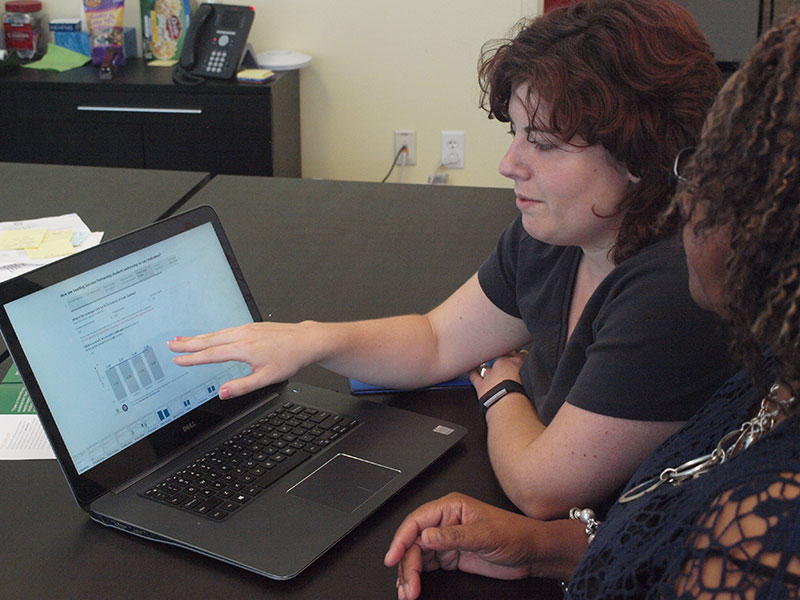 Melissa Perry, lead information manager with StriveTogether Network partnership Seeding Success in Memphis, Tennessee, participated in the fellowship at a time when she was building a database tracking student attendance in the city's K-12 schools. It was designed for use by out-of-school-time community partners, such as afterschool reading programs. Perry's hope was that, with informed consent from parents and guardians, the database would report actionable student absence data to partners.
"The idea was that if partners had information about students in their programs missing school days, then they could ask them what supports they need to get to school and make programmatic changes with their teams to try and increase school attendance," Perry said.
Perry's initial reports to partners — she calls them "customers" — were up to 30 pages long. After people got back to her saying it was too much data and information to go through, she reworked the reports to five pages in length. But Perry found that even five pages was too long for many people. "When you create a PDF document and people have to scroll through it to find the data they want, you can lose them easily," Perry said.
After Perry took a stab at transforming the five-page report into a Tableau dashboard, she brought it to one of the in-person fellowship gatherings for feedback from trainers and peers. She said it was an invaluable experience. "That group really helped me focus on how to present this information in a way that would help people take action," she said. Now, she has created visualizations (see graphic) that her customers are accessing and using to gauge the impact of their programs on attendance and other indicators. (With advice and support from trainers and other StriveTogether Tableau Fellows, Melissa Perry at Seeding Success created data visualizations to help out-of-school-time partners assess the impact of their work on student attendance. See some of her data visualizations here.)
"You start to see people engage with you differently when you give them data they need and can use to improve practice," Perry said. "I am more confident than ever now that we can present data in a way that moves the community to blow past its goals."
'I feel like I have peers now'
The first fellowship cohort ended in June 2016. Because of the positive response of participants and broad interest across the Network, Tableau teamed up with StriveTogether to launch a second cohort with 17 participants from November 2016 through June 2017.
Based on evaluations of the first cohort, the second one included more up-front training in data preparation, or how to gather and consolidate data from disparate sources. The second cohort also placed more emphasis on building and strengthening the community of data practitioners in the StriveTogether Network.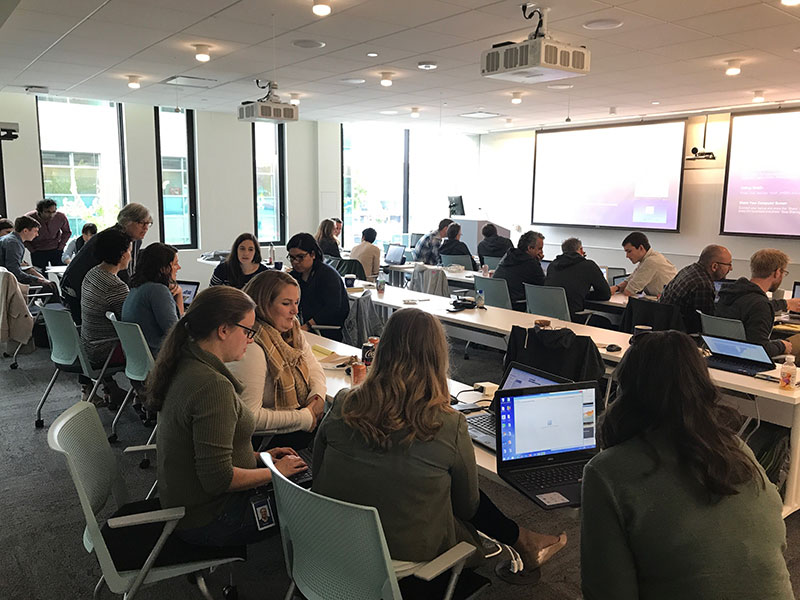 Neither StriveTogether nor Tableau had anticipated such strong bonds to form among program participants, said Bridget Jancarz, StriveTogether's director of network advancement. Two Fellows called the experience the most valuable professional development they ever had, and some members of the first cohort passed the Tableau certification exam after working as a study group together.
"I think early on there was a goal of creating something that would be sticky and viral where Fellows would start transmitting these practices to others," said Steve Schwartz, social impact marketing manager with the Tableau Foundation. "But as we got into it, we realized how much people in this role really valued connecting with each other, and that the network effect of bringing them together was extraordinarily powerful."
The Fellows testify to the value of having an opportunity to connect with others in their same role across the country. "The truth is, this can be kind of an isolating job," said Kelly Jones, data officer with Cradle to Career Network partnership Eastside Pathways in Bellevue, Washington. Jones said her organization staff consists of three full-time people plus a half-time development officer. As the only person responsible for data and research, she is "always asking herself" how Eastside Pathways can do a better job creating data that is relevant and useful for partners and the community.
"It can get frustrating sometimes, and so it was incredibly valuable to be with all these other people who are asking the same questions and to come up with answers together," Jones said.
Jancarz, who is the StriveTogether lead for the fellowship program, said the supportive relationships among Fellows improved their data work because they felt comfortable enough to talk about problems and to give each other honest but constructive feedback. "It's been really awesome to see the Fellows build better data visualizations while building strong relationships with each other," Jancarz said. "And the sounding board they've created with peers across the country stays in place even after the fellowship ends."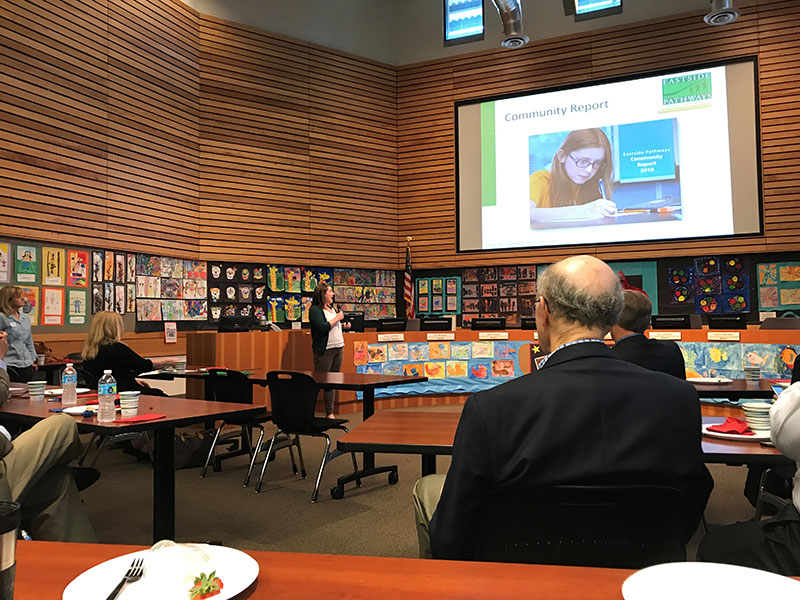 Now, thanks to the fellowship, Jones said she has developed a new set of dashboards for Eastside Pathways' website and annual report that allow users to sort student data on their own according to demographics and other factors. Jones said she borrowed an idea from Snyder at Higher Expectations about how to embed the dashboards seamlessly into the website for a smoother user experience. Another Fellow who has become a frequent contact for Jones is Shelby Cooley, research scientist with the Road Map Project in nearby Seattle.
"I think sometimes we all forget how valuable it is to have that network of people we can talk to," Jones said. "I feel like I have peers now."
Cooley agreed. "Sifting through technology and data challenges as a group of peers was a real highlight of the fellowship experience," she said. "And now we've all made connections we can draw on for years to come."
Next steps
With the end of the second cohort in June, the fellowship launched by StriveTogether and the Tableau Foundation now has reached 32 communities across the country. Fellows are sharing their data work and lessons with others in webinars and in-person meetings.  Plans are currently in the works to support the Fellows to engage in ongoing networking and collaborative work. In addition, Fellows from both cohorts have been invited to the annual Tableau Software users conference this October in Las Vegas.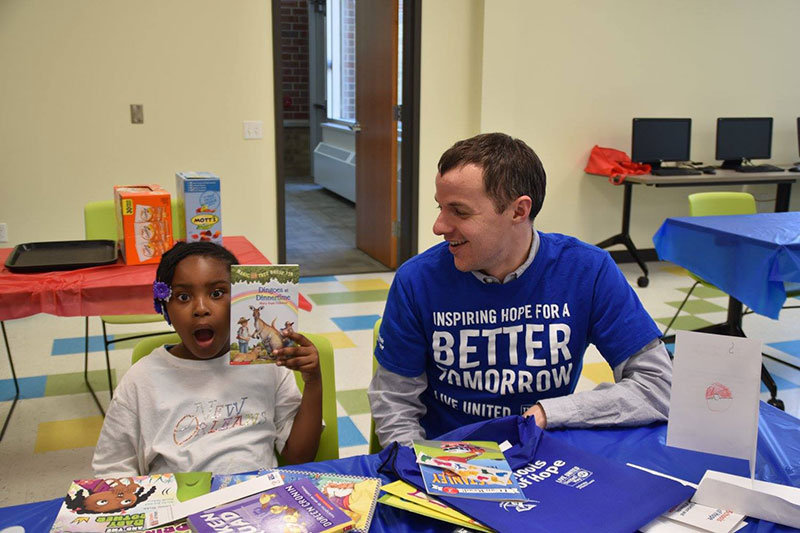 In preconference sessions, the StriveTogether Fellows will gather with data managers working on local issues in affiliation with other national networks, including the Community Technology Alliance (working on homelessness) and Feeding America (working on hunger relief). (Here's more on the Tableau Foundation Data Fellows Program.)
Schumacher said the Tableau Foundation started reaching out to other networks working on urgent community issues shortly after beginning its partnership with StriveTogether. "Teaming up with StriveTogether confirmed for us that there's a real opportunity to bring people together to advance the use of data to improve community outcomes across the board," Schumacher said.
At StriveTogether, the hope is to help other communities in the Cradle to Career Network more effectively visualize data. "These people are passionate about using and sharing data to get better outcomes for kids," Jancarz said. "Through the fellowship, the data managers learned more consistent and compelling ways to visually tell their story to partners and the community as a whole. Now, they can share the best data strategies and practices with the rest of the StriveTogether Network."
Designing a Better Dashboard
As part of the fellowship organized by StriveTogether and the Tableau Foundation, many participants developed dashboards that allow community members to explore critical data in interactive ways. Here are a few samples: