Do you find yourself just doing the work yourself because it will be faster, easier and done the way you want it to?
This was the question that framed Becky Kanis Margiotta, co-founder of The Billions Institute and lunchtime plenary session speaker at StriveTogether's 2016 Cradle to Career Network Convening. While she was quick to assure everyone in the audience that they were "good people" for rolling up their sleeves to do the hard work of collective impact, she also said that we all have the potential to be better when we put responsibility where responsibility belongs.
"This isn't a 'do it yourself' bone," says Kanis Margiotta, speaking of the value of the backbone organization and her own experiences learning to let go of control, learning to say no and discovering the unique strengths and interests of the individuals she worked with when she took a step back and allowed others to step up.
Powerful keynote from Becky Margiotta about how to create a backbone on connection, creativity and collaboration. #RiseUpC2C pic.twitter.com/arbxYMoQau

— ROCtheFuture (@ROCtheFuture) September 21, 2016
According to Kanis Margiotta, the key to success is having a shared aim — and the only way to know if it's truly shared is when you're asking of others what you would ask of yourself. If you've been doing it all, it's not too late. Asking more of your partners offers them the opportunity to recommit to the work, which can be energizing for everyone, and freeing for you. Kanis Margiotta insists that we must learn to let go of the desire for credit. "You must profoundly, madly let go of your own ego," says Kanis Margiotta. "If you want recognition, get a puppy. The best possible media is when you are an afterthought."
Profoundly let go of your own ego. Stop heroing. #RiseUpC2C #BeckyMargiotta

— Allison Titcomb (@AllisonTitcomb) September 21, 2016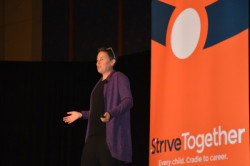 When the people doing the work are the ones in the spotlight, they're that much more encouraged to keep doing what they've been doing, to do more, to do better. When asked how to ensure funding for the work of the backbone organizations when they can't attach their names to the work directly, Kanis Margiotta encouraged attendees to create their own metrics, different from those of their partners, that would still show their value within the community.
The sum of Kanis Margiotta's message was the power of collective impact work to build a collective "us," empowering everyone while moving the needle for all children, from cradle to career.