According to Adriane Johnson-Williams, founding facilitator of the Seeding Success partnership in Memphis, Tenn., the work of collective impact and confronting structural and institutional racism is like a highway.
"All lanes must be maintained," insists Johnson-Williams. "And you need to be able to change lanes when you want to — and not worry about being pulled over because you're somewhere you shouldn't be."
"Everyone should have a right to change their lane." — @AdrianeW901 on racial equity in the classroom. #RiseUpC2C pic.twitter.com/RNWxYaAwze

— Seeding Success (@seedingsuccess1) September 21, 2016
Johnson-Williams was among the opening speaker's for this year's StriveTogether Cradle to Career Network Convening, "Rise Up: Education Excellence for Every Child." She introduced a series of speakers that addressed what it means to truly commit to "every child," including the discomfort that can come with confronting the inherent inequities in education. Zandria Robinson, Ph. D, an assistant professor of sociology and anthropology at Rhodes College, spoke to the notion that institutions "crave stasis." "They're weebles," says Robinson. "They wobble, but they don't fall down." Robinson encouraged attendees to consider that some of the changes pursued in institutions like education won't fix the real problem — that they are designed to reproduce status and maintain income inequality — unless we expose the structural racism inherent in the system.
Lean into discomfort to have conversations necessary to address structural inequities. Yes, Maria Oceja! Listen to ppl who know. #RiseUpC2C

— Lisa Lazarus (@lisaflazarus) September 21, 2016
The data doesn't lie. Wendi Thomas, journalist and editor of MLK50 Memphis, a yearlong reporting project on economic injustice, shared some powerful truths. Among them? It will take 228 years for black families to accumulate the same amount of wealth as white families. According to Thomas, "this problem can't be solved by education because it wasn't created by education."
So what can be done? Maria Oceja of Bridges USA, a Memphis-based youth leadership program, insists it starts with the way we think about the work.
"We need to do this work with opportunity youth, not for opportunity youth," says Oceja. She, along with the other speakers, encouraged attendees to consider creating a space for those directly impacted by structural racism to share their experiences and knowledge. "They're the experts."
#RiseUpC2C @zfelice at @StriveTogether: What we say education does and what education actually does. pic.twitter.com/aW5mWBez5w

— Wendi C. Thomas (@wendi_c_thomas) September 21, 2016
Cordell Orin, executive director of Stand for Children, imagines a Memphis where "power and wealth and privilege are more reflective of current demographics than they are of the history of structural racism in our community." When there are more than 28,000 opportunity youth in Memphis alone — individuals between the ages of 16 and 24 who are neither enrolled in school nor employed — his dream might seem unattainable. But getting the right people at your table, or getting at the table of those whose input and influence are critical to achieve true systems change, is an essential first step.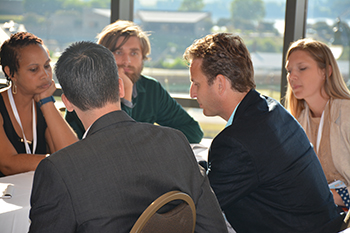 Over the next day and a half, Convening attendees will continue having the conversations that will shape the future of equity in our communities for years to come. For, as Johnson-Williams says, "if we are not actively working to address disparities and their underlying causes, we might as well stop working."