Too often, policy can seem inaccessible to the people in charge of, or affected by, its implementation. That's why, in part, the StriveTogether network has identified four different roles cradle-to-career partnerships can play in policy: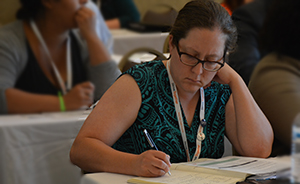 Data expert
Partner convener
Community mobilizer
Advocate
Connecting each of these concepts is one major role: liaison.
I've been thinking a great deal about the importance of being a community liaison as communities learn about the flexibilities and potential opportunities under the new federal education law, the Every Student Succeeds Act (ESSA).
Lillian Pace, senior director of National Policy at KnowledgeWorks, and I facilitated a workshop at the 2016 StriveTogether Cradle to Career Convening, Rise Up: Education Excellence for Every Child, in Memphis, Tennessee, last week. The event explored ways that StriveTogether partnerships can best help communities accelerate the achievement of results from cradle to career. The room was filled with representatives from across the country, all with similar priorities — understanding the new ESSA law, exploring the implications for their partnership and finding opportunities their partnership can take to support the new law's implementation in their community and in their state.
We presented an overview of the law, focusing specifically on accountability measures and the new data states will collect to determine how schools are performing. (For action items that cradle-to-career partnerships can take to support ESSA implementation, read our one-pager.) The new ways in which a state is required to report on school success gives parents, advocates and community stakeholders access to data they may have never had before, and StriveTogether partnerships are in a unique position to help them interpret that data with the right partners to continuously improve efforts to improve child outcomes in their communities.
To get a taste of what this might look like, workshop participants reviewed a draft of the California-proposed school accountability report card, considered how their communities might react if this was the required report card for their school and shared ideas about how states and districts can be more thoughtful in presenting data to the community. There was agreement that focusing on growth and proficiency is a positive step for states, as California anticipates doing. The multi-dimensional focus gives credence to schools that are continuously improving — both high and low performing schools.
Which brings me to the liaison piece. Participants talked about how they can help interpret data for parents and community members, finding bright spots and helping establish next steps and strategies for growth in communities. They discussed the nuances of picking particular measurement indicators, such as parent engagement, and focused on how they might be able to help shape the conversation to focus on what's appropriate for their community.
Finally, participants discussed what ESSA can mean for their stakeholders, including how they want to measure success, how they'd like to give feedback to their state departments of education during this visioning and application process and how they can develop tools for local partners to understand data once it has been reported upon.
Partnerships can play a key role in bridging the gap between policy and implementation, and ESSA is no exception. Being a liaison and convener to help partners understand the new law will help create an even more robust system of continuous improvement and change, strengthening the communities where partnerships reside.
As your community looks at the new ESSA law and explores implications and opportunities of the new law's implementation in your community and state, ask yourself these questions:
Does the way data is presented in the California-proposed school accountability report card work for your community? What do you think about the new areas of focus being shared?
What can you do to help interpret data for parents and community members? What kinds of tools, training, or materials would help parents and advocates use this data to find stronger opportunities for all students?
What does ESSA mean for your stakeholders? How will ESSA impact your work?
How do you want to measure education success in your community and how can you share that feedback with your state department of education?