The seventh annual Cradle to Career Network Convening was an outstanding success! This is due solely to the great work each and every person in the room does to achieve our ambitious vision — supporting the success of every child from cradle to career — and our short-term goal: Establishing five Proof Points by June 2018.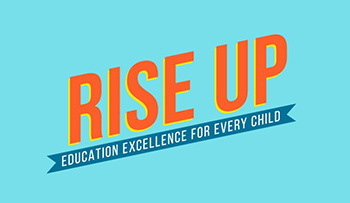 This is so exciting. And there is so much more to do.
Now that we know how to use data on the ground to inform action, we have to RISE UP and make absolutely sure we are identifying the most critical practices to eliminate disparities for every child in each community across the country. In order for all this work to be worth the effort, we must directly address the structural racism that far too often hinders our ability to spread and scale those impactful practices to make sure they are at the fingertips of every child who needs them.
There were three key insights that emerged for me that were captured in some incredibly profound insights from the amazing cadre of presenters. But I wanted to make one general observation about the Network overall: we have successfully made the shift from partners simply talking about working together to partners actually changing how they work every day to improve outcomes. You are no longer talking about getting to action. You are using data to act differently and seeing real and tangible improvements as a results.
We can do it, especially if we internalize the following insights:
"Our ability to understand what the data is telling us is limited by the knowledge we bring to it." — Adriane Johnson-Williams
We are challenged to accept that the typical partners engaged in change and improvement do not have all the answers. We must engage parents and caregivers, students and educators to help us better understand what the data tells us about both the real issues we must address and the real impact for the programs and services we are analyzing. We simply can't interpret data in a vacuum.
"No more heroing." — Becky Margiotta
It feels so good to save the day. It's amazing. I always reflect on the movie Waiting for Superman and the stark realization there simply is not one coming. We have to look in the mirror. And there will be people who put up roadblocks, trying to protect the status quo. These folks who "pee in the pool" tempt us to want to come to the rescue. But our role is to empower others to stand up and confront the challenge and ensure whatever is done is sustained as long as it has impact.
"Whose history do we teach when none of the demographic boxes we ask children to check work anymore?" — Dr. Jim Johnson
We are in the midst of a massive demographic shift. It's more like a tsunami. And if we are not armed with the skills and competencies to navigate this shift, those trying to protect the status quo will be all the more likely to trigger more violence. We need to arm community members with new ways to achieve shared results. We have the ability to do this based on all we have learned by combining results-based leadership, continuous quality improvement, design thinking and an equity lens. What we need to find is how to do this at scale so we embrace the opportunity of this change and all it can mean for our democracy.
As an organization, StriveTogether is committed to maintaining the momentum generated during this event. As we all know, insights must lead to action for true impact. We want to be sure we keep you all as Network members connected with one another to share lessons learned around processes and tools that accelerate the achievement of shared results. Over the next year, you'll see more opportunities to connect with one another and through cohorts.
Here are a few ideas on next steps. We want to amplify your great work. So let us know what you think of these and/or chime in with other ideas:
Find equity impact agents: First and foremost, we need to iterate on our Impact Agent stories a bit: let's find a lift up people changing their behavior to specifically eliminate achievement gaps. Help us find partners who have used data with children, families and practitioners to identify and spread what works for the most vulnerable student. Let's make them rock stars we can all work to emulate. We need to plaster these stories all over the ballroom at the next convening.
Take on structural racism: In the same vein, let us know how you are working to navigate challenging discussions around race, class, and culture in your community to address the root of structural racism that often prevents us from spreading what works and meeting the real needs of our most vulnerable students.   Memphis modeled one way to do it. If you have another, please let us know. We need to make sure everyone can get in the HOV lane on the highway!
Build capability: Finally, we have heard that capability-building is a primary and under resourced need in almost every community. We encourage Network members to take advantage of a few opportunities coming up other than the Accelerator Fund. Your partnership data guru can apply for the second round of the wildly popular Tableau Data Fellowship – the application process will open next week. And in December, you can go to Atlanta to learn the basics of Results Based Leadership that is changing how partnerships tackle the most complex challenges. We plan to announce other options in early 2017, so make sure to read the newsletter for announcements.
And as a quick reminder, starting in January each partnership will have a designated Network Navigator to serve as your StriveTogether liaison to ensure you are able to maximize your Network membership on your journey to Proof Point. And in the interim, you can always head to the Partner Portal to post questions, share and find examples and templates, and find peers that can test your skills and push your thinking.
Thanks again to everyone who joined us in Memphis and for your deep commitment to this work. The time we spent together was both motivating and challenging. It left me with no doubt that we will achieve our short term-goal of establishing five Proof Points by June 2018 and the lessons we learn will catapult the network to establish many, many more soon thereafter.