At the final morning in Memphis, Nancy Zimpher, chancellor of the State University of New York, invited the StriveTogether Cradle to Career Network Convening attendees to stand for the gatherings they had attended as she cycled through the locations of the last seven years. Once everyone was on their feet, she announced, "Welcome to the Network!"
The feeling of community was carried over into the morning's speakers, whose stories of impact ranged from Learn to Earn Dayton's push for kindergarten readiness to Graduate! Tacoma's work to improve high school graduation rates. Everyone was invited to see their own impact in making big changes from the smallest step forward.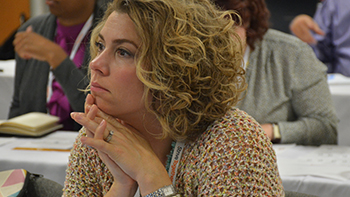 "The data did the work," says Ginger Walker of P16Plus, who shared, along with partnership Executive Director Judy McCormick, the impact of making one small test of change at a single campus.
"From teachers to lunchroom staff, everyone was talking about FAFSA completion," Walker says, highlighting the challenge of college enrollment and persistence among the majority minority population in San Antonio, Texas. A team for the Free Application for Federal Student Aid (FAFSA) gathered monthly to look at data and make changes in real-time to ensure more students were getting the supports they needed. Government and economics faculty were incentivized to encourage and give time for FAFSA completion during the school day, and pep rallies were held to rally students around the importance of submitting their FAFSAs. In just one year, they saw an increase of 10 percent, and the program is taking off. Seven campuses will employ the same methods this coming year.
In Tacoma, Wash., they're seeing tremendous gains as well. High school graduation rates were estimated at 55 percent in 2010, and have risen steadily over the last five years to 82.6 percent in 2015 — above the state average even among schools whose students aren't majority economically disadvantaged, which theirs are. Amanda Scott Thomas, director of Community Partnership, Academic Equity and Achievement at Tacoma Public Schools, insists their successes are due to shared ownership in defining a clear goal.
After digging into the data, the way ahead was clear in Dayton, Ohio, too. Ritika Kurup, director of early learning with Learn to Earn Dayton, explained how upon seeing the correlation between high school graduation rates and kindergarten readiness, the community mobilized around summer learning efforts. After disaggregating summer reading program data, the disparities were clear. Learn to Earn Dayton shared its findings with local libraries, which took the initiative to change their practices to better support the children most in need. A new library card was introduced, one that didn't require a parent signature and didn't accrue late fines. A book drive also was organized to provide books where children need them most: in the home. In 2012, the drive's first year, 8,000 books were distributed. This year? 80,000. Students with the greatest need received a book every week for 10 weeks.
"It was all about getting the right programming for the right kids," says Kurup.
And although every partnership had details to share about how their communities achieved such incredible results, Graduate! Tacoma's Executive Director Eric Wilson insists there's "no silver bullet."
"It's not just one thing, it's 50 things," says Wilson. Each community is different, but many communities share similar challenges, making annual convenings all the more valuable for learning and networking opportunities. For, as Zimpher pointed out, they're an opportunity to reaffirm the value of collective impact work and to "hold hands and work together."