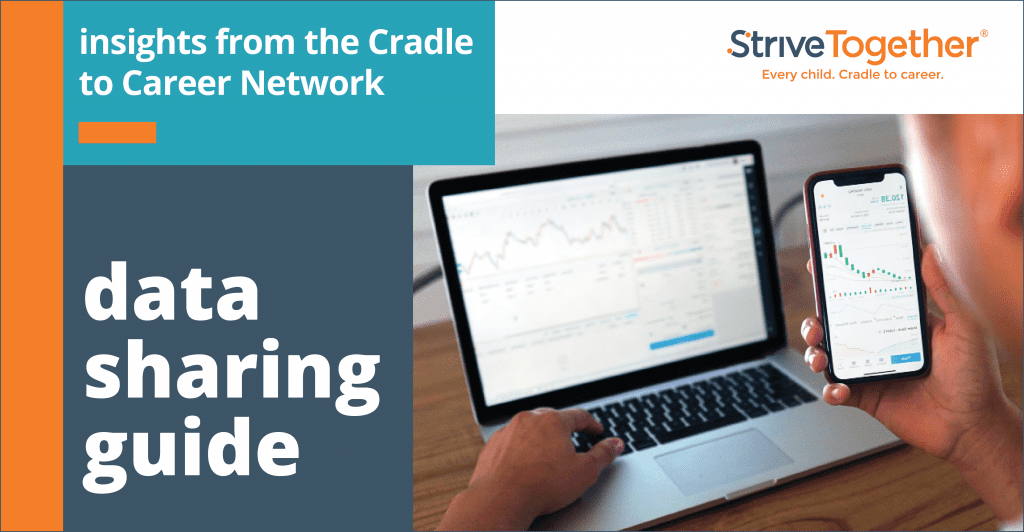 A shared vision for what's possible for every child, cradle to career, is at the heart of our work. The systemic obstacles we're facing are too large for any one entity to tackle on its own — it takes a collective approach to address the underlying challenges youth and families are facing. To be effective, our decisions and strategies must be grounded in data. As partners come together to align their work, it's equally important that they share what data is available to them to identify barriers to equitable outcomes and assess progress toward their common goal.
Data sharing is a central component of place-based partnerships, and we as a network are well-positioned to share what's working and what challenges still exist. With this in mind, we talked to network members and partners around the country to understand and highlight best practices around data sharing across partners and sectors. You can find the full scope of our learnings in the new StriveTogether guide to data sharing, but here are some key insights:
One good question is worth a dozen data points
Always start by understanding your goals so you can ask the right questions. This will provide a clearer focus for getting to the right data. Once you've established the results to get to or research questions to answer, it's important to be thoughtful about what data is actually required to do so. Start by mapping out information that's already available or centralized within your community, either through publicly available datasets or local data hubs. If you need to request it from a partner, start by asking for data that is commonly collected, easily understood and actionable. Former Achieve Brown County Executive Director Spencer Bonnie shares a key lesson: "My advice is to ask for fewer data — bound to a specific research question or short set of questions — over a certain period of time. We learned that less is more."
Data sharing moves at the speed of trust
Developing a baseline of community trust is essential for any kind of data sharing to flourish, and this takes time. Invest time and resources in showing up for your partners early and often. Demonstrate to interested parties how they can benefit from the relationship by sharing examples of what you've been able to do with shared data in the past, and how what you're doing will help them move their work forward. Reassure them that your intentions are to help support youth and families — to use data as a flashlight, not a hammer. Finally, be mindful of how you are concentrating racial equity in your data work. Operate by the principle, "no data about us, without us" to center the voice of youth and families. Consider creating a set of principles or statements that your data work will follow and will help ensure that data products center the experiences and needs of youth and families of color.
Center youth privacy when drafting data sharing agreements
Privacy will be at the forefront of any conversation about sharing data. Sometimes, partners will use existing privacy laws such as the Family Educational Rights and Privacy Act (FERPA) or Health Insurance Portability and Accountability Act (HIPAA) to delay or shut down data-sharing requests. In the guide, we provide guidance on FERPA and highlight other laws to be aware of, along with a list of best practices around how to draft a legal data-sharing agreement. The guide also includes examples of agreements drafted by partnerships for different types of data sharing. One key thing to remember is that you are not alone in this work. If the legal aspect of data sharing gets overwhelming, there are people you can bring in to support this work. For instance, if working with a health system or school district, reach out to their legal counsel for support. You'll want to get them on board early as partners in the work.
Rely on tried-and-true tools for building your technology infrastructure
A lot of work around data sharing has to do with relationships and building trust — but there is also a technical component. Having the right tool or software to collect, store and share data is key to a successful enterprise. The options are many, and in the guide we highlight the different technology solutions partnerships are using. A custom solution may give you all of the features that you need, but may cost more and be less sustainable over time. An existing product will have great functionality and support, but may not fit all of your needs. When picking the right tool, start by clearly outlining your results, what you need to get to them, who will need to interact with the system and what kind of data it will need to support.
Invest in the people who will lead the work
Any organization involved in place-based work should build a culture of using data across their partnership that isn't just limited to those holding data-specific roles. To do so, many network members are leading or taking part in data use and literacy trainings to build critical data skills within their organization and partners in the community. However, for advanced data sharing to be successful, chances are you will need dedicated staff that supports the larger data infrastructure. Start with a data manager — someone who can lead and execute the data strategy for the organization. As you expand and data sharing begins to take shape, it is likely that a data analyst or someone specialized in using data for continuous improvement will be needed. In addition to that — and depending on the type of data-sharing system you implement — someone with programming or software expertise will be crucial in making data sharing sustainable and helping it expand. We go deeper into the data competencies required for data sharing in the guide.
Numerous examples of data sharing across the StriveTogether Cradle to Career Network have demonstrated that successful data-sharing partnerships are possible. Partnerships that take the time to build their credibility and value to data providers — and engage youth and families — will ultimately meet fewer obstacles. Data-sharing partnerships are as much about consistent communication and follow up, investment in technology infrastructure and staff capacity, and demonstrating results, as they are about the content of a written data-sharing agreement.
Want to learn more? You can read the full guide to data sharing here.