StriveTogether, Tableau Foundation team up again to help partnerships close achievement gaps
Cincinnati, Ohio — StriveTogether has selected 17 communities from its Cradle to Career Network for the second year of its data analytics fellowship program with Tableau Foundation. The fellowship will help these communities more effectively view, analyze and share local education data to improve results for all students.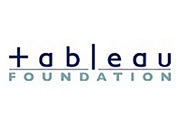 "To improve educational outcomes at scale, we need to empower community members and relevant partners with the data they need to make more informed decisions," StriveTogether Managing Director Jeff Edmondson said. "Through our continued partnership with Tableau, we are helping local partnerships across the country find new and creative ways to communicate and understand data that will help them focus their time, talent and treasure to address the most pressing needs and spread the most impactful practices."
The fellowship will run through June 2017. The following communities were chosen after StriveTogether reviewed applications from almost 30 partnerships:
90% by 2020: Anchorage United for Youth (Anchorage, Alaska)
Adams County Youth Initiative (Adams County, Colo.)
Bright Futures Education Partnership for Monterey County (Monterey County, Calif.)
The Commit! Partnership (Dallas, Texas)
Cradle to Career Partnership (Tucson, Ariz.)
Excelerate Success (Spokane County, Wash.)
Every Hand Joined (Red Wing, Minn.)
Graduate Tacoma (Tacoma, Wash.)
KConnect (Grand Rapids, Mich.)
Marin Promise (Marin County, Calif.)
Milwaukee Succeeds (Milwaukee, Wis.)
Northfield Promise (Northfield, Minn.)
Norwalk ACTS (Norwalk, Conn.)
Partnership for Children (San Diego, Calif.)
P16Plus Council of Greater Bexar County (Bexar County, Texas)
South Bronx Rising Together (South Bronx, N.Y.)
Yonkers Thrives (Yonkers, N.Y.)
The 17 partnerships will spend the next eight months using data to drive action and communicate better with their community through easy-to-understand visualization. They also will focus on how their cross-sector partners can make more informed decisions and the capacity needed to make data even more useful.
Every StriveTogether partnership in the Network selects and reports on core indicators that highlight collective progress toward shared community-level outcomes. Through evidence-based decision making and continuous improvement, these cradle-to-career partnerships use data regularly to help more students succeed by identifying achievement gaps and tracking educational outcomes.
Tableau, a global leader in visual analytics, will support the fellowship program through June 2017 with software, funding and training. Participants will work with Tableau experts from the field and connect with each other through an online portal space and discussion forum. Business intelligence consulting firm Interworks also will provide pro bono training to participants.
"Throughout the first year of the partnership, it was impressive to see how each of the fellows used data to improve conversations about student achievement in their areas," said Neal Myrick, Tableau's director of Social Impact and head of the Tableau Foundation. "As we go into the second cohort, I'm excited to see how we can build on those best practices and support a diverse new set of communities around the country."
For the first fellowship with Tableau Foundation, StriveTogether selected 15 communities. Click here to read the full release.
About StriveTogether
StriveTogether works with communities nationwide to build the capability of leaders and practitioners across sectors to create a civic infrastructure around shared goals, measures and results in education, supporting the success of every child, cradle to career. Communities implementing the StriveTogether framework have seen dramatic improvements in kindergarten readiness, academic outcomes and post-secondary success. The StriveTogether network of 69 partnerships consists of more than 10,200 organizations, reaches more than 8.3 million students and operates in 32 states and Washington, D.C.
About Tableau Foundation
The Tableau Foundation is an initiative led by the employees of Tableau Software (NYSE: DATA) that encourages the use of facts and analytical reasoning to solve the world's problems. Tableau Foundation grants combine Tableau's two most valuable resources – its people and its products – with financial support to nonprofits that are using data to reshape communities around the globe.