StriveTogether chooses participants for eight-month Tableau Software training cohort
Cincinnati, Ohio — School districts, non-profit education organizations and collective impact partnerships rely on data to uncover achievement gaps and identify effective programs that improve student outcomes. But making sense of thousands of data points and sharing them in a way that encourages people to take action is no easy task.
This work is about to get a little easier for 15 StriveTogether Cradle to Career Network communities selected to participate in a new data analytics fellowship program with Tableau Foundation.
"Each of these communities is already taking bold data-driven action to close achievement gaps," said Geoff Zimmerman, associate director of data utilization with StriveTogether. "With the intensive data analytics training and Tableau software provided through the fellowship, they will be even better equipped to improve results for all students."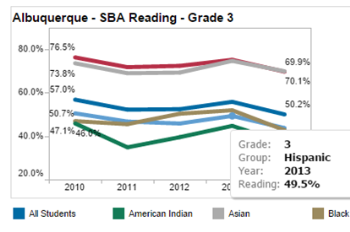 After reviewing applications from 30 partnerships, StriveTogether chose the following 15 communities for the Tableau fellowship: Bold Goals Coalition (Birmingham, Ala.); Bridging Richmond (Richmond, VA); Eastside Pathways (Bellevue, Wash.); Education Coalition of Macon County (Macon County, Ill.); Generation Next (Minneapolis & St. Paul, Minn.); Higher Expectations for Racine County Youth (Racine, Wisc.); Mission: Graduate (Albuquerque, NM); Promise Partnerships of Salt Lake (Salt Lake City, Utah); Raise DC (Washington, D.C.); Seeding Success (Memphis, Tenn.); The Road Map Project (Seattle, Wash.); Thrive Chicago (Chicago, Ill.); Thriving Together (Phoenix, Ariz.); Treasure Valley Education Partnership (Boise, Idaho); and Tri-County Cradle to Career Collaborative (Charleston, SC).
The fellowship will help these communities effectively use and visualize local education data to advance collective impact work to help more students succeed. With Tableau, a global leader in rapid fire, easy to use business analytics software, the communities will be able to easily create interactive data visualizations to share with partners or publish to their websites with a few clicks. The software can also be used to help make data accessible in real time for all education partners throughout a community.
Tableau will support the StriveTogether fellowship program, which will last through June 2016, with more than $420,000 in software, funding and training. Participants will work with Tableau experts from the field, and connect with each other through an online portal space and discussion forum. InterWorks, a Tableau partner, will also offer $49,000 in pro-bono training to participants.
About StriveTogether
StriveTogether works with communities nationwide to help them create a civic infrastructure that unites stakeholders around shared goals, measures and results in education, supporting the success of every child, cradle to career. Communities implementing the StriveTogether framework have seen dramatic improvements in kindergarten readiness, standardized test results and college retention.