StriveTogether chooses collective impact partnerships for Cradle to Career Accelerator Fund cohort
Cincinnati, Ohio — With help from some big-name funders, StriveTogether announced the first six communities to receive support from a $15 million investment fund designed to accelerate education-focused collective impact.
As a part of the Cradle to Career Accelerator Fund, the first six community-based, cradle-to-career partnerships will advance their work, scale practices that achieve results for kids and capture lessons to support the work of other collective impact partnerships across the country.
After a competitive application process among the StriveTogether Cradle to Career Network, the organization chose the following communities: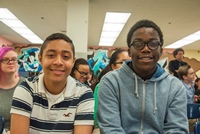 "The partners working together in each of these communities should be commended for their commitment to working in new and different ways to improve student outcomes at scale," StriveTogether Managing Director Jeff Edmondson said. "With the additional support and focus, we believe these partnerships will not only impact their own communities, but will also help build knowledge and tools to accelerate results for collective impact initiatives across the country."
Through the Cradle to Career Accelerator Fund, each community will receive additional support through StriveTogether strategic assistance and capacity-building activities, such as advanced training in continuous improvement methods, data use and results-based leadership.
Investments will be based on each community's local goals and context, and support StriveTogether's goal for these communities to reach "proof point" status by 2018. According to StriveTogether's collective impact approach, called the Theory of Action, "proof point" communities experience sustainable behavior change across all education stakeholders and see 60 percent of cradle-to-career education outcome improving every year. Outcomes range from kindergarten readiness to postsecondary completion.
"Each of these communities is committed to improving six cradle-to-career outcomes communitywide: kindergarten readiness, early grade reading, middle grade math, high school graduation, postsecondary enrollment and postsecondary degree completion," Edmondson said. "This additional support will help them overcome the hurdles that stand in the way of fully realizing the potential of quality collective impact and education success for every child."
The Cradle to Career Accelerator Fund is designed to help communities reach their education goals faster, while building civic infrastructure for the future. Current partners and investors include the Annie E. Casey Foundation, Draper Richards Kaplan Foundation, KnowledgeWorks, Target and Charles and Lynn Schusterman Family Foundation, a philanthropic account administered by Vanguard Charitable.
StriveTogether will select additional Cradle to Career Network members to join the cohort through a second competitive application process in approximately nine months.
About StriveTogether
StriveTogether works with communities nationwide to help them create a civic infrastructure that unites stakeholders around shared goals, measures and results in education, supporting the success of every child, cradle to career. Communities implementing the StriveTogether framework have seen dramatic improvements in kindergarten readiness, standardized test results and college retention.