Last summer I got an email from David Brooks of The New York Times. He had heard about StriveTogether's approach to building community-based partnerships and wanted to visit our partners in Spartanburg to see the approach in action.
After spending an afternoon with Spartanburg Academic Movement, he reached back out to me to talk about his experience. During our call, he shared that he was surprised by what he saw in Spartanburg — different community members coming together around data to collaborate, solve problems and improve outcomes. He said he had been traveling across the country as part of an Aspen Institute initiative and that he was encountering people in local communities forming relationships to solve complex problems. A couple of months later, he wrote about the StriveTogether approach as one of many examples of people working to repair the social fabric of an increasingly fractured country.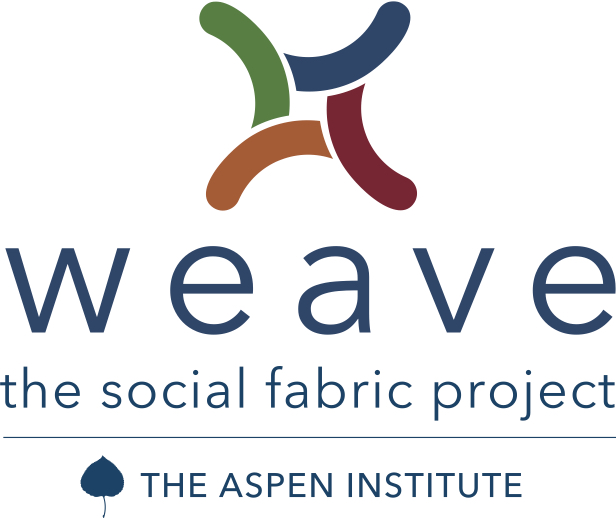 Over the past year, Brooks has continued to lift up stories of people in communities working together to solve problems. He calls it "weaving" and is making it a personal mission — through his column, his latest book and his new project at the Aspen Institute — for "weavers" to build inclusive communities centered on connection and relationships rather than hyper-individualism.
To officially launch this project, the Aspen Institute, under David Brooks' leadership, last week hosted a gathering of 250 weavers from around the nation, called #WeaveThePeople in Washington, D.C. I was lucky enough to be invited, and wow, what an experience. I didn't know what to expect going in, but the event was not your typical conference.
Have the courage to speak hard truths
We spent the first part of Day One hearing powerful stories of what it looks like to make connections and build relationships in community. We also spent time as a group defining our shared values. The values that emerged will feel familiar to members of the StriveTogether Cradle to Career Network: authenticity, community voice, inclusivity, curiosity, courage, equity. It should come as no surprise that I added results to the list.
Establishing our core values as weavers prepared us for what would come next — a critically important discussion about the significance of race in our work. As group members challenged one another not to sugarcoat the reality that deep systemic issues persist and that oppression in this country is intentionally designed, the conversation got very real. Things got uncomfortable, the planned agenda fell apart, and through the awkwardness, this community of weavers started to build trust.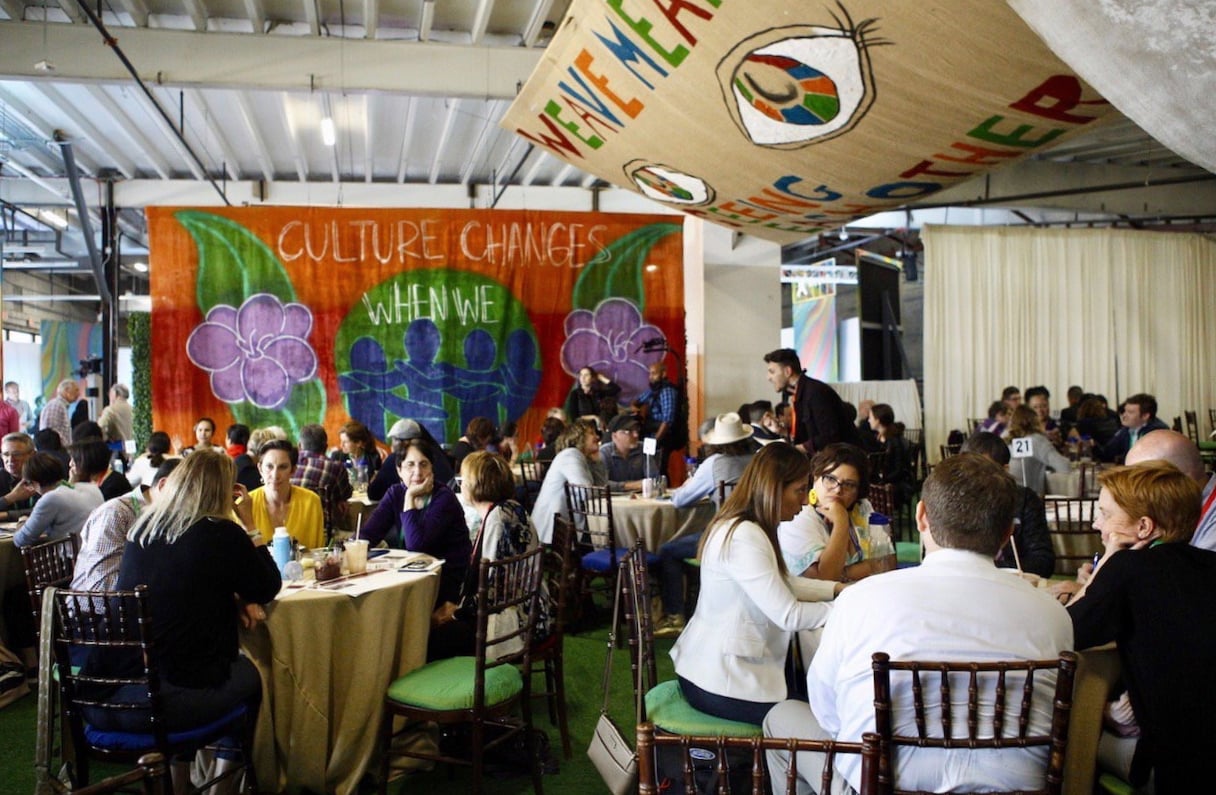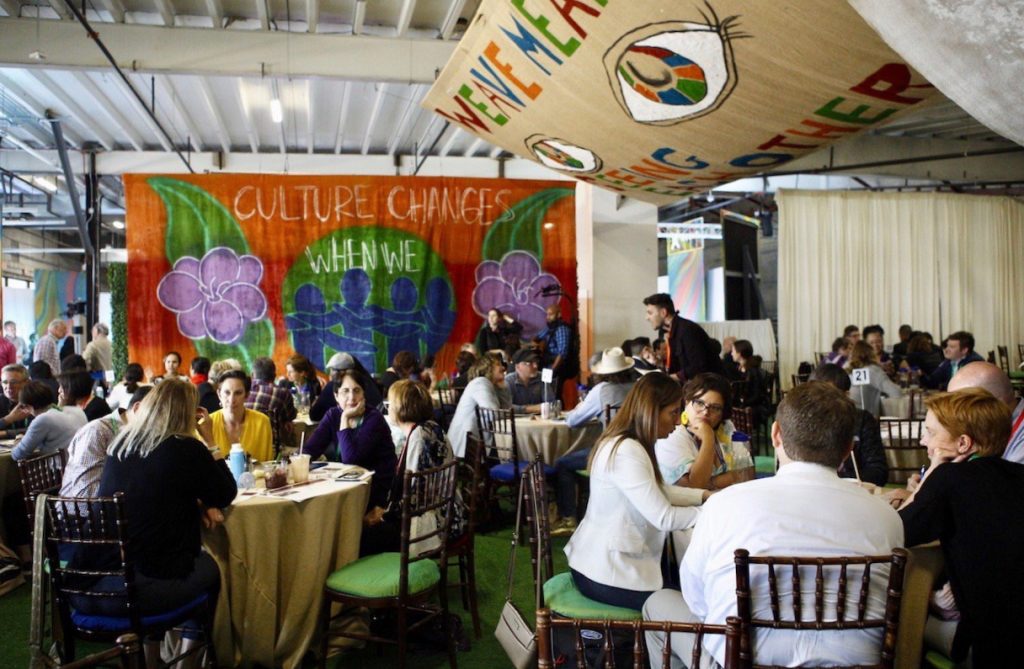 I realized how necessary it is for us to have the courage to speak hard truths and that those of us with power and privilege (i.e., white leaders like me) have a responsibility to acknowledge it and work through the discomfort. I thought about the parallel process that happens in communities across the Cradle to Career Network — how partnerships must identify shared values, speak hard truths and confront systems of oppression head-on to get to results. I came into this three-day event wondering what the result would be. I was starting to feel like I was part of a social experiment in which the relationship was the result — and I was struggling a bit to reconcile that.
We have to work across differences to achieve our results
By Day Two, I decided I would lean in to the design and trust the experience. We spent time in the big groups and small groups, discussing issues like the science of relationships and how to talk across differences. Weavers shared deeply personal stories of trauma and how that has helped them to build trust and make connections. Journalists gave us tips on how to tell better stories about our work and encouraged us to capitalize on the fact that Americans gravitate toward "whodunit" plots and crime dramas in which groups of people address and solve compelling problems together.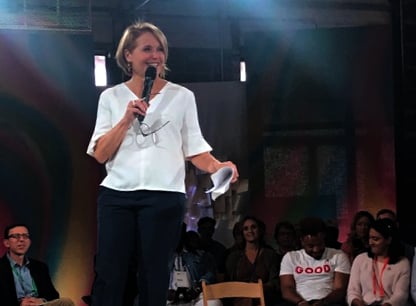 And then I was more than a little starstruck when America's sweetheart herself, Katie Couric, stood up to facilitate a panel of weavers talking about "the neighborhood as the unit of change." We were finally getting to the importance of place in this work, AND the conversation was being led by my all-time favorite Today Show personality. During this panel, one of the speakers, Janet Topolsky of Aspen Strategies Group, asked us, "How do you meet people, not where the need is, but where they dream?" This resonates in our work at StriveTogether. We can't stop at analyzing the problem; rather, we must look to the future.
Later in the day, Eric Liu of Citizen University reminded us that America is a country founded on arguments. Anyone who's seen "Hamilton" and enjoyed its epic rap battles knows this — America is both a democracy and a republic, a beautifully complicated melting pot for diverse peoples with conflicting ideologies. Arguments are a given. But Liu is challenging us to do better, because the more divided we become, the more stupid our arguments become. Liu encouraged us to have better arguments instead of unproductive ones on Facebook.
My echo chamber has also become quite cozy and most of the readers of this blog are in it. But our work at StriveTogether is about changing systems, and systems are made up of people — people of different ideologies and political persuasions. We have to work across differences to achieve our results. To have better, more productive arguments, we must take winning off the table, build relationships, listen passionately, embrace vulnerability and be open. This mass multicultural democratic republic is an experiment, and weavers are leading the way because we know how to build connections and leverage relationships.
By the end of Day Two, like so many others, I had shed some tears, questioned my own personal values, "weaved" with more than a few brilliant people during breaks to figure out how to work together to achieve our shared results.
'Relationships are built at the speed of trust'
Day Three was all about action and the question: Where do we take this movement from here? Our big circle discussion included designer Lisa Kay Solomon, who walked us through some examples of innovative design and challenged us to think about what the structure could look like for taking this work forward, how we engage more people in the movement and what might be the unanswered questions we need to address. We moved to our small groups and began mapping out a design. Despite my desire to get to action, I was struggling with talking strategy because I was not clear on our shared aim or result for the work. I wanted to name something, anything, even as broad as "solving the country's most intractable problems" (not exactly a SMART aim!), but I was challenged by some other weavers that the relationship is the result.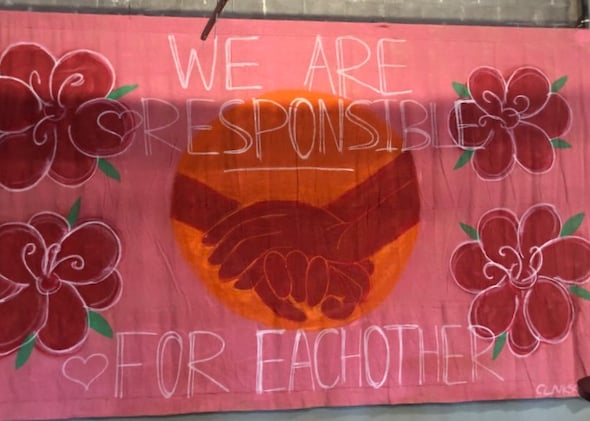 As we came together in the big group of 250 weavers, it became clear there was more trust to be built and more work to be done to become a true community. I remembered a blog by a partner in this work from Memphis, Adriane Johnson-Williams, in which she wrote that trust is a verb and that trust has to be built before action can begin. Trust takes time and is built through relationships. So, perhaps the relationship is indeed the result. To quote a fellow weaver, the Rev. Jennifer Bailey of Faith Matters Network, "Relationships are built at the speed of trust, and social change happens at the speed of relationships." Could anything be more true in the work we are trying to do?
I am leaving #WeaveThePeople very optimistic about the future because our Network is comprised of passionate and innovative weavers across 66 communities who impact more than 13 million children. We are a powerful movement AND we can benefit greatly from connecting to other weavers. The power of relationships and community building makes us unstoppable. I encourage you to become a weaver.