In conversation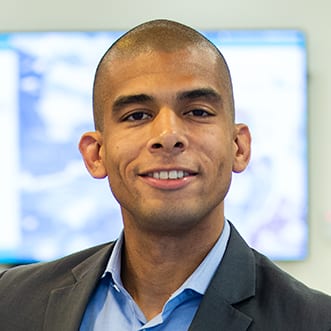 David Williams
Director of policy and outreach, Opportunity Insights
Learn more about David >>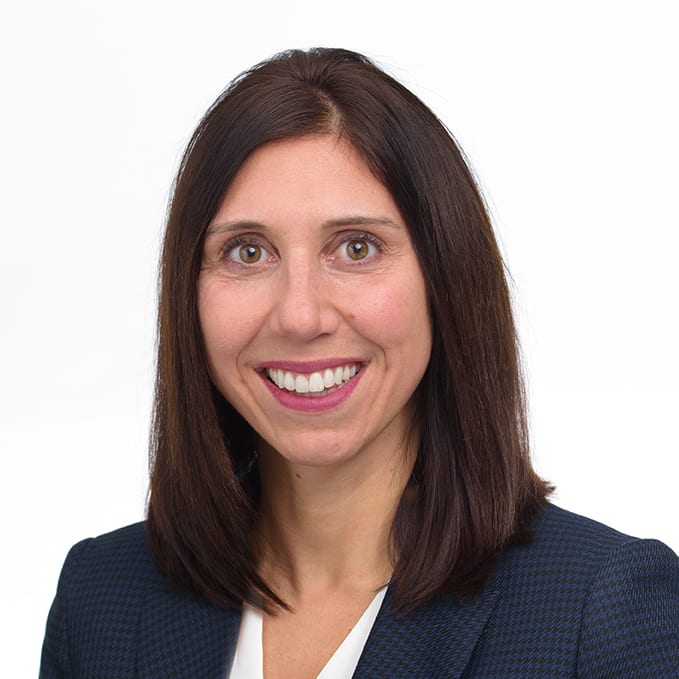 Jennifer Blatz 
President and CEO, StriveTogether
Learn more about Jennifer >>
Host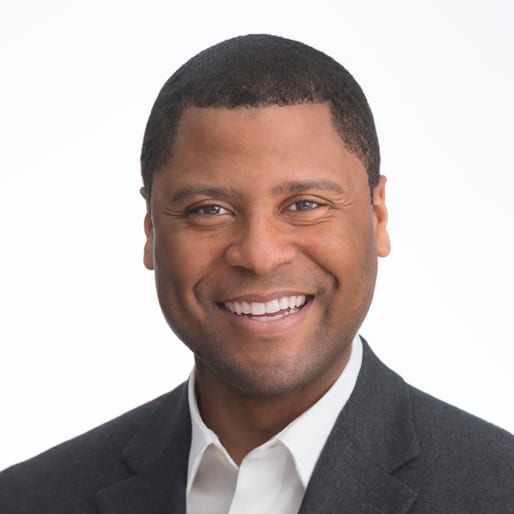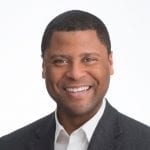 Christian Motley
Senior manager of policy and partnerships, StriveTogether
Learn more about Christian >>
Transcript
Christian Motley, senior manager, policy and partnerships, StriveTogether
[00:18] Hi, I'm Christian Motley from StriveTogether, your host of Together for Change. We bring people together for impactful conversations. Our intent is to shed light on what's possible in creating an equitable recovery. Today we're talking about data, race and economic recovery with Opportunity Insights' director of policy outreach, David Williams. Also joining us is StriveTogether President and CEO Jennifer Blatz.
Opportunity Insights is a research and public policy lab based at Harvard University, dedicated to using big data to improve upward mobility in America. David supports research and evidence-based policy change by creating and leading partnerships with communities across the country. I first met David when he spoke at StriveTogether's Cradle to Career Convening last year. How's it going, David?
David Williams, director of policy outreach, Opportunity Insights
[01:00] Christian, everything is good. Happy to be here with you virtually.
Christian Motley
[1:03] Yeah, man. StriveTogether is a national movement with a clear purpose, helping every child succeed in school and in life, cradle to career, regardless of race, zip code or circumstance. Over the last 20 years, Jennifer has designed developed and implemented strategies that drive large scale community improvement through partnership with the StriveTogether Cradle to Career Network. Hi, Jennifer.
Jennifer Blatz, president and CEO, StriveTogether
[01:25] Hi, Christian, glad to be with you.
Christian Motley
[01:27] Let's get started. I'll just ask this question flat out. Why should community leaders and policymakers consider data, race and mobility in designing their recovery plans? Jennifer, let's start with you.
Jennifer Blatz
[01:40] I'm happy to start and really excited to have David here. At StriveTogether, we believe that data is critical in all decisions. We're really grateful to have a lot of the data that we have available right now, because it amplifies that the dual pandemics of COVID-19 and systemic racism have unmasked the inequities that we see across our communities. In our national network of cradle-to career partnerships, what we're really working to do is help our network members use the data that they have in this moment to shed some light on the systemic challenges, or the way the systems are performing really well to create really inequitable results. And so as policymakers and leaders at the local, state and federal level make decisions and create policy right now, using that data, particularly data on race, place and mobility, and really looking at what the data is showing us about inaccessibility to things like health care and stable housing, and others, have to factor into the type of policy that's created to build more resilient systems through the recovery from what we're experiencing right now in this country.
David Williams
[03:06] I think that's exactly right, right. I think data is something that can help us hold ourselves and our leaders accountable and really help us understand the ramifications of the policy choices we're making. I think especially today, when we're dealing with this unprecedented crisis, having good data can help us understand what we need to do to chart a pathway forward. And I think that's especially important when we're making literally life and death choices.
I think with a lot of the other work we do, and you do, right, like better understanding how policies around education, around housing, understanding what impact those are having on our communities, being able to bring that scientific research and data perspective that informs the on-the-ground stories that we're seeing every day. I think by being able to bring both that on-the-ground perspective with individual narrative, and back that up with real data to understand how these individual stories are impacting our communities, I think that can really help us in terms of policymaking and making better choices.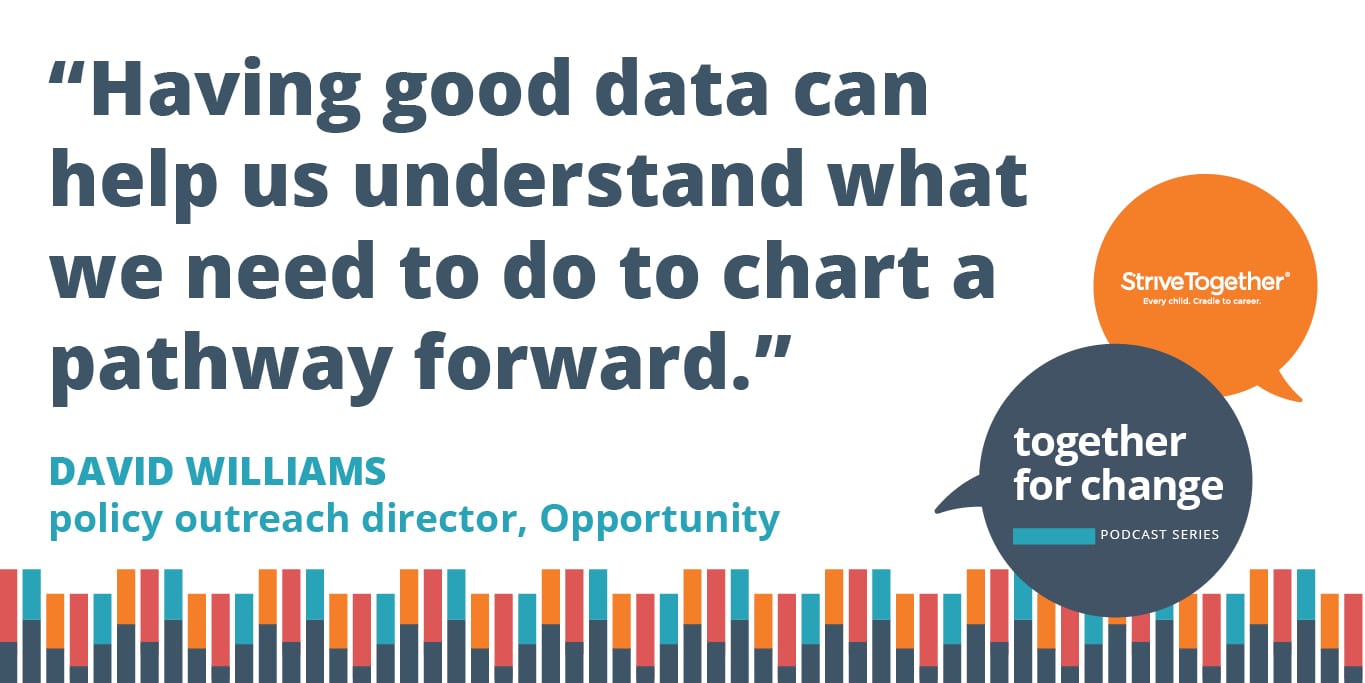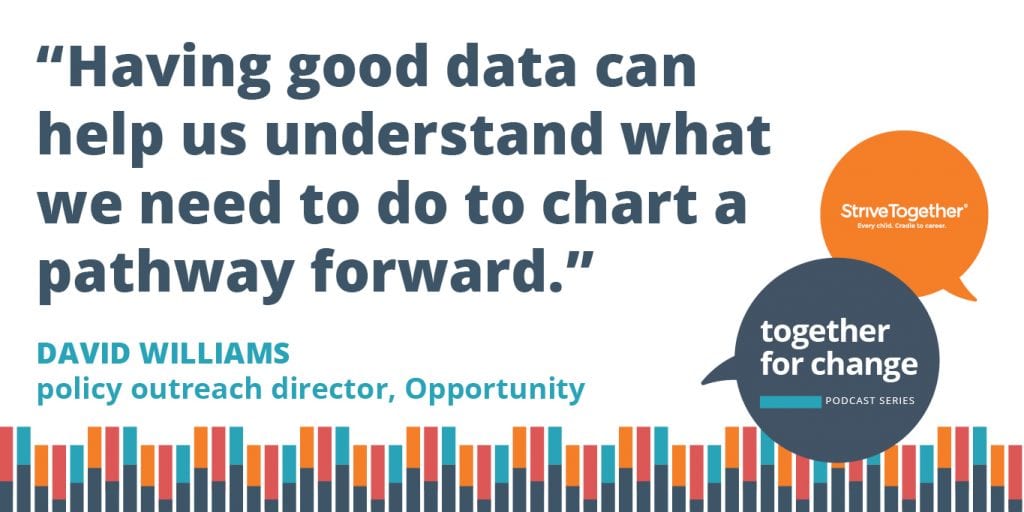 Christian Motley
[04:05] Now, David, given your engagement here at the national level, I'm curious to know what your take is on the current covert response efforts that are underway. I think, my mind goes immediately to the some of the federal legislation that we've seen that's offered some stimulus and some flexibilities. What have you seen there?
David Williams
[04:26] So this is something where the data has been really important. And so our organization, Opportunity Insights, we created what we're calling the economic tracker, which is actually using private sector data to help us have a sense in real time of how the economy is impacting our communities, to get a real sense of how COVID is impacting our day-to-day lives.
So, something that we're seeing in the data is that, you know, probably not surprisingly, consumer spending has dropped considerably across the country. But interestingly, a lot of those drops are mostly due to decreases in high-income households spending less. What's that caused is that small businesses in those communities, right, are seeing significant drops in revenue. But then the folks who are feeling the brunt of that are the low-income workers, right, those low-income workers who are working in those small businesses. And so, something we've seen is that with the stimulus payments, right, they've really helped out these low-income workers, right? We see consumer spending go up for these families considerably. But that money is going to places like Amazon, right, that money is going to online retailers, that money is not going back into those small businesses that have been hit most significantly by the crisis. So those stimulus payments, they're helping families who need it, but they're not providing that stimulus to really increase employment rates.
[05:44] So, I think something that we're focusing on having and conversations with policymakers about is, you know, potentially pivoting and thinking about how do we continue to support those who have been impacted most, those low-income workers who are losing their jobs, while focusing on the real issue, which really is the health crisis, right? People aren't spending because they don't want to go outside and have those face-to-face interactions. So, I think this dual approach where the data has showed us that the stimulus checks are very important to support families while they're going through these hard times, but to really bring back our economy, we really need to focus on the public health issue.
Christian Motley
[06:18] Now, have you seen any bright spots there? Just in terms of how folks have been thinking about the public health crisis piece of this? Was there anything in some of the federal legislation that did sort of include that in trying to make some effort toward that goal?
David Williams
[06:34] So, I do think that those stimulus payments, those had real impact, right. You know, we saw that those are really helping families who without those additional resources would really be struggling. Whereas, you know, a program like the payment protection program and those small business loans, we actually found that that those didn't have much of an impact, at least in terms of keeping people on payrolls. So again, I think, you know, we did see that bright spot, that Congress coming together to provide dollars and support to families who need it, and really thinking about how do we continue that given that this crisis won't be going away tomorrow?
[07:12] So, you know, how do we make sure that we're looking at unemployment insurance, potentially expanding it for folks who might not traditionally qualify, to make sure that we're hitting all those families who are being most impacted?
So I think, right, this is something where we've seen the importance of data both on the public health side and on the economic side, and I think we've been heartened to see that policymakers from both sides of the aisle are really looking at data in many cases to help make these choices.
Christian Motley
[07:39] Jennifer, StriveTogether is known for helping communities use data to inform strategies and improve outcomes. How is COVID-19 impacting data?
Jennifer Blatz
[07:49] Well, it's a great question, Christian. I think we're still understanding as it's a fluid situation, how much COVID-19 will impact data that our partnerships use. We are focused on really moving young people and families on a path toward mobility, and we measure education outcomes. Many of those indicators rely on things like standardized tests and other data that won't be available as a result of most schools either shutting down or going to virtual learning and completely waiving all of that testing. That's not necessarily a bad thing, because it does really force those of us doing this type of place-based work to look at other types of data sources. But it certainly does make it a little harder to see where those gaps are without having that data.
So, our partnerships have been relying on other types of data to kind of help right now in the immediate recovery phase. And so, I should say, building off of what David shared, the real-time data through the economic tracker that Opportunity Insights has developed is just an amazing resource and tool. And I hope that anyone who's doing place-based work is accessing that tool to really understand what's happening in the community.
[09:06] I know our partnerships have been using other data sources as well as the economic tracker, data sources such as FCC data that's available on broadband access to help look at where the digital divide happens in communities, because especially at this time of year, as school districts are making the really challenging decisions of what school will look like, and online and virtual learning is so critical, having that data throughout the summer to really understand what does the digital divide look like in communities has been a tremendous help to our partnerships.
We have several partnerships who have created these sort of heat maps. I'm thinking of Northfield Promise in Northfield, Minnesota. Also, the Commit Partnership in Dallas, Texas, ImpactTulsa in Tulsa, Oklahoma, have used this type of data to really understand the extent of the outages as it relates to digital access in the community and work to create and broaden access so that learning can happen. And that's just one example of the type of data that our community partnerships are using in the absence of the data that they're really used to using to drive their decision making.
Christian Motley
[10:23] So many of the conversations that we've had with folks in our network, who are just having to be so nimble in ensuring that they can do the work to stabilize community, but also keep that long-term view to ensure that the work is staying on track for youth and families.
David, when we talk about the measures, in the recovery strategies that we're seeing, what interim measures of mobility should communities be tracking?
David Williams
[10:48] Oh, that's a great question. I think it actually points to something that Jennifer was talking about, I think thinking about things like broadband access, right, and what are the tools and resources that families need?
Because there's obviously the economic crisis, and if we can track things like consumer spending, and the impact on small businesses, I think it really is important to have that long-term view of, you know, not just what does economic recovery look like but how do we ensure that this crisis is not kind of exacerbating the disparities that we know already exist within our communities.
So, something we've seen is that, we've partnered with a company called Zearn that has an online math curriculum where they're able to look at student engagement level, once schools have shut down. We're seeing that, probably not surprisingly, in low-income communities, these engagement levels plummeted significantly after school shut down, whereas their high-income counterparts generally had a much easier time with keeping their students engaged.
[11:47] But you know, we do see outliers. We were seeing certain districts in Connecticut, in Vermont and places like Colorado, that it looks like were actually able to transition very effectively and keep those students, especially those students in low-income communities, those more vulnerable families, engaged. So, I think, you know, that's been one data source that we found has been a really unique way of helping us better understand where these disparities might be increasing, but also where might examples be of communities that really have been able to transition in certain ways and kind of support those most vulnerable in their communities.
That's been one interesting example of a source of data that might help us get a perspective on how this crisis might impact us in the long term.
Christian Motley
[12:32] I'm thinking about both your work, David and Jennifer, for the community that we work with in Dallas. David, I wonder if you could speak to the work in the Dallas Housing Authority. And, Jennifer, I wondered if you could mention, because I'm thinking about the, I think there's a lot to draw from the passage of HB 3 in Texas. And we know that some leaders in Dallas and Austin and elsewhere were engaged in that process and really used data as a way to pull together stakeholders. And so I want to start, can I start with you, David, and then come back, Jennifer?
David Williams
[13:05] Absolutely. I think the conversations around the work we've been doing in Dallas are really exciting. They're even more exciting because of the great work that has already happened around collective impact and thinking around the education space. But now we've been primarily working with them on housing policy. I've been in conversations with the Child Poverty Action Lab, but more recently directly with the Dallas Housing Authority, where we're partnering on a project called Creating Moves to Opportunity, which we piloted originally with the Seattle and King County housing authorities and basically focused on supporting families receiving housing choice vouchers, rental subsidies to help stabilize housing for low-income families.
But what we see across the country is that many families that receive this resource end up living in high-poverty neighborhoods that have low outcomes for the kids who grow up there. So, through a suite of services by providing housing counselors and navigators, engaging with landlords and providing some financial flexible assistance, helping families make moves to higher-opportunity places where there is more economic opportunity. And that pilot project in Seattle ended up being very successful.
[14:13] So now we're really excited to partner with the Dallas Housing Authority to replicate some of the lessons that we saw in Seattle. And I think, right, it's exciting, again, because we're dealing with this COVID crisis, but you know, housing segregation, residential discrimination, we know is one of the driving forces behind inequality. So, I think working with the community that even as we're dealing with this pandemic, are still thinking about long-term solutions is really exciting. And again, I think really builds off the great work that Dallas has been doing, and Texas in general has been doing, in the education space with StriveTogether.
Christian Motley
[14:48] And Jennifer?
Jennifer Blatz
[14:50] Sure. I'm happy to pick up on that and I will say it's really exciting to hear about the work that Opportunity Insights is doing with Dallas around housing policy. When I think about the incredible policy win that is House Bill 3 in Texas, which was very much driven by the cradle-to-career partnerships, including the Commit Partnership in Dallas, E3 Alliance in Austin, UP Partnership in San Antonio and RGV Focus in Rio Grande Valley and other partners from across the state. They really came together to align around some key policy priorities that resulted in a $6.5 billion investment.
This was all pre COVID. So, the goal now is to protect that investment of public dollars in a in a state that had been really underfunded when it comes to education. But when I think of Opportunity Insights and the huge contributions to the field that your work has had, David, I think about the key indicators of mobility, particularly as it relates to education, because these are almost parallel to what the education policy priorities within House Bill 3. So, including things like a much bigger investment in early childhood education, investment in teacher quality, commitment to postsecondary education to ensure that young people can go on to postsecondary and certainly can afford it.
[16:17] So, these are all key priorities that in combing through all of that mobility data that really Opportunity Insights has driven in shaping our field, I feel really shaped these policy priorities. to get this win in Texas, it really relied on these partnerships and many partners across the state, sharing data with policymakers, and really digging deeply into the data and telling stories with that data. So, it's a great case study in what we've been talking about here.
And then I pull it back to our work with the Commit Partnership in Dallas, whom I recently had the opportunity to catch up with, and they were talking about the impact of housing policies and redlining and segregation in communities. Although, you know, moving outcomes in aggregate at the Dallas County level, certainly our Commit Partnership does not feel that is enough of the work. So, having the data to really target those neighborhoods that need targeted strategies, because of the systems that were designed to produce these inequitable outcomes in these communities, has been a really important evolution of the work of the Commit Partnership.
[17:31] And it's exciting that with the Child Poverty Action Lab, who partners very closely with Commit and has that same commitment to data is working together with Opportunity Insights to advance these new policy opportunities.
So, all that to say is it's a really exciting case study for the work, and now in the time of COVID the most important thing we can do is ensure that the legislators who made the commitment to invest at the right level and a significant level in education outcomes in the state, that those dollars, as states lose revenue, those dollars are preserved and continue on to get to the districts that need them the most.
Christian Motley
[18:09] Thanks, Jennifer. I wanted to ask one more question about data and the impact of COVID-19. We have had conversations again, in our policy community of practice at StriveTogether, about how, Jennifer, you mentioned just some examples of our communities adapting in this moment, and we have had conversations about how there are kind of actions that you take to stabilize community. And you find that some of those things that you may do in the immediate response to a crisis like this, that there may be some items that you can sustain, some things that you should just do anyway. I think you could also make a case for some of the things that we've seen come down in federal and state legislation as well in response. I guess the question I have is, is there actually an opportunity that could be presented in the way that communities have had to kind of rethink the way that they have approached the use of data right now? Is there an opportunity here to sustain actions in the long term?
David Williams
[19:15] I think that's a really important question moving forward. And something that we've seen, especially on the public health side, right, is that resources like the Johns Hopkins Coronavirus Resource Center have become indispensable to public health officials trying to deal with this crisis. And so, we created the tracker, in part because we didn't see something similar on the economic side. And I think it's been especially important to have that real-time data about the economy, given how fast-moving and unprecedented this crisis is, but I think your point is exactly right.
Real-time data to impact policymaking is not only relevant in times of crisis. We should have this kind of data and we should be using this kind of data to help us think through policymaking moving forward in general. So I think maybe that can be one potential silver lining is that, when we're having to mobilize community in a way that we never had been before, because of how dramatic this current crisis is, that hopefully, it'll really show and prove that data is something that we need to be using every single day when we're making these choices. Because, right, like the crisis we're facing today is a really serious one. But we've been facing a crisis for the past several decades. The crisis that we're seeing in many of our communities has been there for a very long time. And I think if this can at least help us look at these issues with clear eyes and really make choices based on the data that we're seeing, you know, hopefully that can help us, help push us forward through this crisis and beyond it.
Jennifer Blatz
[20:43] I completely agree and it's a great question and something we should be thinking about. I agree with everything that you said, David. We should be using real-time data. Partners need to have access to real-time, communities have to have access to real-time data to be able to continually look at the system and improve it.
Our work at StriveTogether is really about transforming systems to produce more equitable outcomes. And we define systems transformation by shifting policies, practices, power and resources. And so, in those shifting policy, practices, power and resources, we have in this time really been looking at what is it, how do you really measure and look at what it takes to shift power? And I say this because we are very, as a network, reliant on data, and it's been very quantitative data, which is incredibly valuable in what we've been talking about. And we're looking at now, how do we help build the capability of our partnerships to be able to collect more qualitative data to go hand in hand with that quantitative data?
[21:54] And what does it look like to really shift power in communities so that as we redesign what school looks like in the future, which will, I don't think that it should ever look like what it looked pre-COVID. And what housing policy or food distribution or what we know about digital divide now, given the data, given this sort of, you know, crisis where we quickly needed children to be able to learn online. How are we using both the quantitative data as well as the lived experience of those who are most impacted by what is happening in communities to be able to inform the policymaking and how we spend our resources and the types of practices that we implement going forward?
That's really what it looks like to transform systems. So, while we are in the crisis, it does feel like a real opportunity to use data differently and use data much more effectively to drive policy going forward.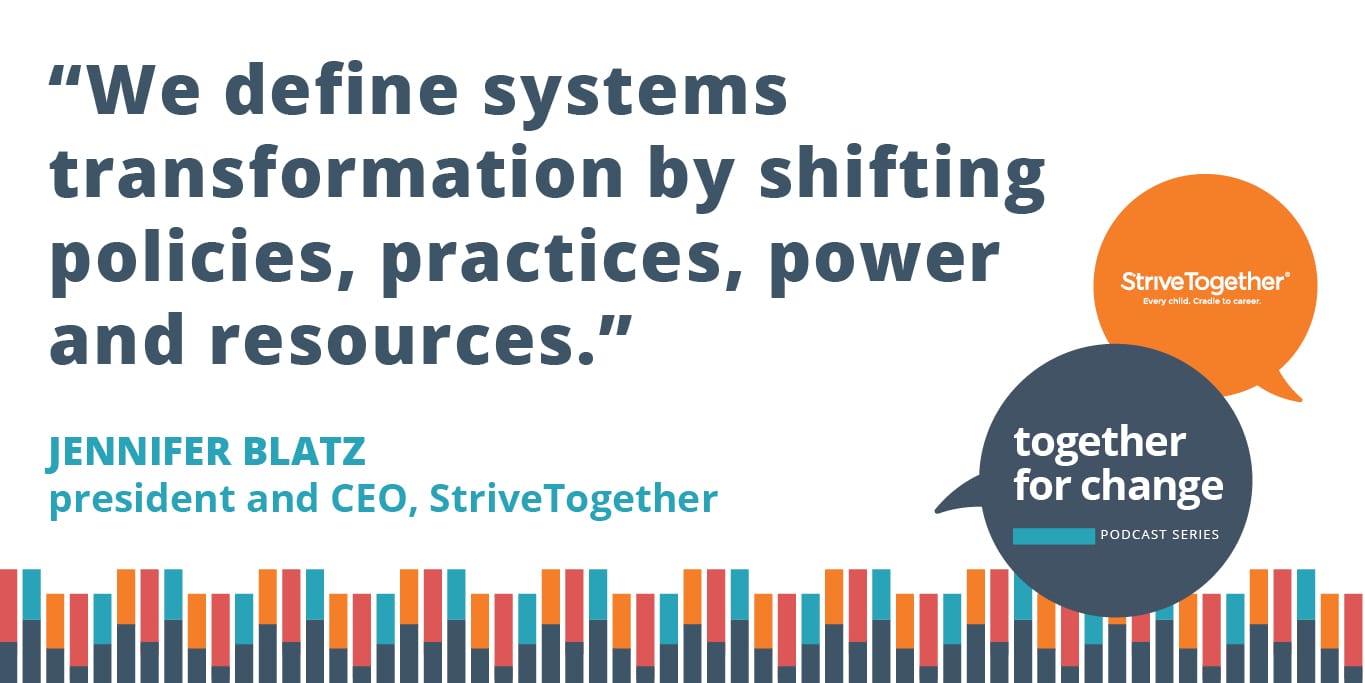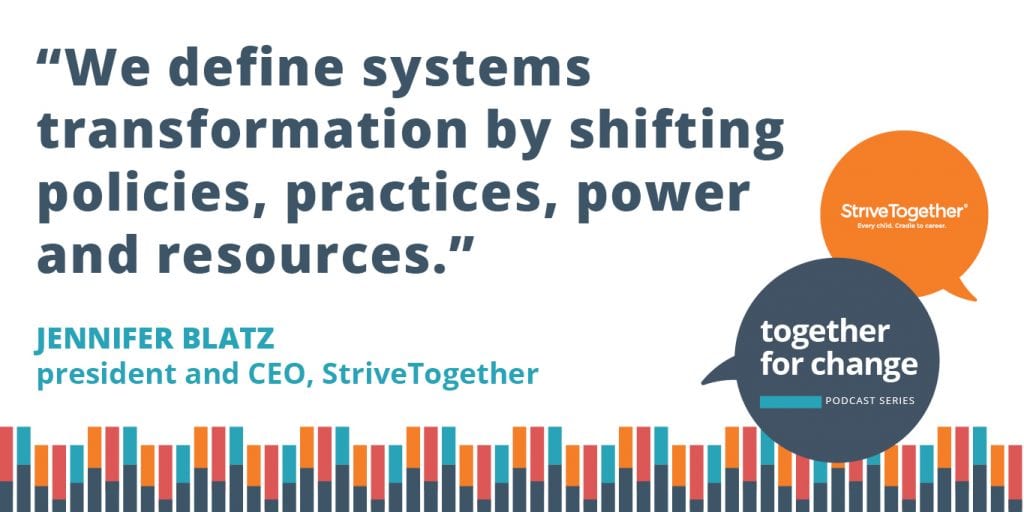 Christian Motley
[22:50] Jennifer, I just want to thank you just for really quickly sharing the definition of systems change. I think, right now there's a lot of discussion of the need for systems change, but to be able to boil it down to shifting policy, practice, power and resources, I think is just really, really, really powerful. Thank you for that.
David, we've talked about the tracking tool a little bit today. I wanted to see if you could talk a little bit more, if you could describe just in a little bit more detail, what the tool is and how communities can access and use it
David Williams
[23:22] Absolutely. So, it's called Economic Tracker, and it's available online at TrackTheRecovery.org. And we basically have partnered with several private sector companies to use their data to help us understand trends like consumer spending, impact on jobs and unemployment job postings.
And again, the idea is to be able to track the impact of the COVID-19 crisis on individuals, on communities, on the economy, and how that's really impacting all of us in concrete ways. It's one of these things where there are billions of transactions every single day that give us a very precise sense of how the economy is faring. But this information is usually not available to the public. So that's where we think the value in this tool lies is that bringing that private sector data to bear, standardizing it and then putting it on a platform that's available for policymakers, practitioners, but also the general public, and really making that information accessible. That is real time. So, one, it helps us understand not just the crisis, but the impact of our policies, and because we're able to see these changes every single week, it can actually potentially help us recalibrate, right? So, if we make one policy choice, if we don't see a difference, we can actually then change course, based on that data because we're receiving it in real time.
[24:42] So, we've been working with governors' offices, county officials, local officials and mayors' offices to understand what are the policies that they're working on? How can we use this information to support their work and their decision making? And I think having this in real time has been very useful. So, looking at state openings and closings, something we've seen is that just because a state opens up the economy again doesn't necessarily mean that the economy's going to rebound. Because again, I think, in places where you've seen these COVID spikes after opening back up, we're starting to see dips again, right. So small businesses are shutting back down, consumer spending is going back down, because just opening up the economy without dealing with the underlying health crisis isn't going to have the impact that we really want. And I think without data like this, we wouldn't necessarily be able to see those results for a week, I mean, for a month, if not a month, and we wouldn't be able to change our policymaking accordingly.
Christian Motley
[25:40] I think it's a really important tool. It sounds like you are actually working with the folks who would actually be using this tool to think about how their policies could connect and utilize it in the best way.
We're coming to a close, and at StriveTogether, we like to end things with a call to action. And I wanted to ask you both, what should people keep top of mind about race and mobility as we continue to fight these twin pandemics, the public health crisis and racial injustice?
Jennifer Blatz
[26:11] So, Christian, when it comes to a call to action, I think the most important thing that we can do right now is make sure that this moment that we're experiencing, this moment of really reckoning with the fact that systems are producing inequitable outcomes on all facets of society, that we turn this moment into a movement that can be sustained. And that's going to require public-private partnerships. So I think the call to action is not only to policymakers, I know we've been spending a lot of time during this conversation talking about how policymakers really need to look at the data, which I know that they do, and make decisions based on the current data that we're seeing. But also thinking about philanthropy, and what philanthropy can do in this moment to really sustain a movement towards transforming systems so that they produce more equitable outcomes.
I think that what that looks like is really investing in the data infrastructure that's needed so that we can get access to the real-time data that we've been talking about, the data capability of partners on the ground. Of course, my bias is very much working to support place-based partnerships. But all partners need to have the capability to use the data that's available to them to be able to create those more equitable systems that produce better outcomes for young people and families. I think that's the call to action, is really what does a public-private partnership look like to make sure that we are really transforming systems in this moment?
Christian Motley
[27:48] Thank you. David?
David Williams
[27:51] Jennifer, I love that language of the moment and the movement, right. And I think that in this moment, the data is telling us a couple things. We need to deal with this public health crisis. And while we're doing that, we need to support the most vulnerable, those folks who've been directly impacted by this crisis.
And I think, again, the data shows us that we can do it and we need to do it, and I think making sure that we keep the data and research sides de-politicized, and just help it really have the impact that we need. And then moving forward, as we hopefully move forward through the crisis, I think two things the data points to, in part based on some of our research in the Opportunity Atlas, right, is that race and racism is core to so many of the issues that we're dealing with.
[28:40] As we're continuing to invest in high-quality schools, as we're continuing to invest in neighborhoods, acknowledging how segregation drives a lot of the outcomes that are really crippling our communities. But the positive thing is that there are real solutions that we know can work that can start to kind of turn back the tide against housing discrimination and residential segregation. So these are big, meaty issues, but I think, one, using data to acknowledge the role that race plays in our country, while really thinking critically around how can we leverage policies that work to help families access a greater range of places, to actually integrate our communities in ways that potentially can really start to increase economic mobility rates and really create healthier communities in general.
Christian Motley
[29:30] So important. We'll let that be the last word. I think the phrase of the day, don't let this moment pass without making it a movement. This has got to be sustained work, and we got to make the most of this opportunity. Thank you, David. Thank you, Jennifer, for joining us.
Stay connected by visiting us at StriveTogether.org, where you will find transcripts of our Together for Change podcast series to learn more about upcoming events like our annual Cradle to Career Convening.