In conversation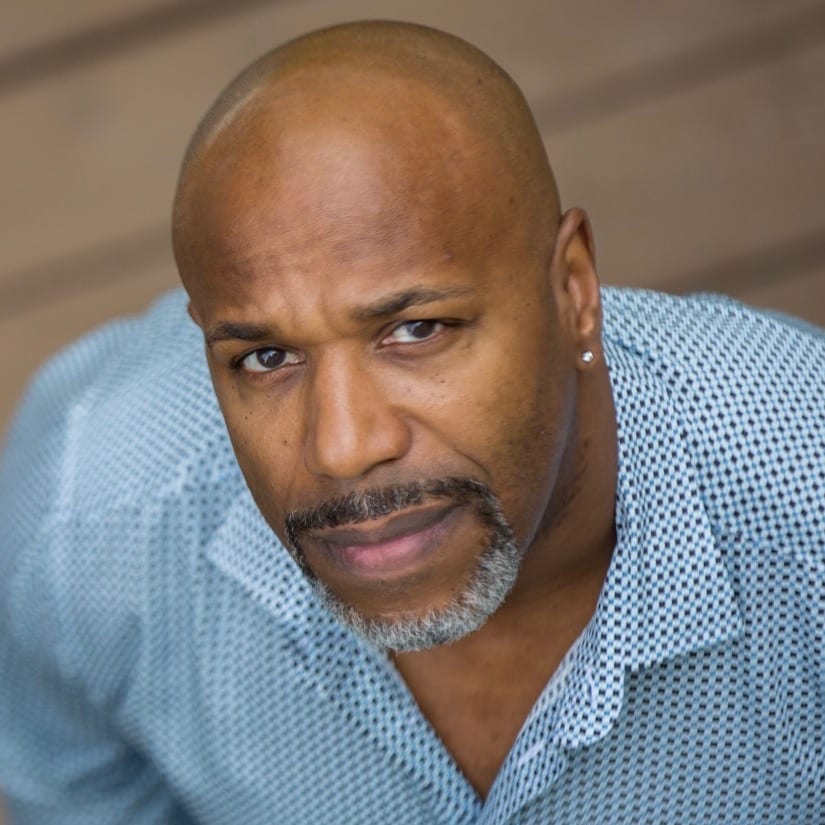 Glenn Singleton
Author, Courageous Conversations about Race
Learn more about Glenn >>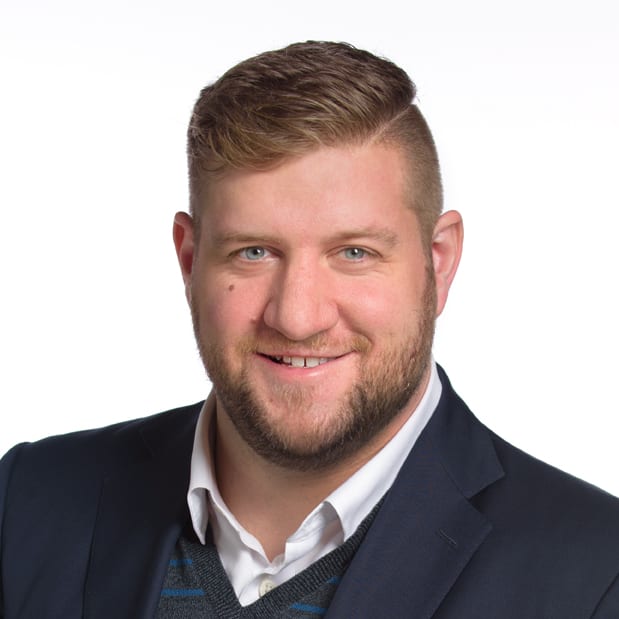 Colin Groth 
Executive vice president of strategy and development, StriveTogether
Learn more about Colin >>
Host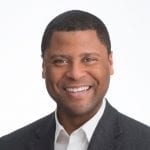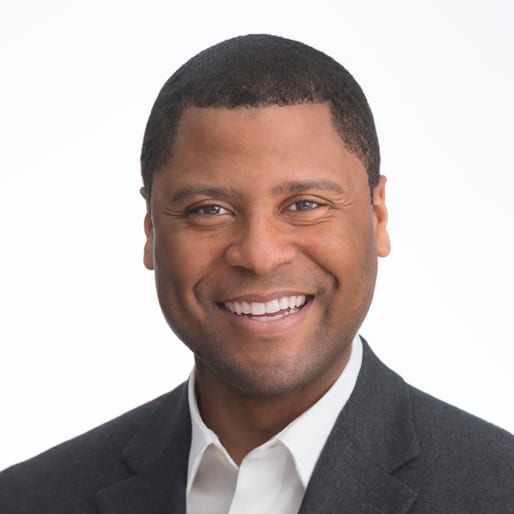 Christian Motley
Senior manager of policy and partnerships, StriveTogether
Learn more about Christian >>
Transcript
Christian Motley, senior manager of policy and partnerships
[00:17] Hi, I'm Christian Motley from StriveTogether, your host of Together for Change, where we explore what's possible when people work together for an equitable recovery. Our country is reeling from twin pandemics of COVID-19 and racism. Today we will explore why it's important now more than ever to have courageous conversations about race.
Joining me are Glenn Singleton, author and creator of Courageous Conversations about Race and Colin Groth, executive vice president of strategy and development at StriveTogether. Courageous Conversations is an award-winning protocol for effectively engaging, sustaining and deepening interracial dialogue. StriveTogether is a national movement with a clear purpose: helping every child succeed in school and in life, cradle to career, regardless of race, ethnicity, zip code or circumstance. Glad to have you, Glenn.
Glenn Singleton, author, Courageous Conversations about Race
[01:05] It's good to be here.
Christian Motley
[01:06] Colin, how's it going?
Colin Groth
[01:07] Living the dream.
Christian Motley
[01:08] Well, let's jump in. Glenn, it's been five years since you first addressed StriveTogether at our national convening. You talked about the importance of courageous conversations then, and here we are today. How far would you say we've come? Are we making any progress?
Glenn Singleton
[01:24] You know, it's hard to sort of generically talk about progress in this country, because progress so often is painful. And so, by virtue of the fact that there's so much pain in our society right now, I would indicate that there's a great deal of progress occurring.
Sometimes though, it just seems that we're continuing to surface and answer the same questions. Those questions and the dual pandemic that you talked about, of why could I predict that people who look like me, Black people in the United States, would be more heavily infected and more heavily harmed by the COVID-19 virus. And why is it that there's this persistent challenge of law enforcement in this country to withhold their arms and humanize black-skinned people rather than kill them.
These are issues that have been occurring in our society over and over and over again. I would though say that the response to these issues in the last few months have indicated that there is a lot more people involved. They are sustaining that involvement and the demands for improvement are a lot deeper.
Christian Motley
[02:49] Thank you. And, Colin, what do you think about this conversation that we're having right now about race?
Colin Groth
[02:54] I had a chance to go back and, you know, we got to hear from Glenn, I guess five years ago now, and was listening again to the second edition of the book, and there was a moment sort of talking about people raising their racial consciousness and what's your level of awareness around, you know, the emerging bilingual nature of the country, tribal sovereignty, the construction and structuralization of race in this country. And it feels like to me in this moment, all of those conversations are on the table.
We talk a lot in the StriveTogether world about the idea of targeted universalism and how do you hold universal goals — every kid can read on grade level — but recognize the targeted strategies are needed to get different groups to the same goal. And I feel like in some ways, the Black Lives Matters versus All Lives Matter conversation is like a targeted universalism conversation.
[03:47] The recent ruling, Supreme Court ruling, about tribal sovereignty in Oklahoma, and you know, one of our colleagues is actually the state representative in Tulsa. And all of a sudden, you know, there's a Supreme Court decision about honoring the sovereignty of tribal lands, recognizing the treaties that were actually constructed between the U.S. government and tribal nations that haven't been recognized. The whole conversation about the wall and building the wall, and the demographic shifts happening in America. It feels like in some ways, and I'm curious what Glenn thinks about this, but the whole country is having, I don't know if it's a courageous conversation, but at least trying to have a conversation about all of these issues in the context of the twin pandemic that you mentioned.
Glenn Singleton
[04:30] I would have to agree.
Christian Motley
[04:32] Can I go back to something that Glenn you mentioned that I just took note of. You said progress is painful, and I wonder if you could — we know that you know, not advancing, not moving forward is painful, but why is progress painful?
Glenn Singleton
[04:45] Well, we often look at this on a few different levels. When we talk about the power of conversation, courageous conversation, and the importance of transformation, too often we jump right to the organizational or the institutional level and start dissecting and planning for what transformation is supposed to be. In this case, it's George Floyd and it's Ahmaud Arbery, and it's Breonna Taylor. And we are asking for reforms and we're asking for significant changes.
But before those changes can actually be realized and recognize the pain that we experience in understanding, you know, someone just being in their home and the police barge in and shoot her to death, you know, or this grueling kind of murder of George Floyd, one which I have not watched because of the pain that comes with it. But at the second level, this sort of interpersonal level that we go to work each day and, and we do things and make things in our society, there has to be a change in the way that we interact professionally. And those professional interactions where the workplace can no longer be this place where racial micro- and macroaggressions go unchecked.
[06:12] We need policy in place that enables companies to be environments where those of us who are of color feel very safe psychologically, physically in those environments. And then we look at this personally, right, and at the personal level, these changes when, you know, our friendships are evolving and getting bigger. You know, my interactions with my white college roommate in Kansas have never been so comprehensive and so intense, and there's pain there because in order for him to understand and grow and to teach his kids differently, I have to relive trauma in my life, from attending the University of Pennsylvania, from being back in Baltimore as a high school, middle school student.
So, reliving and unearthing those examples so that society can advance because they weren't paying attention then, they didn't have the consciousness then — I have to relive those today in order for society to go forward. This doesn't even recognize, this is, you know, my experience, but my college roommate's experience, also — he's grown up believing that he understood the way society works and he actually thought he understood my life. And so, there's a pain that goes along with the discovery and the growth and we have to be willing to stand in that discomfort in order to go forward.
Colin Groth
[07:44] I have the privilege, in the way I was brought up, in my racial identity, in my physical stature and appearance, I have sort of all the drapings of privilege that a six-foot-four white male has in this country. I was reflecting a lot about an experience I had around the holidays, which you know, are already kind of loaded time in general. I was reflecting on my own whiteness in the way that — and I know we're going to talk about politeness coming forward — but just, the dinner table conversation around Christmas, I was talking to a white family member who's you know, newer to the family in that he married into our family later in life, and there were a series of kind of microaggressions about people of color. He's a former police officer, retired now, and was making comments throughout dinner about people cutting him off and taking down the license plate number and calling the police and different things.
I kind of ignored again and again. There's things that were in some ways triggering me, but I feel like I've been primed so much for politeness and that passive dinner table conversation to just kind of smile and nod. But it culminated that evening with a different kind of a conversation. I ended up kicking him out of my parents' house and it was a really strange interaction.
And I was reflecting after talking to Glenn, in no way did I have the courageous conversation. I ignored. I suppressed. I internalized in the spirit of politeness. And then even perhaps worse, I then jumped into kind of an oppressive stance where I was using my physical stature to literally remove that person from the room, from a conversation and from the holiday. So, pretty terrible and unprecedented in the Groth family at least.
[09:33] But as I was thinking about it, I was listening to the book again, I was so afraid of that courageous conversation that I skipped it, that I went to this place of like anger and resentment. I think in a lot of ways my actions and sort of the way I picked that moment up, I think represent a lot of the ways of that universal white identity that shows up and how we won't have the conversation, we struggle to, and it makes us mad and we jump to these kind of oppressive instincts. I appreciate the book and the framing, because it's been making me think a lot about my own personal life and the way I show up professionally and how I hold my role.
Christian Motley
[10:11] Colin, that's a really important point. It kind of dovetails really into the next question I want to ask Glenn, which is, why is it so hard for people to talk about race?
Glenn Singleton
[10:20] Race is one of the more complicated topics that the human being actually approaches in our life cycle. This is because, one, the origins of race are something that we just don't want to believe come from a human construction.
It is, it's a social construction. So, race does not exist, and it exists, right. And there're not many phenomena that function that way. Everything else, you know, it really has its purpose. It's grounded into some kind of logic, and race is grounded into an ill-constructed ideal, and so from that we go forward. And society has progressively over time convinced itself that it's best to sort of ignore it and maybe it will go away. And that's so far from the truth.
In fact, when we think we're ignoring it, we're actually perpetuating it. It's those understandings that a very young mind, young children, gain from the influences of society, be they media, be they conversations with family like Colin was talking about, that don't get corrected. And so, they grow up into the mind and then they get operationalized. This conversation we were having yesterday and indicating to Collin that when I start defining a contemporary definition of white privilege, that is this ability to just kick people out when you don't agree with their perspective.
[11:48] The unfortunate end point to that is, as that ex-police officer leaves or as that teacher in your family leaves, they still leave with the same belief that they had. There has been no resolution. And so next, that teacher or that police officer is engaging with someone in the society, maybe someone in my family, and we're on the short end now of that person being canceled by your family. And so, what has to happen, and I think what will really be the marker of this progress, is a place in which in this country, white American people actually learn to talk to other white American people about the truths of race, and about these different experiences that we have because of race, and how that robs us of all of our fullest humanity.
Christian Motley
[12:41] Glenn, this feels really important because what I hear from both you and Colin is something that we talk about at StriveTogether in terms of like the work that must be done at the person level, at the role level and at the system level. Perhaps what we're talking about here is the work at home, at work and community. But there's something that you said about, you know, there are these sort of, maybe policy changes or reforms that are suggested, but there also has to be this work that is done in our institutions where we go to work every day, where many of us experience microaggressions on a consistent basis. And then Colin, bringing up the point about his personal experience, just thinking about, you know, the work to do for oneself.
I feel like they have to be happening all at the same time. I just wonder, is there any more that you all might want to uncover just given those three roles? Or maybe I have it wrong? Is there another frame that makes sense here?
Glenn Singleton
[13:37] No, I like that frame. I think of those three levels as manageable levels. If we spend time on the generous story that Colin has offered and the vulnerability that comes with it, which, I laud it, that's where we need to go, that is a courageous conversation. And having said that, by not dealing with the family member, you have no greater capacity or skill when you come into work. And that same kind of situation occurs with a co-worker or subordinate if you are a manager.
We can't just keep canceling the people who don't share our experience and our perspective. We've got to figure out a way to engage that conversation, to humanize the people who are conversing, so that we can get to those truths that make us perhaps radically uncomfortable. Because if we don't change that in the belief system, then the behaviors are what construct the policies and the structures that create environments that are not inclusive for people of color.
Christian Motley
[14:44] Colin, what would you say?
Colin Groth
[14:45] I think that deeply resonates. I've been reflecting a lot on that lost opportunity and so many lost opportunities in the service of politeness, and not rocking the boat with the family or others. And then to your role analysis, it's interesting, I think, in in my own journey, one thing I noticed is when I'm playing that role of the neutral facilitator that we talk a lot about at StriveTogether, often it's easier for me to name dynamics around race, power, authority.
Part of that, I think is like literally sort of mentally separating myself from the group. And so, one thing I've been working on or trying to think about is, like, how do I bring that mentality into my own, into my professional role within the system at StriveTogether, within my personal life.
[15:30] From my own experience, we talk a lot about fight or flight. And then the third one we often don't talk as much about is freeze, and I think, you know, often in these kinds of situations, my default is to freeze. And so how do I build the muscle, right? How do I take those opportunities like Glenn is mentioning to, you know, step into the conversation, to lean into the discomfort, to stay there and know that it's going to be, it's going to be unpleasant, but it's going to be the right thing to get to a more just society.
And then I have a responsibility, just as I have the privilege, to go to that place. And so what's the self-work I have to do and other white folks need to do to keep coming back to that, to get into the discomfort and the space of the courageous conversation in a way that doesn't let those things go unaddressed, that doesn't build the muscle. I appreciate the nudge and the push, and it's something I'm thinking a lot about in my life and in my role.
Christian Motley
[16:31] How do we do that? How do we move beyond conversation into meaningful action?
Glenn Singleton
[16:37] Well, let's first interrogate that linear progression, okay, of one then the other. I want to advocate that the best of the human experience comes from a great conversation. And whether that great conversation is called a debate, a negotiation, a deliberation, that's how human beings progress. We do it through language, we do it through our interaction and voice, and making meaning and sharing understanding and ideas.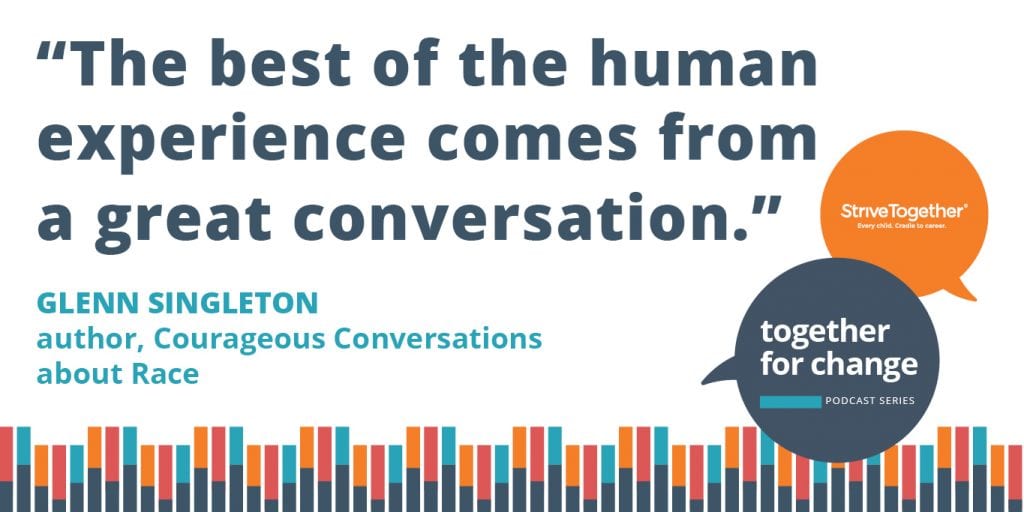 And so, you don't have action that's apart from conversation. In fact, conversation is the action. And the more inspiring the conversation, the more I am likely to do something beyond that conversation, and that could be to have another conversation with people of influence and power and authority.
It could be to write something, to protest something, to build something. But all of those ladder features — to build, to write, to protest — those seem to forget that at the foundation of it was a conversation. And so, this is the ancient art, this is what, you know, we have been doing as humans long before anything else. And we've lost track of that.
[18:05] The modern conventions of social media and high technology in some ways have disconnected us from that ability just to say hello to our neighbors. This is a conversation. And so, I want to say that too often we're thinking about the word "action" synonymously with the word "solution." I am not out to find the solution to racism. I'm out to progress this society in this anti-racist way, and each day we are to feel liberated from this pandemic of racism. And I believe that that feeling of liberation, the feeling that I had when Obama was elected president of the United States, I need more of those feelings. That was not by any means the end of racism, but it was a huge step, right? And so it's that kind of thing that's tangible in our human experience that I believe we need to be hungry for. And that comes from conversation.
Christian Motley
[19:10] Glenn, I appreciate that. That's such a powerful thing. I don't know if y'all are familiar with an initiative called On the Table, but it's these community conversations that pop up, you know, all over the country. I live in Lexington, Kentucky, we started having them maybe three or four years ago, where folks have the opportunity to sign up to have sometimes large conversations, sometimes small ones, in coffee shops or in a living room or a park.
But there's a theme for each year, and they're just conversations. We've had years where, you know, 13,000 people, or these kind of large totals of individuals are coming together across the city for a single day, to have conversation. And what I am reminded of is often, you know, after that day, the folks ask the question, so okay, where are the solutions, you know, where do we go from here. They feel as if maybe the conversation wasn't always as impactful because maybe they didn't get to solutions.
I also think, Colin, of the time that we spend with some of our communities as neutral facilitators, and maybe taking them through a process where they're thinking about taking on a particular item they want to address in their community to improve, an outcome, and how constantly our coaching is saying, let's not jump straight to strategies. Let's have conversation, let's make sure that you're getting to root cause.
It emphasizes how important those conversations are. Colin, do you want to share some examples from our work?
Colin Groth
[20:36] I am totally with you. It's such a StriveTogether bias, right? Well, that was a great conversation, but what's the action commitment, right? What's the next step that you're going to take? And the irony, as I was thinking about this, and as I was listening to Glenn is like, you know, we talk a lot about the Results Based Facilitation skill set, and we work with a lot of communities to build that muscle, and actually one of the sort of three hypotheses that underpins Results Based Facilitation is actually that the work of meetings happens through conversation, right. I think we sometimes forget that, and one of the skill sets we try to build in communities is how do you actually facilitate partners, stakeholders, community members to have those hard conversations, to name the power and authority dynamics that are showing up in the room.
I remember facilitating a conversation in the Pacific Northwest. And we were doing a factor analysis on school readiness. We were looking at the trend line for all kids. And people had a million factors that they were throwing out, you know, it was like, popcorn, right? People just throwing out ideas. And then we put the trend line up for Alaskan Native and Indigenous populations on school readiness, and the trend line was lower, and there was some improvement, but it was nowhere near the trend line for all kids. And I turned back to the group and said, what are some of the unique factors for Alaskan Natives in Native American and Indigenous populations? And it was silence. And then people started to get mad at me, right? Like, well, how can we possibly answer that question?
[22:10] These people had been funding school readiness work in this community for 20 to 30 years and couldn't name a specific factor that impacted one of the populations that was most marginalized by the systems there. But that power of the neutral facilitator to help kind of craft, design and guide the conversation is so important. And I feel like it's a role our partnerships pick up so well.
One of the stories that I'm really excited about in the Network right now is from the UP Partnership in San Antonio, Bexar County, where they're taking this moment, and they're saying, COVID is dramatically impacting our education systems. Our systems are essentially turned off or paused right now. And now, in a big way, Americans are waking up to the systemic oppression of Black people in this country. And so, how do we take in this moment, the opportunity to say, we don't want to go back to quote-unquote normal. Normal didn't work for our kids, normal didn't work for our families, normal oppressed and marginalized populations all throughout our community.
[23:11] How do we come together as a partnership, right, that represents all these great sectors and institutions and say, what would it look like for us to drive an equitable recovery? And what are the principles that we would hold to so that we don't just rebuild the old normal, but we actually reimagine what it would look like to create systems that are just and equitable.
And they've done some financial mapping work with Elizabeth Gaines and the Children's Funding Project. And they've actually said, here are priorities. We want to prevent adverse childhood experiences. Here's actually the amount of resources that flow in our community around that — how are we going to make sure in this recovery that we're lifting that up, that we're driving resources to the reduction of adverse childhood experiences, that we're inquiring and challenging and holding the mirror up to our systems locally.
[24:02] And it's an idea that we're now taking up nationally and thinking through what would it look like for us, with partners around the country, to think through a national equitable recovery pledge. So, we're in conversation with groups like PolicyLink and My Brother's Keeper and Institute for Healthcare Improvement, Community Solutions and others to say, what are principles that we want to hold ourselves accountable to?
One big shift we're making at StriveTogether in the funds that we're fortunate enough to be able to re-grant to network members is to say, you know, in our investments, how are we actually prioritizing investing in partnerships that are led by leaders of color? How is that the first consideration? We think about how we invest the resources that we have the privilege to direct, how do we make sort of the hard look in the mirror for ourselves and think about how are we either contributing to the status quo or how are we shifting it, and so what are the opportunities that others can be thinking about in this moment when systems are paused, right. And people are not sure what school is going to look like in the fall. And it's maybe even harder to have courageous conversations because all of us are interacting through Zoom and all these other virtual platforms.
Christian Motley
[25:12] I appreciate that, Colin, because I think it shows just the power of mobilizing not just where you are, but also your partners around some key principles. Given these twin pandemics, COVID-19 and racial injustice, we've seen just so many of our communities just having to adjust quickly to stabilize. But I think, Colin, as you said, also thinking about, you know, what are those things we should have been doing already? Things that we might be able to sustain? And I think it begs the question how do we really leverage this moment, I want to ask both of you. We acknowledge how powerful this moment is given these twin pandemics, the work of leaders and communities around the country, who are organizing, folks who have demonstrated, folks who are having conversation now about their local budgets in a way that perhaps they might not have had.
But Glenn, I mentioned, I'm in Kentucky, you know, we know that, you know, Breonna Taylor, her life was tragically lost. We know that folks are organizing in Louisville but also in places like, you know, Corbin, Kentucky, which is southeastern Kentucky, a place with a history of its own. I just ask that question, how do we really leverage this moment as an opportunity for real system change
Glenn Singleton
[26:30] Christian, I believe that what you just did is so instrumental in leveraging the moment. It's sometimes it's just as simple as speaking about what's really happening, right, because the news and forms of media and the people who've lost hope in society, those on the margins, you know, those folks often are commenting about the challenges and the problems or exemplifying them. And it's not to diminish their voices or their role.
But what society often lacks is a courage from those people who have the greatest amount of voice and opportunity. And somehow, when these occasions occur, a silence kicks in. And we've got to fight against that silence. There is a continuum that goes from silence to violence in this racial paradigm. And in between that continuum of silence and violence is conversation.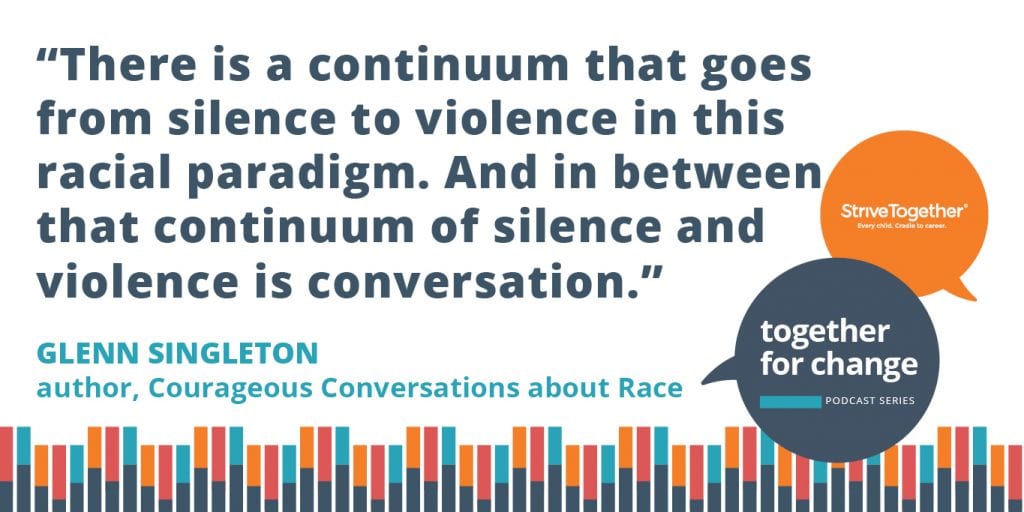 And so you calling out the work that's occurring, the voices that are sounding out in places outside of Louisville, places that those who are not familiar with Kentucky would never know — that gives me here in Baltimore a lot of hope, because I wouldn't know that. And we've got to let people know that the better of humanity, okay, in terms of advancing the cause of us being our better selves, that we are actually working really hard right now.
And that's what this world is calling for. It's calling for us to put in a little bit extra for our belief in the possibility of being fully human and whatever that means, right? But what we know is that we're not quite there. And so, this is a moment of expansion in our society and sometimes it takes these huge tragedies, the biggest that I've seen in my life, this pandemic, I've been, you know, inside — I usually travel 120,000 miles a year. I've been in two rooms and only two rooms because I moved across the country at this point.
[28:54] So I think each of us have to look into our lives and see if our life right now that we're living is matching the bigness of what's going on in the broader society. If there is a recognition that there's a global pandemic called COVID-19, and that there's an indication again of the recurring pandemic of systemic, structural, institutional, interpersonal racism, then I look at myself and I say, Glenn, what gives you the real right to live in the society of this bigness right now without upping your game. I think that that's where it begins, each of us looking in the mirror and saying, you know, I look back prior to January 1, 2020, and I was living this way. And now my experience has to be much bigger because the world is much bigger. My world is much bigger now because I'm connected by this virus. I'm connected, you know, by this this act of racism, police brutality and so forth. I'm connected, you know, by this strange affair that's going on in government that sits in strange sort of disconnect, and diametrically opposed to the government that was there before. So given all of those things, I'm going to be living a big life right now.
Christian Motley
[30:17] Thank you, Glenn. And Colin, I want to ask you the question as well, if you think there's anything more that we could do, given this moment? How can we leverage it for real systems change?
Colin Groth
[30:26] I feel like there are so many interesting and amazing conversations happening right now. We talk sometimes about this idea — this is so wonky, but people that know me will know that's where I go — this idea of the productive zone of disequilibrium. But the idea that, you know, if you think about changes as a thermometer, it's got to be hot enough that people are uncomfortable, but not so hot that people kind of bail out. I think what's amazing about this moment is that the twin pandemics, right, that we keep referencing, they've made it hot enough that people are talking about all sorts of unbelievable systems change efforts. In Philadelphia, they weren't arresting people for nonviolent offenses. Like that's an unbelievable example of what we could do in this country if we thought about law enforcement in a different way. We have an eviction moratorium, that is preventing people that are now facing economic hardship because of the impact of COVID, that we've prevented people from being evicted across this country.
What would it look like for us to think about post-pandemic, how do we prevent evictions broadly? In places like Memphis and Racine and others are working on that and were working on that even before the pandemic. You have schools going to this, you know, distance learning environment — obviously, there's huge equity considerations in that. But I've also heard incredible examples through this time where, in one community, I heard that students with special needs, in certain cases, were thriving in the distance learning environment because they were in a comfortable, safe environment that they were familiar with.
[32:04] How do we not go back to putting those kids in a place where they're uncomfortable? I heard another district where they were rethinking how they allocated their teacher time, right? They're having the teachers that were the best at kind of delivering instruction doing these big, large format Zoom sessions, and then having teachers that were really good at working with kids in small groups do follow up to that, right, and so in that way, they were getting more kids access to the great, high quality instruction and also maintaining the kind of differentiated instruction that every district has talked about since the beginning of school districts. But that never really happens, right, because of the limits of the system.
And so, I think across the country that the amount of heat that's being generated by COVID, and the racial unrest that's been triggered by the police violence in this country, it's creating a moment of change. And I know, Glenn, you had offered in our prep this framing around moment, movement and inflection point. And I'm curious, you know, where are we and how do we take the next step?
Glenn Singleton
[33:08] I just don't know if it's the "we" yet. Right? People are in a brand-new world experience. And we've got to give ourselves some grace to really grow big into our new world. And in that for all of us right now, this is still a moment, right? This is a moment, and we get to take it in.
But the belief system is what's key here. And it's because in this understanding of how systems work, it's our beliefs that drive our behaviors that determine our results. And so if we believe that this is only a moment, as an organization, then we're looking to do sort of the check-off, we're looking to quiet the masses, we're looking to just have a forum so people can get out what they need to get out and then go back to work.
[34:02] But if we believe this to be something bigger than a moment, and it's a movement, then we're looking for language to share across communities, we're looking for intersections of where our strife and struggle sort of align. We're trying to stitch a fabric, essentially, that works to hold us in place for a bit of time. And then there is those of us that really dream big and that's the inflection point. That's evolution, the transformation of a society. And that means then that there is no need to continue looking back and hoping for when it will return, because it's never going to return. And we start living into that future and all the possibilities that exists there versus this, in that same logic that you were speaking earlier, Colin, of adaptive, you know, where we don't know the answer.
We just know that we've got to live into this new experience and we've got to minimize the opportunities where we're sort of mourning loss and fear that the loss of the society as it was pre-COVID, pre-, you know, George Floyd, that's not what we really pay attention to as much as we begin to embrace the future and the change that's coming.
Christian Motley
[35:23] I've heard Colin tell groups we're rounding third and headed home. I've got just a couple more questions for you all before we say goodbye.
I got this book, and it's almost serendipitous. Somebody gave me this book from Eric Kleinberg called Palaces for the People. The thing that's really stood out for me, I think is, he has a hypothesis around social infrastructure. At StriveTogether, we talk about civic infrastructure, and his idea on social infrastructure is just these places where we connect across difference in local communities. And so our parks, our libraries, and how he believes if we have greater investment in these places where we can connect across difference, perhaps we can take on some of the challenges of the day, but also makes me think about just the role of place and place making. And I wonder what you would say the role of place is in creating a groundswell for this kind of race equity change that we're discussing.
Glenn Singleton
[36:21] You know, place is always critical. And this is in the most personal way from me, places where I connect back to hear the wisdom of my ancestors. It's my indigeneity. And that's where, you know, strength comes, because back to your first question of is there progress, I look at the life that my great grandmother lived.
I was fortunate enough to live with her in the same house, under the same roof. She talked about the amazing struggles and the amazing mistreatment that she suffered. And as I've spoken about my grandfather to the world, you know, and him having a brother who was lynched for what was defined as an inappropriate gesture towards a white woman in South Carolina. I understand these stories as the understanding of place. And those horror stories of how it was, not so long ago, in this country, in this place, is an indication to me of the hope and the possibility that I do get to have. That we can do better.
[37:37] I believe that we are doing better. And at this moment, we've been given a whole lot, and we've been given an opportunity to sit still inside with people who are very close to us who we know and we trust. When we emerge from this pandemic state, this isolation, we need to have assured ourselves and our families that we've had the conversations at the depth of our understanding. And that means don't let people come out of your house any longer without the highest level of understanding that you have about structural, systemic, institutional and interpersonal racism. As long as we do that, right here in this place called home right here in the United States, right in, you know, Lexington for you, in Baltimore for me. That's what I see as the promise of right now. It all starts right where you are grounded most. It's right where you've been for the last month or so, two months, three months, I'm losing track of time.
Christian Motley
[38:40] You had a great example out of the Twin Cities I want to see if we can get in here. Relative to, I don't know if it was specifically around policing, white privilege — I'm not sure the context but I want to make sure to get it in here just in talking about the role of place. You know what I'm talking about?
Glenn Singleton
[38:54] Oh, yeah. When things occur over and over again in society as big as this country is, this is the meaning that we get to draw living in this vast country with all of these people. There are thousands of cities around the country and twice in my life, I've come to the Twin Cities for a case of police brutality that is just unacceptable and unforgettable. And so this is Philando Castile, and this is now George Floyd.
We need to ask about the place. We need to ask ourselves, what does the culture, climate, the vibe of the Twin Cities, Minneapolis and St. Paul, what is it about that place that creates this kind of phenomena. It's coupled with the phenomena of having one of the most exceptional achievement gaps between Black, Brown and Indigenous students and their white counterparts in the country, where white students are outperforming students all over the country and the students of color, Black, Brown and Indigenous, have sank to a lowest level. So, what is it about that area that really breeds that kind of segregated differential experience? You've got major institutions of higher learning. You've got, you know, all kinds of corporate experiences, old and new, from General Mills to the Target company, you've got so much there. You've got the home of Prince, you know, you've got so much information there to understand why here. And if we don't answer that question, why here, then we lose sight of so much intelligence to help us to go forward.
Christian Motley
[40:38] The thing that came to mind for me, with the Twin Cities, was a visit that I had there and I just remember having an opportunity to speak with so many leaders who had talked about some of the work that they were doing around young professionals of color, I think. I had heard about, like, surveys that had been done, focus groups, these community conversations to talk about making that St. Paul Minneapolis area, that region, more inclusive. It's just been fascinating to me that there are these conversations happening on one hand, but then on the other hand, there are just all these issues that have come up, really tragic incidents. And it just proves that there is just so much work that you have to do.
Glenn Singleton
[41:16] All of my work in the Twin Cities, and I've been working there for close to two decades. I've got several staff members there. I've seen some of the best racial equity work in places like Eden Prairie, and St. Paul public schools, and I've seen some of the greatest challenges. I just believe that this time is calling for the Twin Cities to have a far more honest understanding of how people are actually experienced as people of color in the Twin Cities. And what is the real perspective that white Twin City residents hold about people of color? Until they answer those questions, we're going to continue to see these patterns emerge. And this comes from the history, the way that this place has, you know, been constructed, the immigrants of this place, you know, the ancestries and the Scandinavian aspects. So, we got to look at those things to understand why the Twin Cities are the way they are right now.
Christian Motley
[42:24] Colin, Glen, I like to end these conversations with a call to action. I wonder, where would you have folks focus? What is the next powerful step that a system leader, that an individual, that a community leader can take, to advance courageous conversations toward action to change systems and communities?
Colin Groth
[42:47] The irony, as I've been exploring this for myself, Glenn, when always, always is so thought-provoking for me, but I mean, I think one thing I'm recognizing is I actually find it a lot easier to have these courageous conversations in my professional world than I do in my personal role. And so, and I, you know, I wonder if any other folks out there resonate with that, but, you know, so one thing I'm thinking about is, you know, even in my own family, sort of, how do I build that muscle? How do I step into the, get out of the freeze and step more into the courageous conversation space, and build that muscle in a way that makes those personal and familial connections and helps folks to rethink.
And then, you know, I think it's a time for communities to, you know, I appreciate that moment, movement, inflection point framing. I'd encourage communities to think about how can you keep that heat up enough that you get to lasting change, right, that you don't just settle for returning to the way things were. It's a weird moment in time where I don't think there's a huge constituency of folks like, demanding that we return K-12 systems or postsecondary systems to the way they were because we really figured it out. There's this unique moment in time where systems are on pause, and there's no real constituency that's going to fight for things to go exactly back the way they were because I don't know that anyone was really ultimately happy with how things were. So how can you keep the heat up, keep pushing for the big systemic change. And then personally step into those courageous conversations both in your own lives and in your professional lives.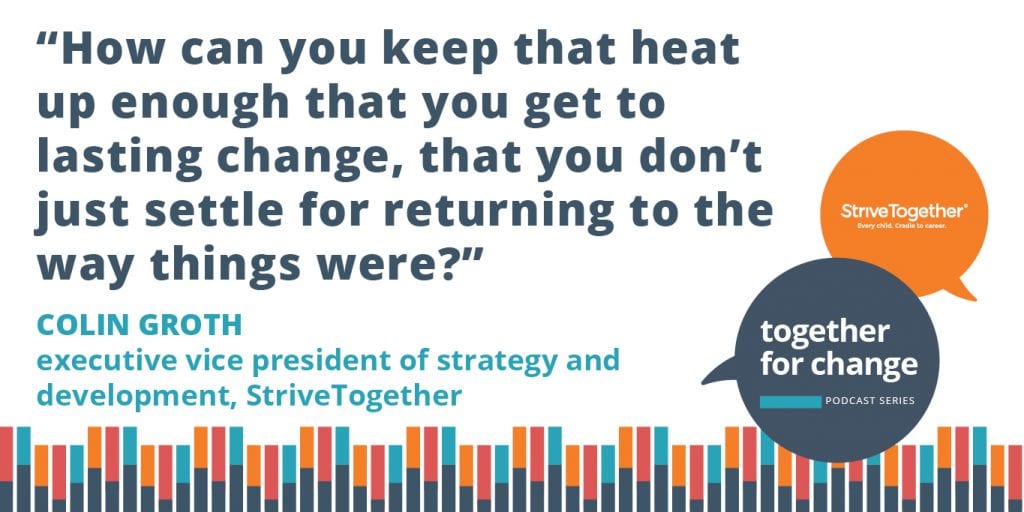 Glenn Singleton
[44:22] I love the fact that you know, Colin, if every one of my students, my colleagues, my friends were as trusting as you are. We just had this conversation yesterday and I can see how it resonates. This is a deep belief that that's embedded in the protocol of courageous conversation. It starts personally. And it's also an understanding from a more spiritual aspect that, you know, over the next period of time, we are brought into close connection with our family and those closest in our lives.
And so while we're not in a workplace, we need to understand that if we do our work in courageous conversation, that the people who surround us, the people who we care about most, the people who we are closest to, will have actually elevated in their consciousness and we will have healed as a community.
I do believe that what we want to do now is we want to up our game in having these conversations with our friends and family. We want to really make sure that the community surrounding us is not one that we begin to make smaller and we cancel, but it's a community that we entrust and that we believe can actually raise and elevate and ascend right now. And that's what we want to do. Put that investment there. Have those conversations, experience the discomfort with it, allow for time and space for people to grow, come back and do it again. Just keep doing it until this becomes who we are. It's the normal for us.
Christian Motley
[46:00] And that's the last word. Glenn, thank you. Thank you for joining us, man. Colin, thank you.
And thank you all for joining us. Stay connected by visiting us at StriveTogether.org where you can find the transcripts of our Together for Change podcast series and learn more about upcoming events, like our annual Cradle to Career Convening. Talk to you all soon.