In conversation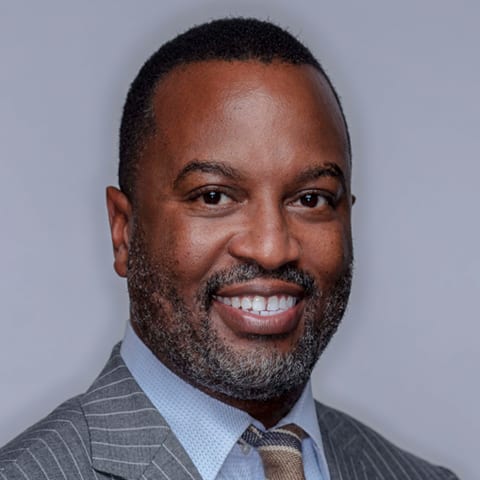 Dr. Michael McAfee
President and CEO, PolicyLink
Learn more about Michael >>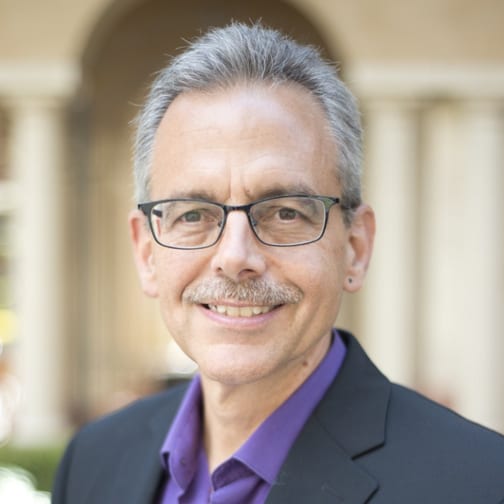 Manuel Pastor
Professor and director, Equity Research Institute at USC
Learn more about Manuel >>
Host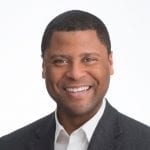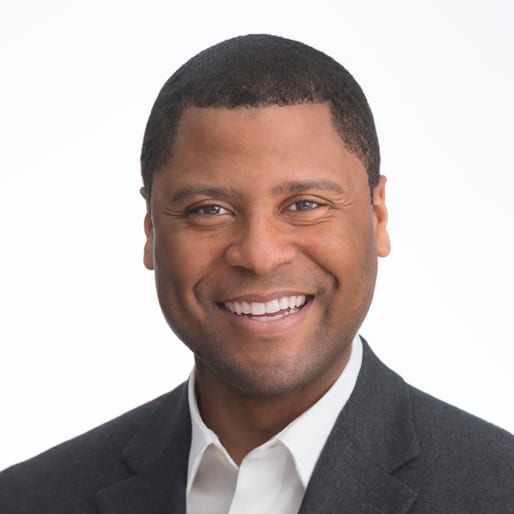 Christian Motley
Senior manager of policy and partnerships, StriveTogether
Learn more about Christian >>
Transcript
Christian Motley, senior manager of policy and partnerships, StriveTogether
[00:19] Hi, I'm Christian Motley, senior manager of policy and partnerships with StriveTogether. Welcome to Together for Change, where we explore what's possible when people work together for an equitable recovery.
Today we're talking about the new racial equity index that examines racial and economic equity in cities across the country. It was built by PolicyLink and the University of Southern California's Program for Environmental and Regional Equity. We're grateful to have two distinguished guests to join us. First is the president and CEO of PolicyLink, Dr. Michael McAfee. Michael understands the urgency of now. He's an advocate for liberating public policies targeted at people living in or near poverty, the majority of whom are people of color. Welcome, Michael.
Michael McAfee, president and CEO, PolicyLink
[01:02] Thank you for having me.
Christian Motley
[01:04] Next is Manuel Pastor, a distinguished professor at USC and director of the Equity Research Institute. Pastor's research has generally focused on issues of economic, environmental and social conditions facing low-income urban communities, and the social movements seeking to change those realities. His current research culminates in his latest book, State of Resistance: What California's Dizzying Descent and Remarkable Resurgence Means for America's Future. Hi, Manuel.
Manuel Pastor, professor and director of the Equity Research Institute at USC
[01:31] Glad to be with you.
Christian Motley
[01:33] Glad to have you both. Listen, we talk a lot about racial equity and an equitable recovery on this podcast. I'd just like to hear from each of you. How do you define racial equity? And why is it important in these recovery efforts? Michael, let's start with you.
Michael McAfee
[01:50] Sure. At PolicyLink when we define racial equity, we define equity as just and fair inclusion into a society in which all can participate, prosper and reach their full potential. And it's important now more than ever, because we've designed a world to exclude Black and brown people. And so it's only logical that anytime there's a calamity, like this COVID-19 pandemic, it often hits Black and brown communities first and worst.
And so, if you want to solve problems of the racial wealth gap, or housing, etc., you can't even begin to solve them until you reckon with this nation's history. And until you recognize that folks have been left behind by design. And so, targeting policies to race is essential if we're going to create a just and fair society. After all, we've used targeted racial policy to exclude. So, it seems like it would only be rational that you would use it to create a just society for everyone.
Christian Motley
[02:51] That makes so much sense. And Manuel, what would you say?
Manuel Pastor
[02:55] I would concur with the definition that Michael is offering. I would add that one other really important part of it is to think about the time dimension. And that equity — particularly racial equity — is about understanding past wrongs, understanding the ways in which people have been left behind and kept behind by structural racism and disenfranchisement.
The second is equity means participation. It means being able to play a full role in determining what policy looks like, what the future looks like. And part of the partnership between PolicyLink and the Equity Research Institute has been about trying to get data tools in the hands of activists and advocates so that they can make their own case about what equity looks like, and what our world should look like.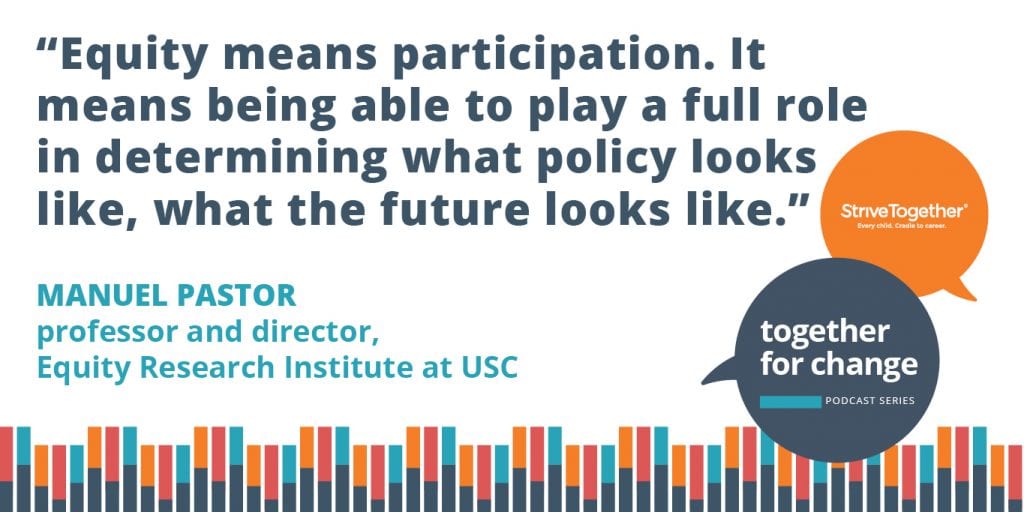 Manuel Pastor
[03:52] And the third dimension is the future. Because I think there's a lot of times when we undertake a policy, and we don't fully think through the consequences of it. The biggest example of that is the kind of investments people have made into revitalizing urban areas, bringing in mass transit, etc., without putting in place the kind of safeguards to make sure that that does not result in gentrification and displacement, but instead results in the growth of community wealth and well-being. So, looking at the past, thinking about the present in terms of participation, thinking about the future, both in terms of a world we want and the mistakes that we don't want to make.
Christian Motley
[04:37] Thanks to you both. I'm curious from your perspectives, how you have seen this, you know, we talked about these, this twin pandemics of COVID-19, and the systemic racial injustice that we've seen play out. What has that revealed to you in examples across the country?
And then I want to get to, you know, have a little bit more of a conversation about how we can use this tool to be able to meet this challenge. But I mean, what are you what are you seeing being either highlighted or revealed by these twin pandemics?
Michael McAfee
[05:14] Well, for me, I don't see anything new revealed. It is just the acknowledgement that we will accept death of low-income people, especially people of color, and that it's quite comfortable that in the interest of wanting to get an economy back moving, that they will be sacrificed. And so, the thing that this nation was built on, which is this hierarchy of human value, remains consistent. This pandemic is just another example of it.
And quite frankly, it's time for us to stop acting like every time there's a new crisis — a pandemic, a flood or fire, or whatever it might be — that we're startled. This is just the reality of this nation. It was designed in a flawed way, and it's going to remain flawed until we can take the blinders off of our eyes and decide that we want to design a nation that works for everyone. So you know, coming out of poverty myself, and having plenty of family members still struggling, this doesn't mean anything to them. They just struggle more, they hurt more, they're oppressed more, they'll lose even more opportunity. So, it's the same day, just with greater intensity.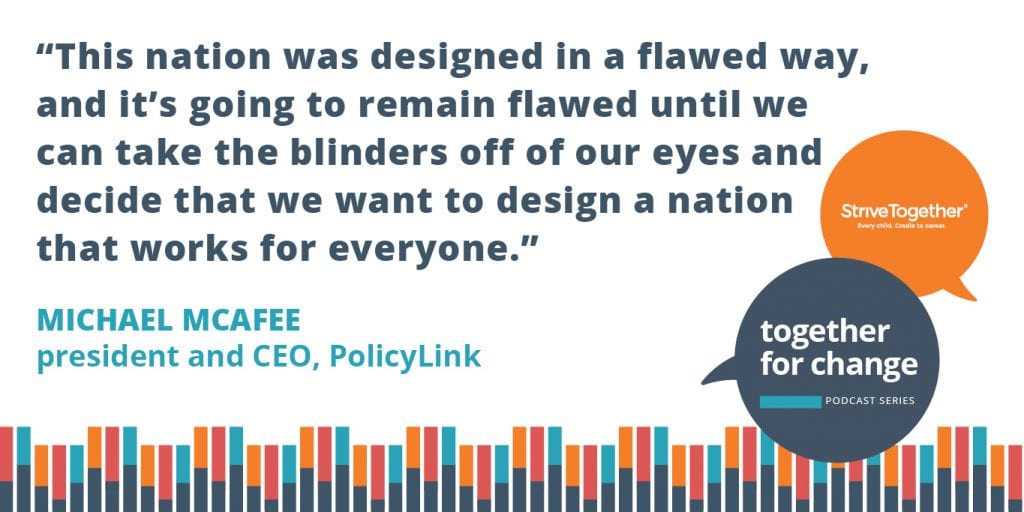 Manuel Pastor
[06:15] I mean, I think that's so true. The way I've been talking about it is that COVID is the disease that reveals our illness, our illness in terms of employment precarity, our illness in terms of the racial wealth gap, where Black and Latino families have about one 10th the net worth of white families in the United States, and it means that they have a very small cushion against these kind of emergencies.
It reveals who is involved in essential work and what essential work is. It's pretty clear that it's not being a manager of a hedge fund. It's about being grocery store clerk, or a meat packer, or an agricultural worker, or a health care worker. And yet, for so many of those essential occupations, the wages are so low.
[07:04] And it reveals, too, our broken immigration system, where we've got lots of folks who have been in a country for years, have families, but are unable to access any other formal systems of care in the context of a pandemic, because they lack legal status. For example, here in Los Angeles County, where I live, 18% — 18% — nearly one fifth of the county is either themselves undocumented, that's about 8 or 9%, or the family member of or living with someone as a family member, and you're not undocumented, but your family member is. And that family member who's undocumented may be one of the breadwinners, contributing to the family income.
And of those folks who are undocumented, here in Los Angeles County, 70% of them have been in the country for a decade or longer. They are not undocumented immigrants. They are undocumented Angelenos.
[08:10] And across this nation, there are undocumented Americans who were frozen out of the federal relief of unemployment insurance, and often out of health insurance as well. So, this has revealed our flawed employment system, our racial wealth gaps, our lack of access to health care and our broken immigration system. And unless we take this moment to realize that it's not about recovery, because we do not want to go back to where we were before. it's about reimagining and restructuring our economy and our society so they can actually deliver on a promise of equity.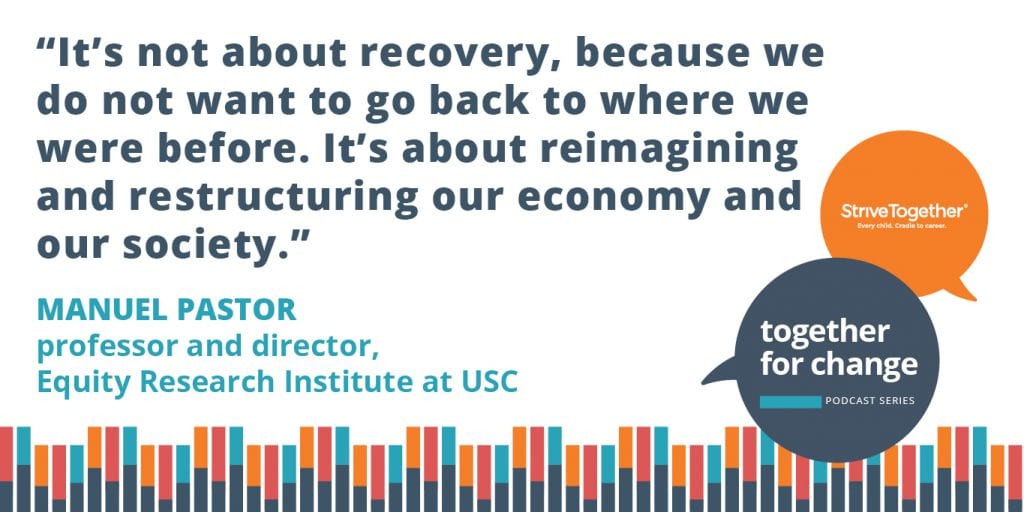 Christian Motley
[08:54] Yeah. Well, let's talk about the Racial Equity Index. I mean, what is it? And how did it come about?
Michael McAfee
[09:01] Manuel, you were the mastermind. I'll let you start.
Manuel Pastor
[09:04] Well, I think Michael and I are both blessed by having staff that really are the masterminds of this, and then they call us and let us know what they did. So, the partnership between PolicyLink and the Equity Research Institute is something that's been in place for at least a decade, maybe a little bit longer. We became determined to put into the hands of proponents of equity, advocates of equity around the country, the kinds of tools that they would need to make the case — to show with disaggregated data, that there were disparities in terms of education, the economy, the environment and so much more.
Since we've been doing that, through our tool, the National Equity Atlas — and for your listeners, you go to NationalEquityAtlas.org and you can find disaggregated data for every state in the country, for every big metropolitan area and for the top 100 cities. Since we've been doing that, people have wanted to say, is there a way to come up with a Racial Equity Index that kind of puts together all of this data?
[10:18] So we will end up looking at economic vitality, readiness and connectedness, looking at things like median wage, employment, poverty, educational attainment, youth that are disconnected — meaning they're neither in school nor working — kids that are concentrated in low-income or high-poverty, schools, air pollution, rent burden and maybe one or two other measures. And we asked, how is your region doing overall? And then how big are the gaps between groups?
Because one of the things I think that people can often get blind to is they look at the aggregate numbers for a region and they think, "My gosh, the region's actually doing pretty well." I'll give you an example. Minneapolis-St. Paul actually is doing pretty well in terms of wages, employment, poverty, homeownership and a number of other variables. But if you specifically look at the Black community in Minneapolis-St. Paul, you see that it ranks among the bottom of our top big metropolitan areas in terms of Black economic achievement.
[11:25] And so it's no wonder that the murder of George Floyd, which certainly had to do with police brutality and police violence, but it revealed so much more about the kinds of tough economic situations that Black people in Minneapolis-St. Paul are facing. That's the kind of thing that this Racial Equity Index tries to get at — trying to summarize all of this data and trying to summarize the disparities, so that we look below how our region might be doing overall, and ask the question, "How big are the gaps for racial and ethnic groups within that region?"
Christian Motley
[12:02] I'm curious, you know, in the years since 2014, I mean, how has it been received by community leaders? How are policymakers seeing the tool as being, you know, usable for that work?
Michael McAfee
[12:16] I can tell you a couple examples. You know, one is, most recently the advocates have been using this tool to make the case that the eviction moratoria that we see going on around the country should be extended. And so, this is real, live infrastructure for the equity movement that you often don't see built.
And so you get into a crisis like this, and you're scurrying around trying to find data. But this system, with Manuel's vision and the vision of our staffs, was about making sure that this data was something that policymakers and advocates could actually use. And it's that data that they actually want and need.
[12:54] You're seeing the profiles that come from this data, like Fairfax County beginning to have an equity agenda where they're putting equity targets in all of the governmental departments at the county level. And so the data has been used by local governments, by foundations, by advocates to advance an agenda, whether we're talking about housing, or policing, or how we're going to govern at the local level.
The last thing I'll say here is this. The data can never be decoupled from leadership. And sometimes I still see folks being intoxicated by what the data says. But at the end of the day, we already know that it's awful. We're giving you powerful new ways to make that case. Leadership is needed to move from talk to action. And I'm still seeing in too many places, people are craving more data, when they have plenty to begin to do the work that's in front of them.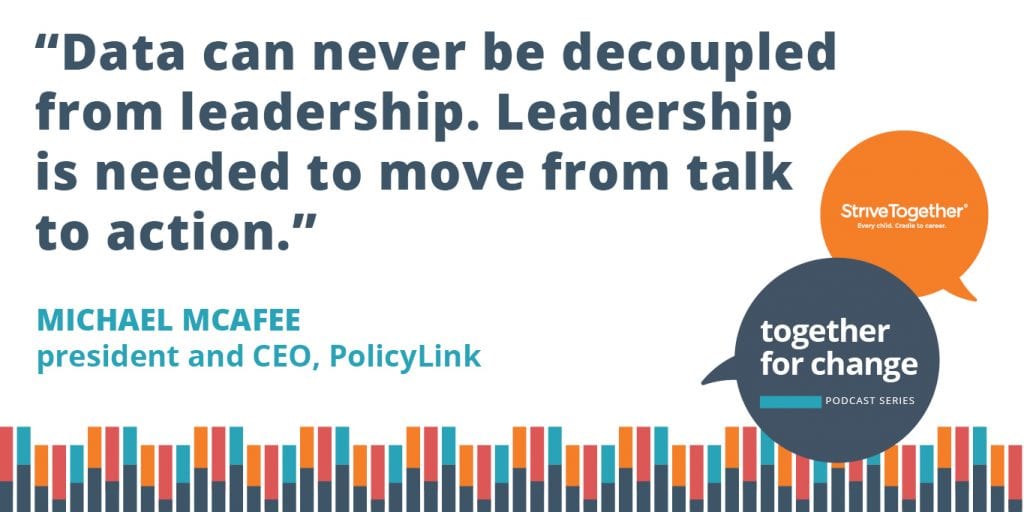 Michael McAfee
[13:48] So while I'm excited about what we see around the country, we still are learning to develop the commitment and the courage and the capacity to look at this data, craft strategy and actually have the institutional and leadership commitments necessary to actually close these gaps that Manuel was talking about. So still some work to do there, but we're making progress.
Manuel Pastor
[14:12] Yeah, just a couple of things, which is that this, you know, data — I mean, there's three things I would say. First, I know how many folks may go to their city halls, to their county boards of supervisors, to state assemblies and senates and governors, and they're trying to highlight the situation of particular communities. And all those authorities will say, "Well, we don't really have disaggregated data that allows you to see what these differences are."
Basically, the National Equity Atlas strips away that excuse. This data can be disaggregated at such a profound level. If you look at the work — you can, for example in Arizona, where there's a substantial Native American population, look at the experiences of different tribes. Or if you go to the City of Long Beach, where there's a substantial Cambodian population and Laotian population that's been left behind, and whose economic circumstances often get masked because they get lumped under a broad Asian category, and certain subgroups within the Asian population are doing well, so the subgroups that are not don't get paid attention to. That's something that the data helps you do, by making sure that there's no excuse for not disaggregating.
[15:43] It's also been really essential recently for highlighting essential workers, and pointing out that the folks who are involved in what state authorities and the federal government have been calling essential work, and also in a high-risk variant of that — meaning that they're in contact with lots of people — we were able to do a lot of very early work using this data to show that that was predominantly Black people, Latino, U.S.-born and immigrant, and immigrant Pacific Islanders, and really highlight that kind of stuff.
And then finally, on a very practical and mundane level, if you're an activist, and you're about to prepare a report or a proposal to foundation, this website allows you to actually download the data to do your own charts, download the charts we've created to be able to kind of insert them into your report or proposal and literally to download a PowerPoint. And the number of groups that have been doing that to then make PowerPoint presentations, for example, on the issue that Michael mentioned about the rent burden and how disparate it is in your particular metropolitan area — there's a PowerPoint for that.
[17:08] I think one thing we need to realize is that the murder of George Floyd, and the sort of awakening about and reckoning with racism actually comes in the context of the COVID crisis, the twin epidemics you talked about, sort of revealing significant racial disparities. And in that moment, that there's a reckoning around racism, there's an app for that, and the app is the National Equity Atlas.
Christian Motley
[17:34] What's really important, I think, is that really following both, you know, demonstrations related to, for example, the deaths of George Floyd and Breonna Taylor, here in Kentucky where I live, there's been so much more engagement and conversation about law enforcement. And even in my city — I live in Lexington — folks coming together to talk about a set of recommendations that they can take at the system level.
In the follow up, and really in response to COVID-19, you saw the federal government take some action and you did see, you know, resources mobilized at the state and local level. I'm wondering from your perspective — I mean, in all these conversations, there has been a prioritization that has happened. And I wonder from even the data that you've seen, you've mentioned some priorities around, you know, housing stability, the wealth gap, the work to support essential workers.
[18:36] I mean, what priorities are you seeing bubble up? Relative to the health pandemic, which has revealed racial inequality, and this conversation about law enforcement, for example. What priorities would you call out for leaders as they're having these conversations about what to do next?
Michael McAfee
[18:57] You know, what I would say is, we recently did an analysis of about, there were about 20 movement platforms, agendas that have already been created over the last five years. And the reason why we did that is because we think that constantly talking about priorities is work avoidance. It's work avoidance.
I mean, the reality is, people on the street, if you just get common sensical, they're still on safety, housing, jobs, education, living wage, health care — they've not moved off of those issues. We keep trying to come up with fancy frameworks and different ways to describe the same old problem. They need us to revolutionize our solutions. A priority-setting agenda when which no one's really going to act in a transformative way worthy of, like, in Contra Costa County solving the need of 12,000 renters that could be easily evicted is a useless exercise.
[20:00] And so, what I would ask everybody to think about is, the people have already spoken about what the priorities are. They're common sensical things. Can I put food on the table? Can I work if I want to work with a living wage, and not have to work two jobs and still be in poverty? Can I have access to decent, safe and affordable housing and water? Can I live in a community where the police aren't trying to subsidize the municipal budget by kicking my ass?
That's what people are asking for. And if there's anything that this data is calling us to do, it's to remember that, that these data sets are real people who have spoken. Now they need us to do our jobs and implement solutions that are worthy of the energy that's been manifested in the street.
Manuel Pastor
[20:46] I mean, I think that's — the only thing I would add to that, because I think that's sort of an absolutely great answer, is that I think that also, what's been bubbling up is, you know, what does public safety look like, and doesn't it look a lot more like investing in health care and mental health and jobs and youth development than investing in police. And that's a very common sense thing, as Mike was saying, that comes from street-level, both action and common sense at a daily level.
The other thing that I would add to that is this entire issue of spending so much time, you know, with an immigration system that's seeking to exclude rather than to include. With an administration that's seeking to deport rather than to welcome, with an administration that has proposed increasing by 83% the fees for people who are legally in the country to become citizens, a deliberate attempt to exclude immigrant voices from the political process.
[22:12] And I think that, as we understand the need to reckon with the deep racism, and the anti-Black racism, that is such a fundamental part of our country, that we also need to understand that that anti-Black racism has colored attitudes around immigration. The same anti-Black racism that creates this hierarchy of value that Michael was talking about at the beginning, that's created the kind of othering and marginalization that's made it possible for immigrants to be put in such a lower position relative to other folks.
So, I think combining the streams of these struggles is really important. And that's one of the reasons why we're extraordinarily proud that — it always comes back to the National Equity Atlas — that dark data is broken down, not just by race and ethnicity, but by race, ethnicity and nativity. So you can actually look at the experience of, for example, Black immigrants, and understand, for example, that the likelihood of a Black immigrant being deported is twice that of other immigrants because the anti-Black racism runs through the immigration system as well.
Michael McAfee
[21:31] You know, Manuel mentions one thing that I think is really important if you were to say, "What is an emerging priority?' And it's exactly what he said. It centers around what he said around reimagining community safety. It is time for us to reimagine all of our institutions. Do they actually serve?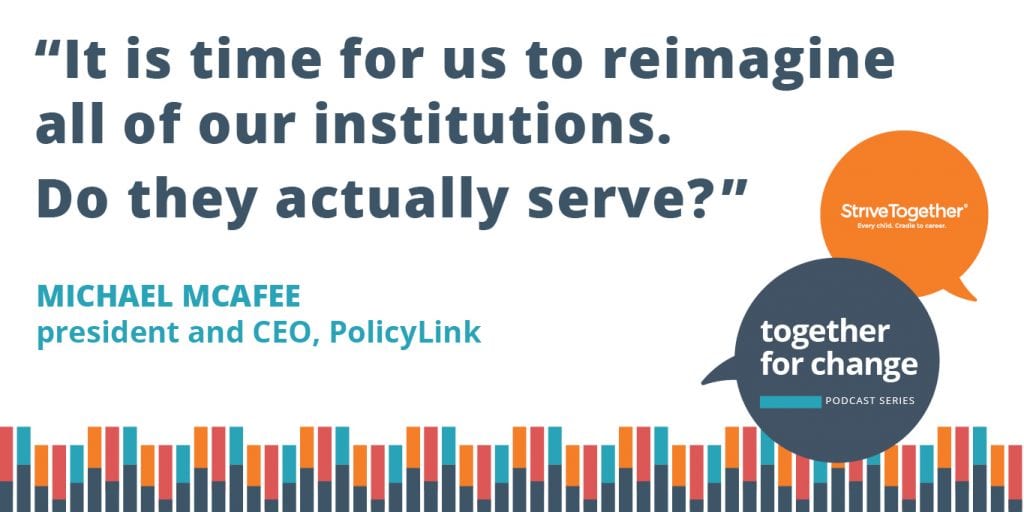 Michael McAfee
If you look at a lot of their origin stories, they were set up to do great harm. And they've continued that. It runs in their DNA. So, if there was a priority that sits above all of the issue-specific things, it is this question: What do we want our institutions to be that can fully serve all of the folks in a multiracial democracy?
[24:12] We haven't asked ourselves that question. It was asked years ago, to oppress, and that's why they've been designed that way. So, you look at their origin stories, it's quite counter to advancing racial equity. And it hasn't changed.
And a perfect example would be with what you see with HUD. HUD puts billions of dollars out basically for charity on one hand through entitlement programs, and then it strips away the housing discrimination law that provides the greatest protection and the Affirmatively Furthering Fair Housing rule. How can that possibly be? And then it blames Black and brown people because the indicators in the National Equity Atlas aren't moving in the right direction for Black and brown people. This is a perfect example of structural oppression.
[24:57] And so, the question becomes, how would we remake the U.S. Department of Housing and Urban Development to be an anti-racist institution in this moment? So to me, that is the meta priority that we've got to get to — remaking our institutions so that they actually serve the most need in this nation.
Christian Motley
[25;17] That is so important. And thank you for mentioning that, Michael, because my next question was going to be about the future of this work and what are the possibilities. And so that example, about even, again, examining current systems and then reimagining them in a way that is, you know, anti-racist.
Manuel, would you have another example? I'm just thinking about, you know, what is the future of this work and the possibilities as a result of having a tool like the Racial Equity Index?
Manuel Pastor
[25:48] I'll give you a couple of examples, because we just completed a report here in Los Angeles County called No Going Back: Together for an Equitable and Inclusive Los Angeles. And it was done by our research shop along with folks from UCLA.
If you know, Los Angeles, USC and UCLA collaborating on something is quite a miracle. But, you know, crises demand people coming together. And, you know, a couple of things are going on. There's, in LA, there's been a specific, it's a 25, or 35%, cut in spending on policing at schools, with an idea of moving eventually toward as little police in schools as possible. And that starts to really shift things in a very different way. Kids feel like their schools are not prisons, grooming them to eventually go to prison, but places of actual safety and encouragement.
[26:50] There's also been quite a few moves afoot here to kind of think about a sort of California citizenship, which would be something that would be open to immigrants, regardless of their immigration status. And that kind of logic has led the state of California to make a change just a couple of weeks ago, so that the earned income tax credit, which is given to low-income families who file taxes, is something that is now available to any Californian filing taxes regardless of whether they file them with a Social Security Number, which you do if you're a U.S. citizen or legal resident, or if you file with an Individual Taxpayer Identification Number, which is how you file taxes — and most undocumented immigrants do — if you are undocumented. So, it's those little things that start to give you the glimmer of hope about the big changes that can eventually be made.
Christian Motley
[27:52] You know, we are wrapping up here. And typically on this podcast, we like to end with a call to action. And, you know, I'd like to ask each of you, what would you say to community leaders and policymakers as they look to create ways to recover from the twin pandemics — again, COVID-19 and the racism that is ravaging our country? What would be your call to action to those folks?
Manuel Pastor
[28:17] So yeah, I mean, we just did this report, as I was saying, No Going Back, which was laying out the context, the problems, 10 principles and then a set of policy areas. And I'll just share that our first principle, in terms of a rebuilding of Los Angeles, was to challenge anti-Black racism in all of its forms. And to understand that by doing that, it's going to benefit a large number of us, because when you improve the situations of Black people in America, you're improving situations of everyone, because that's often the community that's the closest to the challenges that are being faced.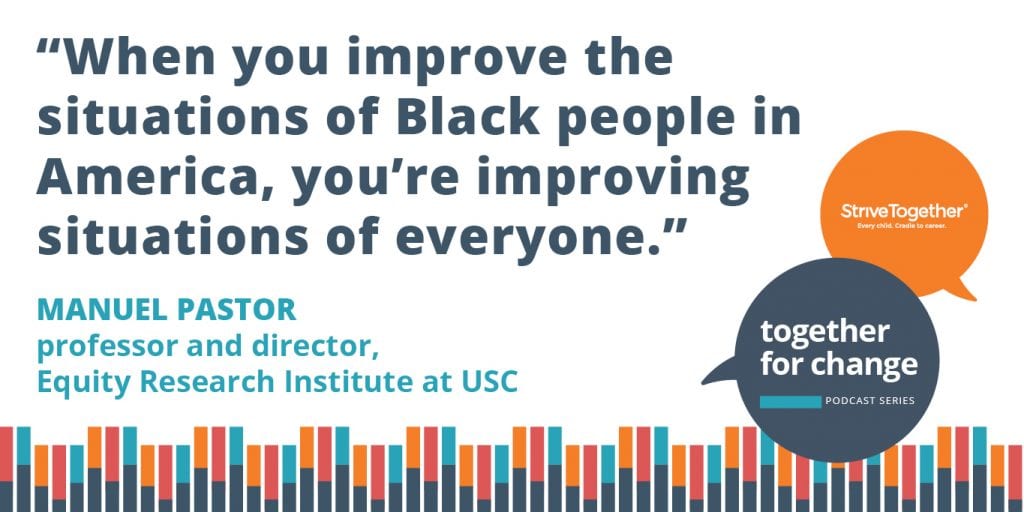 Manuel Pastor
Another principle that we call for is investing in youth development and youth empowerment and investing in community power building. One of the sort of frames that came up in the context of doing this report, somewhat familiar, is that the communities that are the closest to the problem are generally also the closest to the solution. Unfortunately, they're the furthest from the power. And the way in which policy often gets developed is to sort of have experts develop policy, not necessarily talking to the people who are experiencing the problem. And not thinking through how it is that that policy is going to get won and then implemented. And the only way it gets won is through community power. And the only way that it gets implemented with accountability is for community organizations having voice.
And the last, third, call to action, use the National Equity Index. It's a great tool.
Christian Motley
[30:08] Thanks, Manuel. Michael?
Michael McAfee
[30:10] Manuel said it powerfully. I think the only thing I would build on what he said is that the principles and using the tool are absolutely right.
And this is a moment for us to stay encouraged. I mean, the reality is, folks have had to fight to get to where we're at. And this is our turn. If anything, young people have inherited this revolution from our ancestors, and they're doing beautifully at carrying it forward.
[30:35] And what I asked those of us who are in institutions, that through our indifference, our apathy, are avoiding the ultimate work that needs to be done around addressing anti-Black racism or the other 10 principles in the report that Manuel mentioned, is to understand the power that we have now to either accelerate — realizing the promise of equity — or getting in the way of it.
And the last thing I'll say is, if you've seen anything in this moment, you've seen what it looks like when a leader owns its people, who shows you who they care for and will stand up for them and will fight for them, even if it's toxic. And if there's anything that we have to do right now, it is to stand up for Black and brown people and to fight for them — not fight for them through charity, but fight for them through changing the legal and regulatory framework of this nation so that it works for them.
Christian Motley
[31:29] And that's a great final word to end on. Not charity — change. Listen, thank you both, Manuel, Michael, for joining this conversation. This has really been great, guys. Thank you for joining us today.
Also, big thank you to our listeners. If you learned something new today, pass it on to your family and friends. Stay connected by subscribing to Together for Change and visit us at StriveTogether.org.