StriveTogether partners with the Data Quality Campaign and National Taskforce to share best practices
Cincinnati, Ohio — Collective impact partnerships, place-based initiatives, community school efforts and many other organizations rely on access to student-level data to personalize ways to help students succeed.
But data sharing comes with the crucial responsibility to use it effectively and responsibly, and to protect student privacy.
Today, StriveTogether released two new publications designed to help communities responsibly use student data and effectively partner with schools on data-driven ways to improve education outcomes.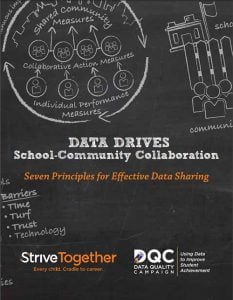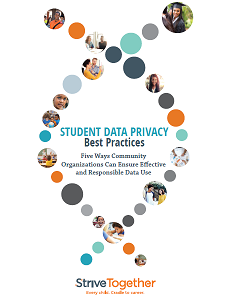 The first publication, "Student Data Privacy Best Practices: Five Ways Community Organizations Can Ensure Effective and Responsible Data Use," includes recommendations for community organizations on how to effectively use data to impact student achievement, while protecting student privacy. An output of a StriveTogether-led taskforce of local community practitioners and national data use experts, the paper provides guidance to help organizations navigate privacy regulations, data security strategies and partner engagement.
"Data sharing between schools and community partners is critical to understanding what works to move student outcomes," StriveTogether Associate Director of Data Utilization Geoff Zimmerman said. "To ensure student protection and to maintain the public's trust in these efforts, responsible data use and practices must be built into the DNA of organizations using this data."
StriveTogether also partnered with the Data Quality Campaign, a national advocacy organization focused on empowering everyone who has a stake in education with data to improve student achievement,  to publish a second student data resource for communities, "Data Drives School-Community Collaboration: 7 Principles for Effective Data Sharing." This resource is designed to help organizations implement complex data partnerships, with seven key lessons about how to begin and grow a data-driven initiative with schools and other community partners.
"When schools and local community organizations effectively share data, schools can better understand which community partners are serving students and help to align the partners in meeting overall student achievement goals," StriveTogether Managing Director Jeff Edmondson said. "Data-driven decision making enables schools and partners to build upon what really works for students."
StriveTogether and members of the student data privacy taskforce, including the Data Quality Campaign, will host a webinar on Feb. 18 at 1 p.m. EST focused on responsible data use. The webinar is free and open to the public. To register, please visit www.strivetogether.org.
About StriveTogether
StriveTogether works with communities nationwide to help them create a civic infrastructure that unites stakeholders around shared goals, measures and results in education, supporting the success of every child, cradle to career. Communities implementing the StriveTogether framework have seen dramatic improvements in kindergarten readiness, standardized test results and college retention.
About the Data Quality Campaign
The Data Quality Campaign (DQC) is a nonprofit, nonpartisan, national advocacy organization committed to realizing an education system in which all stakeholders—from parents to policymakers—are empowered with high-quality data from the early childhood, K–12, postsecondary, and workforce systems. To achieve this vision, DQC supports policymakers and other key leaders to promote effective data use to ensure students graduate from high school prepared for success in college and the workplace.