StriveTogether Art Inspires Scholarship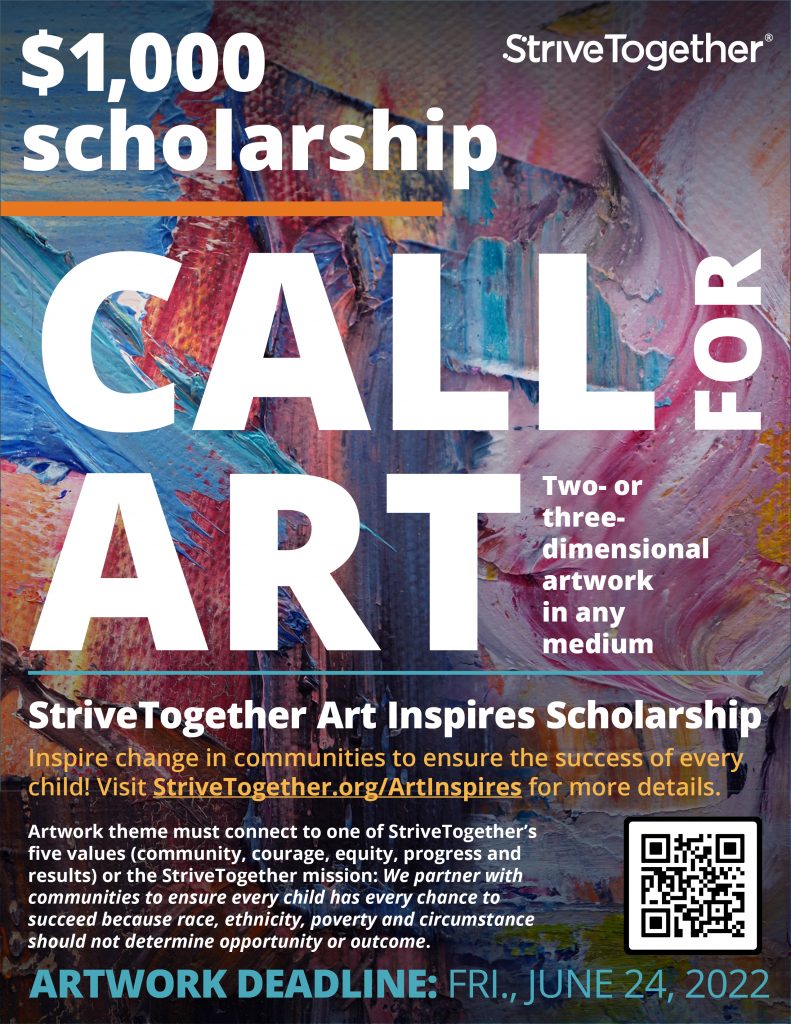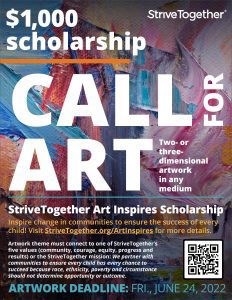 StriveTogether launched the Art Inspires Scholarship in spring 2018 to support student artists in their educational journeys. Since then, more than 20 students have each received a $1,000 scholarship, and their artwork is displayed at StriveTogether's Cincinnati headquarters. Learn more about previous Art Inspires Scholarship winners.
This year, selected student artists will have their artwork featured at the 2022 Cradle to Career Network Convening's opening reception at the Zhou B Art Center and earn a $1,000 scholarship. The artwork created will inspire communities across the country who are working to ensure the success of every child, from cradle to career.
Artwork must be submitted by Friday, June 24, 2022. Scholarship winners will be notified by mid-July 2022 and will receive their awards no later than September 2022. Scholarships can be paid directly to the student or a designated educational program or institution they are enrolled in. Scholarship winnings must be used for tuition, books, supplies or equipment for secondary or postsecondary education.
Selection Criteria
A qualified judging panel, selected at StriveTogether's sole discretion, will choose up to 10 submitted works of art based on the following criteria:
Artwork theme must connect to one of StriveTogether's five values (community, courage, equity, progress and results) or the StriveTogether mission: We partner with communities to ensure every child has every chance to succeed because race, ethnicity, poverty and circumstance should not determine opportunity or outcome.
The work's ability to inspire change in communities to ensure the success of every child
Creativity and originality of the theme as described above
Eligibility 
To be eligible to submit a work of art for the chance to receive a scholarship, students must:
Be a Chicago resident
Be a high school student in grades 9-12 in the 2022-2023 school year.
Intend to pursue postsecondary education or training.
Be willing to be featured in StriveTogether and local partnership communications.
Winners: Be willing to have art displayed at the opening reception of StriveTogether's Cradle to Career Network Convening at the Zhou B Art Center on Wednesday, September 21, 2022. (Winners will also receive an invitation to the event for themselves and guests, but attendance is not mandatory.)
Winners: Be willing to release original artwork within 14 days of notification of winning. In addition to the scholarship award, StriveTogether will cover costs to ship/courier artwork to a local address for display at the Zhou B Art Center in September.
Winners: Be willing to give a brief post-winning interview with our communications team or create a brief recording sharing additional information about their artwork and educational goals.
Submission Rules and Instructions
Artwork may be 2-dimensional or 3-dimensional in any medium, including printable digitally created artwork.
2-dimensional art must not exceed 24" width x 24" height.
3-dimensional art must not exceed 12" width x 12" height x 12" depth.
Art must be an original concept and not a copy of anyone else's copyrighted material.
Artwork of scholarship winners will be property of StriveTogether.
Additional releases, information or documentation may be required to be submitted upon selection for the scholarship by the student artist and, in the event the student artist is a minor, the minor's parent or guardian.
Members of the StriveTogether Board of Directors, officers and employees of StriveTogether, Inc., and the family members of, and any persons residing with, any such persons, are not eligible to enter or to win. The term "family members" includes spouses, parents, grandparents, siblings, children, grandchildren and in-laws, regardless of where they live.
To be considered, you must submit your application and artwork via the 'apply now' button below.
Official Terms and Conditions
Equitable Entry
If you would like to apply, but do not have access to a camera or internet, please contact the organization that shared this opportunity with you.