After moving into their new office last summer, StriveTogether team members have been thinking of ways to add some creative inspiration to their space. The work of local artist and Cincinnati teacher Matt Eckerle captured their imagination right away. Matt was commissioned to create an original piece incorporating our core values: community, courage, progress and results. His completed piece now hangs above the fireplace in our Cincinnati headquarters.
I got the chance to sit down with Matt and learn more about the artist and process behind first piece of original art in the office. Originally from Edgewood, Kentucky, Matt has been creating art his entire life. His high school art teacher, who remains a mentor to him today, inspired Matt to combine his passion for art with teaching. That advice led him to teach art for 17 years. He is currently in his 14th year of teaching art at Notre Dame Academy.
What was the first piece of art that really mattered to you? 
I've had plenty of pieces impact my life, but a piece of artwork that had a profound impact on me was a piece my brother, Andy (a local artist and art teacher at Highlands High School), created. He was working in our basement, making a mess working on a sculpture/painting — and it was amazing. I think the reason it had such an impact on me is because it was so skillfully created. It reminded me of something I would see in a gallery or museum, created by someone I would only read about in art history books. But it was created by someone close to me, and because I could see the work in process and knew the person making it, I thought that I too could make artwork.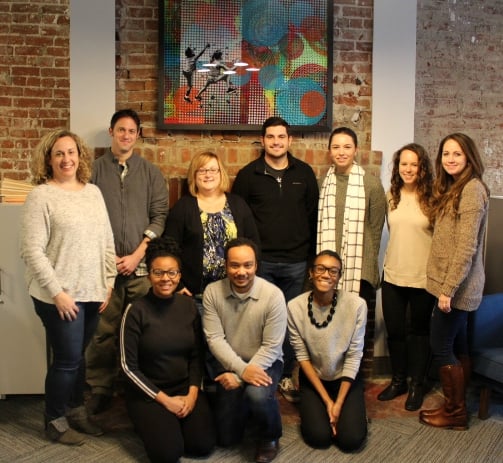 What were some of the mediums used to create this piece? 
The imagery initially started from a digital photograph taken by a friend of mine, but it showed pretty much exactly what I wanted to express. From the photograph, there was a lot of digital design work, and eventually the image was put onto and printed from a screen. The process is called "reverse screen printing," and it's one of my favorite processes to use. The background designs were either created digitally or from sketches made through the same process.
Since I learned the process of screen printing while attending the University of Louisville, I fell in love with it. I've gravitated toward works created by artists like Ryan McGinnis and I've been interested in his layering of images over and over again. I wanted to work in a similar manner.
Were there multiple attempts with this piece?
For sure! There were some test prints to make sure everything lined up and looked how I was hoping. Once the image met what I was looking for, I started working on the actual piece. I've had a couple of years of experience working on similar pieces, so I had a pretty good idea on how the colors would work together and how the designs would look when completed. I approached the work with a good amount of confidence that I would be happy with the finished product.
What were a few of the struggles you had to overcome with it?
Every piece has its challenges. Those are my favorite parts, because if everything works as planned, it's not as much fun and you don't learn anything new. With this particular piece, the biggest struggle would have been coming up with my visual interpretation of StriveTogether. I was excited to come across this image showing younger kids working together to accomplish a goal, and when I saw the image, I knew that was the one that showed exactly what I wanted to portray.
What role do you think the arts play in education/educating students?
I think the arts are absolutely essential. For the student who focuses on academics, it's a way to work the other side of their brain, experience something new, challenge themselves in a different way and give them a place to take a breath. For an art student, the studio or the stage serve as their home. It's where they go during class, during lunch, during a study hall and where they may stop in after school just because. But for all students, the arts gives the student an opportunity to be themselves. I believe art education is at its best is when it is no longer about the subject but about the artist.
Can you give a word of advice to aspiring artists?
The best thing you can do is to do what you love and fail at it as many times as possible. Keep trying, because if you're making mistakes, you're doing it right! You learn so much more every time you mess up.