Economic mobility is a term that's starting to sweep the social sector. I hear it when I attend meetings across the country; I see it in newsletters, RFPs and research briefs. So many smart people are collecting and analyzing data and writing deeply about indicators and strategies for achieving greater upward mobility. I have learned so much about the middle class, from income quintiles (where the population is evenly divided into five income groups) to longitudinal frameworks (where the same sample of people is studied over time). But I also have been asking myself: What does economic mobility really mean? And why does it matter?
Last week, I painstakingly bent over my computer to write a blog on economic mobility. This is, after all, the north star of the StriveTogether Cradle to Career Network. I was mulling over a few research papers, each with different sets of indicators, when I was struck by a seemingly simple idea (and one I can't believe I didn't think of earlier!). I asked my 11-year-old daughter, Audrey, "What does success look like for you as a grownup?" Her answer nearly brought me to tears.
Audrey said, "Success looks like having a job, where I get decent money and I have a family and I have a normal house and my kids go to a good school and um … I'm just, happy." That's it. Our young people don't care about moving quintiles — that's just technical jargon. As I picked my chin up off the floor, I thought about how profound this statement was. And I would be willing to bet that Audrey's answer is the same for millions of other kids across the country.
I want my kids to experience success in whatever way they define it. Every parent wants the same for their own children. We all hope for the components that lead to overall well-being:
Financial stability
Fulfilling employment that provides an adequate quality of life
Opportunities for education
Stable housing
Social supports
Accessible and affordable health care
I also asked Audrey if she thought she would be able to achieve that goal. She said she thought she could if she worked hard. But then I asked if she thought every kid would have that same opportunity and her answer was "probably not." We have been talking a lot about privilege in our house lately. It was clear to me in that moment that Audrey recognized hers.
And there's data to back it up. Economist Raj Chetty and his team show that 70 percent of Americans born in the lowest income quintile will never reach the middle class, and black households are more likely than their white peers to experience downward mobility. These outcomes are the result of discriminatory policies and practices with origins in systemic, structural and institutional racism.
These outcomes are unacceptable. At StriveTogether, we refuse to settle for a world in which a child's potential is dictated by the conditions in which the child is born. The Cradle to Career Network is a national movement unified by a clear purpose: helping every child succeed in school and in life, regardless of race, zip code or circumstance. Putting children on the path toward economic mobility is our north star. Our ambitious five-year strategic plan, which we officially launched this year with the Network, is focused on putting every single one of the 13.7 million children we reach on the path to middle class by middle age. We especially want to improve outcomes for the 8.6 million children of color in our communities.
This is why StriveTogether is committed to transforming systems and eliminating disparities across the cradle-to-career continuum, with the overarching goal of economic mobility. One of the first steps was adding employment as the seventh outcome in our cradle-to-career roadmap. This addition was a long time coming and finally put a stake in the ground around measuring career in cradle to career. But employment does not equal economic mobility, nor is employment how we measure economic mobility. Many Americans with jobs are not earning more than their parents did, relative to today's standards. Rather, employment, like the other six cradle-to-career outcomes, is one interim (but very important) measure of upward mobility.
As we go on this journey as a network, I feel reassured that we are not alone. Recently we engaged in some conversations with experts and thought leaders from Brookings Institution, Opportunity Insights, Results for America, Urban Institute and Enterprise, all of whom are working to identify a set of interim measures for economic mobility. Although a number of hypotheses exist and are being tested, no one has quite figured this out. Still, I'd posit the Network is a leader in making sense of this complexity because we are doing the work on the ground and learning as we do it in 67 communities across the country.
Our evolving approach was essentially validated when I sat in the audience at one of Raj Chetty's recent speeches and he put up a slide that included our cradle-to-career roadmap (in StriveTogether brand colors and all!), with additional indicators such as family stability, social capital and affordable housing layered beneath the educational outcome areas. For more than a decade, our Network of partnerships has measured progress across the cradle-to-career continuum, and now it's a core part of every outcomes framework I've seen from these experts so far.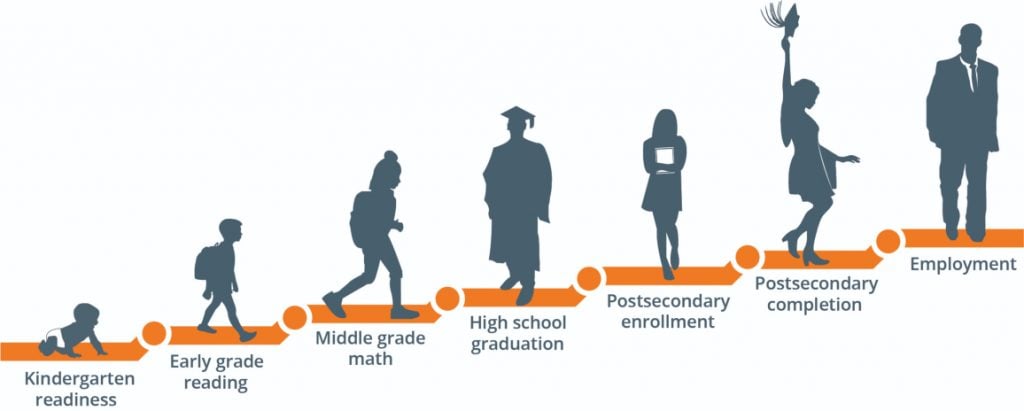 The bottom line is this: The only true path to mobility for every child is zero disparities. The only way we will get to zero disparities is to transform systems. And to transform systems, we must center equity and work with adjacent sectors like health, housing and transportation. We are on the right path, but it won't be easy. This Network is leading the charge on this important and groundbreaking work.
Every child, regardless of the quintile into which they're born, should have every opportunity to achieve their definition of success. That's the American Dream, right? We cannot and will not stop until every one of the 13.7 million children impacted by this Network is on that path. We will be unstoppable until every child succeeds from cradle to career.