The StriveTogether Cradle to Career Network has a clear vision – every child and young person should have a pathway to economic mobility. The seven outcomes we pursue are the milestones that make up that pathway. A growing body of research supports the notion that outcome improvements in postsecondary enrollment, postsecondary completion and employment are contributing indicators to economic mobility. For example, we know that for each level of education after high school, earning potential increases, with bachelor's degree holders earning an average of $750,000 in additional income over a 40-year career compared to associate degree holders.​ Similarly, the average unemployment rate decreases as education attainment increases, from 5.4% for those without a high school diploma to 1.1% for those with a doctoral degree.
With such compelling evidence linking cradle-to-career outcomes to economic mobility, StriveTogether is laser-focused on how we can accelerate progress in communities to get better and more equitable outcomes. Enter the network effect. The network effect is what happens when StriveTogether convenes partnerships working toward similar outcomes and creates the space for them to forge peer-to-peer connections, share promising practices, ideate solutions for adaptive challenges, and commit to acting on what they learned to advance outcomes.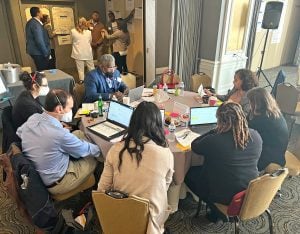 The network effect was evident last week as more than 70 participants from 16 StriveTogether network members gathered in Baltimore, Maryland, to discuss postsecondary and workforce outcomes. Attendees included network member backbone staff, as well as school district, higher education and workforce partners. Data lined the walls as participants explored trends in postsecondary and workforce outcomes and bright spots on the journey to economic mobility. Communities shared innovative practices in how they are using data to drive better and more equitable postsecondary and workforce outcomes, including:
Spartanburg Academic Movement in Spartanburg, South Carolina, shared how they are using National Student Clearinghouse data to provide student-level FAFSA completion information to nine public high schools in Spartanburg County. As a result, Spartanburg has been able to maintain FAFSA completion rates for the previous two high school graduating classes, despite a decline in FAFSA completion rates in South Carolina and nationwide.
Baltimore's Promise in Maryland shared the recent establishment of the Baltimore City Youth Data Hub, an integrated data archive linking data across youth-serving organizations into an anonymous system with community oversight. As one its first demonstration projects, the Youth Data Hub will link data on opportunity youth from sectors such as housing, foster care, education and employment to understand the causes of long-term disconnection from higher education and workforce opportunities.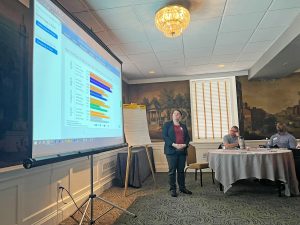 In addition to sharing success stories, partnerships spent dedicated team time summarizing their current and desired outcomes and strategizing on how to get from their current to their desired state. Perhaps most importantly, they had the opportunity to receive feedback from their peers on challenges they are facing and leverage the collective experiences, expertise and energy in the room. This was when the network effect was at its most powerful, making the whole greater than the sum of its parts, as partnerships walked away encouraged and energized to continue the hard work of transforming systems to yield better and more equitable outcomes.