Guest blog post by Ida Thompson, director of national network and program affairs at Spartanburg Academic Movement.
2012 in Spartanburg, S.C.:
Too many children were entering kindergarten not ready to learn.
Access to developmental screening for young children was non-existent.
Only a few educators and advocates kept early childhood issues front and center.
The Children's Service Alliance, a nonprofit focusing on children aged 0-5, sponsored a new program to provide access to developmental screening for all children under the age of 5. The goal was to identify children with developmental delays to connect them to early intervention services. A pilot group of over 30 organizations received training, and in the program's first three years, more than 2,500 children were screened.
Sounds like success…but it wasn't. Why? The goal wasn't volume — the goal was connecting children to needed early intervention services. Because of privacy laws and lack of parent feedback, the program leaders were unable to determine effectiveness.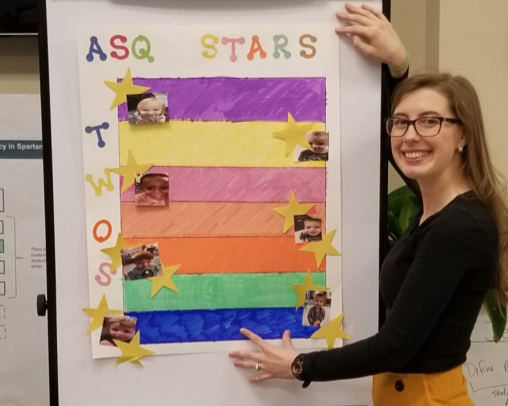 With this story in mind, the Spartanburg Academic Movement team took an opportunity beginning last year to focus on effectiveness. Through the Prenatal to Age 3 Impact and Improvement Network, Spartanburg County and five other communities from across the country got connected to develop quality continuous improvement practices. Supported by StriveTogether and the National Institute for Children's Health Quality (NICH-Q), we're deepening our work to get better results for families and children ages 0 to 3. As a result of this support and with the diligent work of the Spartanburg team, things are turning around.
Here are three insights we've gained so far to help our work progress:
Break the work into parts, or "start small." To begin our process, we worked with three child care centers to develop the process they would use to move from small-scale screening to 100 percent completion. Three is now six, and six will soon be 12. Starting small has become a natural way for us to begin developing ideas, allowing us to build on successes to expand them across the community.
Allow partners to determine their own protocol. We began to truly understand the unique challenges our pilot child care centers faced and how — just maybe — our prescriptive process had been counterproductive. We learned that our job is to support each center to develop its own process based on its unique culture. For example, one center that needed support decided to make regular screenings a requirement for enrollment. Now, we catch ourselves collectively and individually letting go of control in many other areas of our work. Enabling partners to create processes based on the cultures of their organizations is vital to success, no matter what the end goal.
Build a sense of community. The Spartanburg team came from very different organizations — a university, a national organization, a foundation and a StriveTogether Cradle to Career Network member — all gathered around a common goal. As we moved through the steps of the continuous improvement process, bonds between the members strengthened. In turn, each organization was strengthened. This sense of community has grown through the intensive concentration on our end goal, a focus that developed during the learning sessions provided away from home. We were able to share this strong sense of community with leaders from the screening organizations. They are emerging as mentors, supporting their peers as the project is expanded across the community. In addition, the team has extended this sense of community to the greater community we interact with every day. We are often called upon to work on early childhood issues, and we use the strengths we have gained to work toward better outcomes for every child in Spartanburg County!
Guest blog post by Ida Thompson, director of national network and program affairs at Spartanburg Academic Movement. Spartanburg Academic Movement is one of six Cradle to Career Network members participating in the StriveTogether Prenatal to Age 3 Impact and Improvement Network, done in partnership with the National Institute for Children's Health Quality.