Making systems more equitable is hard. It presents endless challenges with no known solutions. In the face of these challenges, imagine having a step-by-step process and tools to give you insight, clarity and early wins to show that your strategies are working.
Through improvement science, that vision can be reality. I'm not saying that using continuous improvement tools and techniques is easy. Over past four years, I've worked with communities across the country to apply StriveTogether's collaborative improvement approach — our unique take on continuous improvement. I've come to realize that to succeed and sustain improvement in education systems, you must look beyond the simple or (dare I say) easy fixes.
Instead, you must understand the adaptive — or, as I think of it, human — elements of the challenges. These challenges necessitate that people change what they do or how they work to solve them.
This week, I presented with StriveTogether team member Davida Casey at the Carnegie Foundation Summit on Improvement in Education, where we shared strategies for uncovering adaptive challenges and how to make sure they don't get in the way of your work to get more equitable results for kids and families.
Taking a moment to consider what adaptive challenges are impacting your work can yield significant results. I recently saw this firsthand through one of my improvement teams in a community working to improve home visitation programs for children ages zero to 3. These programs offer a range of services to young children and their families from a trained service provider in a home environment.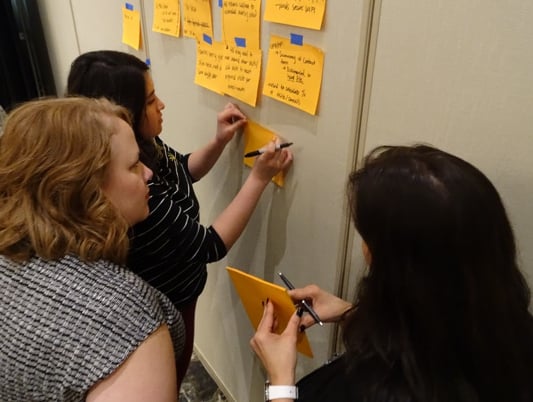 To better understand what was working and what needed to work better, the team outlined the steps for families to enroll in a program and to complete their first home visit. After mapping the process, they identified the challenges at each step preventing families from moving forward. Early on, the team identified form completion as a challenge. Editing a form sounds like an easy correction to make. But instead of creating a quick solution to ensure parents completed the forms, the team dug deeper. They considered what adaptive challenges parents might face that would keep them from finishing the forms. Simply put, they asked, "Why aren't parents completing the forms?"
The answers they uncovered pointed to a lack of trust — trust for outside providers and the program itself. Many parents also felt conflicted — they wanted to best for their children but believed that they knew how to best support their son or daughter. With this information, the team created a very different set of strategies around how to talk with and engage parents in the early phases of home visiting. The team focused on building trust and working through the internal conflict parents were feeling. As a result, these parents not only completed the forms, they were much more engaged and more easily supported by service providers.
Applying an adaptive lens to improvement work requires considering what changes or losses might be experienced by the population you're working to support. This perspective allows you to understand the deepest causes behind the challenge (like trust, loss of expertise or loss of funding) and to identify the adaptive elements that need to be addressed. By developing strategies for adaptive challenges, improvement teams and communities can see more change that lasts, leading to better outcomes for every child, from cradle to career.