We have provided a roadmap for communities seeking to support the success of every child from cradle to career since 2013. The StriveTogether Theory of Action™ is our proven blueprint for getting better results for kids and families in nearly 70 communities across the country. Through this framework, we help our partners define and measure what impact and progress means in this work.
Our commitment to helping our partners improve outcomes and advance equity has led us to conduct an annual assessment. During this process, we evaluate the work of our cradle-to-career partnerships in four areas:
Shared community vision
Evidence-based decision making
Collaborative action
Investment and sustainability
These are the four pillars of our Theory of Action™. Success in these areas gives a good idea of how close communities are to building the civic infrastructure necessary to support every child from cradle to career. Our civic infrastructure assessment also collects partnership information and data for each of the seven outcome areas that form our cradle-to-career approach.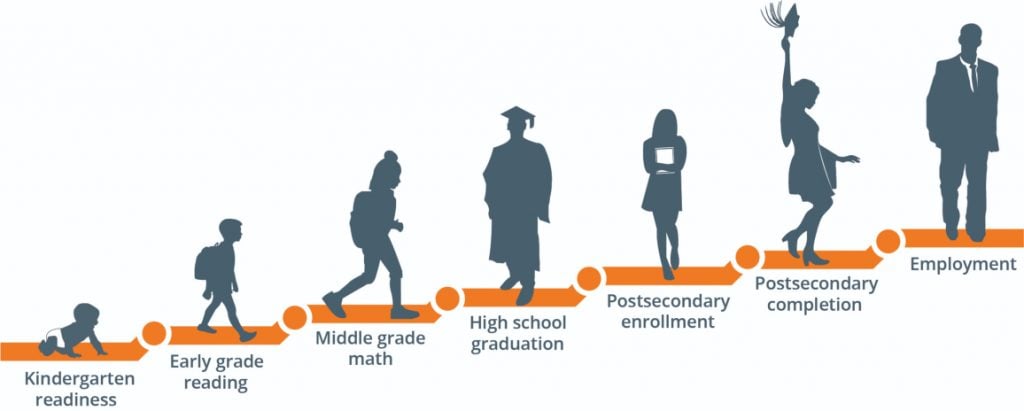 Over the past four months, we have been digging into lots of exciting data to understand more about the partnerships in our Cradle to Career Network. We especially want to know how to best support communities toward achieving our bold new goal of transforming the systems that surround our kids to serve them more effectively.
Here is what we have learned:
Network demographics
We now have a more accurate idea of the reach of our work — the StriveTogether Cradle to Career Network impacts more than 13 million children! And nearly 9 million are children of color, with most of the students (37%) in kindergarten through 12th grade being Latinx. That's a vital piece of data for our work moving forward and validates our focus on centering equity in every aspect of our work.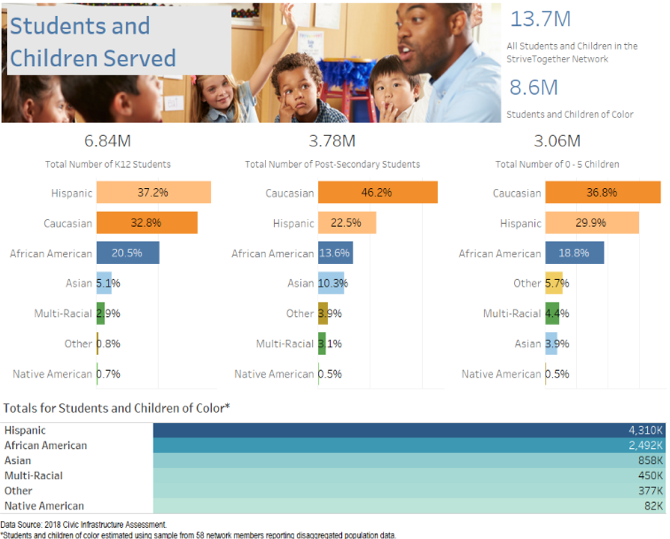 There are many takeaways from this information, but one that stands out to me is the need for targeted universalism. Our Network must have a positive impact on students with diverse identities, and one-size-fits all strategies will be less successful than those tailored to support the unique needs and interests of every student.
Outcomes data
I'm thrilled to share that 90% of the Cradle to Career Network provided multiple years of data for all students. And 60% of the network reported multiple years of data disaggregated by race for our seven cradle-to-career outcomes.
Nearly half of network members reporting disaggregated data for at least two years are seeing improvements for African American and/or Latinx students in at least one outcome area.

We still have room for improvement — we need stronger data to identify the best strategies to close gaps and get better results — but we were able to determine from the assessment that many network members are seeing outcomes improve for students in their communities over time. Even though we have a lot of hard work ahead of us, that's truly something to celebrate!
Theory of Action™ progress
The civic infrastructure assessment shows how partnerships are progressing across the Theory of Action™ and what benchmarks they are meeting or missing. In 2018, partnerships in the Network met a total of 168 additional benchmarks — indicating significant progress over the past year!
The most met benchmarks involve communication, like informing the community of progress and communicating a consistent message across partners. As the Cradle to Career Network has matured, a focus on communication strategies and metrics has enabled partnerships to develop a stronger shared vision and community alignment.
Benchmarks related to data and continuous improvement are less likely to be met. Although both appear largely technical (e.g., databases, data-sharing agreements, continuous improvement processes, etc.), they require a great deal of trust and capacity — neither of which are built overnight. Check out two examples of how partnerships have built data capacity and continuous improvement capability.
These insights into opportunities for improvement allow us to develop support in the areas where partnerships need help the most. Feedback in the past has resulted in current new offerings, including the StriveTogether Equitable Results Programs, topic-based convenings, communities of practice and virtual supports.
Next steps
The 2018 civic infrastructure assessment produced the most robust data that StriveTogether has had about the Cradle to Career Network. With an advisory council of network members, we are determining ways in which this data can help us toward our bold goal of 24 communities in systems transformation by 2023. It gives us a picture of our network's strengths and opportunities and helps us identify the support and resources we must provide in service of our 2023 goal.
We are thankful to network members for taking the time to complete the assessment, have learned a great deal about collecting this data and will work closely with partnerships to improve the process. Please leave a comment if you have ideas on how to improve the assessment!
Update: Because writing involving race and ethnicity is often personal in nature, StriveTogether editorial style allows for flexibility depending on the preferences of the writer and story subjects. Not every member of a group will prefer the same language; in general, StriveTogether uses the terms preferred by the specific communities being highlighted. The language associated with race, ethnicity, gender, disabilities, age, income, religion and other identity markers changes, so you may note different terms being used in stories written at different points in time such as our StriveTogether shift from Latinx to Latine.