When Dr. Jill Biden was a little girl, her grandmother would sometimes take her to work. That meant bringing her to where she taught at an old-fashioned, one-room schoolhouse, crammed with three grades of students. On special days, Dr. Biden got to ring the schoolhouse's brass bell to call students to class. And when the students arrived, they learned more than just reading and math.
"She opened up worlds to the students she taught," the former Second Lady shared about her grandmother in the closing keynote of the 2018 Cradle to Career Network Convening Oct. 12 in Seattle. "Every child who passed through the walls of her little classroom was enchanted, including me. I wanted to do that. I wanted to help students see the world in a different way. I wanted to help them find their own voices."
Dr. Biden has achieved her childhood vision with more than three decades as an educator. She raised three kids while pursuing her education and spent 15 years working full time and studying at night. She completed two master's degrees and a doctorate in education from the University of Delaware, while often being the oldest student in the class.
She began her education career as a reading specialist at a high school in Delaware, where many students were reading well below grade level. There, she saw the challenges faced across the educational journey, from school resources stretched too thin, to violence in children's neighborhoods, to parents working multiple jobs to support their families. For too many students, she said, these challenges seem insurmountable, but the future can be brighter.
"The promise of education is falling short," Dr. Biden said. "But we have a lot to be optimistic about in America. Individual teachers, schools and cities are coming together to rethink what their communities need. Organizations are bringing best practices to schools across the country. I believe that the future of education is beginning today."
Dr. Biden's unique career path as both a full-time teacher and Second Lady has allowed her to see different components of that future. After moving to Washington, D.C., she continued to teach as a full-time English professor at Northern Virginia Community College. As Second Lady, she attended state dinners and then went home to the White House to grade midterm papers. Despite this new setting, she stayed grounded in her reasons for doing the work.
"My students never let me lose sight of the everyday struggles of the people who were barely getting by," Dr. Biden said. "I saw that there needed to be a stronger focus on the entire path. We also need to see how each step along the way intersects with each other. That's exactly what StriveTogether does."
Dr. Biden shared two examples of critical support of cradle-to-career outcomes from teams in the plenary room: E3 Alliance's "Ready, Set, K!" support for kindergarten readiness and Summit Education Initiative's partnership with Akron Public Schools to increase students' ACT scores. These examples were two of many successes shared during the convening, illustrating the power of working across the community toward a shared vision.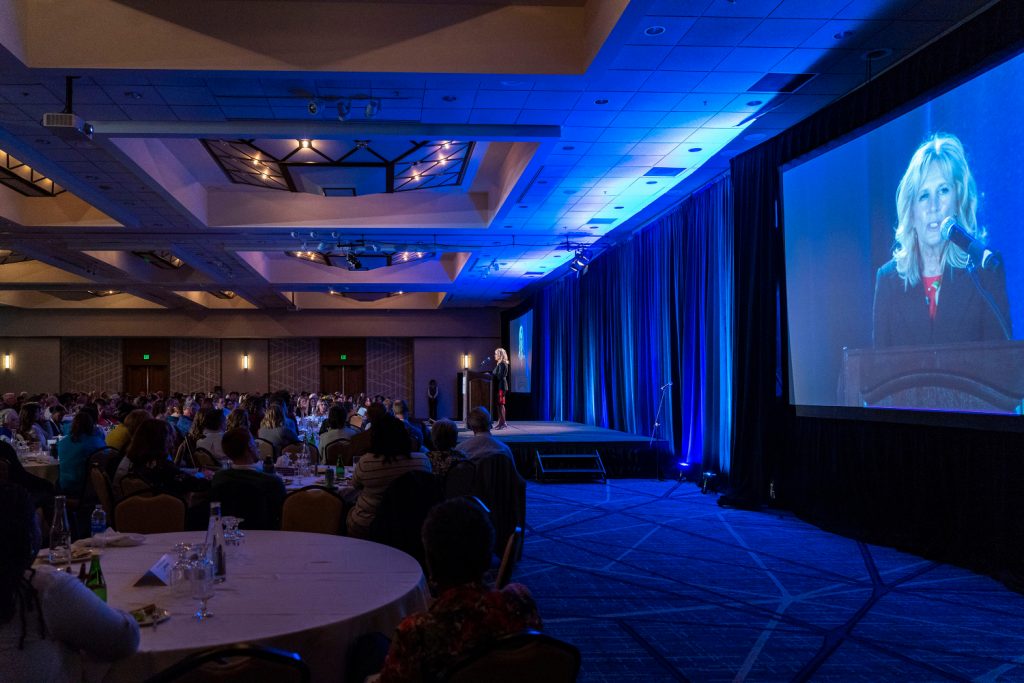 "The challenges of education and gaps aren't challenges one person or organization will be able to fix. We must all play a part. You have got to work in community," Dr. Biden said. "Lean on each other when you feel weak. Be vulnerable with each other. Be a pillar for someone else."
In addition to teaching in the classroom, Dr. Biden's educational career has included advocacy for community colleges, including traveling across the country to visit campuses, meet with students and teachers, and highlight successes. Today, the Biden Foundation builds on Dr. Biden's lifelong work for stronger communities — lifelong work that started with a bell.
Dr. Biden inherited that brass schoolhouse bell, along with her commitment to education, from her grandmother.
"When I think about that bell, I think about how her legacy has run out into the world like waves of sound," she said. "I think of all the students she touched and what amazing things they grew up to do. Every day, I see how powerful education can be. Education is possibility in action, whether we're talking about adults who are going back to school or children who are just starting out."