Over a decade ago, communities stood up and said we want something better for kids and families. From Seattle, Washington, to Spartanburg, South Carolina, place-based partnerships emerged to eradicate inequitable outcomes and transform the systems that perpetuate them. Ten years later, we know that change is possible.
The roots of the StriveTogether Cradle to Career Network run deep and they ground the work of nearly 70 communities across the country. Today, over 400 attendees joined the kick-off of the 2021 Cradle to Career Network Convening to reflect on the first 10 years of the movement and reimagine what we can do together in the next decade.
Jennifer Blatz, president and CEO of StriveTogether, joined Danae Davis, StriveTogether board chair and executive director of Milwaukee Succeeds, and Dr. Russell Booker, StriveTogether board vice chair and executive director of Spartanburg Academic Movement, to discuss the role of cradle-to-career partnerships in transformational change.
The road to recovery is paved by civic infrastructure
The last 20 months have presented challenges that no one could have imagined. These challenges laid bare the disparities our Network has been fighting against since our earliest days. StriveTogether has worked – in partnership with our network members – to build a framework for civic infrastructure through our  . Infrastructure isn't just about roads and bridges, it's the social and structural fabric that creates pathways for success.
"With our Theory of Action, we put a stake in the ground to ensure kids and families are better off," Blatz said, sharing this not only as her favorite memory of the movement but also as StriveTogether's greatest contribution to social change.
This movement anchors us to transformation
 The work happening to improve outcomes for kids and families is no small undertaking. It's also not work for the faint of heart – we know we have a long and tough journey ahead. It's possible, but not easy.  Davis shared that, "This movement has been my anchor – and my community's anchor – in crisis. Our collective is meeting the needs of kids and families because of what we established before the pandemic."
 This anchor also transcends ideology and polarization. Dr. Booker reminded attendees that we can't and won't let national narratives dampen the powerful work happening locally. When we anchor ourselves to our mission and center kids and families, anything is possible.
We can reimagine and redefine what's possible for kids and families
 And anything really IS possible with this national movement. As the field looks to examples of place-based transformation supporting better outcomes for kids and families of color and those experiencing poverty, our hope is that they need look no further than the StriveTogether Cradle to Career Network.
Over the next decade, this network is positioned to strengthen civic infrastructure and dramatically scale improvements to transform systems. And, at the end of the day, children and families WILL experience better and more equitable outcomes.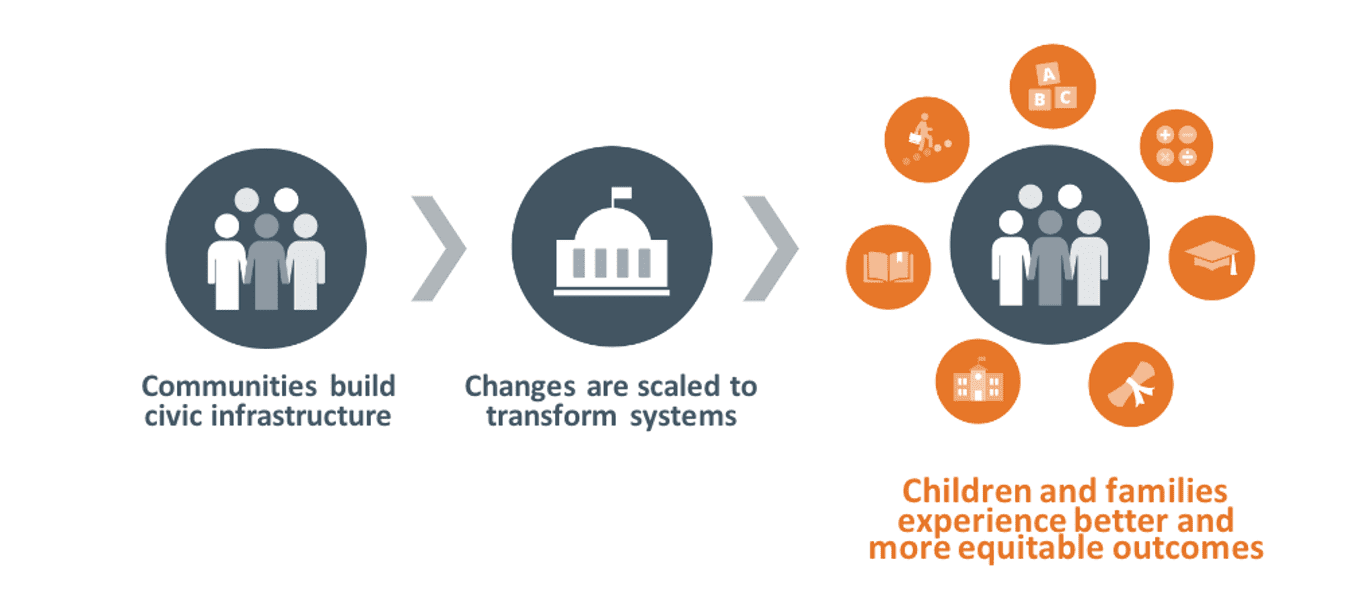 When asked what her favorite memory is from her time in the network, Davis shared that it's the moments when the Network comes together. Events like the Cradle to Career Network Convening bring the movement to life and remind us of what true partnership feels like. And, when asked her hope for our next decade, she said, "Equity and transformation will be visible and felt all over the nation. We will feel it and we will live it."
Our purpose is clear and our vision will one day become our reality. Grounded in community, we will thrive.
To learn more about the origins of StriveTogether, listen to our podcast, Together for Change.