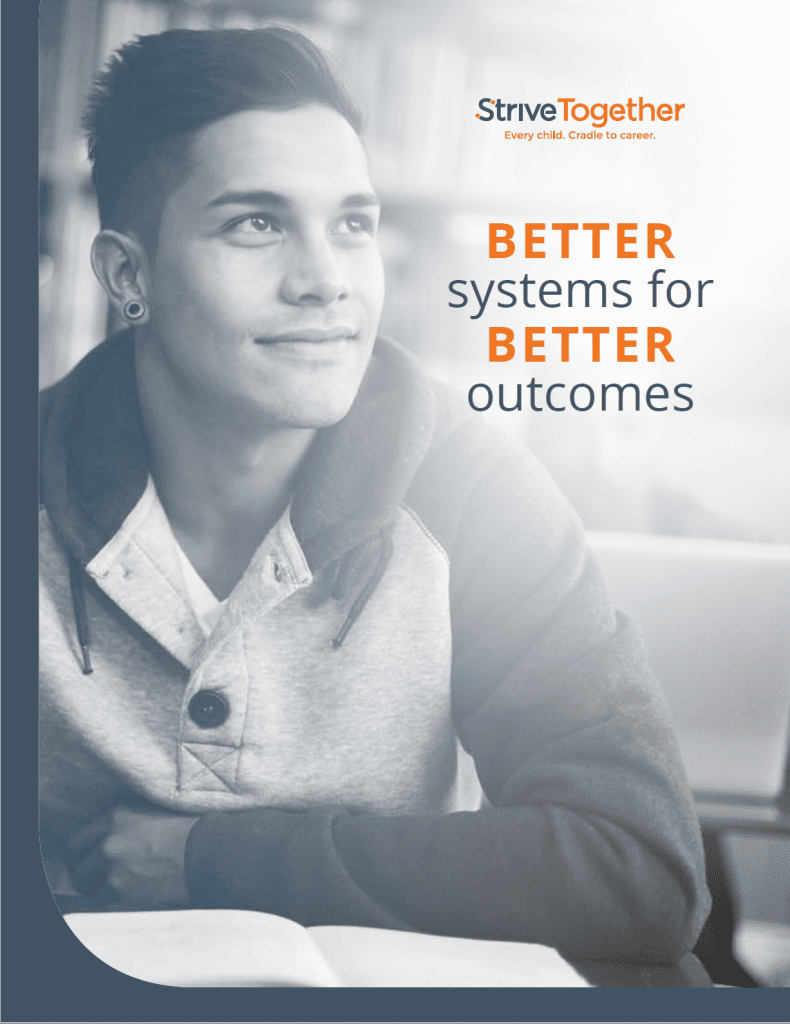 Six months after becoming an independent nonprofit, StriveTogether has launched a bold and ambitious plan for building stronger systems for better outcomes. Our vision — Every Child, Cradle to Career — has been clear since the beginning, when the local partnership in Cincinnati and Northern Kentucky began to take shape in 2006. Since then, change has been one of the few constants in this work.
Every step of the way, we have learned from leading-edge communities in the StriveTogether Cradle to Career Network and from large-scale social change leaders in interdisciplinary fields across the country. We have continued to relentlessly evolve to serve our constituents — children and families in communities across America — always striving to raise the bar to get better results.
Three years ago, we worked closely with Network members to develop a Theory of Action to set higher standards and focus on quality and results — not just grow the number of communities aligning around a shared vision for student success. The guiding principles and continuum of quality benchmarks help cradle-to-career partnerships navigate and assess their progress toward achieving sustained systems change and better outcomes for children and families. Our Network members were ambitious in setting a high bar for success: 60 percent of indicators from cradle to career trending in the right direction and sustainable evidence of systems change.
We partnered with Equal Measure to evaluate the impact of this concept by understanding how community partnerships create civic infrastructure and to what extent these changes in individual, institutional and collective behaviors translate into tangible improvements in outcomes for children across the cradle-to-career continuum. Three years later, it's exciting to see that our Theory of Action has been validated: Communities develop and sustain their civic infrastructure in a clear sequence consistent with the Theory of Action.
According to our national evaluation, partnerships share many of the same strengths and challenges. Communities are committed to a common vision and use data to improve practices. Fewer partnerships report progress in involving parents and students and influencing public policy. You can read more about these findings in this recent blog.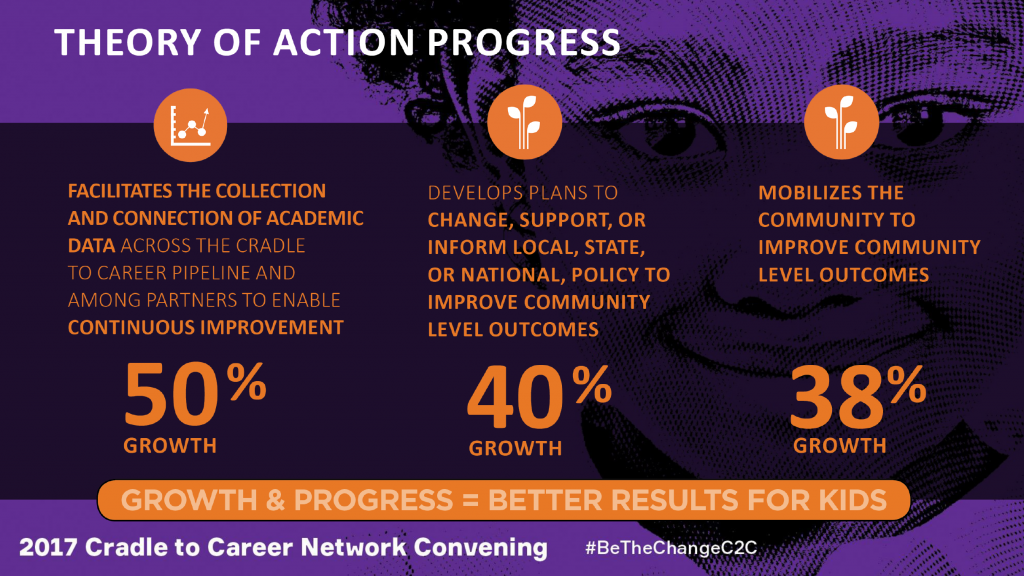 This summer, these strengths and challenges were reiterated by community leaders in communities across the country as we worked to develop the Network's plan for the next five years. I worked closely with 12 partnership directors to guide the development of the strategic plan, visited leaders in four communities to hear in-depth perspectives and gathered diverse feedback and ideas from leaders affiliated with all 70 Network members.
What's clear from the Network is a clarion call for action and results. To prepare the next generation of future leaders, we must be bolder and more explicit about doing whatever it takes to transform systems so that children of color and low-income children across our country can reach their full potential.
If every community enacts a comprehensive agenda for education and economic mobility, every child and youth will have the supports and resources needed to achieve their full potential from cradle to career. To improve outcomes, close gaps and transform systems, leaders must deepen their focus on changing systems and engaging actors across sectors to drive shifts that advance more equitable opportunities.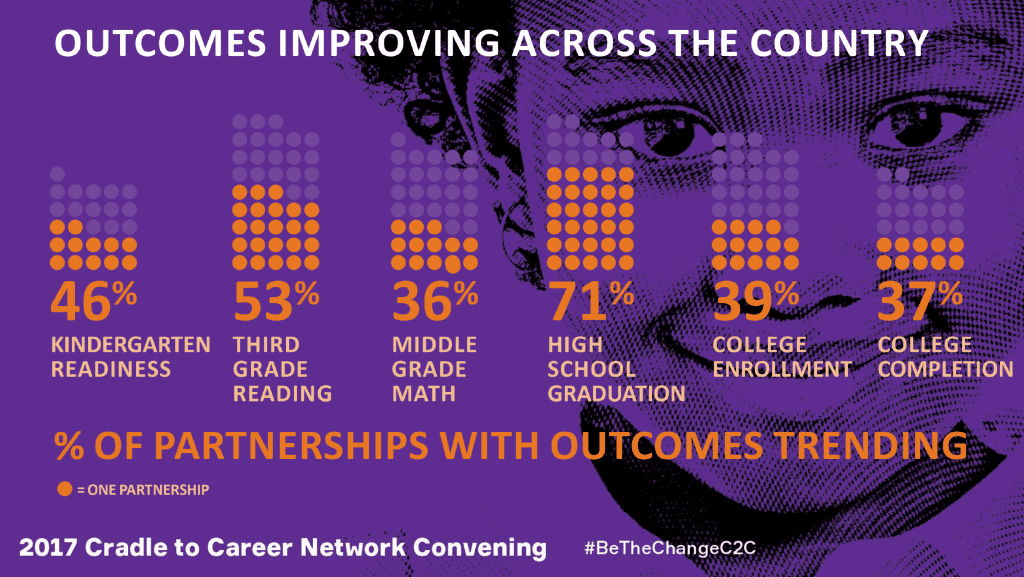 To get there, our communities have identified seven critical capacities to be strengthened as cradle-to-career partnerships sustain their civic infrastructure:
Equity
Leadership and Talent
Data and Information
Practice Improvement and Acceleration
Communications and Engagement
Policy, Advocacy and Mobilization
Sustainable Resources
We are shifting how systems are organized to be centered around children and youth — not institutions. This is a living plan, and we are on a path to continue to learn, grow and improve along the way. I look forward to working tirelessly alongside courageous equity warriors as we unleash thousands of partners to align their actions, improve their practices and change their policies — so that every child succeeds.