As I sit down to reflect on my sabbatical, I marvel at the journey. Time has flown by, and yet it also feels like a lifetime's worth of experiences and revelations were condensed into the past 58 days. My world of deadlines, emails and meetings for the past 20-plus years was put on hold as I let myself drift away from the familiar rhythm of my professional life.
I traveled, reconnected with friends, spent time with family, organized my home and worked to settle my parents' estate. I was busy, but it was a different type of busy — a type of busyness that allowed me to rediscover the person I used to be, the one who cherished dreams, found joy in the little things and appreciated the beauty of life. I read at least a book a week. I took long walks. I floated in a pool. It was an amazing experience I will always cherish.
I hope what I learned will inspire others to contemplate the significance of pausing, even amidst the hustle and bustle of modern life. Here are six important insights I realized about myself through this adventure.
I reframed the narrative around my identity. My first few days of sabbatical were marked by a struggle to relinquish control. As I tried to manage the anxiety I was feeling, I realized I was going to need to reframe the narrative I had created for myself and that served me so well for the last 20-plus years. My work was my identity. It took time — weeks, really— to change my habits and wake up each day feeling gratitude instead of anxiety. I set a few goals for each day and agreed not to beat myself up if I didn't achieve them. As I achieved these goals — like caring for my family, reconnecting with friends, organizing my home — I felt my inner narrative shift with a recognition that my identity is so much bigger than my career.
I redefined what rest looked like for me. I realized that I had defined rest as doing things like sleeping an extra hour or taking a power nap, binge-watching Netflix or going out for happy hour. But with eight weeks — 58 whole days — to "rest," I had to rethink my definition of what that really meant. I didn't want to spend my time sleeping, watching "Love Island" or day drinking. In redefining what rest looked like for me, I realized that it's just as important to rest my mind. Holding on to my morning routine helped me set a new intention for each day, mapping out what I wanted to achieve, including how I was going to rest. And sometimes that included laying on the couch binge watching "Platonic" or having a few cocktails.
I found great joy in the mundane. Like so many working parents, I often told myself I'd get to this or that project "when life slowed down," but life never really slows down. So I often pushed off organizing projects that I desperately wanted to do. It's hard to explain the joy I felt in being able to do things like cleaning out my pantry, organizing the basement storage area, pressure-washing our back patio and pulling weeds in the yard. I would put on my headphones and listen to true-crime podcasts while completing mundane tasks that gave me such satisfaction. Always the achiever, there were a few mishaps along the way, like the time I was convinced that my 11-year-old son and I could easily move a couch up a flight of stairs. We ended up with it stuck in the stairwell until my husband could leave work to come and rescue us. But completing these tasks gave me a sense of accomplishment that was not connected to my career and that was more meaningful than I could imagine. I'm thinking about how I continue to make space for this as I re-enter work, even if it's just an hour or two on the weekend.
I realized you can't force an epiphany. I really believed that getting some space away from work would enable me to get the distance I needed to think differently about the work we do at StriveTogether. The reality is that epiphanies don't always manifest explicitly. An epiphany doesn't have to be some life-altering revelation. Rather, it could be something as simple as a gradual shift in perspective. The mere act of stepping out of my routine was transformative in itself, and as I excitedly re-enter the world of work, I wonder if those big ideas will come more easily — and I feel like I'll be okay even if they don't.
I found that beauty is everywhere. When you do the work we do, it's hard to see the forest for the trees at times. I often find myself reeling from the news of current affairs. But when you have time to slow down and watch people, you can really appreciate the beauty in the world. From people watching in Luxembourg Gardens to observing the senior weekday lunch crowd at my local Panera, I was able to slow down and watch how people truly connect and care for one another. I have moments that will stick with me — like being with my husband at the Trocadero in Paris sipping champagne with people from across the world excitedly waiting for the Eiffel Tower lights to twinkle at dusk; singing and dancing along with my 15-year-old daughter at The Cure concert at Madison Square Garden; watching my kids and my best friend's kids play soccer together on the beach with fireworks exploding as a backdrop; and cleaning out my parents' house with my brother and finding all of the important mementos they'd kept for us over the years. I realized that while I'm always on the run, I don't pay enough attention to these moments. I often focus on the problems and don't make space to see the beauty. I want to hold onto this as I re-connect with my professional life — noticing and appreciating the beauty that's everywhere. The world — my world — is so much more than my calendar and the contents of my inbox.
I was reminded how much I truly love my job. Finally, and perhaps most importantly, I realized that I miss my work. I miss my colleagues. I miss the routine. I miss the emails and meetings. I miss the pressure. I needed this break, but I'm ready to be back. I truly love my job. I am so lucky to get to do this important work together with smart and passionate people. This is my life's work. And while this time away has helped me reconnect with what else makes me who I am, StriveTogether and the work we do is such an important part of my identity. There is still so much to do to achieve our mission, and I have so many more important contributions to make. I'm stepping back into the work in a different way. Although there's a sense of urgency in what we're doing, I realize that I can slow down and still have an impact. I can make more space, listen more intentionally and appreciate the beauty I see. I can do all of that and solve urgent problems.
Maybe that's the epiphany — the work is still here and I'm still here. These are long-term challenges that require long-term commitments. I'm here, I'm committed, I'm grateful for the time I had to step away and I'm so ready to be back in the game to tackle what lies ahead.
This time away provided me with a good reminder: the most profound journeys are often found within ourselves, waiting to be explored. I'm so grateful for this experience and thrilled we were able to establish a policy at StriveTogether so that my colleagues can have the same opportunity that I had.
I encourage other organizations — especially mission-driven, social-sector organizations — to consider developing their own sabbatical policies and creating a culture that supports self-care and development. We are more than our work, and when we're able to take care of ourselves outside of the organization, it allows us to bring new creativity, energy and commitment to the marathon that we've committed ourselves to.
Bring on the summer reads, the playlists and the unexpected moments of beauty as we celebrate the significance of pausing.
Additional content for you to enjoy:
My summer playlist: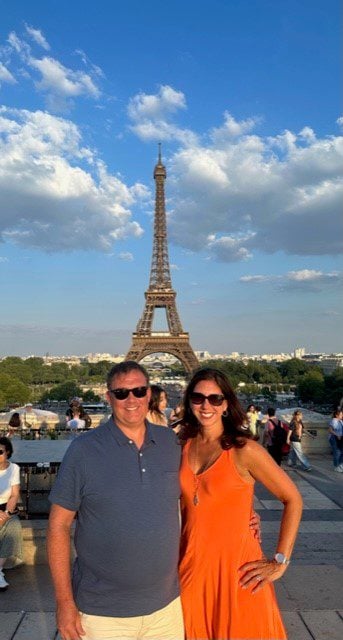 I created a sabbatical playlist with songs that have meaningful connections to the different experiences I had throughout my time off. Please enjoy!
My sabbatical reading list:
I'm also sharing my reading list, which is a collection of some really great beach reads and a few travel guides:

"Pocket Paris" – Rick Steves
"Experience Paris" – Lonely Planet
"Happy Place" – Emily Henry
"Same Time Next Summer" – Annabel Monaghan
"Georgie All Along" – Kate Clayborn
"This Girl" – Colleen Hoover
"By a Thread" – Lucy Score
"Romantic Comedy" – Curtis Sittenfeld
"Hello Beautiful" – Ann Napolitano
"Everything's Fine" – Cecilia Rabess