In conversation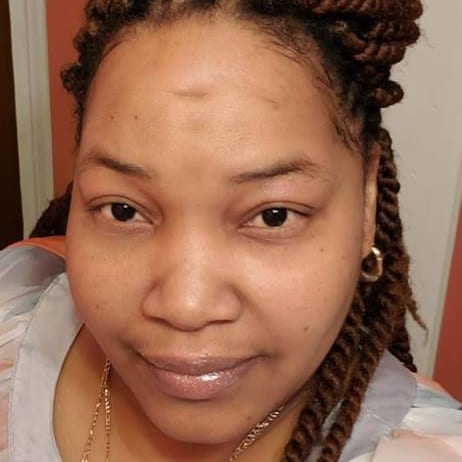 Toyin Anderson
Parent advocate and board member, the Children's Agenda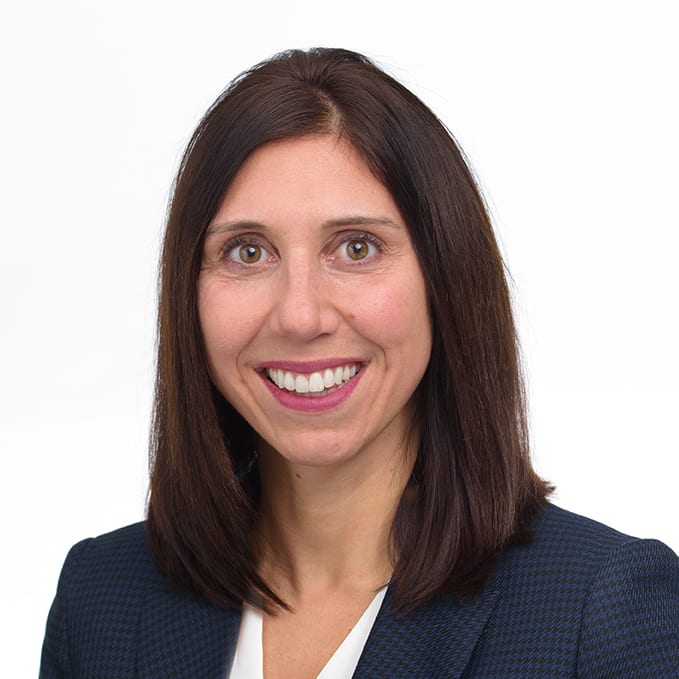 Jennifer Blatz
President and CEO, StriveTogether
Learn more about Jennifer >>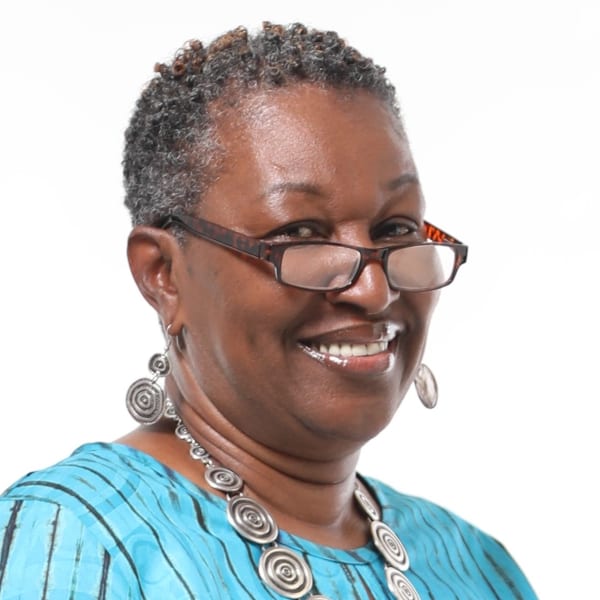 Jackie Campbell
Director, ROC the Future
Learn more about Jackie >>
Host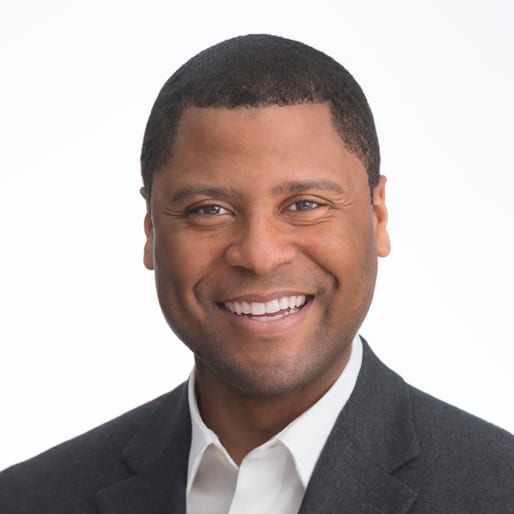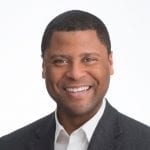 Christian Motley
Senior manager of policy and partnerships, StriveTogether
Learn more about Christian >>
Transcript
Christian Motley, senior manager of policy and partnerships, StriveTogether
[00:20] Hi, I'm Christian Motley, senior manager of policy and partnerships for StriveTogether. Welcome to Together for Change, where we explore what's possible when people work together for an equitable recovery. Today, we're talking with two community leaders from Rochester, New York — Jackie Campbell, the director of ROC the Future, and Toyin Anderson, a member of the board of the Children's Agenda and active member of the Parent Engagement Collaborative Action Network. Hi, Jackie, how are you?
Jackie Campbell, director, ROC the Future
[00:46] I'm well, how are you, Christian?
Christian Motley
[00:48] I'm doing well. Toyin, Hi.
Toyin Anderson, parent advocate and board member, the Children's Agenda
[00:51] Thank you for having me, Christian. It's a pleasure to be here.
Christian Motley
[00:54] Glad to have you both here. Also joining us is Jennifer Blatz, the president and chief executive officer of StriveTogether. StriveTogether is a national movement with a clear purpose: helping every child succeed in school and in life, cradle to career, regardless of race, ethnicity, zip code or circumstance. Jennifer has been at StriveTogether from the very beginning, spending the last two decades designing and implementing strategies that drive large-scale change in nearly 70 communities across the country. Hi, Jennifer.
Jennifer Blatz
[01:24] Hi Christian, glad to be with you as always.
Christian Motley
[01:27] Let's jump in. Jackie, can you tell us a little bit about Rochester, New York, and your work with youth and families to build a better future?
Jackie Campbell
[0:34] We're in upstate New York, actually near the Canadian border. We are a city of about 210,000 residents, and we have one school district with about 25,000 students, as well as another 6,500 students that attend charter schools in the city. We have been working with youth and families and more recently youth. But working for a few years with families.
ROC the Future's goal is to improve academic outcomes for students, cradle to career. And I'm going to try to remember to use the term scholars, that we have been talking about our babies and young adults as scholars. So, I want to make sure that I keep coming back to that. But we've been doing that in a way that has brought in some cross-sector leaders, and but also engaging parents as leaders around our table for a few years now.
[02:52] And we've been, this year especially, have been working to embed our work with an understanding of moving more towards a more equitable community and more — and when I mentioned equity, I'm really talking about racial equity. And so, so that's what we're doing.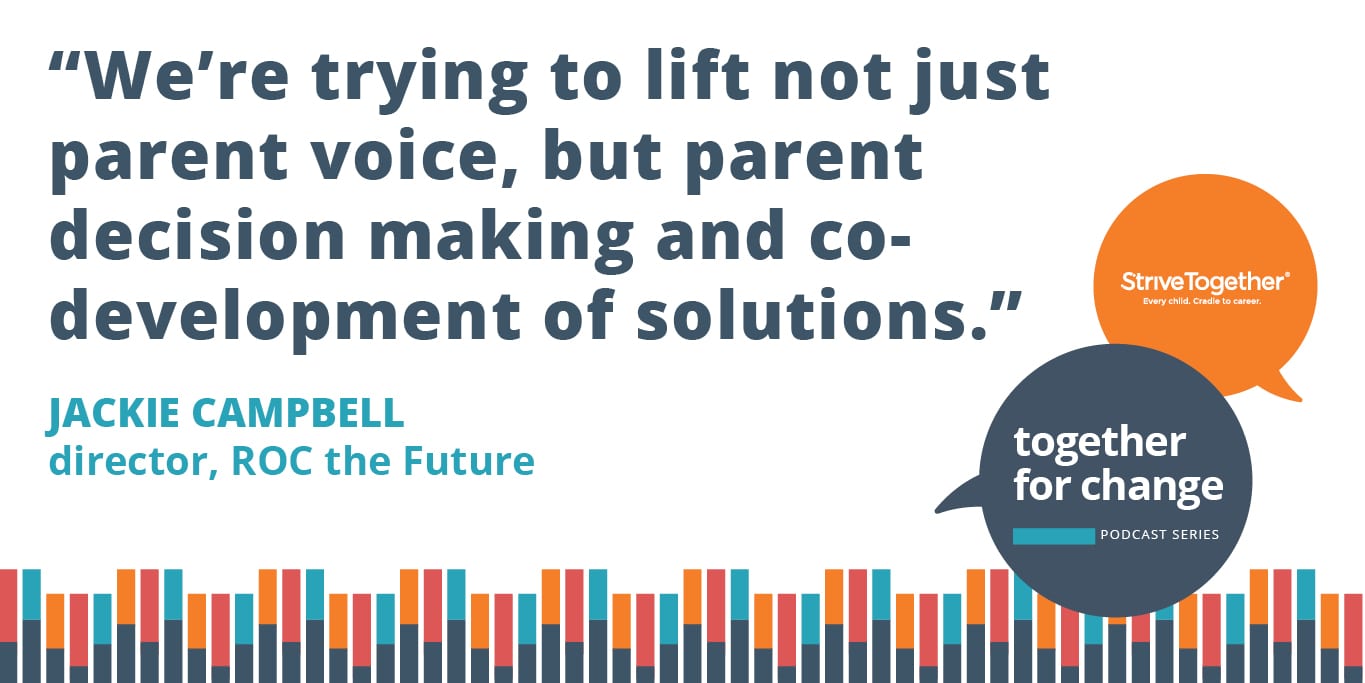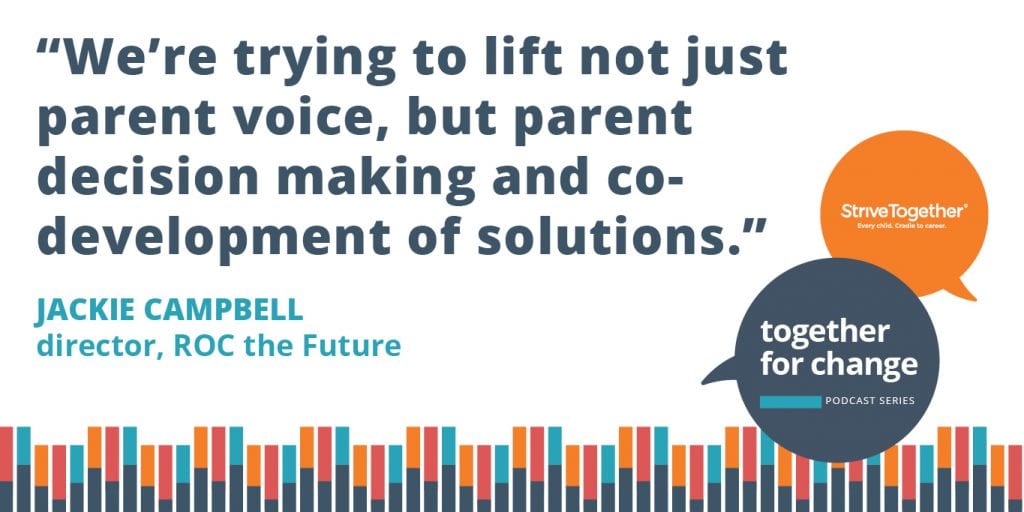 Christian Motley
[03:18] Yeah, and you said, in some of your comments, you said this year in particular, we know and we've had conversation here, about the twin pandemics of COVID-19 and racial injustice. And I just wonder, how has that colored your work? How have you had to shift the work? Is there anything that you've had to do particularly in response to this new context we're living in?
Jackie Campbell
[03:42] So yeah, I mentioned this year because things are different and our conversation is different this year than it had been in the past. And so while we struggled with how we talked about equity, no one has ever said, "Oh, we don't have inequity in Rochester," but identifying this construct of race and how that plays out in terms of inequitable outcomes has been, I would say, more readily embraced now that it has been in in the past, and part of that is a result of the pandemic.
I think that what COVID did for us was to lay bare that we can't hide behind other language around this. It's sort of like put it squarely in our face in that we say that the evidence is overwhelming, and that we've had community leaders and activists really step forward in a different way right now.
[04:54] Like we can go back 50 years ago, 50-60 years ago when things were bubbling up all across the country, and certainly in Rochester, but we're back here again. And so one of the things that happened early in the pandemic was a group, the Greater Rochester Black Agenda Group, issued a declaration asking community leaders and organizations to sign as a public health crisis declaration, which really just energized the community to embrace the language differently and the things we can do about it differently. So, it's been, I want to keep saying the word different, but it's been different.
Christian Motley
[05:39] Well, what was the response? I mean, when you put out that declaration, excuse me, when the when the Greater Rochester Black Agenda put out that that declaration and asked folks to sign on, what was the community response?
Jackie Campbell
[05:48] The response has been really well, really well received. I think we have almost 1,300 signatures, but about 173 actual organizations. And so, and within those organizations, you know, there are several thousands of individuals, but the real responses, what organizations are actually doing, because the declaration was not just, "We want you to sign," it was, "And we want you to take some action." And so right now we're in the process of looking at the actions that organizations have taken.
And ROC the Future, when the declaration was issued, we then asked our leader organizations to also sign the declaration and do some work. The embracing of it was really nice to see but not just sort of empty actions, that there's substantive work happening behind it. And so that's what one of the things that's really exciting in Rochester about the signing of the declaration.
[07:06] And I just wanted to also mention, one of our specific convener members, our department of pediatrics — and it's called the department of pediatrics because it crosses two health systems. So the Rochester Regional Health System as well as our Children's Hospital. But our pediatricians from those systems have also leaned in in a very deliberate way to get activated and I, you know, these organizations were already working in this way, but this brought a new sense of urgency, as well as — the term that I like to use as sort of kindred spirits.
It really gave everyone an opportunity to talk freely about what we had been seeing for generations, and to really talk differently and speak to each other differently about what we can do together to address it. So just really empowering.
Christian Motley
[08:13] Yeah, and Jackie, remind me, when did ROC the Future launch? How long have you all been around?
Jackie Campbell
[08:20] So ROC the Future launched in 2011. And I came to ROC the Future in 2016.
Christian Motley
[08:33] You came from, you were doing work in the city government?
Jackie Campbell
[08:35] I was doing work in city government. I was assistant commissioner of recreation and youth services. And I had been at the city for quite a while. And so I would joke about being a bureaucrat, but I think that one of the things that Strive has, one of the reasons why it appealed to me to leave the city and go to ROC the Future, was we were really talking in a different way about what collective action looks like, as opposed to coordinated, siloed action, which I think Rochester had become really good at. But working collectively. We've had some honest conversations with ourselves about the work that we were doing and what we could actually do better together. So, so that's my history with ROC the Future.
Christian Motley
[09:32] I want folks to get a sense of not just the work that you do, but how long you all have been doing it at ROC the Future.
Jackie Campbell
[09:41] I need to correct something. In 2016, we launched PECAN, which is the Parent Engagement Collaborative Action Network.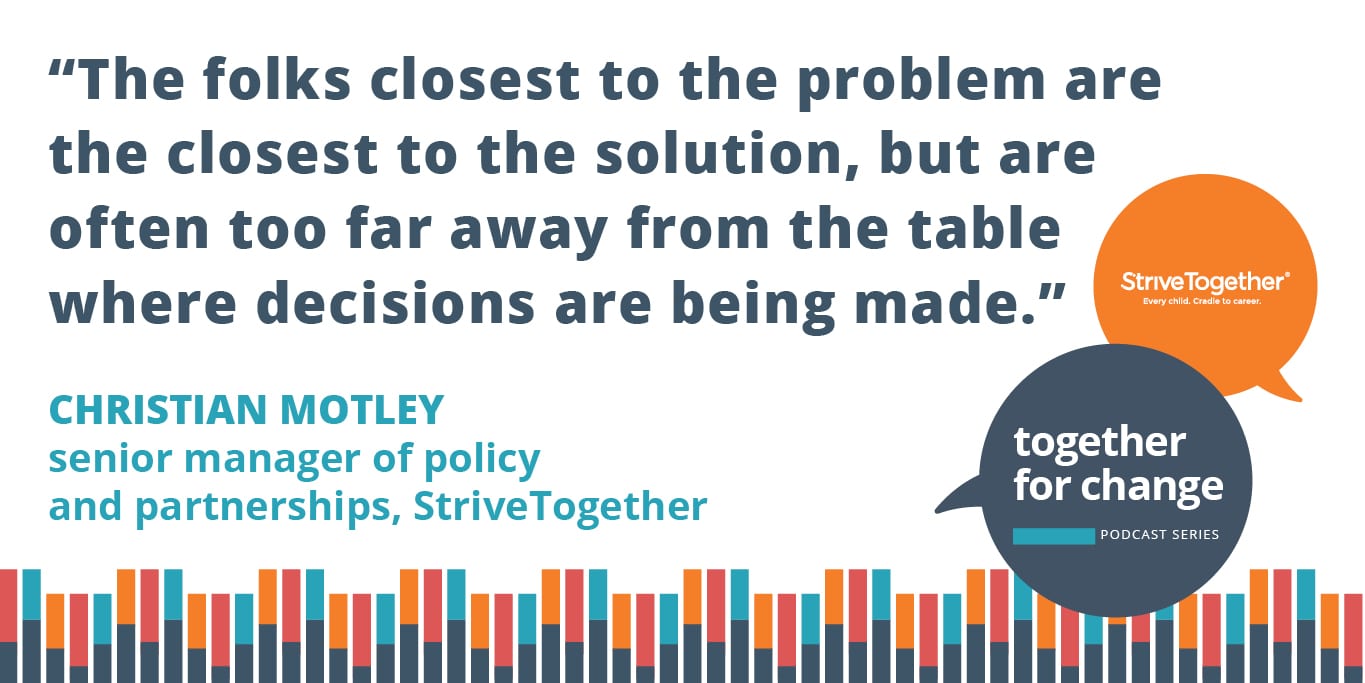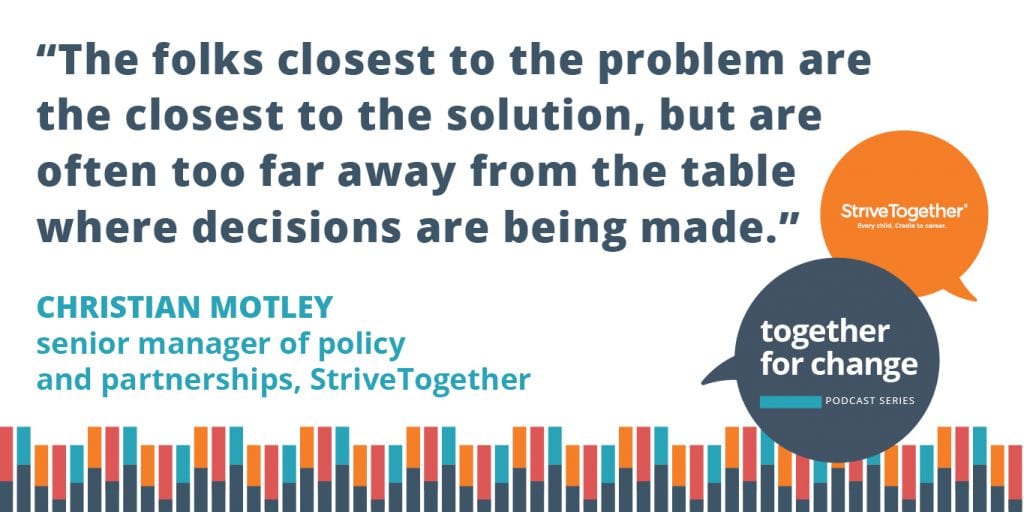 Christian Motley
[09:49] That's where I wanted to go. So PECAN has a little bit of a different connotation for me, we used to grab them from the trees. But you and I have talked a little bit about PECAN as in the Parent Engagement Collaborative Action Network. And I want to see, could you share just a little bit about how that work got started? And its significance to this moment?
Jackie Campbell
[10:08] Yeah, so I came to ROC the Future in 2015. But I had come to ROC the Future as a champion of engaging parents. And it always is, it strikes me as amazing, when you have a group of individuals, or leaders or stakeholders, influencers, however you want to call it, but they're sitting around, and they're making decisions, but have not really engaged the ultimate community that the decisions will impact, and how that happens and just where are parents in the conversation.
And so when I came to ROC the Future, and really understood the structure that Strive provided in terms of this Collaborative Action Network — and we had several Collaborative Action Networks — we wanted to launch one for parent engagement. So, we had College Access Collaborative Action Network, we had extended learning opportunities, but we didn't have anything specific to how we engage parents until 2016. We launched PECAN. And yeah, depending on where you're from, you say "pee-CAN" and some people say "pee-KAHN." I like "pee-CAN."
[11:30] And the goal at the time was to engage organizations, because ROC the Future is not a direct service provider, but really to engage organizations and direct service organizations that had it as a part of their mission, or their objectives, to support families and engaging families in that support. And so from 2016 to 2019, we had that focus. And we changed in 2019, it was coming from 2018, but in 2019 we changed the focus to actually have parents lead that work instead of others.
Christian Motley
[12:16] For that parent engagement work to begin, I'm just wondering, was there a particular moment that was a specific sort of forcing event or mobilizer to push for more parent engagement? Or, or was this, frankly, just, you know, sort of just the way that you did your work and the way that you thought it should be done there at ROC the Future?
Jackie Campbell
[12:36] So I would say it was both of those things converged and happened at the same time. So, we did have a moment where we had the ROC the Future and our leaders, our leadership, we were struggling with some of the changes within our school district, who are also convener members. And we made an outreach to our state commissioner to be engaged in any kind of effort that the state was going to be taking with our school district. And there were sort of rumors of that, and communication sort of leaning in that direction.
But the outreach from the community really caused us to take a step back and to say, "Well, wait a minute, maybe we don't have all of the information that we need or the input that we need from parents and families."
[13:41] And so that the community really stepped up to say, "We're not saying that you did something, you know, totally wrong. But where is our voice in that? That step that you took, like how are parents and families and the general community sort of thing engaged in that work."
And we stepped back and did a series of community stakeholder sessions where that's what we did. We got input from parents and community members and those sort of adult youth development leaders as they were working with teens and young adults, and really just a step back around how we did that work.
[14:24] So I say at the same time, because PECAN was also having internal discussions about changing its scope of work. So these happened at the same time. And when we developed the recommendations, they affirmed what PECAN was already in the process of deciding for itself. And that we had had, from the beginning, parent leaders around the table at PECAN. But it wasn't until 2019, that we actually changed the scope for PECAN to be more parent-led.
Christian Motley
[14:59] And Toyin, I want to get you in here and just ask, you know, how you got involved in PECAN, the Parent Engagement Collaborative Action Network, and why this work is so important to you?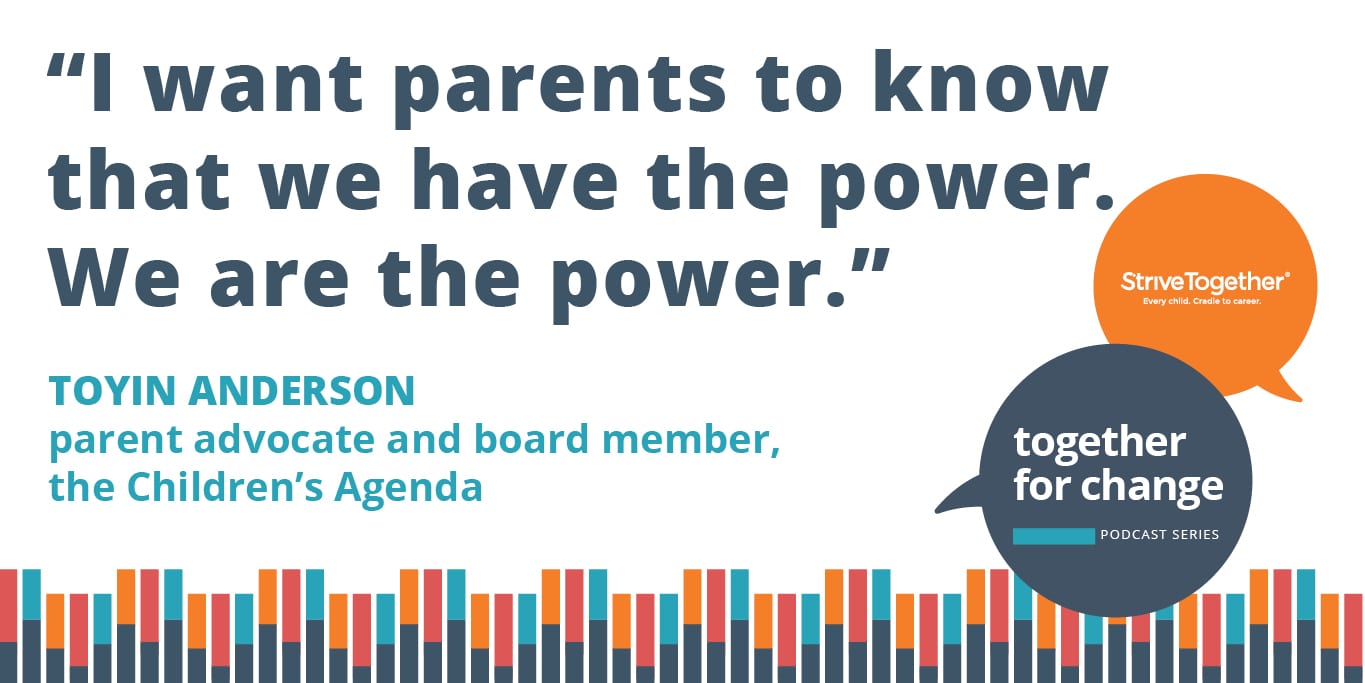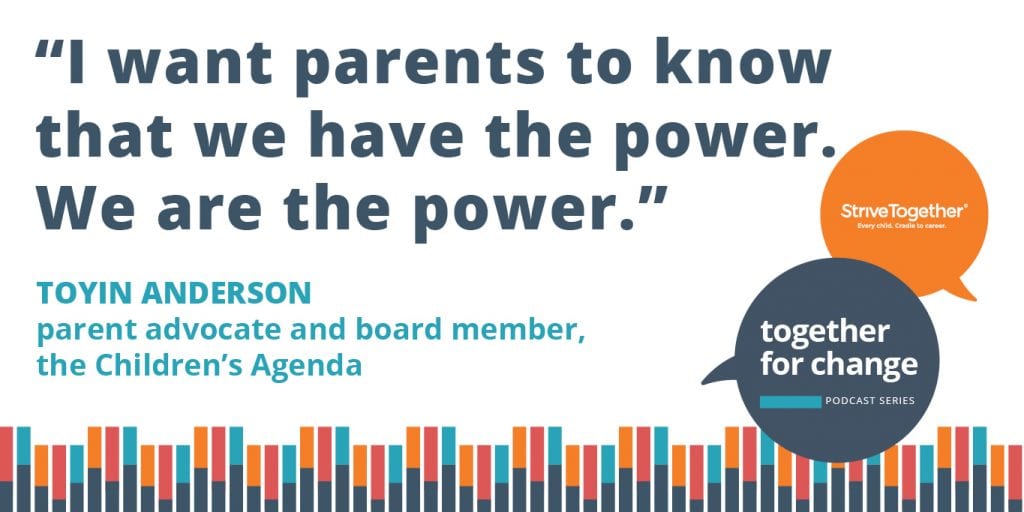 Toyin Anderson
[15:12] I became a part of PECAN because I know how important the work needs to have parent engagement as a part of the process. PECAN, you know, started to shift and realizing that parents are a key component of the work that needs to be done for families and communities. So, we got invited to the table.
And I am a parent leader who is very engaged in the work in my kids' school and community. And I understand how important my voice is as a parent at the table and know that nothing can be done or should be done without parents being a part of the process.
[16:06] So, I stayed engaged for that reason, because I know part of the problem, the people that are closest to the problem also needs to be the people that's closest to the solution. And communities have the problem also have the solutions. But we have to be engaged in the process to help make our communities better. So that's where my work comes in. I know how important that is. That's why I became a part of PECAN because I want to be not only a part of the problem, but definitely a part of the solution.
Christian Motley
[16:42] And I'm so glad that you put that the way that you did. I was thinking, even while Jackie was talking, you know, they say the folks closest to the problem are the closest to the solution but are often too far away from the table where decisions are being made. I really appreciate you saying that.
I imagine you like what you're hearing because StriveTogether's work is, you know, we've been making that shift from just community engagement for engagement sake to really community authority and co-development. I wonder if you could explain the significance of these shifts, and the role of community members in system change.
Toyin Anderson
[17:22] Yes, what we've, you know, made the shift in PECAN, we once we kind of had the shift and having parents drive the work. So we have different goals and aspirations that were set up. But as the shifts happen, and we realized that the community have different issues that they're dealing with, one needing to have their kids at home more, we have made the shift to accommodate the parents that have questions and concerns with COVID and safety, and how to better help support our children while we are supporting them at home.
So yes, PECAN has opened up the space for the community to come in. And we brought, you know, experts in certain content areas, that the families have identified more concerns and need more resources allocated to them. And more, I mean, connection and networking. So, PECAN has done that in our community. So allowing for parents to even somehow just have an outlet, as they are now at home might be the only adult, there's a place for them to come with other, you know, adults, and be able to have a dialogue and get some better resources. And even feel better about just your social well-being when they come off the conversations that we have.
Christian Motley
[18:44] Jackie and Toyin, I wonder for the PECAN if there's a set of results or priorities that you have for this year or in the lead up to next year that you want to name before we move ahead?
Toyin Anderson
[18:58] Yes, a few topics that we hear over and over are the concerns about, you know, the access or lack thereof, the equity that COVID not did not identify but illuminated. So made it more evident that there is disparities in our own communities. So, parents are concerned about children learning, that's a big one. Their social and emotional development, you know, how that's being impaired. And definitely a big one is for the children that do have disabilities and not getting services. So those are the those are the big issues that parents have brought to the forefront and need help with better accessing the services for their children.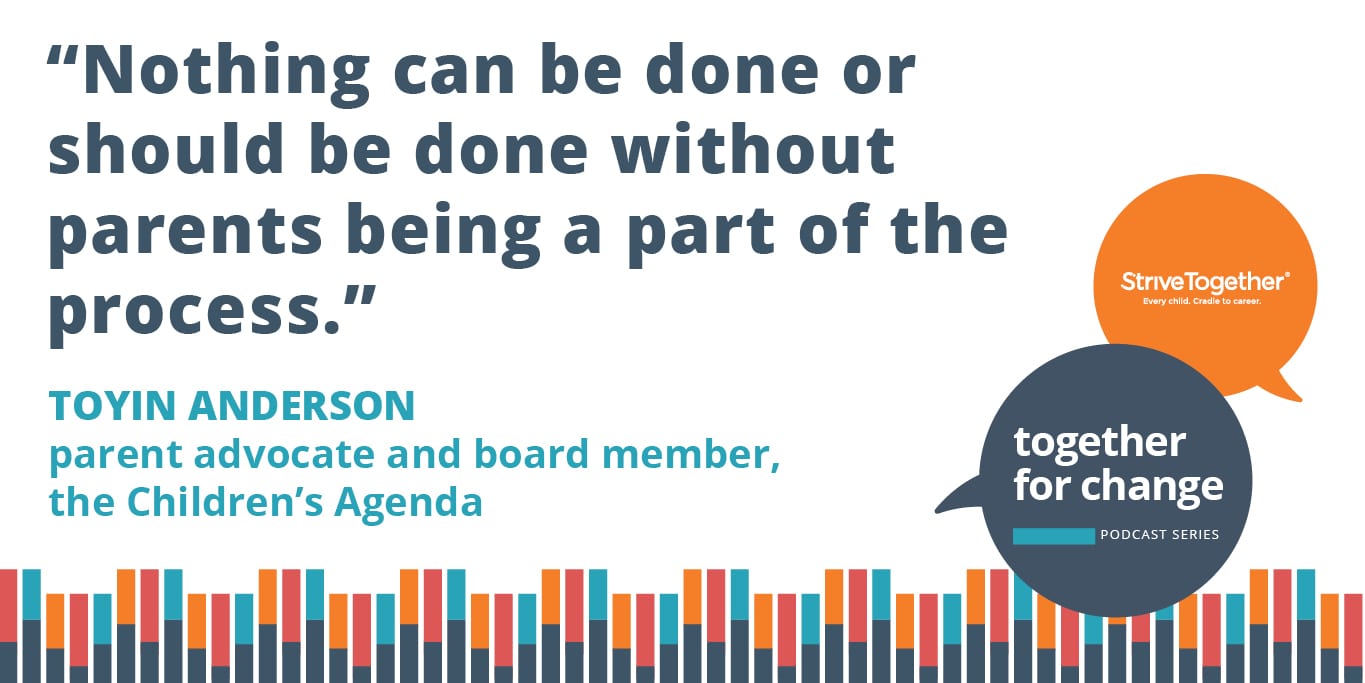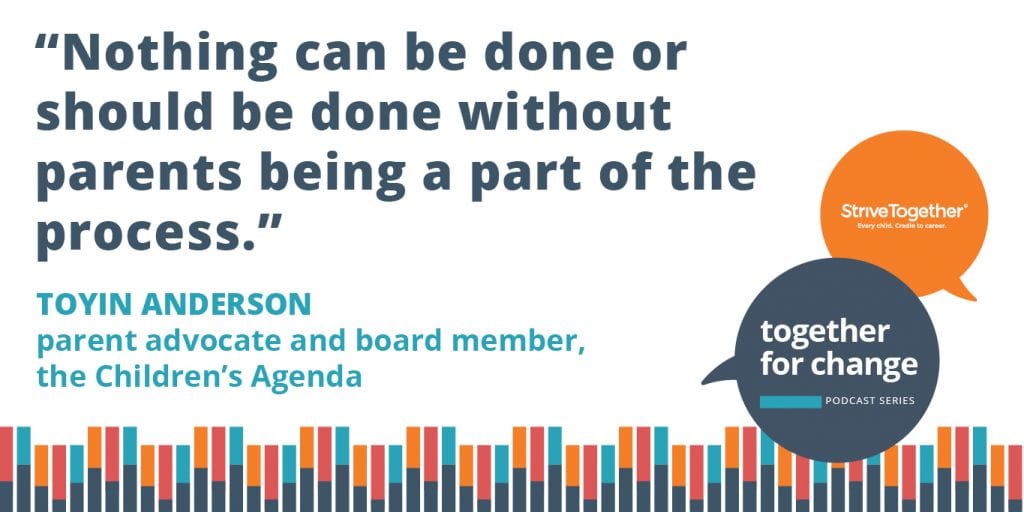 Christian Motley
[19:54] And that makes a lot of sense. I'm thinking about the communities we've been working with and even my own community and just the number of decision points there have been around — some folks are using distance learning, the decisions on going back to in-person schooling or some hybrid model. I just think it's really important that the community has an opportunity to engage and share voice in some of those decisions that seem so important right now.
Jackie Campbell
[20:27] Yeah. I also wanted to add, that, you know, ROC the Future has been structured for a while. And so parent voice is important to bring together. But it's also how do — not just so much the voice, but how can parents influence what is, right? And so we have also engaged parents at our outcome teams. So part of the influence there is, can parents really impact the way that we are coming together and we're actually meeting so that we're able to accommodate parents to be able to be active and engaged?
So one of the influences then, would be, how can we change the tone of the meeting? You know, it's hard to talk about tone, but oftentimes, when we bring parents to a table, we have to make sure that the table is also receptive to parents.
Christian Motley
[21:33] Right. Right.
Jackie Campbell
[21:34] And you often have this language that, even when I get to a specific table, I've got to say, "No, excuse me. Can you repeat that? Like, what was that? What do you mean when you say that?" And even — you know, we talk in acronyms a lot or this alphabet soup kind of way. And we have to really think about how we, how we language, how we talk about efforts, how we're providing context, so that newer people can engage. This is not just for parents, it's like, it's new when anybody gets there. But it's changing the dynamics of the meeting so that it is also embracing parents and family members when they come. That's a work in progress. But our parents are helping to us to that.
Christian Motley
[22:26] That's so important. It's a conversation I know that we've had at least once previously about, you know, there's so much talk about, you know, when we are talking about parent engagement or youth voice, in these processes, there's so much conversation about what needs to be done to prepare the community voice, when actually we need to be thinking about the systems and the system leadership and how prepared those systems are to embrace that community voice.
And I want to make sure to just call something out, Jackie, because you talked about parents contributing to outcome teams. And I just want to say quickly, and if there's something particular to Rochester you want to call out, just let me know.
[23:05] But, you know, in this cradle-to-career work, you know, there's an idea that we look along the entire path of a child from cradle to career. And at each point along that path, we're asking ourselves, you know, what is the strategy? And, you know, there are outcome areas that a community will determine are those critical points where we really need to focus strategy. And so, for some folks that may be the early childhood space, for others, it might be third-grade reading, or high school graduation.
You mentioned a couple areas earlier, I think, around college access. And so, I just want to call out that you're talking about engaging — you know, typically, there might be like practitioners or system leaders who will participate in these outcome conversations. But you're saying that you have community members and parents who are participating in those conversations and making a contribution. I just want to call that out. And is it right to frame it in that way?
Jackie Campbell
[24:09] Oh, absolutely. Yeah. And even to Toyin's point about getting closer to the solution. Much of what we talk about happens outside of school. Like it's funny that we're trying to develop interventions and strategies that ultimately need to be embraced by members of the community, without having those members present to even talk about it. Toyin, I'm going to just share this one anecdote about a resource that we had identified through PECAN that we will be using. But we were having a challenge, because we were moving into year three of using this particular resource.
And it was available to the entire community. But we were struggling with it being embraced by the community and used by the community. So that even though we had a couple of thousand of community members that had sort of signed up to use this particular resource — it was a mobile resource — they weren't really leaning in and using it to the extent that it could be really, really helpful. And we were talking about that and Toyin just says, "But who did you ask about using that? Did parents tell you wanted to do that?"
[25:42] And so we're just really glad that, that she brings it to us in that in that way, and really questions, some of the assumptions that we've made, and so that we can better question ourselves and do things differently.
Christian Motley
[25:56] Right. I'd love to see that on the front of a jersey, the "drop the mic" parent. You got to have those parents in the room. Toyin, thank you.
Jennifer, you must like what you're hearing because StriveTogether's work has evolved over the years from maybe community engagement, some would say, for engagement's sake, to really talking about community authority and co-development. Can you explain the significance of these shifts in the way the StriveTogether thinks about this work? And the role of community members in system change?
Jennifer Blatz
[26:34] Yes, definitely, Christian. And I mean, it is such a joy to be on with Jackie and Toyin today. I was thinking, Jackie, when you first talked about sort of the timeline of ROC the Future and thinking about, we have a long history together, StriveTogether and ROC the Future. And just hearing the story of the evolution of the work on the ground in Rochester makes me think about, you know, how we have we've learned together, and we learn a lot from the work that you're doing. And it is just great to be here with you both.
And so, you know, answering your question on evolution of StriveTogether, especially as it relates to community engagement. I mean, as most of you know, I got my start on the ground doing this work in Cincinnati. And at the time, you know, we thought that we were doing community engagement. But our engagement was very transactional.
[27:31] It was — and so many partnerships, so many communities start out this way. It was, you know, we had some ideas, and we bring them to the community, and we would communicate about those ideas, and we would get some feedback and we'd go back and do, you know, do what we thought we needed to do based on that feedback.
And what you're hearing — and in the example of PECAN and, or "pee-KAHN," or however you want to pronounce it — my Kentucky background, I guess it's actually "pee-KAHN," so maybe that's more Midwestern — Northern Kentucky here. But I think what you're hearing and what you've described, Jackie, about the evolution and Toyin, about your work — I love it, as the "drop the mic" parent, I know that that's what you're calling you now — is really an example of co-development, knowing that parents and residents and young people have to be a part of building the solution and creating the solution. And that takes time. It takes capacity and it takes intentionality.
[28:43] And so Jackie, you know, we've learned a lot from when ROC the Future decided, you know, we have Collaborative Action Networks around these different outcome areas like postsecondary education and early childhood education. But really what we need is a Collaborative Action Network related to engaging parents in the co-development of solutions and really sharing power and ceding power to those most impacted by the solutions. That is a terrific example and what makes ROC the Future a leading-edge partnership in our national network.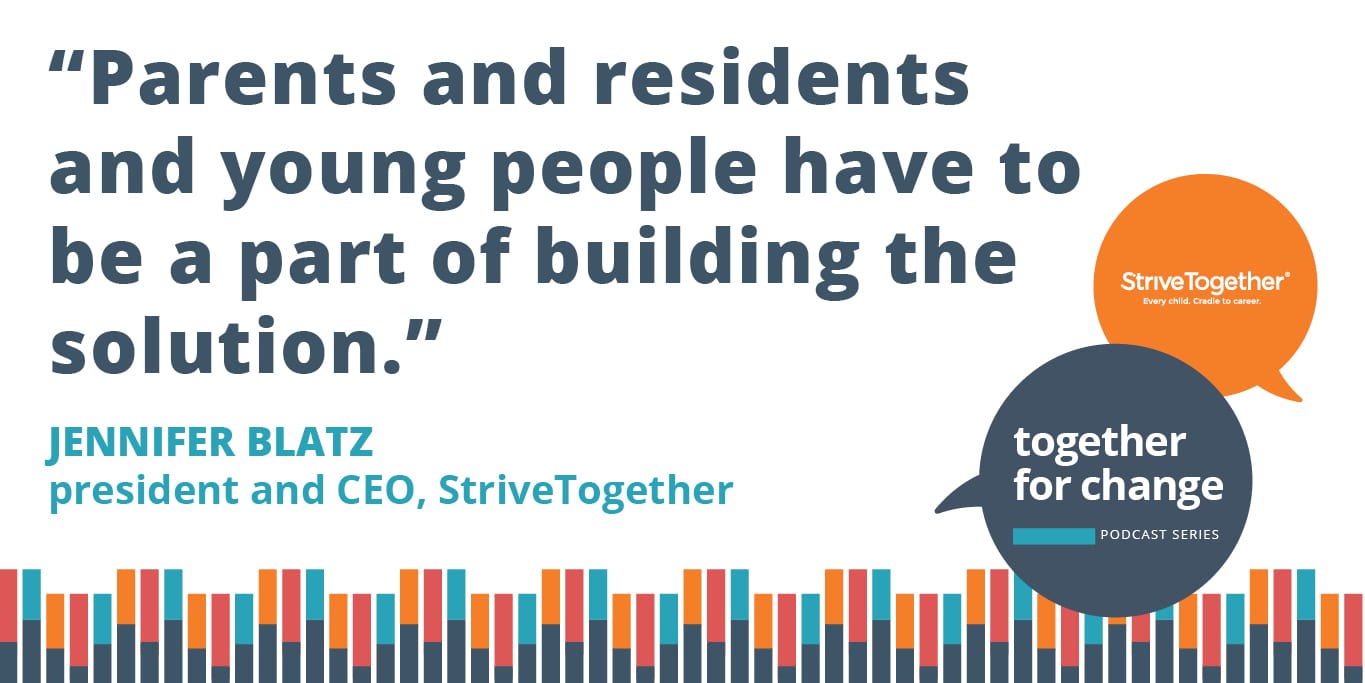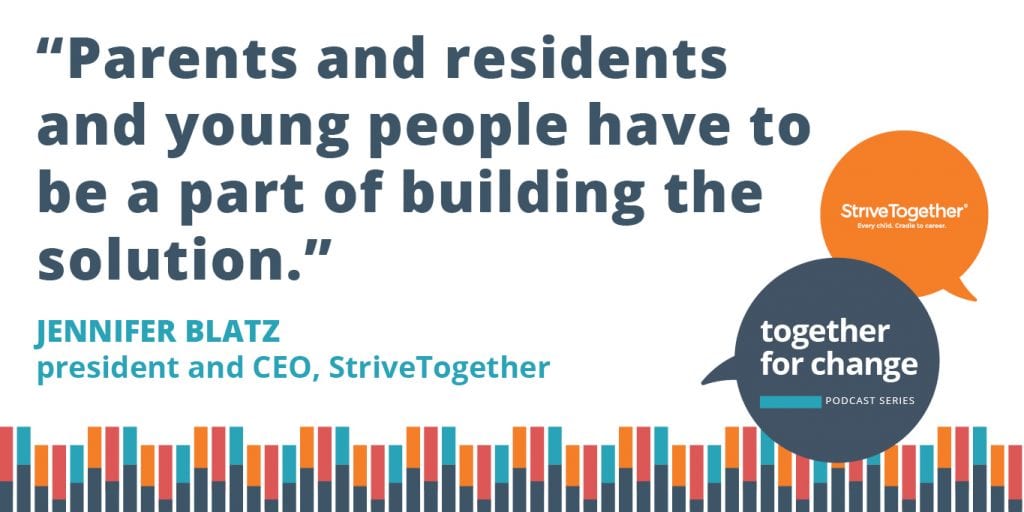 Jackie Campbell
[29:20] Thank you so much for sharing that, Jennifer. That example that I gave a little while ago in terms of a resource that we were using and were having a discussion about it at one of our outcome teams and how it was not going as planned and Toyin really questioned how we came to using that particular resource in the first place and how we engaged parents really caused us to take a step back, and then have this additional conversation with PECAN around using it.
And so now we have, the parents are actually leading our discussion around that particular resource, and also engaging their networks as a part of that. And that's, I think, some of the power of what can actually happen when we have parents as decision makers at the table, not just sort of, you know, "We're going to do this, do you like it," but actually moving into decision making. It could very possibly be that we make a decision that we don't use that particular tool anymore, and that the parents actually identify what works best. And that's the space that we're trying to lift — not just parent voice, but parent decision making and co-development of solutions.
Jennifer Blatz
[20:46] Yes, absolutely. And that is so critical right now, especially as we face the COVID-19 pandemic and thinking about how school — we have this opportunity to really reinvent and redesign what school looks like. And parents are such a critical role in that.
And I will say, I mean, in my own community — so I actually serve as a parent representative on my daughter's middle school site-based decision-making committee, and I wish that I could say — I'm going to really aspire to be the type of "drop the mic" parent that I know you are, Toyin, but I think, you know, I've talked a little bit about how we haven't felt as involved in sort of the decision making that happens around back to school, virtual school.
[31:43] And I think we can all understand how just challenging the situation is. And I constantly think about how, you know, young people, or how our administrators, school administrators are having to navigate this challenge. But I think, you know, parents can be such an incredible resource and thought partner and really have to be a part of the decision making. And it sounds like you're doing more of that in Rochester, and I hope that we can figure out how to do more of that for my children's school district as well.
Christian Motley
[32:19] Jackie, you know, we talked a little bit before, about, you know, some of the key decisions that are being made, as Jennifer said, you know, in response to COVID, around distance learning and others. But there's another issue that is coming up in your community, and that is around police officers in schools. And it sounds like this work might have started some years ago. I wanted to see, Jackie and Toyin, if you could just kind of walk us through the community concerns around police in school, and how you successfully elevated the voice of parents and youth around this local policy.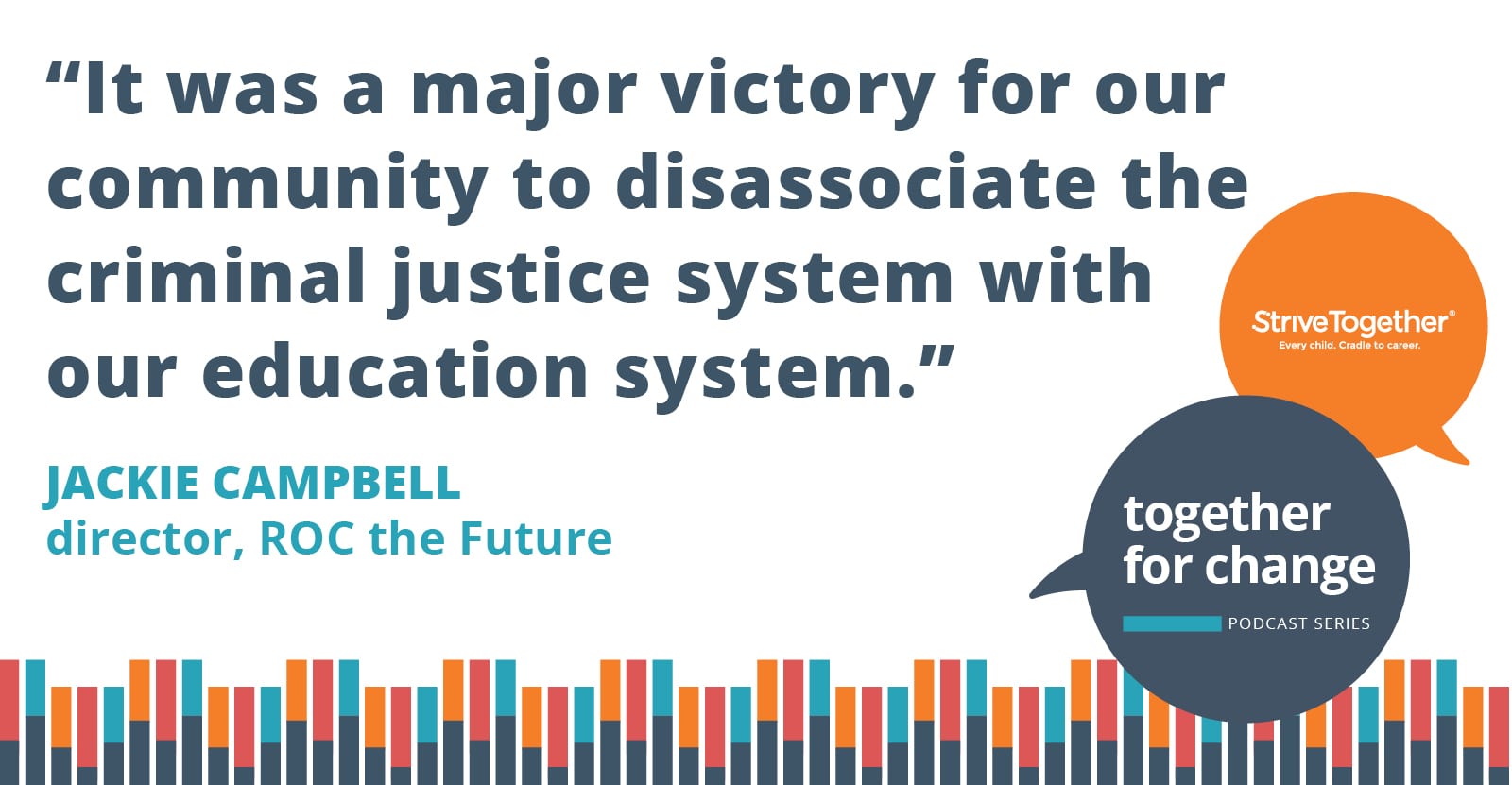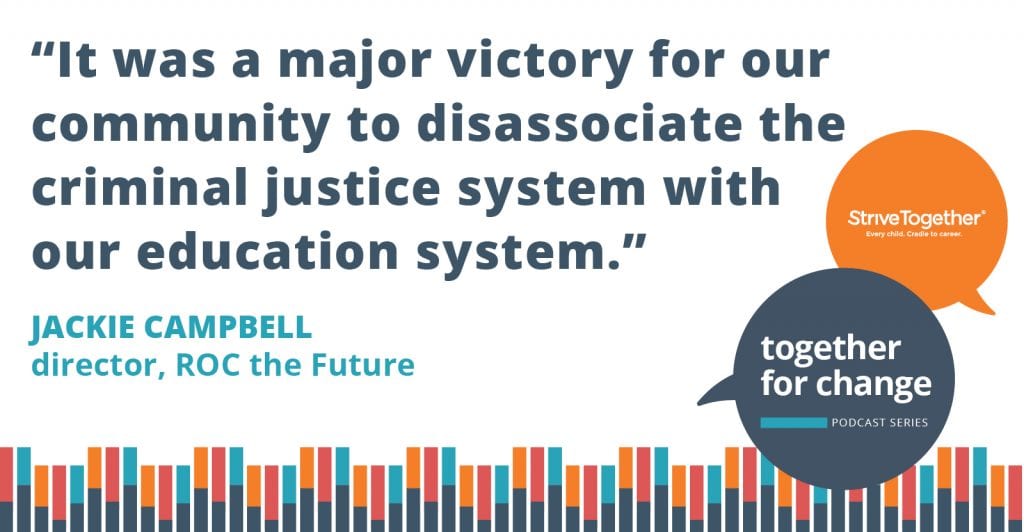 Jackie Campbell
[33:01] I want to make sure that the credit is shared. That work started, as you mentioned, some years ago with the School Climate Task Force, and they were very active a few years ago. But we're really looking at how to change just the environment in schools, and in particular in high schools, and things have gotten really, really bad with just the over-policing students in schools. The suspension rates were extremely high. And you could see it ratcheting up and there was community outcry, but not a whole lot of movement.
The community taskforce started working pulling in community members, but also working very closely with our school district on changing some of the inner workings in terms of what was happening in school buildings. And so they were really engaged in bringing restorative practices to school buildings, and ROC the Future was a part of that.
[33:59] And what we have in common is that we're both housed at the Children's Agenda. And the Children's Agenda really began to take a lead in pulling in community voice, as well as parents and family voice, to address having police in schools. And in this year, again, pointing out some of the inequities that just became highlighted under COVID. But Toyin is a board member of the Children's Agenda. And so I would love to hear her thoughts on it.
Christian Motley
[34:32] Please, Toyin.
Toyin Anderson
[34:34] I grew up, I never saw officers in any of my school unless it's like career day. So, I never understand why we had Resource Officers, as they call them with a pretty name, in our building. So personally, I mean, I have to learn the culture in this country, per se, but I still could never understand, you know, what is it that a child could do that require officers to be in a building.
So, I was always against that, and the metal detectors, I mean, like, there got to be a different way to treat our scholars than have them going through a metal detector. Those are things you see in jails and prisons — why are we perpetrating that with young children? Get them out of schools. Don't get me wrong, nothing against police officers, keep the peace and order in my community, but not in my schools.
[35:30] So being a part of the board, you know, they took an active role in the research and work. I mean, I've been on some Zoom calls as we talked about the success that happened in Canada, and we talked about how they did the whole process of removing them out of school, and we worked on the plan. They sent letters to sign on and express how you feel about not having officers in our schools, on treating our kids, to me, with more respect, treat them as human beings.
I mean, every time I think about an officer, and a metal detector that a kid got to go through, I'm thinking like, you are already setting a mindset of these children, normalizing metal detectors. I never like that. So I wrote even the city council when they had to vote on it, like, "Hey, I'm all for these, taking these officers out of school, leave our children alone, allow them to learn, to be little people." So even one of them responded directly to me, like, "Toyin, I'm with you. I agree with you," you know, and they agreed to remove them out of school, which we are so, so, so happy about. You know, I just cannot come to terms with treating children already like adults, I have such a huge problem with that. You know what I'm saying?
Jackie Campbell
[36:48] That's really good, Toyin, because I also think it was a discussion that we have had for a long time. And the moment came where the city was able to say, "Yeah, we want to pull back on that." That school resource officers were an agreement in between the city of Rochester and our school district several years ago to replace school sentries with police officers that the city ended up paying for. I want to say that probably happened maybe 2000, early 2000s.
So that was a major victory to have that eliminated. Now, we didn't know that schools were going to be remote, you know, starting in the fall, but it was a major victory for our community to disassociate the criminal justice system with our education system.
Christian Motley
[37:44] Thank you, Jackie. And thank you, Toyin. And I want to, you know, want to get Jackie, Toyin, Jennifer — you know, before we sign off, we typically will end with a call to action. I wonder, you know, if there's one piece of advice that you would offer parents or other community members who are seeking to create a just and equitable recovery in their cities, you know, what would it be? And, Jennifer, would you want to go first?
Jennifer Blatz
[38:10] My advice would be, dare to be different. Don't let us return back to the status quo. Ask the hard questions. We are in this time where we do have an opportunity. We're going to have to rebuild. The system that we have is producing inequitable results for children and families in our communities. And so, because we have to rebuild, don't accept the status quo, don't go back to normal. We shouldn't be wanting to go back to normal. We have to — as cliché as it sounds — create that new normal.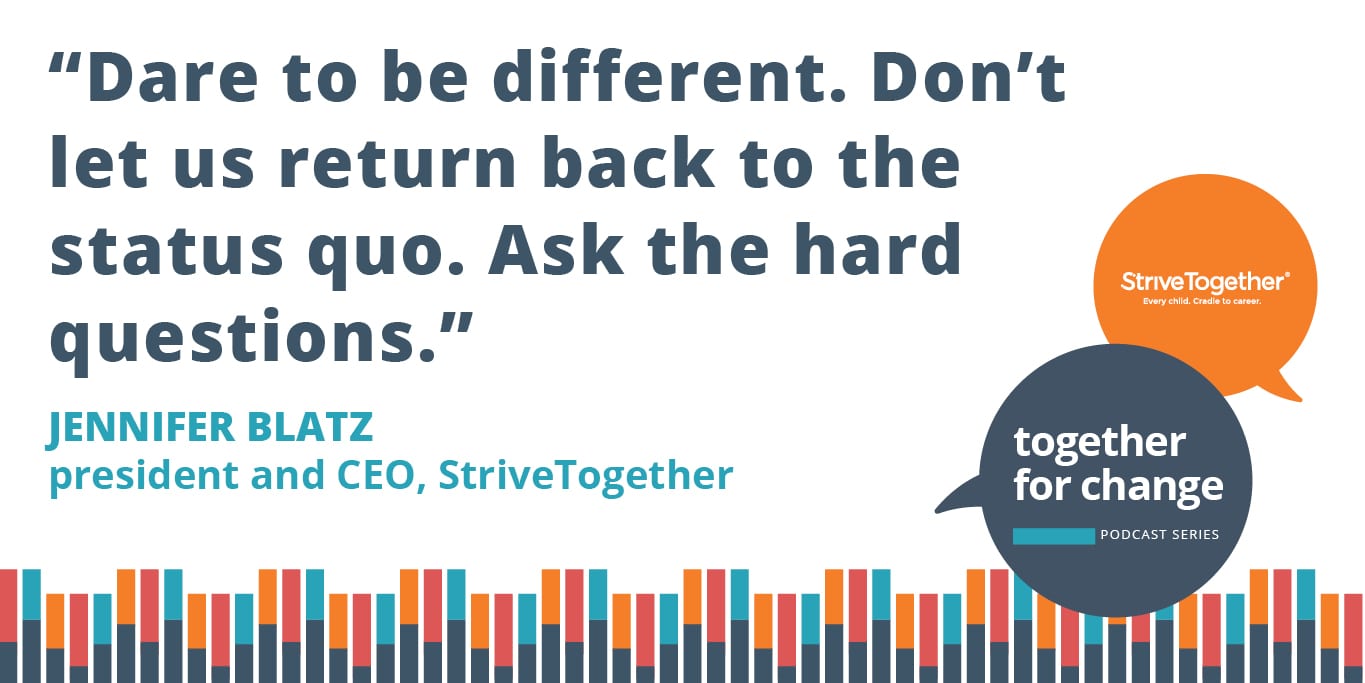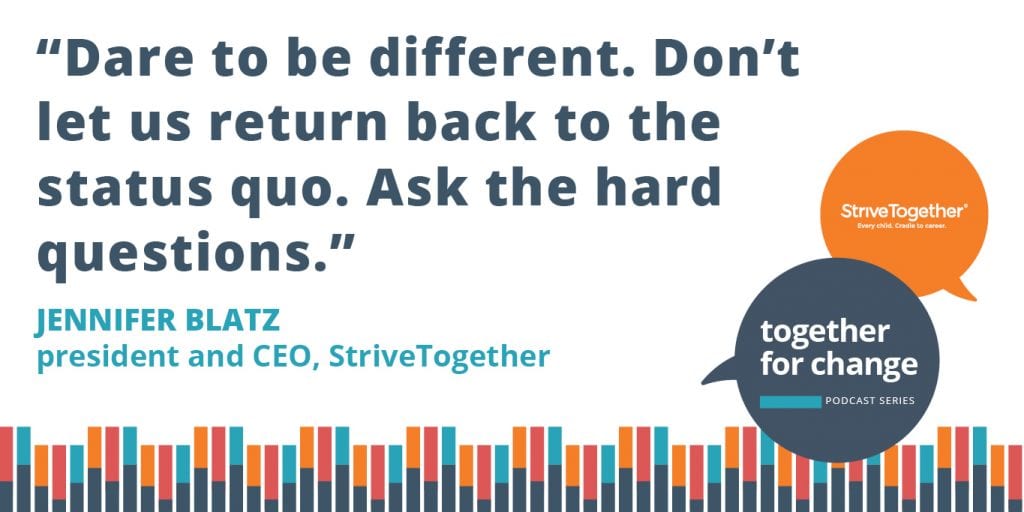 Christian Motley
[38:43] Thank you, Jennifer. Jackie?
Jackie Campbell
[38:47] As we start to think about how — not going back to the new normal is really thinking about who is not at the table, but who actually needs to be. And then developing ways to reach out to those members of your community and bringing them to the decision-making table. One of the ways that we're also doing that is with our young scholars, our young adult leaders, in civic engagement, and we've taken a lesson from PECAN in order to do that with our young scholars. So definitely continue to bring the community closer to the solution.
Christian Motley
[39:33] Thank you, and Toyin, let's end with the with a mic drop. What advice would you share with parents and community leaders?
Toyin Anderson
[39:41] I want parents to know that we have the power. We are the power. We are the necessary ingredients in every community, in every conversation that involves our children. We have to be at the table, we have to be a part of the solution, after we've identified our problems.
And we need the community and the wonderful community leaders who also can identify the problem to acknowledge and understand that parents don't come in a box. We are not one size fits all. We go across a spectrum. So, there's always an idea of what a parent is. Remember, we are experts. And not because every parent is not a teacher that don't mean we're not educated and are educators. We choose the fields that we like, the work that we like to do. You educate our children, we educate them together.
[40:48] So, I need everybody to understand that you should not make any decision about us without us. So, we need the partnerships. We need to start understanding that parents need to be partnered with, not talked at or talked to, because I promise you, until every aspect of this community and world understands that you cannot leave out a parent. Just like everything almost needs water, we need parents. So we got to remember that and start to embrace parents and make the shift like our community's doing.
And then we can all enjoy the success of our communities, all our kids, all our kids from cradle to career, like you said. We could watch them all graduate, or go become that tradesman that they have dreamed to be. But that's going to take a lot of work, but I know we can do it.
Christian Motley
[41:43] We'll do it together. Thank you. Thank you so much, Toyin and Jennifer and Jackie. So good to chat with you all today. Thank you for joining us.
And thank you to our listeners. If you learned something new today, pass it on to your family and friends. Stay connected by subscribing to Together for Change and visiting us at StriveTogether.org. Have a good day, everybody.