This guest blog was written by Jamilica Burke, Stacy Wall Schweikhart and Teresa Wilke
Technical assistance, or TA, is a powerful tool for organizations to advance equity and a game-changing catalyst for organizational growth. But it can be difficult to compare TA offerings or predict how much time you will need to engage with TA providers.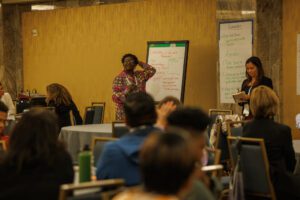 If you are braiding and blending funds from multiple grant programs and funders, you have no doubt felt the weight of the technical assistance industrial complex. TA is ubiquitous, in part, because the term is used to describe a wide range of services and insights delivered by an outside entity to improve an organization's ability to carry out its work. There are over 100 federal government technical assistance programs for securing and deploying federal funds, and nearly all foundations and large-scale philanthropic collaboratives offer non-financial support to grantees, framed as technical assistance, coaching, leadership development, strategic planning or management assistance.
Here are five steps you can take to make the most of TA opportunities.
Clarify your capacity-building priorities
Capacity building is a type of change management, so it creates the right environment and provides the skills and motivation for changed behaviors to yield desired outcomes. Technical assistance supports the following types of capacity building:

Human — Knowledge, skills and motivation of individuals.
Organizational — Interaction, collaboration and communication among people.
Structural — Policies, procedures, practices and technology.
Material — Facilities, equipment, materials and fiscal resources.

Before accepting TA, conduct an internal assessment of your coalition's needs. Think beyond your organization staff to your governing boards and community partners. What kind of expertise, internal controls, fiscal processes or technology-supported communication systems would elevate your impact and sustainability? What outcomes could TA support?

Assess timing and human capacity to engage
TA requires significant staff time and leadership focus, including onboarding the TA provider, regular communications and data sharing, and co-design of priorities and solutions. Be realistic about staff capacity and their ability to delegate routine duties during the TA "sprint." TA can require 10+ hours per week, so assess workloads and bandwidth of staff teams. Consider tiered levels of engagement across staff and stakeholders to efficiently focus TA activities.
Set expectations and benchmarks for accountability
When offered a new TA opportunity, ask the provider what outcomes they support and for names of other organizations they have supported. Check references, ask probing questions, and clarify (in writing) what they will deliver and in what timeframe. Examples of TA deliverables may include:

Strategic insights, advice and recommendations
Templates and examples
Implementation toolkits and checklists
Data, policy and systems analyses
Best practices research and innovative case studies
Connections to other experts and services
Convenings with peers and aspirational organizations
Hands-on facilitation and meeting support

If the TA provider has experience with similar organizations addressing similar challenges, they can likely recognize trends and adapt services to meet your needs. Look for indicators of effective TA in proposed plans, including:

Collaborative — Work jointly to clarify needs and implement interventions.
Systematic — Use an orderly, evidence-based approach.
Targeted and differentiated — Focus on greatest levers of impact and engage actors based on their strengths, priorities, and cultural norms.
Adaptive — Remain flexible to respond to shifting conditions.
Customized — Tailor engagement to client organization, informed by knowledge of the broader landscape.
Results–driven — Identify benchmarks that indicate improvement.

Communicate authentically with funders and TA providers
Clear is kind. If the TA isn't a good fit or the timing isn't right, communicate honestly with your funder and TA provider as soon as possible. A clear and decisive, "Thank you, but this doesn't fit our current needs" is respected and appreciated by all parties. Neither the funder nor the TA provider wants to waste time or distract from strategic priorities.High-quality TA providers will solicit post-engagement evaluation of what worked and what fell short to advise their own iterative learnings. Funders also want to hear honest critique directly from TA recipients. Uplift and support TA providers who perform well and recommend them to others. If you want to continue a relationship with a TA provider after initial engagement, inquire about ongoing maintenance or a "step-down" scope of services.
Leverage successful TA to build community-wide capacity
Look for ways to operationalize and scale TA outcomes, like "train-the-trainer" education for partners, residents and young leaders. Debrief with your team and partners to identify ways to improve future TA processes. Create a document library (e.g., Google Drive) of background information and baseline data compiled for the TA provider to prepare for future TA engagements.Organizations must invest significant staff time and community focus to realize the full benefits of TA support, so it pays to be a selective and intentional "informed consumer" of TA services. Don't be afraid to politely decline or redirect TA relationships. This allows you to protect your energy for high-quality TA sprints that align with your community's timing, priorities, and capacity.
This guest post was written by Jamilica Burke, Stacy Wall Schweikhart and Teresa Wilke, based on insights they shared at the 2023 Cradle to Career Network Convening.
Jamilica Burke is chief strategy and impact officer at Seeding Success. Stacy Wall Schweikhart is CEO of Learn to Earn Dayton. Teresa Wilke is the owner and principal of Silver Arrow Strategies.