On paper, Dr. Robert George and Dr. Cornel West make an unlikely pair.  
"I'm an old-school, traditional conservative. Cornel is honorary chairman of the Democratic Socialists of America. That's pretty far apart," said Dr. George. 
But despite having opposing views on topics from politics to philosophy, the two share a long, close friendship that can offer insights into working across divides to get better outcomes for kids.  
Dr. George is McCormick Professor of Jurisprudence and director of the James Madison Program in American Ideals and Institutions at Princeton University. Dr. West is the Dietrich Bonhoeffer Chair at Union Theological Seminary, where he teaches courses in philosophy of religion, African American critical thought and a wide range of subjects. 
At the 2022 Cradle to Career Network Convening, Drs. George and West joined in a conversation about civil discourse, friendship, courage, truth and authenticity — all critical to the work of the Network. 
"Our work often means having tough conversations about systemic inequities and disparate outcomes with people who may see things differently," shared Josh Davis, StriveTogether's vice president of policy and partnerships, in introducing the plenary.  
Across the Cradle to Career Network, unity is rooted in the commitment that race, ethnicity and poverty should not determine opportunity or outcome. The friendship between Drs. George and West showcases the possibilities created by building connections across divides and what it will take to get there.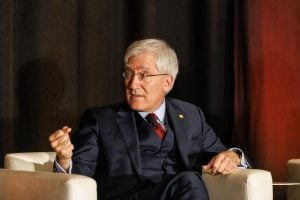 Hold a spirit of intellectual humility. 
First, we need to reconnect to a core component of the human condition: our imperfection. This is a difficult task at a time when it feels important to be right, shared Dr. George. 
"People are certain of what they believe and unwilling to consider the possibility that they might be wrong," he said. "When you adopt that attitude, you will not see your fellow citizens who disagree with you as fellow citizens who disagree with you. You will see them as manipulators, bigots, bad people, stupid — you'll classify them in some way to account for the fact that they don't come to the right conclusion." 
Staying connected with those who disagree with us requires what Dr. George called "intellectual humility." "We need to model that self-critical spirit that recognizes our own fallibility," he said. "And when you do recognize your own fallibility, you will recognize people who disagree with you as friends in the project of truth seeking." 
This recognition is important not just in maintaining individual relationships, but also in maintaining our democracy. Dr. George quoted Judge Learned Hand, who said, "The spirit of democracy is the spirit of not being too sure you are right."  
We'll never be able to change our false beliefs if we aren't open to being wrong, Dr. George said. "If you immunize your current beliefs against criticism or challenge; if you shut down or refuse to listen, or think you have nothing to learn — if you do that, then you're just an ideologue; you're just a dogmatist. And it's the enemy of the spirit of truth seeking, and it's the enemy of the spirit of democracy."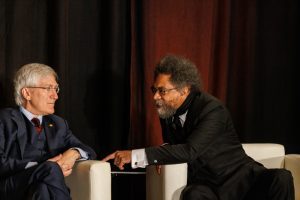 Be more than an ally. 
Joining together in truth seeking requires more than performative allyship. It even requires more than seeking justice. We must build our movement from a place of deep care for our communities.   
"Any justice that's only justice soon degenerates into something less than justice," Dr. West said. "If you don't have a love that's deeper than justice, then your talk about justice is just your contemporary lifestyle choice. You're a summer solider. You're not an all-season freedom fighter." 
Fully stepping into our roles calls for self-reflection first. "We begin with ourselves. You're not finger-pointing, name-calling — no. How for real are you?" Dr. West asked the audience. "What risks are you willing to take? What kind of service are you willing to give? What kind of love are you willing to exercise?"  
Connect around values. 
Our answers to these big questions show what we value, which is often a place for connection with others despite differences. "It's not your gender, it's not your sexual orientation, not what nation you're from. It's as a human being, are you willing to choose integrity, honesty, decency, generosity, compassion and service to others? That's why we're here," said Dr. West. 
The work of the Cradle to Career Network happens in big cities, small towns and rural communities. It also happens across the political aisle, because, as Davis shared, "These are not partisan outcomes."  
When conversations and consensus building become difficult, a path back to connection lies in leading with values. For the Cradle to Career Network, that means returning to the uncompromisable conviction that a child's potential should not be dictated by race, ethnicity, zip code or circumstance.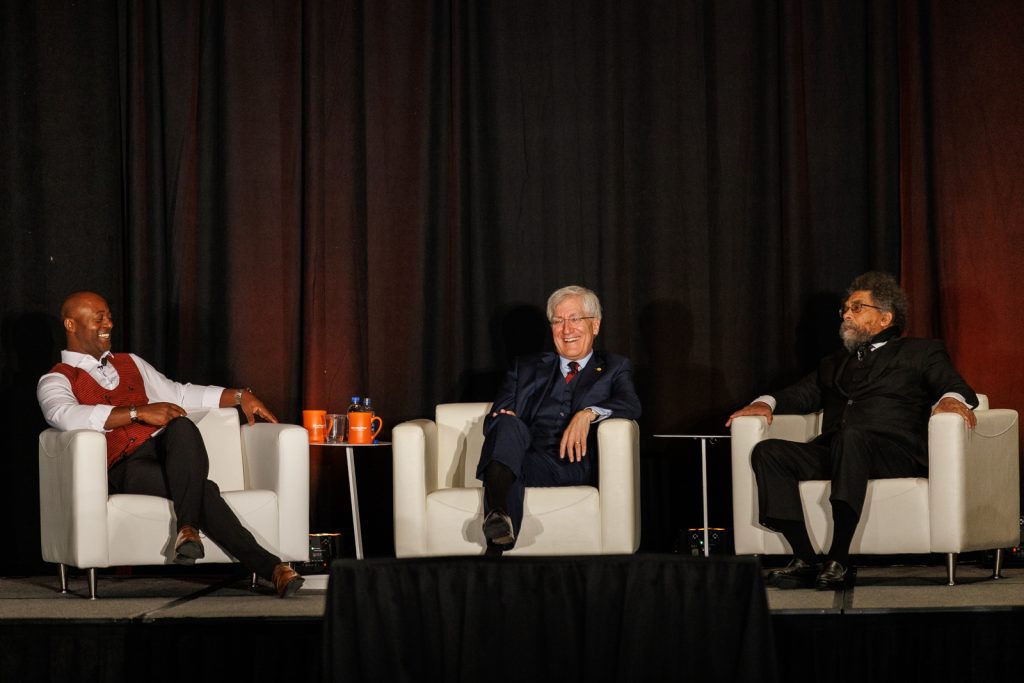 Be courageous.  
Connecting across divides can be daunting work that requires courage.  
"Courage is the enabling virtue of all the other virtues," said Dr. West. He cited historic figures of courage as examples of what it means to enact civic friendship: Harriet Tubman, a freedom fighter in the face of terror; Mary Ellen Pleasant, who would begin every speech by saying, "I'd rather be a corpse than a coward"; and Martin Luther King Jr., who once said, "I'd rather be dead than afraid." 
Like these leaders, we can take up our courage to find our own voice and help others find their voices.   
"We are more and more living in a moment in which people are so scared and siloed that they become echoes," said Dr. West. "The anthem of Black people is what? 'Lift Every Voice.' It ain't 'Lift Every Echo.' You can't be a jazz woman if you're just an echo. You've got to find your voice."  
Lifting voices isn't about unanimity, said Dr. West. It's not necessary that every voice be the same — rather, the important thing is that all voices are heard. Shifting power to the community is key to the work of the Cradle to Career Network, along with the ability to bring together individuals from across a region to work toward a shared goal. As our society faces deepening divides, said Dr. West, this will make all the difference: 
"It's persons like yourselves who will constitute the glue that will hold together the movement, as countervailing forces against organized greed and chronic hate and hypocrisy and fear."