The coronavirus has made inequities in America starkly visible. Virtual learning doesn't help children without a laptop or wi-fi at home. Stay-at-home orders don't help parents without housing or jobs that allow them to work remotely.
Everyone is vulnerable to the public health threat posed by COVID-19, the disease caused by the coronavirus, but communities of color are bearing the brunt of the pandemic, thanks to appalling flaws in systems like education, housing and health. The need to change how systems support youth and families has never felt more urgent.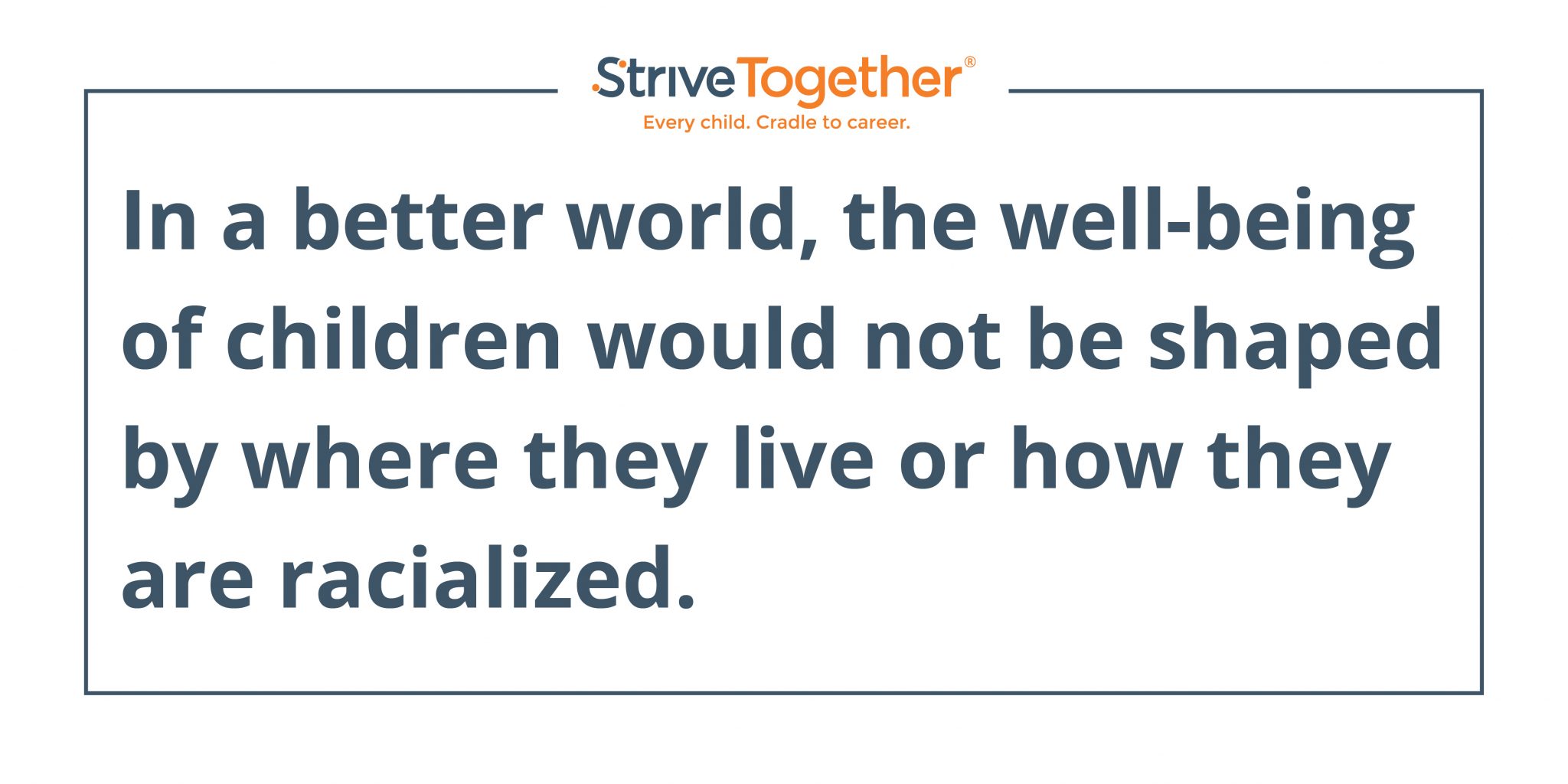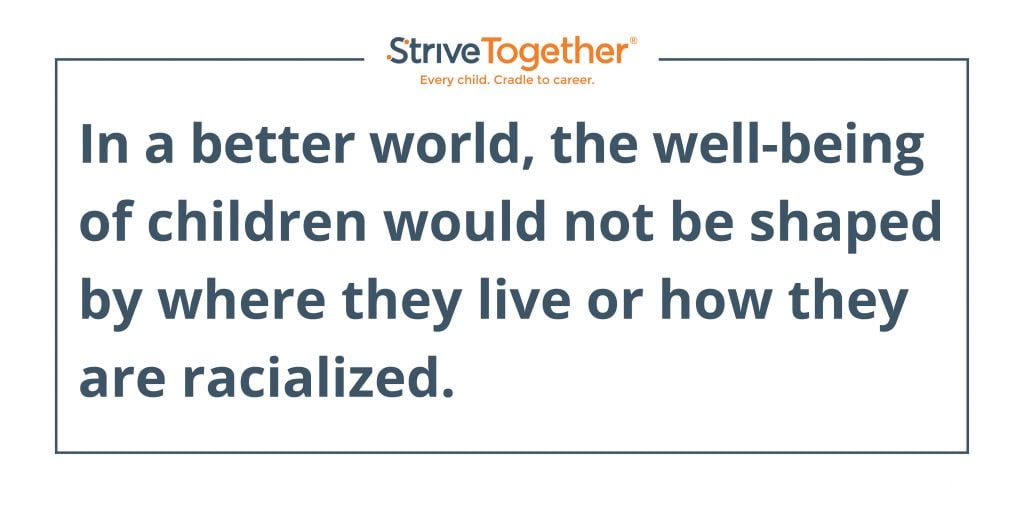 And the need for StriveTogether to deepen our commitment to equity has never been greater. With our racial equity statement, we have set the vision for what we want the results of our work with the Cradle to Career Network to look like. Our resolve comes from our belief that every child has value and promise. Yet equity does not mean supporting everyone equally – it means prioritizing our attention on the people who need it most.
We co-developed this statement with thoughtful feedback from our network members and their partners, as well as StriveTogether staff and board members. Words matter — and we made very intentional choices, from striving to make the language accessible to explicitly naming the racial and ethnic groups most harmed by inequities in our nearly 70 communities.
We are also strengthening our commitment to equity with concrete steps by launching the Racial and Ethnic Equity Action Team. Consisting of network members, their local partners and StriveTogether staff, the team will focus on making tangible progress on improving the systems that serve youth and families.
Building on the work of the Racial Equity Planning Team last year, the 2020 action team will prioritize:
Advancing racial and ethnic equity in our organizations and local communities, particularly in response to the disparities made more glaring by the current crisis
Embedding racial and ethnic equity more explicitly into our approach and framework, the StriveTogether Theory of Action™
Communicating progress and sharing learning along the way
Equity work is hard, messy and complex. The foundation of this country is rooted in racism; our institutions were built to create a society that perpetuates inequities and marginalizes Black, Indigenous, Latinx and people of color. The current crisis is widening the gaps between those with privilege and those who are most vulnerable. When disaggregated data is available, we are seeing that Black people are dying from the pandemic at a disproportionate rate.
But what's happening today gives us an opportunity to make our world a better place by rebuilding education, health care, housing, employment and more of the systems that continue to fail communities of color. These systems have been in place for centuries and it will take time to dismantle them. But systems are made of people — and people can and must change, especially white people like me who hold positions of power and privilege.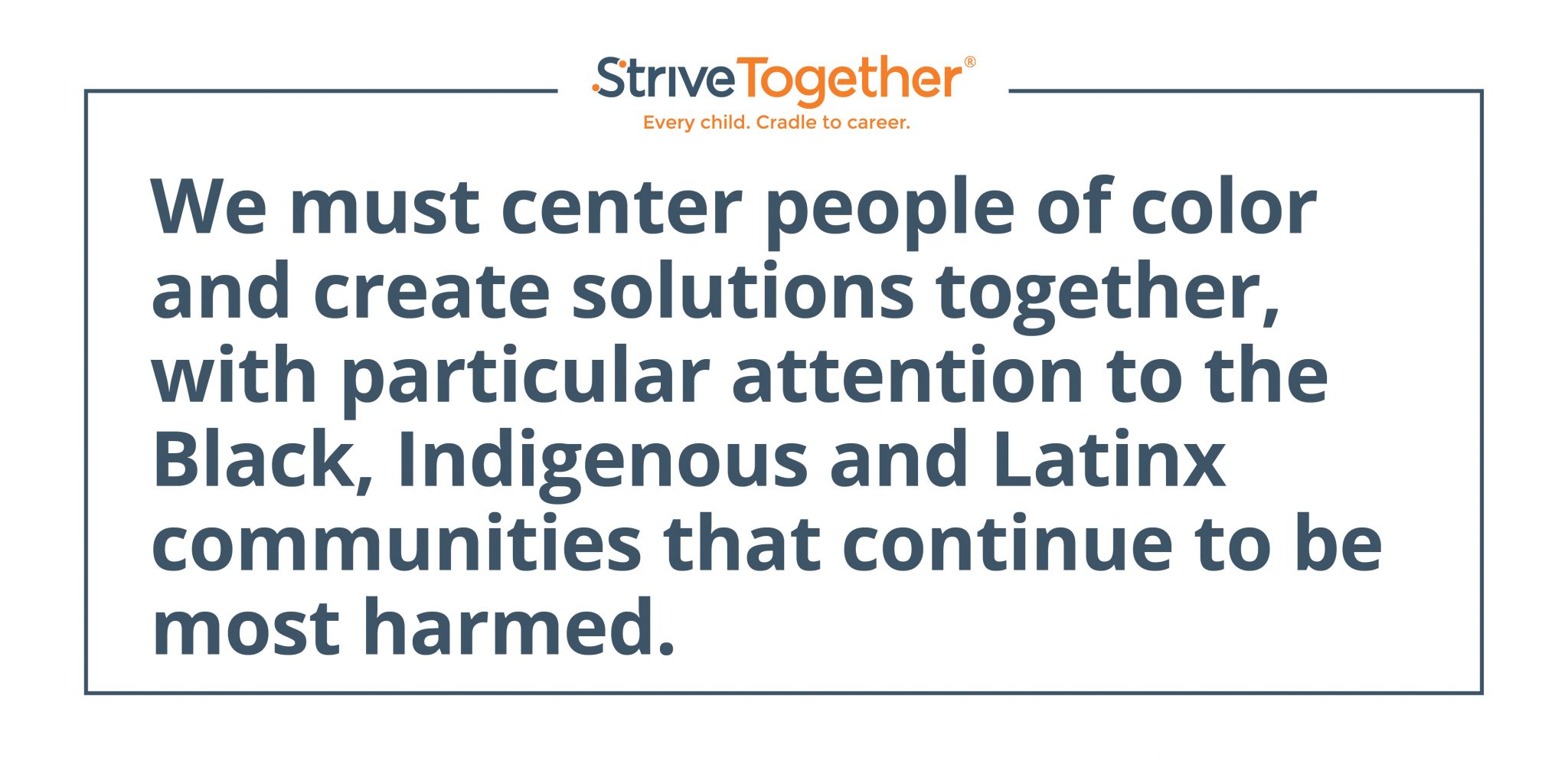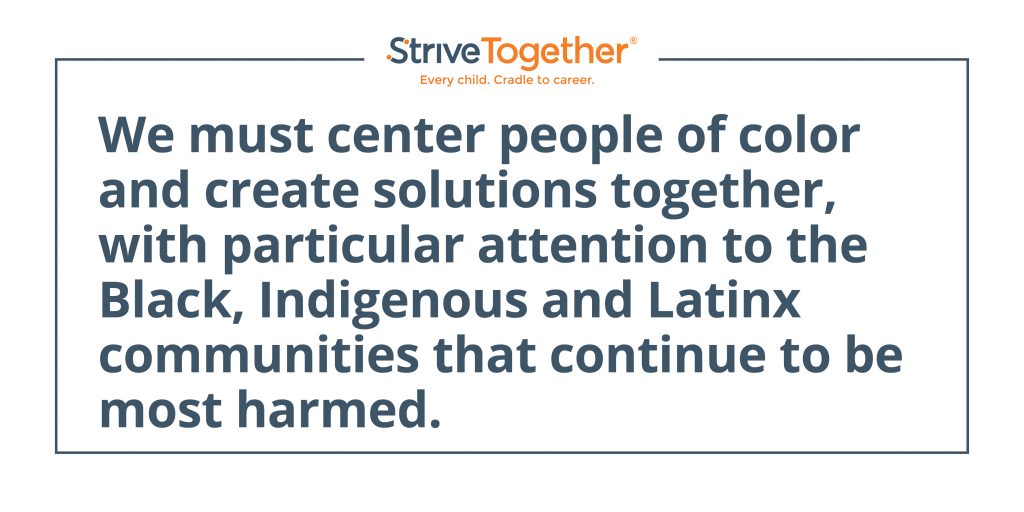 StriveTogether and the Network will take bold steps as part of our goal to end oppressive systems, and continue to better understand the history and legacy of systemic racism, colonization and xenophobia. Right now we're seeing the othering of Asian Americans as they fear not only getting the coronavirus, but being blamed and attacked. We must acknowledge implicit bias and normalized stereotypes, challenge the status quo, embrace our shared humanity and recognize the inherent value of every single member of our society.
COVID-19 is showing us that we must shift to partner in real time with the communities most affected by oppressive systems. We will use our role as conveners and holders of power, relationships and resources to mobilize not just leaders, but youth and families. Meaningful change requires the full participation of those most impacted in identifying problems and developing solutions.
This work calls for healing and reconciliation, and it demands vulnerability and risk. We are going to make mistakes along the way, and our racial equity statement will evolve as we learn more. To achieve our vision of a better world, we must model the change and courage we want to see in others.
I'm proud to be part of an organization and a network with such a clear and powerful position on how to center racial and ethnic equity in the work we do. We invite you to join us as we use our collective power for the well-being and success of every child, cradle to career.
Update: Because writing involving race and ethnicity is often personal in nature, StriveTogether editorial style allows for flexibility depending on the preferences of the writer and story subjects. Not every member of a group will prefer the same language; in general, StriveTogether uses the terms preferred by the specific communities being highlighted. The language associated with race, ethnicity, gender, disabilities, age, income, religion and other identity markers changes, so you may note different terms being used in stories written at different points in time such as our StriveTogether shift from Latinx to Latine.