Small changes see big results in Salt Lake City
Teams put StriveTogether training to work throughout schools, city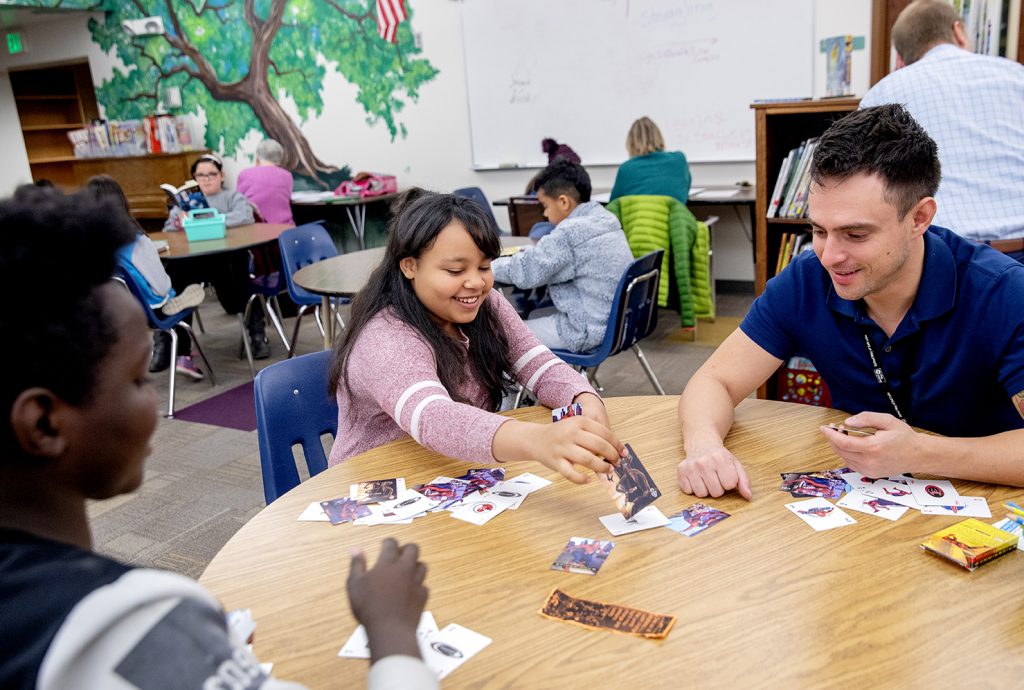 YouTube videos, some dancing and a card game.
These were things Ryan looked forward to during his meetings with Community School Director Chris Dammert at Moss Elementary School in Salt Lake City, Utah. To Ryan, a first-grade special education student, these weekly meetings were pure fun, offering a chance to talk and play war with a deck of Spiderman playing cards. But they also served another purpose: to get Ryan to school.
Ryan was missing two days or more a week when he started meeting with Dammert. Missed days can put students behind socially and academically, leading to challenges through and after high school graduation. For Ryan, connecting with Dammert has been key to putting him on track for success.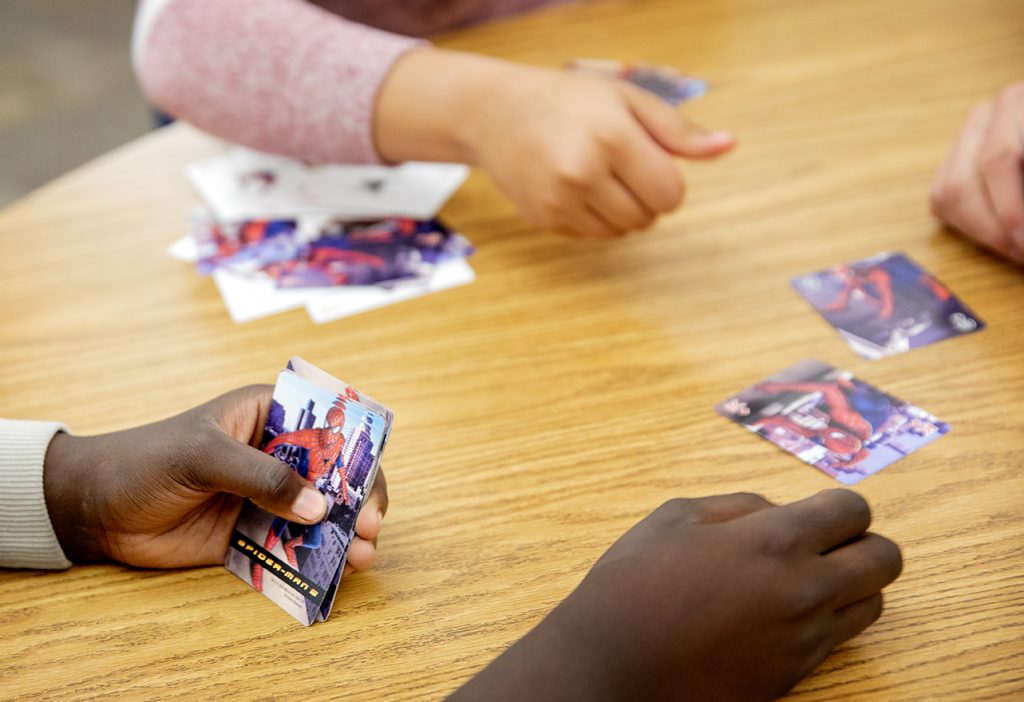 "It wasn't long before I saw a huge improvement in Ryan's attendance. By the end of the year, I don't think he was missing any days," Dammert said.
Research shows a direct link between attendance in and higher achievement in reading, math and general knowledge at the end of first grade. More days in school leads to more milestones met, especially for low-income, minority and special education students like Ryan. That's what motivated teams in Salt Lake City to tackle the problem of chronic absence among certain groups in eight schools.
Six teams of school staff and community partners developed solutions like the one-on-one mentor meetings that supported Ryan, and their solutions have led to success across the region. Brought together by United Way of Salt Lake, the teams met seven times throughout 2017. They were part of one of StriveTogether's local impact and improvement networks, which use StriveTogether's unique collaborative improvement approach. Through this approach, teams use data to identify strategies that work and spread these solutions to support even more kids.
At South Clearfield Elementary School, attendance mentor Jodie Orton was a one-person team. An AmeriCorps member, Orton was placed in the school four years ago to improve student attendance. Through the impact and improvement network, Orton focused her efforts on a group of chronically absent first-graders. She learned to create targeted outcomes and to tweak interventions to reach her intended goals. Orton wanted to get these students to class more, and she hoped that by improving attendance, she also would help them become better readers by third grade.
Orton's efforts to fight chronic absence included a combination of goal setting, peer reinforcement and incentive programs. Eleven of the school's most frequently absent first-graders and their parents met with the principal to agree on individual attendance goals. After committing to their goals, families received weekly reminders about their child's attendance. Students who made it through the week without an absence were recognized in front of their classmates with a "cheer that you're here," and those who met their attendance goals won the coveted prize of a toy lightsaber.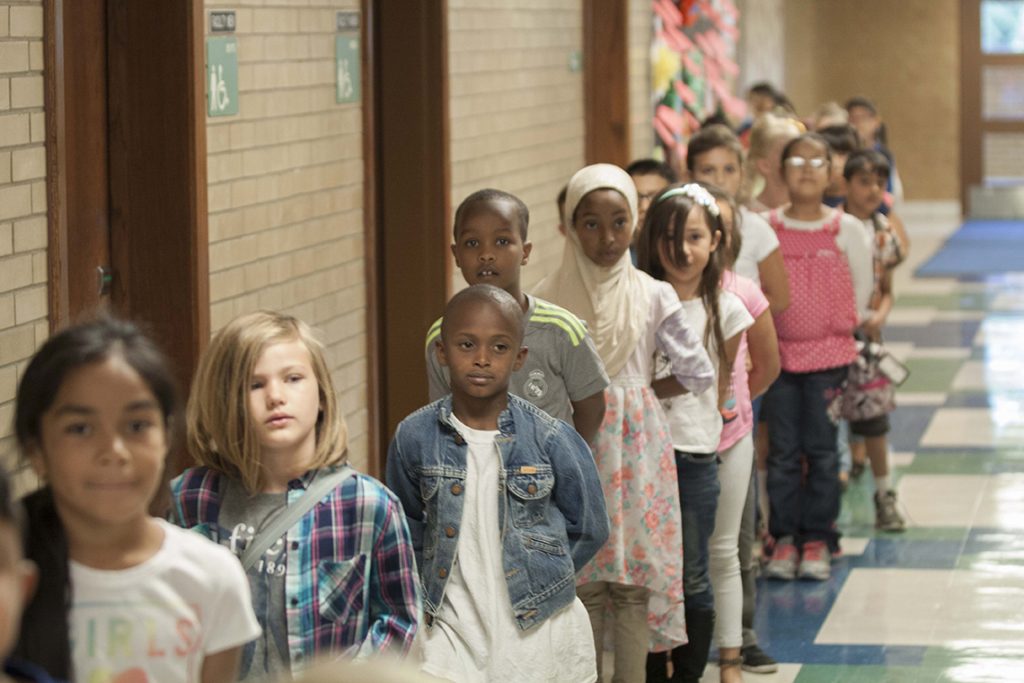 This combination of strategies was effective. Among those 11 students, the absence rate dropped from 16 percent to 2 percent over a period of 10 months. To Orton, this success shows how much more can be done for other students.
"That was a remarkable effect," Orton said. "With support from their families, these students were successful in making a renewed commitment to improving their school attendance."
She's continuing to enlist the support of parents with a new set of incentives this school year, including a monthly bingo game filled with ideas for engaged parenting. Parents who return cards with three or more "bingos" are eligible to win $25 gift cards provided by local merchants Meanwhile, students know that a visit to Orton's office usually comes with a treat or small prize — one more reason to come to school every day.
Although Orton will have to wait another year or so to see if her first-graders with better attendance achieve higher third-grade reading proficiency, another Salt Lake City school has already seen scores rise among its target group. The team at James Moss Elementary School focused its efforts on 12 of the school's most chronically absent special education students. With the team's support, those students each met regularly with an adult mentor at the school.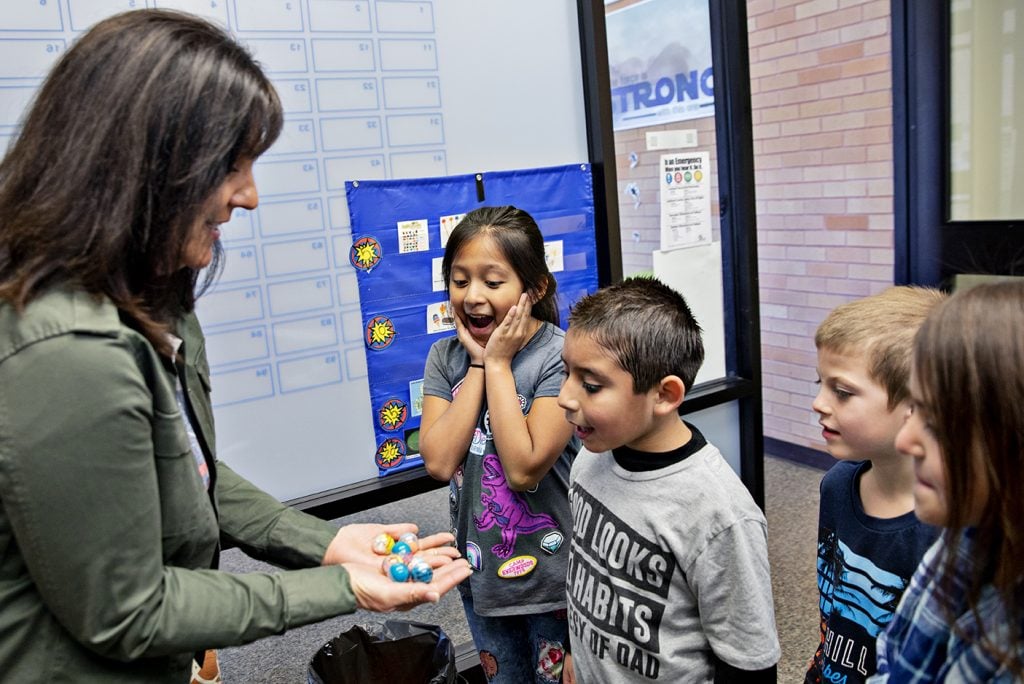 By the second year, all 12 students in the mentoring program were showing up to school more often, and the school reported a 16 percent reduction in overall absences among special education students. Thanks to the efforts of the impact and improvement network, the school saw 7 percent of its special education students test above reading benchmarks — a new high. The school also saw a 2 percent increase in the number of special education students who meet core proficiency in reading and a 16 percent reduction in special education students who fall into the lowest category of reading proficiency.
Dammert, who has seen firsthand the effects of his meetings with Ryan, says there are multiple reasons the bonds created between students and mentors led to improvements in attendance rates and reading. "Whether it was because they were excited to meet with their mentor, or if they felt more comfortable being part of the school, it resulted in better attendance and better readers," he said.
Reading and attendance aren't the only measures that the teams in Salt Lake City have set their sights on. The impact and improvement network members are integrating insights from these successes into all aspects of their work. One of the six teams was made up entirely of United Way of Salt Lake staff participating in the network to learn StriveTogether's collaborative improvement approach. They'll use this approach for initiatives throughout city schools and the Promise Partnership of Salt Lake, a member of the StriveTogether Cradle to Career Network that works with community partners to improve education, health and family financial stability.
The United Way team has already gotten results from applying tools and skills learned from StriveTogether. Over a three-month period, Maliheh Free Clinic increased depression and anxiety screenings for new patients from 0 percent to 70 percent. Summer food pantry use at South Kearns Elementary increased from three visitors per week to 21 per week over six weeks of testing interventions, said Tyler Asman, senior director of learning and improvement at United Way of Salt Lake.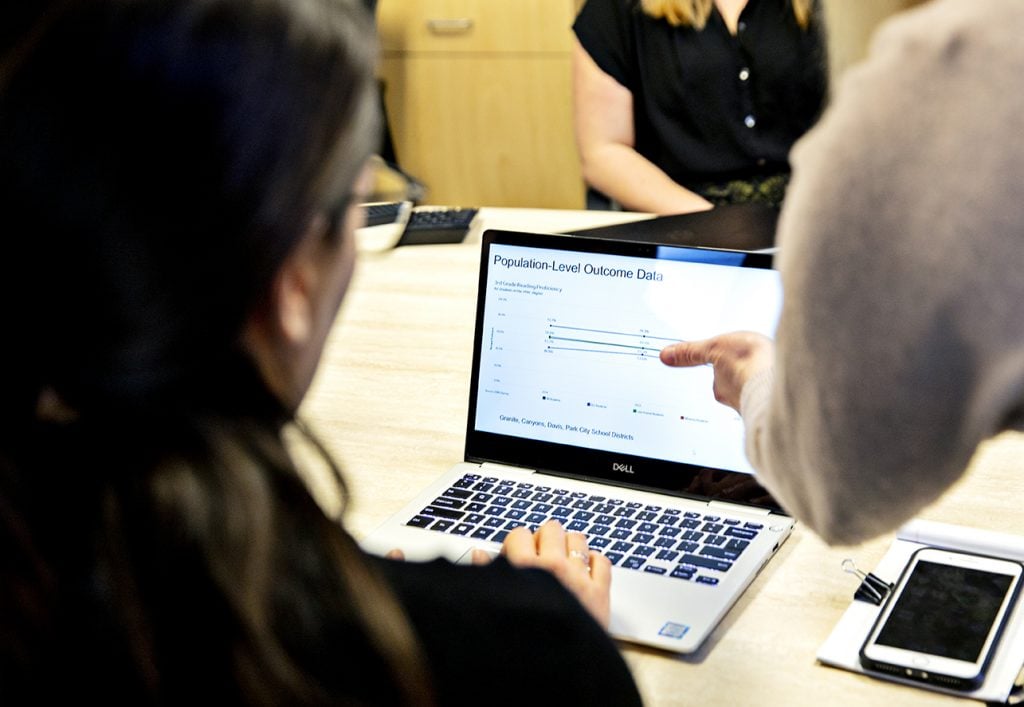 "StriveTogether's continuous improvement approach reaches from the connections needed to help one student feel more welcome at school, to shifting the way agencies and partnerships are able to do more with less — all building a better community for children and families in Salt Lake City," Asman said.
Across the city, community members, nonprofit leaders, teachers, business owners and more are gathering to create better outcomes for their community. Using collaborative improvement, they share strategies, track data and build connections so that their successes, and Salt Lake City students, can grow. And in schools across the city, other meetings are going — meetings that look a little different, but are just as important, where kids like Ryan and their mentors talk, laugh and play cards, all in the name of getting to school.
What changed in Salt Lake City, Utah?
Better attendance translated to better readers at Moss Elementary School. Following interventions to increase attendance, 7 percent of special education students at the school tested above reading benchmarks — a new high.
Moss Elementary School also saw a 16 percent reduction in special education students who fall into the lowest category of reading proficiency.
At South Clearfield Elementary School, absence rates dropped from 16 percent to 2 percent among a group of chronically absent first-graders over a 10-month period of targeted interventions.
Tools that proved effective in increasing attendance at Salt Lake City schools were applied across the community to improve access to a local food pantry and increase mental health screenings at a free clinic.
Key takeaways
Armed with skills and techniques gained through StriveTogether's impact and improvement network training, six teams set out to tackle chronic absences among students at eight Salt Lake City elementary schools.
Focus efforts to target strategies. Teams tested interventions to improve attendance among specific at-risk groups within their schools, looking for effective actions to share with other teams.
Small efforts add up, and connections get kids to school. Successful efforts to fight chronic absence included a combination of goal setting, peer reinforcement and incentive programs. One-on-one mentoring also helped improve attendance.
Teams look beyond classroom challenges. Team members gained skills and knowledge that are being applied to other initiatives throughout the community.