Bringing people to the table to look honestly at student data
The Commit! Partnership rallies community-wide partners to improve education for students throughout Dallas County.

Posters were plastered in every corner of Dallas County — in laundromats, libraries, the YMCA and recreation centers. Ministers spoke from their pulpits and stuffed inserts into weekly bulletins; Rotary groups, The Lions Club and city councils discussed at their regular meetings. Short commercials, in English and Spanish, aired before movies at local theaters.


The message was simple: Preschool registration was quickly approaching, and 37,000 students who were eligible for free programs were regularly left out. Their parents and guardians didn't know about eligibility… or about the $136 million in state funding available for preschool.
"We realized this through aggregated data," Commit! Partnership Chief Strategy Officer Tarik Ward said. "This realization helped us galvanize the community around a clear data point and opportunity for improvement."
"Demography is not destiny:" @Commit2Dallas is helping all students, #cradletocareer, succeed. http://t.co/rPjM4a3ZDp pic.twitter.com/aWsBaRA6ju

— StriveTogether (@StriveTogether) May 15, 2015
More than 45 Commit! partners assembled to spread the word and distribute 45,000 fliers to parents and guardians throughout Dallas County.
"We really created a big wave of information," said Teri Wilson, Grand Prairie Independent School District chief of staff, a Commit! partner. "When we all aligned our efforts, it made a big difference for us. We saw increased numbers for registration, because Commit! got us to the table and talking to each other."
"When we aligned efforts, it made a big difference." http://t.co/SILNCfnaKa @Commit2Dallas #CollectiveImpact pic.twitter.com/bAzlRgrEgW

— StriveTogether (@StriveTogether) May 15, 2015
That's what Commit! does best: brings together partners from all community sectors to focus on improving kids' lives throughout the county.
"Everyone raised their hands," Commit! Director of Community Engagement Jonathan Feinstein said. "Some folks sponsored the printing of the fliers. Others talked on the radio and from the pulpit Sunday mornings to get the word out."
Through these combined efforts, Dallas County saw 1,300 more families enroll in preschool.
Greater together than alone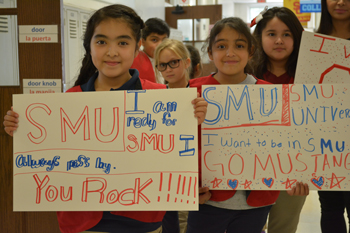 From its start, the Commit! Partnership went big. Following a visit to StrivePartnership in 2011, they received an Annie E. Casey Foundation grant and began a relationship with StriveTogether. The initial steering committee determined that the partnership's scope would be Dallas County and established 11 community-wide indicators.
Today, the Commit! Partnership has 15 full-time staff and a couple of dedicated volunteers. It brings together more than 15 early childhood providers, more than 20 K-12 districts and schools, 10 postsecondary institutions and more than 40 philanthropic funders, along with numerous parent and teacher groups, business organizations, civic leaders, and nonprofit and faith-based organizations.
The Commit! Partnership also convenes a Leadership Council, seven Support Councils spanning the cradle-to-career continuum, and four Action Networks focused on kindergarten readiness, early literacy, early math, and college access and success.
"We've been taking risks," Ward said. "We've been trying to stretch the model, especially in terms of driving impact on a large scale. By really taking the time to engage and build relationships with our partner districts, we think we can go farther in the long run."
So far, partners express appreciation for the push to get better together.
"By bringing us to all to the table, we do better with Commit!," Wilson said. "They're helping us look at and reflect on the data. They're helping us make connections. They're helping us with our muscles. They're our personal trainer."
Learning from data
Commit! uses data to inform their work throughout Dallas County, specially through the partnership's "Hope Charts."
"The Hope Charts have been a huge lever in setting the conversation in the right direction," Ward said.
The charts disaggregate data by showing achievement by school and have been significant in lifting up bright spots and identifying promising practices across the partnership.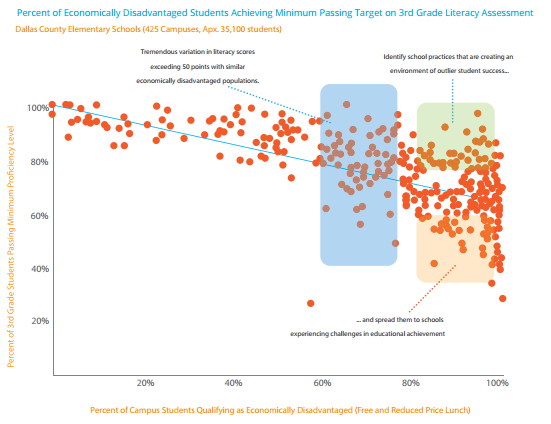 "They help dismantle the common narrative that says children who grow up in low-income homes are destined to underperform," Ward said. "When taken as an average, that narrative is true: Average achievement does decrease as the percentage of low-income students increases. But when disaggregated into individual schools, we see a very different picture. There are schools with high concentrations of low-income students achieving at very high levels, and those are the places we want to learn from as a community."
Data that drives action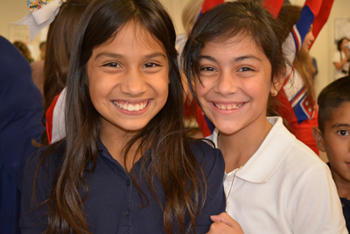 But collecting and comparing that data can often be challenging, sometimes due to certain legislative restrictions. And that's where Commit! is able to take it 200 miles farther to the state capitol.
"Our approach to advocacy is pretty delicate," Ward said. "If there's a barrier that our partners have identified, we do our best to find local representatives who might be supportive based on the data we're able to share."
Kindergarten readiness was one such barrier. With multiple readiness tests across districts, Commit! and its partners struggled to measure and compare test scores across the county. So when the Texas legislature started discussing SB 172, which is a state bill focused on reading development and comprehension of public school kindergarten students, Commit! seized the opportunity to act.
"We looked at the bill as an opportunity to help our partners strengthen their data collection and sharing," Feinstein said. "Because the bill passed, we now have four partner districts that are all piloting a common multi-dimensional tool this school year. That means, really for the first time, we'll be that much closer to having some apples-to-apples comparisons for kindergarten readiness in our county."
With increased preschool registration and consistent readiness tools, Dallas County will be making big strides to impact one of their 11 student achievement indicators. And Commit! will keep working with its partners to impact every student's chance to succeed.
"Through Commit!, we've built relationships with the Girl Scouts, United Way, the local children's hospital (and other local organizations)," Wilson said. "It's all about student achievement. That's the reason we all have the jobs we have. And our students' opportunities to achieve at a higher level are better because of the Commit! Partnership."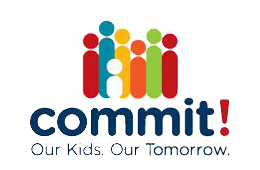 Formed in 2012, the Commit! Partnership is a growing coalition of 160 different institutions, all with a vested stake in the educational outcomes of Dallas County's ~750,000 students. The Partnership's efforts are supported by a dedicated backbone staff of 17 individuals and over 120 community members serving on various councils guiding the work along the cradle-to-career continuum. The Commit! Partnership is a Sustaining member of the StriveTogether Cradle to Career Network.