Changing adult behavior to improve outcomes for kids
All Hands Raised brings adults together to help children and youth from cradle to career.

Six years ago Portland, Ore., one of the most eclectic U.S. cities, was coming to terms with a graduation rate below 60 percent, growing child poverty levels and rapidly increasing diversity among its students. The community needed to work together to improve outcomes for kids, and the All Hands Raised cradle-to-career partnership is making it happen.
Over the past six years, nearly 6,000 soon-to-be ninth graders in Multnomah County (home of Portland) have chosen to go to school … during summer vacation.
Each summer, incoming high school students have the opportunity to participate in Ninth Grade Counts, a collaborative of programs delivered by the six partner school districts and other nonprofits that give students a head start on high school. Students who participate may meet with their future teachers, try out high-school level courses and map out best routes to class through hallways void of upperclassmen. They also have the opportunity to earn .5 elective credits that count toward high school graduation before classes officially start.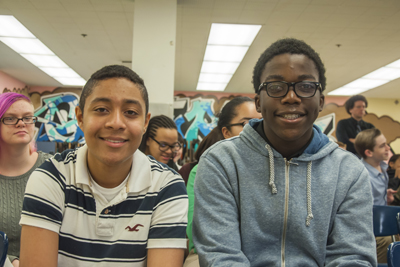 "They walk into their first day of school with something on their transcript already," said Justin Birmingham, grants and partnerships administrator at Reynolds School District serving eastern Multnomah County. "Whatever we can do to give those kids a leg up, that is our mission."
Ninth Grade Counts (NGC) started in 2009 as an effort by All Hands Raised, a StriveTogether Cradle to Career Network partnership. One of five collaborative action teams, NGC includes 22 distinct summer transition programs that target at-risk incoming ninth-graders from Multnomah County's six major school districts.
"We had shock in our community about how abysmal our graduation rate was," said Dan Ryan, CEO of All Hands Raised. "The data was clear. If we could help students attain six credits in their freshman year, they'd be four times more likely to graduate. That became our first action to improve the graduation rates."
#MultnomahCounty moving the needle on #graduationrates, w/ help from @AllHandsRaised http://t.co/3y1nwCSCjb #Oregon pic.twitter.com/ad0CWREDZq

— StriveTogether (@StriveTogether) May 15, 2015
Instead of creating isolated programs, the organizations came together, working collectively to develop an effective summer network.
"We came together as a cohort monthly during the school year to share best practices, collaborate across public and private ventures, and talk about recruitment strategies — all the things that are necessary to build a worthwhile program," Birmingham said. "Once we began to gather some data about participation, we, as a collaborative, started to recognize that there were patterns around student outcomes. We started to build the program from those patterns."
Open to all incoming freshmen, NGC specifically targets high-priority students who in eighth grade failed a core course, lagged behind on state testing or had high absenteeism. NGC programs last five or six weeks and also offers students on-going connections with a cohort of fellow NGC attendees during the school year.
"When kids feel like they belong and they've developed friendships with students and relationships with adults who care about them, they will remain connected to their freshman year," Birmingham said. "If these students don't attain the credit or get exposed to high school early, their success rate of graduating on time is going to be pretty much close to zero. That's where you can see that this has a high leverage of also moving the needle on graduation rates."
Multnomah County is already moving the needle on graduation rates, with help from All Hands Raised. Across six school districts, overall graduation rates are up. Perhaps even more impressively, the county has seen the graduation rate gap between white students and students of color close from 16.5 percent to 10.3 percent.
In several large high schools, the gap is gone.
"Schools definitely credit the correlation between Ninth Grade Counts and high school graduation," Ryan said. "With cradle-to-career partnerships, you see that each indicator triggers success in the next outcome. That's why it's important to build a comprehensive system from cradle to career."
A new partnership founded in a trusted organization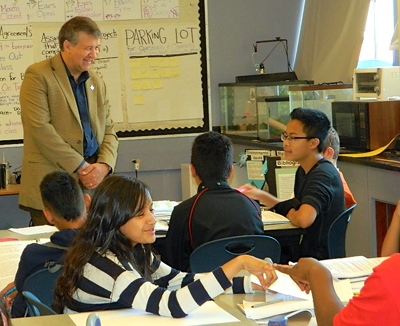 All Hands Raised started when the Portland Schools Foundation and partner organizations noticed the collective impact approach that the StrivePartnership was using in Cincinnati and Northern Kentucky.  The partnership was improving educational outcomes by bringing together cross-sector partners throughout the city to work collectively toward a common community vision.
With Portland's 57 percent graduation rate, growing child poverty levels and persistent disparities impacting students of color, it was time to get focused on root causes of the economic divide. Developing a similar cradle-to-career partnership was a natural solution. Through this development, All Hands Raised also joined the StriveTogether Cradle to Career Network.
"You don't want to be isolated in this work," Ryan said of collective impact. "This is really breaking the status quo and it's breaking it in every way that you look at it. Being with other sites across the country is so helpful. We need peer-to-peer dialogue."
Now, All Hands Raised has five collaborative action teams that connect partners to work together on specific outcomes and initiatives: Ninth Grade Counts, Eliminating Disparities in Child & Youth Success, Communities Supporting Youth, Early Learning and Strengthening the Pathways from High School to College and Career.
The partnership's leadership teams, including the board, leadership council, steering committee and data committee, bring together leaders from school districts, corporations, nonprofits, government and other community-based organizations.
By joining these teams, local leaders agree to roll up their sleeves, work on the ground, be accountable to each other and stay humble to the community.
"We're in service to the community, so we believe very strongly that when we have meetings and bring the community together, we need to check our egos at the door," All Hands Raised Vice President of Communication Jeanie-Marie Price said.
It helps, too, that leaders continually return to the table for some long meetings and tough conversations.
"People are coming to these meetings even though there's no promise of money," Ryan said. "They're coming to these meetings because they want to improve. They're coming together because they really know that by themselves, they're not going to get the results they want for their programs.
"To think that this new behavior is happening throughout Multnomah County is encouraging."
Using data to change behaviors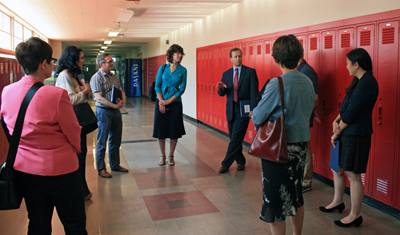 After joining the StriveTogether Cradle to Career Network, All Hands Raised started tracking data and using continuous improvement practices throughout its work, from tracking and sharing attendance at leadership team meetings to monitoring the effectiveness of collaborative initiatives like Ninth Grade Counts.
"We were organically doing collective impact, but we didn't have the discipline of doing continuous improvement," Ryan said. "When we hooked into collective impact coupled with continuous improvement, there was a real shift in focus."
The partnership also looks at data by sub-group, such as gender, race or socioeconomic status, to focus on solving inequities throughout the educational system. After breaking down the data to see which groups of students needed more intervention, they focused efforts to ensure all students have equal educational opportunities. Then, through continuous improvement, the partnership continually looked at the data, tried interventions, measured results and adjusted their efforts to help improve outcomes throughout the city.
"We've always had the reputation of ensuring an equitable education for all students, regardless of the neighborhood they live in," Price said. "We really focus on the fact that behind every data point is a kid: a living, breathing human being who is more than a data point.
"This work and our conversations are about changing adult behavior to change outcomes for kids," she added. "These aren't kid problems. These are adult problems and adults need to work together to solve them."
"This work [is] about changing adult behavior to change outcomes for kids" @AllHandsRaised http://t.co/LqmwcjsMIT pic.twitter.com/LTJ6tKcIne

— StriveTogether (@StriveTogether) May 15, 2015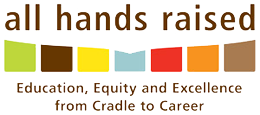 All Hands Raised brings together six Multnomah County school districts (Centennial, David Douglas, Gresham-Barlow, Parkrose, Portland Public Schools and Reynolds) with leaders from the county, city, businesses, nonprofits and higher education to help individuals and organizations come together collectively to improve educational outcomes for all of our children and youth from birth to career. All hands Raised is a Sustaining member of the StriveTogether Cradle to Career Network.