'Community conversations'
Racine County partners work on battling bias and inequities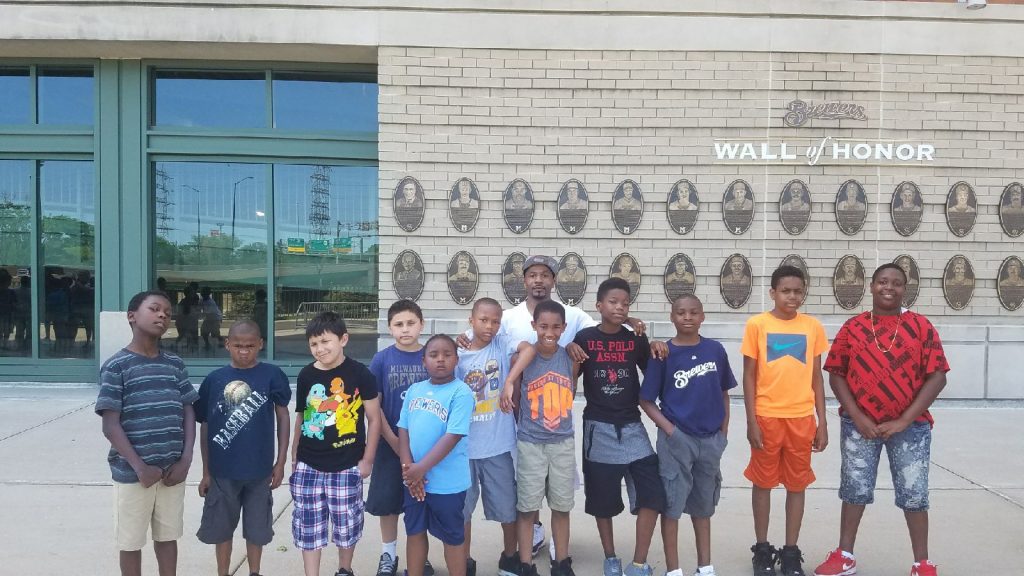 Youth advocate Jeman Howze admits that his first few days on the job were a little rough at Dr. Jones Elementary School in Racine, Wisconsin.
"I was like, 'Wow, so this is how kids act in school now,' " he said, laughing, as he remembered hearing cussing in the halls and watching a few kids run out of the classroom when they got upset.
Two years ago, Howze was hired at Dr. Jones for a new role to work with the school's underrepresented kids, the ones having "trouble at getting along, focusing in class, coming to school," he said. That included working on the kids' social-emotional skills, getting them back on track with their grades and connecting with and getting families involved in the school community.
Part of that job was overseeing a new after-school program called Circles of Support, which primarily consists of African-American and Hispanic boys from low-income households. These kids frequently were being sent to the office for behavioral referrals and often had emotional and behavioral disorders.
"I did a lot of getting to know the kids that first month or so," Howze said. "I was there, I was listening — empathetic listening. I was letting them speak. A lot of them don't get a chance to speak because of all the trouble they're getting into at school and not realizing why they're getting into trouble."
The speed of trust
Howze soon learned his efforts were successful when he earned the trust of the kids, their families and teachers. In one year, he's seen a reduction in the number of suspensions. Kids in the Circles of Support program were suspended for 36 days from January through April of the 2015-2016 school year versus 14 days for the entire 2016-17 school year.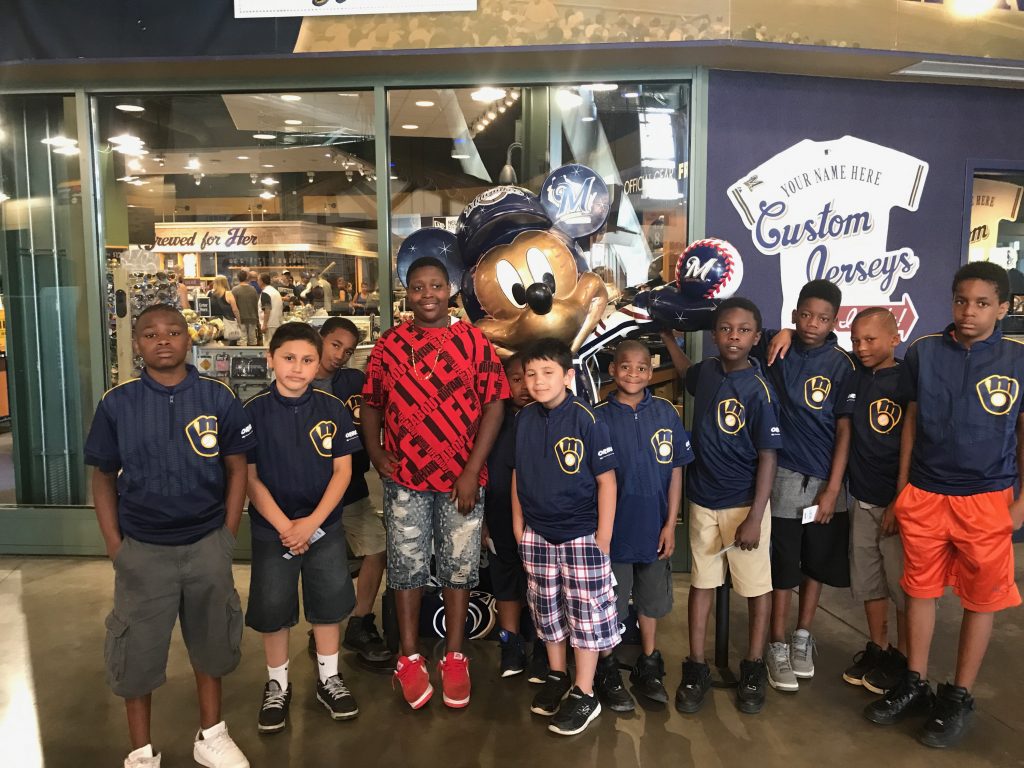 One of Howze's early successes was the first Halloween he worked at Dr. Jones. The school's Halloween parade is a big deal, but not all students can afford costumes, so Howze worked to round up donated costumes for any kid in the school who wanted one.
"That day was a big day," he said. "It was a big highlight for me too and the kids felt appreciated."
The kids proudly paraded around in their costumes, smiling big. When kids feel they belong at school, they want to participate. And as the name of Circles of Support implies, when the kids come to the group, they sit in a circle so that no one feels left out, Howze said.
Making people feel they belong is a huge part of building a successful community. More than a year ago, a steering committee of community leaders from Higher Expectations for Racine County, Racine Unified School District, United Way of Racine County, the Racine Police Department and the Johnson Foundation at Wingspread got together to identify ways to advance race equity and inclusion in the county.
Thirty leaders and staff members from Racine County organizations spent two days each in March, May and June participating in a Results Count™ leadership program for race equity and inclusion in Racine. The workshop were facilitated by StriveTogether, which leads a national movement of 71 communities across the country to get better results for children and families. Higher Expectations is a member of the StriveTogether Cradle to Career Network.
At the sessions, they formed five teams — kindergarten readiness (ages 0-3), kindergarten readiness (ages 4-5), elementary reading, school safety and employment. They deepened their own understanding of race, class and culture; identified and analyzed the causes of racial inequities; and defined and refined action plans to advance race equity and inclusion to accelerate results.
"We were looking for a way to motivate and push people to think about disaggregating data and achieving better results for African American and Latino/Hispanic families in our community," said Chelsea Powell, stakeholder engagement and communication manager for Higher Expectations.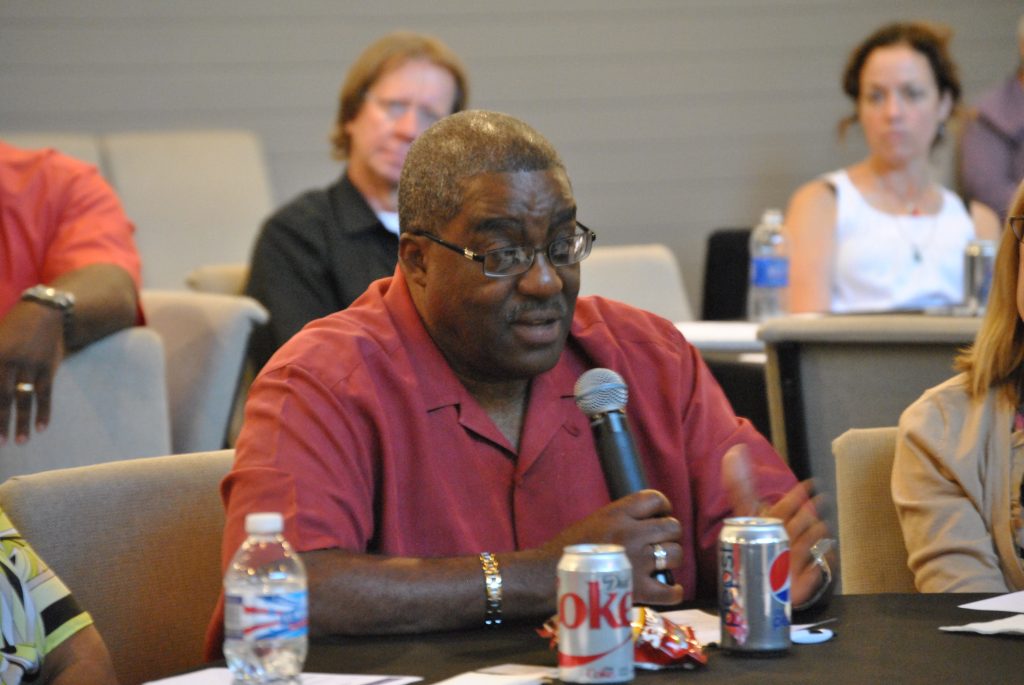 The sessions pushed leaders to think differently about how to target services and support to communities of color and how to transform systems to advance equity. Action plans included identifying ways to spread effective practices, like those of Circles of Support, which has a goal of reducing the number of office behavioral referrals and suspensions for kids. Circles of Support is in nine schools and expected to increase to 11 this academic year.
"A lot of our African American or Hispanic males are the ones getting written up and suspended more than any other race," said Demetri Beekman, principal at Racine Unified's Julian Thomas Elementary School, one of the first three elementary schools to host a Circles of Support program. "They might need anger management, they might need social skills, they might need to learn how to act in the halls or how to talk when they feel they've been disrespected so their actions aren't misinterpreted."
Racine Unified School District's suspension rates in 2015-2016 were 25.5 percent for Black students, 10.8 percent for students of two or more races, 7.2 percent for Hispanic/Latino students, 5 percent for White students and 0.8 percent for Asian students, according to the Wisconsin Department of Public Instruction. The racial demographics for its student body are 26.4 percent Black, 4.8 percent two or more races, 27.6 percent Hispanic/Latino, 39.5 percent White and 1.3 Asian.
The effects of poverty
Kids from low-income households often face obstacles at home that have a big impact on their education. They're staying up late because their mom works a second-shift job and they have to wait for her to pick them up from daycare, Howze said, or they're not eating enough at night. One in two kids in Racine County is eligible for the free or reduced lunch.
"Their parents are working two to three jobs to maintain bills at the house. Which I understand. I grew up in a bit of a rough household too," Howze said. "I know they want to spend more time with their child, but they have to keep their house and food on their table and clothes on their back. It's either that or they're out on the streets."
When you're hungry and tired or stressed about a precarious living situation, it's hard not to bring that to school with you. Any of those circumstances can lead to a kid acting out and then being pulled out of class — putting the student behind academically and possibly leading to more behavioral issues.
"If a fifth-grade student is reading at a third-grade level, they're going to struggle and become frustrated because they can't do the work," Beekman said.
Racine Unified School District Deputy Superintendent Dr. Eric Gallien understands well how being born into poverty poses some immediate obstacles to education.
"Take a child like myself who came from a poverty background, single-family home. I brought a lot of baggage with me, and that was considered negative, so I was approached that way," Gallien said.
As a result, he didn't realize his true potential until he was a young adult, he said, and he wants better for other kids.
"My mission is to change the experience children get through my leadership and approach to education and to change the narrative regarding urban students of poverty," Gallien said.
The members of the school safety team, comprised of Gallien and Beekman as well as two Racine police officers, are not just looking at reducing student disciplinary referrals — data they're tracking now — but also improving student behavior and safety. To do that, they realized they needed to change how school staff and police officers interact with the kids.
The steering committee partners included a school safety team because the issues of student behavior and school safety often are tied up in race/implicit bias and a number of efforts are under way with Racine Unified School District to address school climate, said Matt Snyder, data manager at Higher Expectations.
One of the steps the team members took was to provide mindfulness training in August at two Racine Unified schools and to some Racine police officers.
The mindfulness training taught alternatives to handling behavior with techniques such as meditation or a reflection room where students can write about the situation that got them into trouble and how they could have acted differently.
Beekman said the most important part of the training was changing the perception of educators when they're dealing with student behavior, encouraging them to look at the root cause of the behavior.
"A lot of our students come from trauma — poverty, living in foster care, homelessness," Beekman said.
Someone who doesn't come from poverty might not understand that many low-income students are playing huge roles in taking care of their families, Howze said, versus a more traditionally middle-class family structure where the parent is taking care of the child.
From cradle to career
The inequities for people of color, especially those who come from poverty, start as early as birth and continue through high school graduation rates and employment. The graduation rates for Black and Hispanic students in Racine County are 62 and 70 percent, respectively, compared to 88 percent for their White classmates, according to the Wisconsin Department of Public Instruction.
The employment data is what most surprised Rodney Prunty, president and CEO of United Way of Racine County, who was one of the Race, Equity and Inclusion steering committee members. In 2015, the unemployment rate in the city of Racine for Blacks was 16 percent, while it was 13 percent for Hispanics and 8 percent for Whites, according to the U.S. Department of Health and Human Services.
"This was the first time I saw data that bad," Prunty said. "I'm an African-American male myself, but I couldn't care less if it was any other demographic. When you see data that bad, you want to do something."
Prunty cites biases that begin in education, from the higher rates of suspensions for kids of color to those they face in employment. And it was something he heard at 10 community conversations United Way of Racine held between October 2016 and May 2017. These conversations are not new to United Way, but this was the first year they had a theme — Race, Equity and Inclusion — rather than organic discussions. United Way Worldwide chose that as the topic following the violent summer of 2016 that included a higher number of unarmed Black men being shot as well as the murders of Dallas police officers, Prunty said.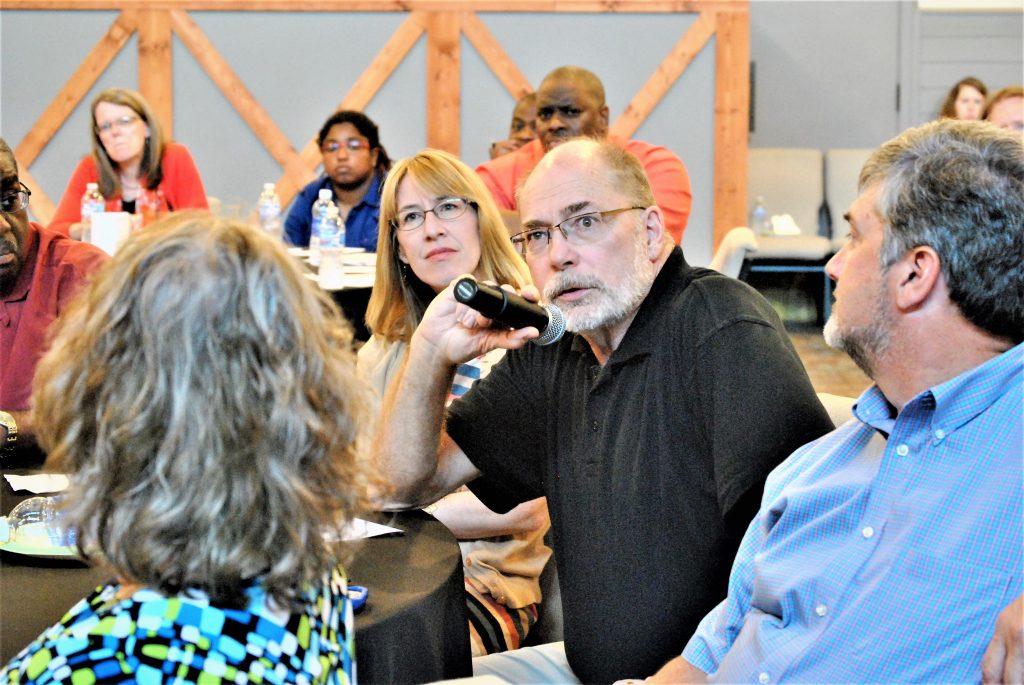 The conversations included representatives from multiple groups, including one solely made up of Racine police officers.
"The police officers were very, very happy we wanted to talk to them about their hopes and aspirations about race and unity. Typically, they're not asked and they can feel beat up on, like they're the villains," Prunty said.
United Way of Racine released a report from the conversations in July and revealed some of the challenges to racial equity, including lack of willingness to have open dialogues about race and potential solutions such as creating educational opportunities to help individuals learn the challenges associated with racism and inequities.
"We know what the issues are, and we know they are an issue. You look at Wisconsin in particular; you can clearly see the disparities are huge," Prunty said. "Folks shared their pain of being victimized by racism and oppression. There were a lot of "a-ha moments,' " he added, especially since most people see the world through the lens of their own experience.
"You don't want to position it in a way that you're immediately pointing a finger at people," Prunty said. "These systems were put in place long before anyone living now was born. But we're not going to make any progress unless White folks say, 'OK, we acknowledge this is a problem and we need to work together to make these communities much more equitable.' And how much better will our community be when there is more equity?"

Need for honest conversations
Taking into account race, culture and bias will increase in importance as both the city of Racine and Racine County continue to become more racially diverse, especially with a quickly growing Hispanic and Latino population. Between the 2000 and 2010 censuses, the Latino and Hispanic community increased by 42.8 percent in Racine County.
Easing cultural differences will mean providing training on how to talk about race. Gallien found that many of the teachers who had not previously received culturally responsive training, which encourages considering a student's culture in all forms of learning, were not quite ready to talk openly about race.
"I think if we were to approach that with a staff with a year of culturally responsive training, they will be much more prepared," he said.
More than half of the Racine Unified students are children of color, but approximately 19 percent of staff members are people of color. But improving outcomes for students of color isn't simply about hiring more people of color, but giving all educators better insight into their students' backgrounds and how they might be reacting to those backgrounds.
"Teachers need to understand that it's OK for students to come to school with a different culture," Gallien said. "It's appropriate to embrace that culture and allow it to exist and not try and shut it down. And we need to coach the kids on how to exist in two worlds."
A lesson that came out of every single race, equity and inclusion team, Powell said, was that community leaders need to meet families where they are. That's something youth advocate Howze knows well. Making home visits is a huge part of Howze's job and one of the best ways he builds connections with families.
"I go out of my way to do the home visits, talk to the parents and bring books to the house," he said. "We want to let these families know we do care and how much we want them in our community."
His Circles of Support group meets at the Mead Street "COP" House, which is walkable to many of the students who attend Dr. Jones. Racine has six Community Oriented Police houses, which are similar to neighborhood fire stations, but manned 24/7 by police officers in neighborhoods with high crime rates or a high rate of service calls. The COP Houses have been part of Racine policing for more than 20 years and often have led to improved property maintenance, reduced crime rates and better community relationships between neighbors and the police, according to the Racine Police Department.
The COP Houses might come into play for the kindergarten readiness team (ages 4-5), which is focusing on increasing early kindergarten enrollment for students of color. Students who enroll in the open enrollment choice period, which begins Dec. 1 and closes in January, for example, have the advantage of being entered into a lottery for choice elementary schools or the STEM (science, technology, engineering and math) school, Powell said. But last year, only two African-American families signed up for kindergarten in this period.
Team members want to boost enrollment by getting out into the community more, whether through neighborhood events, church groups or Imagination Library activities and materials. The group held an enrollment event over the summer, but only a few families showed up. They've discussed holding one at a Racine COP House to make it easier for people to get there.
The five teams formed through the Race, Equity and Inclusion program are in various stages of progress. Some are gathering additional data while others already have implemented multiple initiatives and are tracking results, such as the school safety team comparing behavior referrals from this year to last year. The group plans to reconvene in the coming months to share their progress and refine their goals.
None of the program participants expect racial disparities to disappear overnight or the work to be easy, but all the partners believe that Racine County has some advantages such as its manageable size, racial diversity and strong cooperation among community organizations.
"I like the concept of a community promoting how income and opportunity reflect on its values," Gallien said. "Higher Expectations has raised the level of impact. They're able to get things done at a faster rate because of the level of support across the municipalities. It's an opportunity for a community to transform the life of all its students."
Howze, now in his third school year at Dr. Jones, is seeing that transformation for himself. There's not much cussing in the hallways anymore or running out of the classroom, but most importantly, the kids are happy about coming to school and taking more ownership over their futures. When it comes to his students, Howze likes to use a phrase he learned from a lecture by Rick Miller, founder of the national nonprofit, Kids at Hope.
"I don't like the term 'at-risk youth.' You're already labeling the kids," he said. "Now I call them 'at hope.' "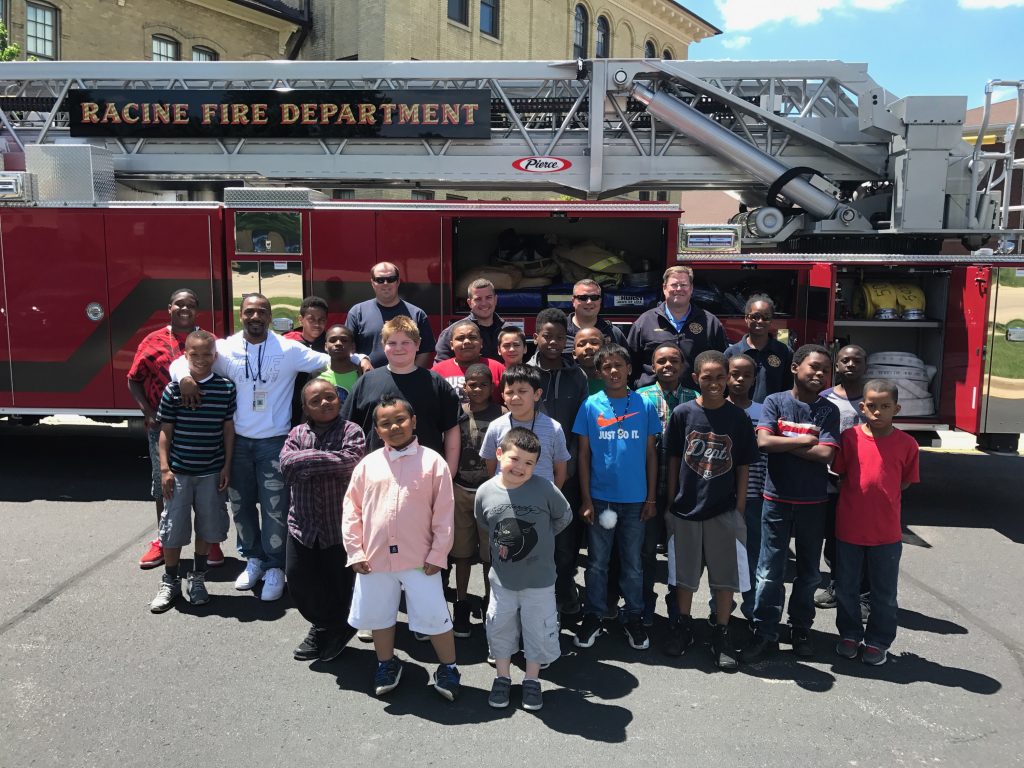 What changed in Racine County?
Teachers at two Racine Unified School District high-poverty schools, Julian Thomas Elementary and Mitchell Middle School, along with members of the school safety team, received mindfulness and trauma training from clinical psychologist Dr. Leah Featherstone. Teachers will continue to receive training throughout the school year and will each receive a toolkit with some mindfulness practices that they can use in their classrooms.
The school district is expanding its Circles of Support program to total 11 schools this year and will provide culturally responsive training to five more schools.
Two members of the employment team participated in a training called Bridges Out of Poverty that highlighted the implicit biases that often impact the way workforce providers work with clients. Both members applied and were accepted into a train-the-trainer program, where they will learn how to lead this training in the community.
Racine Unified School District is conducting a Panorama assessment, something new to the district this year, that will look at student and teacher perceptions of social-emotional wellness.
Guided by the elementary reading team, a day-long event was held for staff of three high-poverty elementary schools to analyze successes and disparities in first-grade reading growth. The group developed recommendations that they are now working with school district leaders to implement, including more after-school tutoring for struggling students (who often are Black or Hispanic/Latino) and expanding cultural competence training for districtwide staff.
The kindergarten readiness group is implementing and reflecting on pilots for broadening early enrollment in pre-kindergarten programs, especially among families of color.
United Way of Racine County hosted speaker Tiffany Jana, co-author of "Overcoming Bias: Building Authentic Relationships across Differences," to discuss diversity and inclusion management at the Community Conversations Report Out event. More than 300 people attended the July 25 event, where community members learned about the results of United Way's most recent round of Community Conversations.
Key takeaways
Partnerships and data are crucial. Higher Expectations for Racine County's mission statement is that it "engages community partners, aligns efforts, and maximizes resources to promote excellence and equity in education and employment outcomes in Racine County." The partnership between the Racine County organizations involved in the race, equity and inclusion sessions showed how their efforts are interconnected. Using data combined with experience, these leaders learned which of their assumptions were correct or not.
Community organizations need to meet people where they live. All five of the race, equity and inclusion teams concluded that to make inroads on race and equity issues, they needed to come to the community instead of expecting the community to come to them. Which means holding events in the community and taking into account that not everyone has access to transportation or works a 9-to-5 job.
Training is key to talking openly about race. Racine Unified School District educators who received culturally responsive training had an easier time talking about issues of race and bias and the importance of programs that teach how to work with youth, especially those who come from backgrounds of poverty or trauma. And at United Way of Racine County's 2017 Community Conversation talks, one of the major challenges cited as an obstacle to racial equity was "lack of willingness to have open dialogues about race" with a solution of creating educational opportunities for people to learn about the challenges associated with racism and inequity.
Partnering for Success
Higher Expectations for Racine County is a partnership that engages community partners, aligns efforts, and maximizes resources to promote excellence and equity in education and employment outcomes in Racine County.