Hundreds of languages, thousands of opportunities
Generation Next celebrates and focuses on diversity to help all Minneapolis and St. Paul students succeed.

Nestled on opposite banks of the Mississippi River, Minneapolis and St. Paul boast a world-class arts scene, plenty of green space, miles of bike paths and a multi-cultural population from around the world. With more than 13,000 students who speak almost 200 languages, schools and communities strive to help overcome language and cultural barriers in student success. This is where the Generation Next cradle-to-career partnership can help.
Seven young African-American children walked up one by one to be recognized for graduating a nine-week African-centered Sankofa Reading Program. A staff member from the Network for the Development of Children of African Descent (NdCAD), based in St. Paul, Minn., explained the progress each student made during the class, which focuses on building reading confidence and cultural identity to help with overall academic success.
Earlier, their parents, who attended the organization's Parent Power and Literacy Advocacy Workshop Program, were similarly honored and their contributions noted. The pride in the room among parents, students, family members and staff was palpable.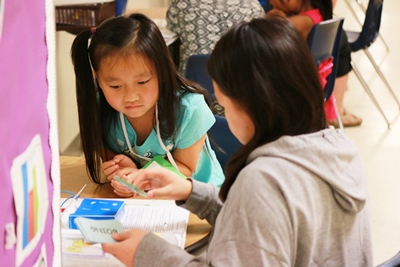 Across town at the East Side Learning Center (ESLC), former teachers, nuns and volunteer tutors work with hundreds of kindergartners through third-graders at four public elementary schools and a summer camp. Many of the students are from Hmong (Laos) and Karen (Cambodia) families where English is a second language.
Now, through a collaboration organized by Generation Next, a Minneapolis-St. Paul StriveTogether Cradle to Career Network partnership, NdCAD, ESLC and nine other literacy groups can share data and best practices along with delivery methods, training techniques and culturally specific interventions.
Joining forces to close reading gap
With only 37 percent of St. Paul public school students and 42 percent of Minneapolis students meeting third-grade benchmarks in reading, the Literacy Tutoring Network faces some significant challenges. The goal is to make sure that by the end of third grade, each Minneapolis and St. Paul student meets key reading benchmarks.
Started as Generation Next's 3rd Grade Reading Network in spring 2014, the collaborative group has evolved into the Literacy Tutoring Network. Today, the network, which is supported by the Saint Paul Public Schools Foundation, brings together foundations, businesses, government entities, community groups, research experts, University of Minnesota faculty and representatives from the Minneapolis and St. Paul Public Schools — all of whom are focused on closing the reading gap in the cities.
"We have huge waves of compassion in this community, but we have one of the largest achievement gaps in the country," said R.T. Rybak, Generation Next executive director and former mayor of Minneapolis. "We need to close the gap in reading. The literacy groups have agreed on a common framework of what really works, using data to identify best practices. Volunteers need proper supervision, coaching and training to improve outcomes for these kids."
Generation Next staff is working with both school districts to understand their strategies and how the tutoring organizations can work more closely with the districts.
Beyond the literacy collaboration, Rybak says, Generation Next also has brought all the major funders of tutoring programs to the table. The goal is to match specific needs of Literacy Network members and school districts with funders who can provide additional support.
"We are saying to school district and tutors: 'What intervention can you do for these students?' " Rybak says. "And then we're going to funders and saying, 'With the current funding, we are only reaching about a third of the students who are not proficient and we have gaps in certain grades. What more can you do?'  It is a game changer to use this data to strategically target funding."
Moral imperative, economic opportunity
Generation Next started in December of 2012 when the then-African American Leadership Forum talked with local leaders about a group that was improving education by bringing together organizations throughout the community to work on common goals for student success.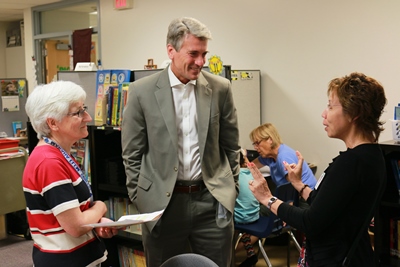 Rybak was included in that initial discussion and immediately knew he wanted to be involved. Throughout his time as Minneapolis mayor, he helped with the work. And when he left office in January 2014, Rybak joined Generation Next as executive director.
Today, the partnership has more than 500 individuals and organizations focused on six outcome areas: kindergarten readiness, third-grade reading, eighth-grade math, high school graduation and postsecondary degree obtainment. In May 2015, they adding their sixth outcome around helping students be socially and emotionally ready to learn by eighth grade.
And through all the work, Generation Next focuses on equity, especially in such a diverse city.
"We want every single child in Minneapolis-St. Paul to be able to thrive," Rybak said. "When you speak 100 languages in a city, you have 1,000 opportunities to make this a more global workforce. It's really the great promise of the work we do. We're doing it out of moral imperative, and also for the economic opportunity."
Supporting students by tracking progress and personalizing strategy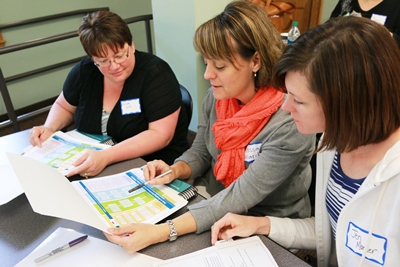 Through Generation Next's Literacy Tutoring Network, partners look at national research and local data to better serve local students.
In fall 2015, the group started using a locally developed platform, FastBridge, to assess young readers' progress throughout the year, allowing for more timely intervention and support to help them succeed. The assessments will provide valuable information on student progress and allow tutoring program coordinators to make real-time corrections, according to Kara Bixby, director of research and evaluation at the St. Paul Public Schools Foundation, a Generation Next partner.
"It is continuous quality improvement in action," she said. "Previously, we relied heavily on year-end data, making the majority of improvements at the end of the school year when staff changes, school ends and kids go off for the summer. This will allow us to strategically make changes throughout the year, ultimately better serving kids."
But Generation Next partners know, while data is helpful in determining what works, it is only a piece of the puzzle for working with students from diverse backgrounds who may need different supports, especially when it comes to literacy.
"Kids in some cultures come from rich story-telling homes," said Lori Helman, associate professor at the University of Minnesota's College of Human Development who has studied literacy issues. "The school setting is more rigid. A repetitive workbook project might not be inspiring. If we could engage students in something similar to their home environment, then that would open bridges to more traditional school-based literacy."
Through partners like NdCAD and ESLC that focus on supporting multicultural students, Generation Next focuses on ensuring all students — no matter what background — succeed in school.
"We are increasingly trying to understand differences in race and culture," Rybak said. "All reading interventions are not alike across cultures, and we celebrate these differences in helping all students succeed."
About Generation Next
Generation Next is a broad partnership of organizations and leaders from across Minneapolis and St. Paul — the first of its kind. We represent local schools and government, community organizations and programs, businesses, higher education and philanthropy — all dedicated to educational excellence and narrowing the achievement and opportunity gap. Generation Next is an Emerging member of the StriveTogether Cradle to Career Network.