Minimizing 'Summer Melt'
Alfredo Medina, Jr., is a key leader in a cross-sector team in Albany working to keep low-income, minority students on track to college after they commit to going.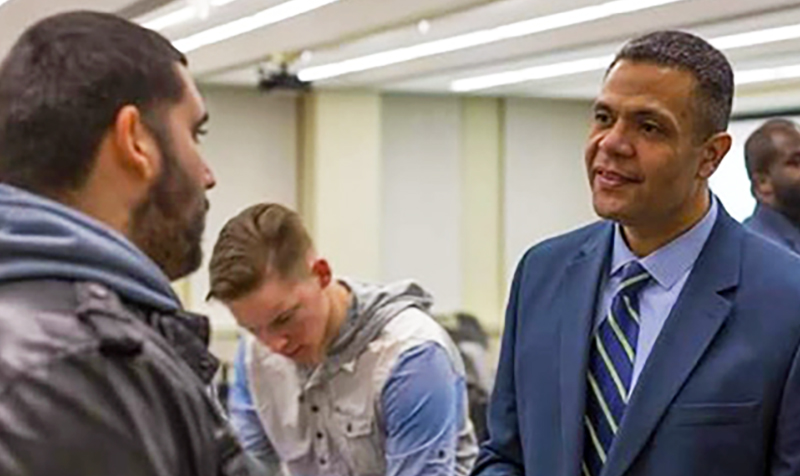 The #ImpactAgent campaign celebrates people and organizations who have changed the way they do business every day, based on data, to improve the lives of students from cradle to career.
Alfredo Medina, Jr., knows from firsthand experience how hard it can be for many students to navigate their way from high school to college. Medina's parents immigrated to the U.S. from the Dominican Republic. Both of them ended their formal education in middle school, but they were determined that Alfredo would graduate from high school in the States, go to college and get a degree.
At the small liberal arts college Medina attended in upstate New York, people of color were fewer than 3 percent of the student body. It was a different world from Washington Heights, the predominantly Dominican community in Manhattan where he grew up.
"It was really an uphill battle to fit in and find my place while developing my social identity there," Medina recalled.
But he persevered and ended up earning a bachelor's degree, a master's, a pending second master's in educational administration and policy studies at the University at Albany, and a certificate in educational leadership and management from Harvard. Now, as a key administrator with the University at Albany and a member of the Albany Promise College and Career Action Team, Medina is playing a critical role in an effort to help local high school grads make a successful transition to college. The focus of Medina's work as a key partner in the Albany Promise is decreasing the percentage of students who aspire to go to college but melt away over the last three months before their fall semester.
'A wake-up call'
The problem is known as "summer melt." Nationwide, between 10 and 40 percent of "college-intending" students — students who completed key college-going activities, such as applying to college, being accepted or making a commitment to attending — fail to enroll in a college or university in the fall after graduating from high school.(1) Rates of summer melt are highest among students from low-income backgrounds.
Reducing summer melt became a priority for Medina and his partners on the Albany Promise College and Career Action Team after they looked at local data on students' post-high school ambitions.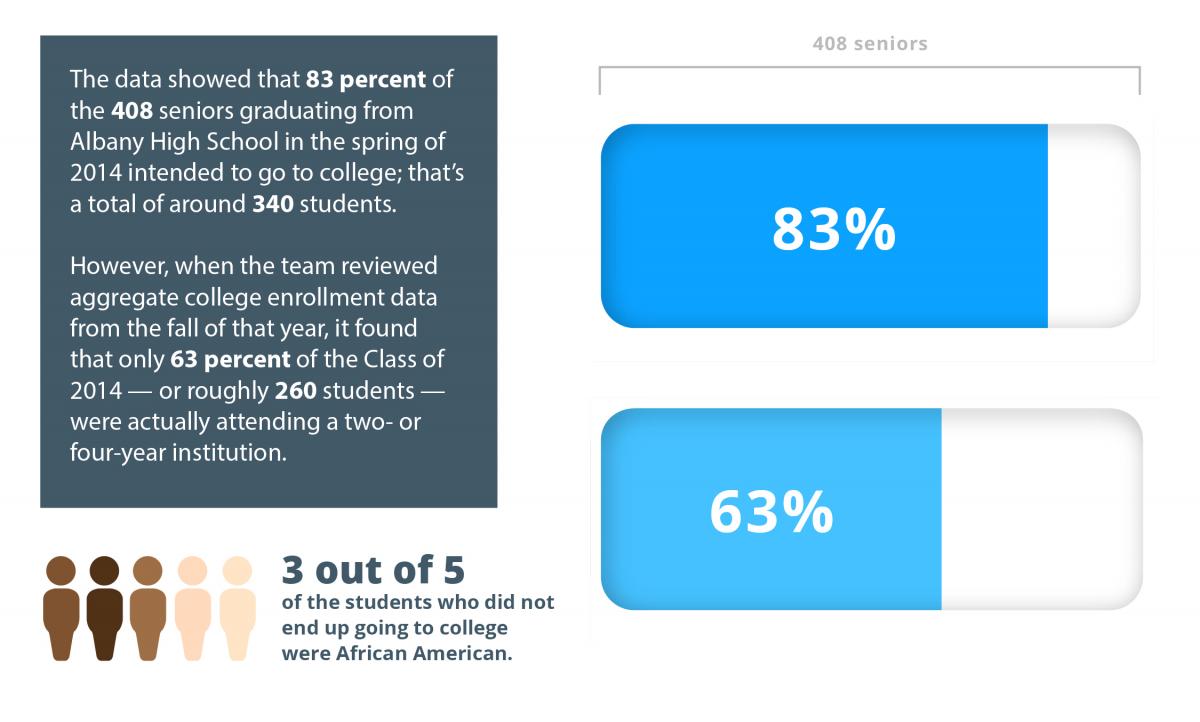 "That was a real wake-up call for educators," said Medina, who works in the Office of Public Engagement at the University at Albany. "When you see a 20 percentage point drop in students going to college, that forces the question, 'Why is this happening and, more importantly, what can we do to turn this rate around?' "
Acting on data
The College and Career Action Team is one of three collaborative groups charged with eliminating disparities and improving outcomes across Albany Promise's key cradle-to-career priorities. The team's goal is to increase the number of high school graduates who enroll in either two- or four year postsecondary institutions, with a focus on students in Albany's low-income, minority neighborhoods. The college and career team formed in the fall of 2014 and includes 25 representatives from the school district, local colleges and universities, youth development organizations and other partners.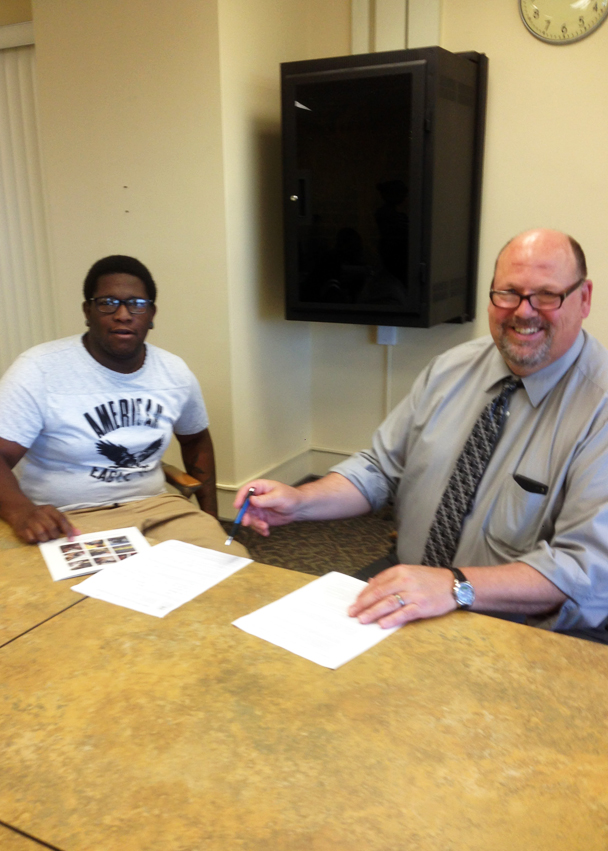 The events ended up drawing a total of eight students, with many making repeat visits. All of the students were African American. Although the total number may sound small, Medina said the team was pleased with the turnout in what was essentially a pilot year for the initiative. He also noted that the impact on the lives of the students who showed up was anything but small.
Among the top issues standing between the eight students and attending college in the fall was money. One student had been accepted at a four-year college but realized the financial aid package didn't cover the entire cost of attendance. One was having trouble getting tax and financial information from an estranged parent. Another was accepted at a local community college, but didn't think she could attend because she never heard back about her financial aid package. When this student sat down with a financial aid counselor at the session, they realized she had never formally accepted the college's offer of aid.
"For that student, it was literally a button click that stood between her and going to college," recalled Juliette Price, interim executive director of Albany Promise. "The moment she realized she was going to be fine, she called her mother and started to cry."
Of the eight students who attended the sessions that summer, the action team had access to enrollment data on six of them, and confirmed that all six were enrolled in postsecondary institutions in the fall. The student who could not afford the four-year college met with the admissions director of Schenectady County Community College at one of the sessions and enrolled at that institution on the spot. Additionally, key stakeholders were made aware of the issues that face college-bound seniors in those critical last months, leading to conversations amongst professionals on how they could continue to support students across the finish line.
"Given that we put this together with minimal planning, we were pleased with the impact on these students," said Medina. "That made us more determined to step up our efforts for the following year."
Enhancements for 2016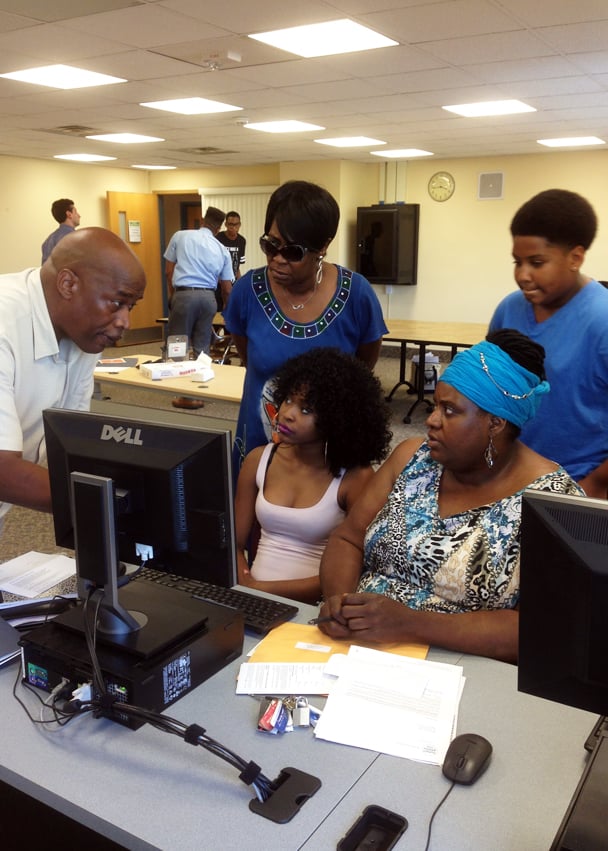 As the College and Career Action Team began planning for 2016, it decided to use the same model of offering regular drop-in sessions. Based on his experience leading the 2015 effort, Medina is working to make sure the group is applying lessons learned from last year to try and reach more students. As a first step, the team dispatched Albany Promise representatives to the graduation rehearsal at Albany High School to hand out postcards and talk to students about the summer sessions. "That was a good first touch with students because every graduating senior had to be there," said Medina. Albany Promise subsequently partnered with Albany High School to offer an initial "hand-off" session for students on the last day of school in June. Guidance counselors were also recruited to make personal phone calls to individual students who were identified as being high-risk for summer melt, encouraging them to attend the sessions over the summer.
Albany Promise is holding more help sessions throughout the summer, including a "college boot camp" at the local Boys & Girls Club focused on orienting students to the college experience. The July 13 boot camp included panel discussions with recent high school graduates who are now in college and who reflect the demographics of the students who are the focus of Albany Promise's college and career work. There was free food, university swag and raffle items as incentives to attend. More than 25 graduating seniors turned out at the event.
There is also an increased use of social media and mobile technologies for the 2016 summer sessions. Where the 2015 outreach relied almost exclusively on printed flyers, for 2016 the primary focus is on Facebook. More specifically, they have used Facebook's "Create an Event" feature to direct students to a website where they can register for the sessions and sign up for email reminders. They have worked with Albany High School to promote the sessions via a text messaging system the school uses for student communications.
In other innovations, the team developed a digital registration form to help streamline the process, capture key information about each student's needs, and track what actions they need to take to stay on the road to college enrollment in the fall.
In addition to playing a leadership role in College and Career Action Team's summer melt activities, Medina is the point person on the team for the University at Albany. In this capacity, he assisted in identifying admissions and financial aid representatives from his institution to attend two of the sessions to serve as coaches for the students. Also attending those sessions is a university representative for the Educational Opportunity Program (EOP), a state-supported initiative providing a range of support services and financial aid to help students from disadvantaged backgrounds go to college.
Medina said a good outcome for summer 2016 will be to increase participation to 15 or more students, with between 10 and 12 of those being successfully enrolled in college in the fall. "The thing about summer melt is you know who these students are, and so it's just a matter of targeted marketing and getting them to show up," he said.
Medina added that while he leaves the direct coaching of students to the financial aid and admissions experts, he still tries to be there for at least part of every session. Maybe it's because he sees a little bit of his younger self in some of the students coming through the door.
"It's not just financial issues for many of these young people. It's also the fear of the unknown. If we can help them through that and change the life trajectory for some of these students through this work, then that's well worth it," Medina said.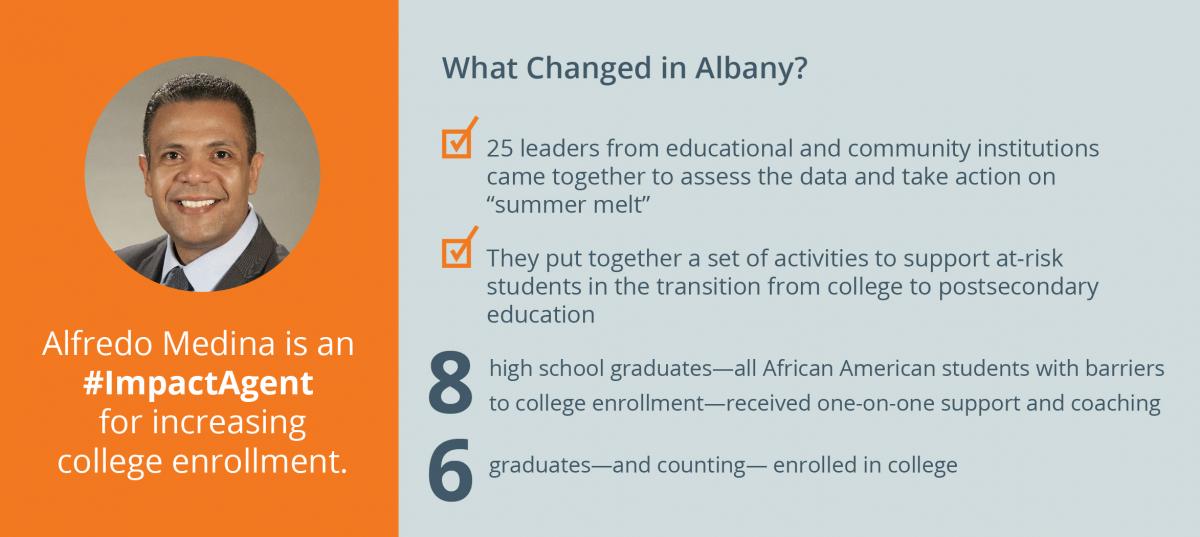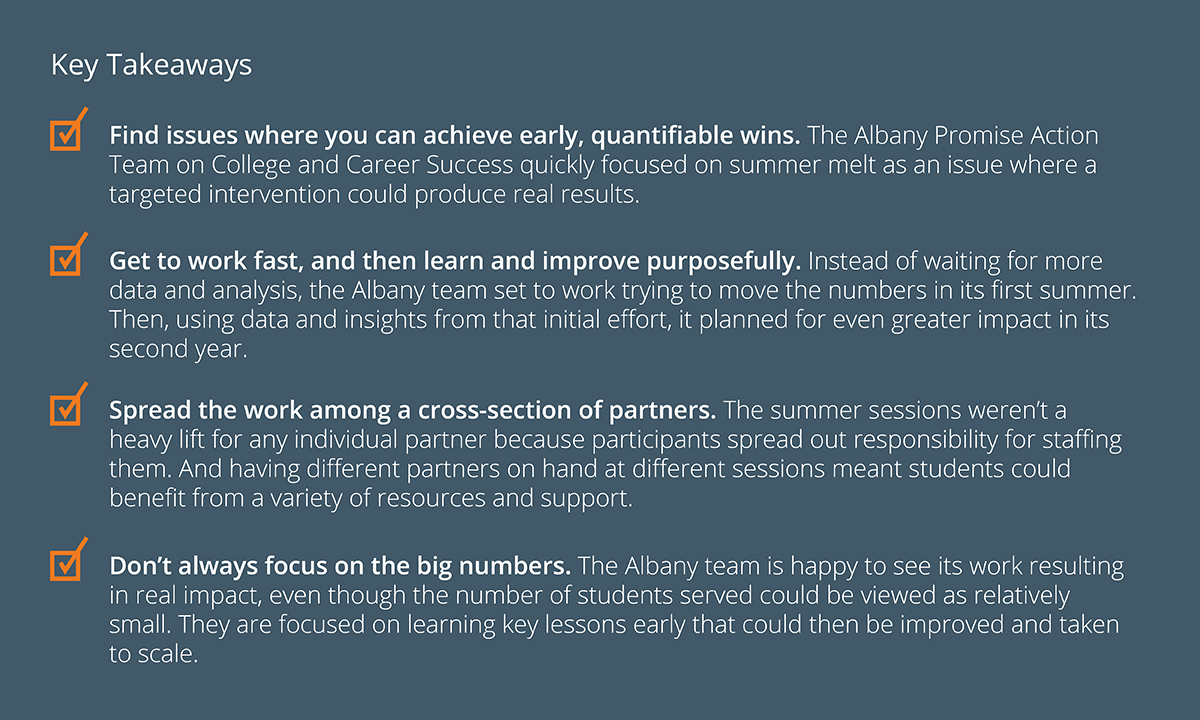 Partnering for success
The Albany Promise is a StriveTogether Cradle to Career Network membership and a partnership in Albany, New York, dedicated to improving educational outcomes for the children in the city.
---
It wasn't until the spring of 2015 that the action team was able to compile the local data on summer melt from the year before. Alarmed by the data in front of them, the team collectively knew they had to intervene. The guidance team at the high school pulled together their resources to offer a help session right as the school year ended. Medina led a planning effort with a group of action team members to design and organize a series of summer drop-in sessions for graduating seniors and their families needing help with the transition to college. The Monday sessions, held over a seven-week period in July and early August of 2015 at the Albany Public Library and Albany High School, were staffed on a rotating basis by admissions and financial aid representatives from local colleges and universities as well as student volunteers. Emails and flyers went out with the help of the high school and other partners.