The Pathways Promotores
Lifting up Latino community voices in Seattle's Eastside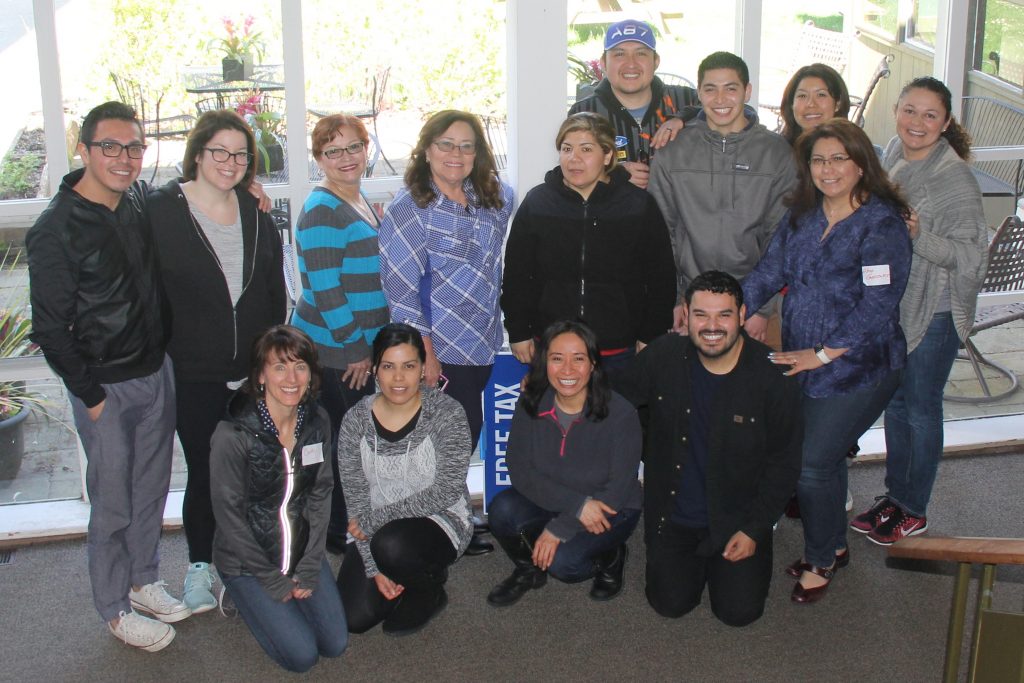 Three years ago, Víctor Londoño Quintero moved to America from Colombia looking for a brighter future. He wanted opportunities not available to him back home.
"When I came to the U.S., I had to adapt to many changes," Londoño Quintero said. "Language, food and manners were a challenge and a barrier for accessing fundamental things like getting a job, going to school or just buying something in a store."
Since those initial days, the 25-year-old has gotten accustomed to living in the U.S. So much so, in fact, that Londoño Quintero was one of eight Hispanic community members selected for the Promotores Project in Bellevue, Washington.
"When I heard about the possibility of helping others who are having the same barriers I had in the past connect with resources, I definitely wanted to do it," Londoño Quintero said. "I am a very passionate person who likes to share knowledge and experiences with others, because I believe this is a good way to learn and understand more about others."
The role is a natural fit for someone who values community service. Londoño Quintero, who holds two bachelor degrees in logistic administration and in military science from the José María Córdova Military School in Colombia, served for five years in the Colombian National Army, where he provided security and resources to those most in need in his community.
Finding the promotores
Promotores (a word adopted from the Spanish language pronounced pro-mo-TOR-es) are residents who become leaders in their community. With the appropriate resources, training and support, the promotores elevate the health of their own communities and the success of all children cradle through career by linking neighbors and families to needed services and education.
To authentically engage the local Hispanic community, the Promotores Project was brought to the Eastside region in September 2016 by Eastside Pathways, a cradle-to-career partnership and a longtime member of the StriveTogether Cradle to Career Network. As members of minority (immigrant/refugee) and underserved populations, promotores are in a unique position to use their cultural knowledge while working to address unmet social and health needs in their own community.
Promotores
Rosaura Pérez Algaba
Isela Vega Arriaga
Ana Gloria Lino
Blanca Alfaro López
Delfina González Medina
Paulo Pérez Medina
Víctor Londoño Quintero
Reina Lagos Rodríguez
In October 2016, eight bilingual residents representing a mix of ages, genders and nationalities were chosen for training and certification as liaisons for information, education and outreach between families and organizations.
"We always knew we wanted to get more community voice — and we needed it from Latino families," said Cathy Habib, lead facilitator at Eastside Pathways and the organization lead for this project. "That population is one of the big gaps we have in our data — kids who identify as Latino are least likely to read by third grade, graduate and persist in college. All organizations are eager to close the gap, but one of the missing puzzle pieces is understanding from the community about the gap and what we need as a collective to address it."
Eastside Pathways heard about the Promotores & Liaison model being used in other parts of Washington's King County by SOAR, the community coalition working to promote the healthy development of children, youth and families in King County. The partnership requested a presentation in summer 2016, and several partners agreed afterward that this model would enable outreach to all parts of the community, especially the Hispanic population.
In September, after meeting the Promotores & Liaison trainer, Eastside Pathways asked Latino professionals who work in the schools or at other community service organizations to spread the word about the project and invite residents to an informational session. More than 20 people attended and filled out an interest form in Spanish.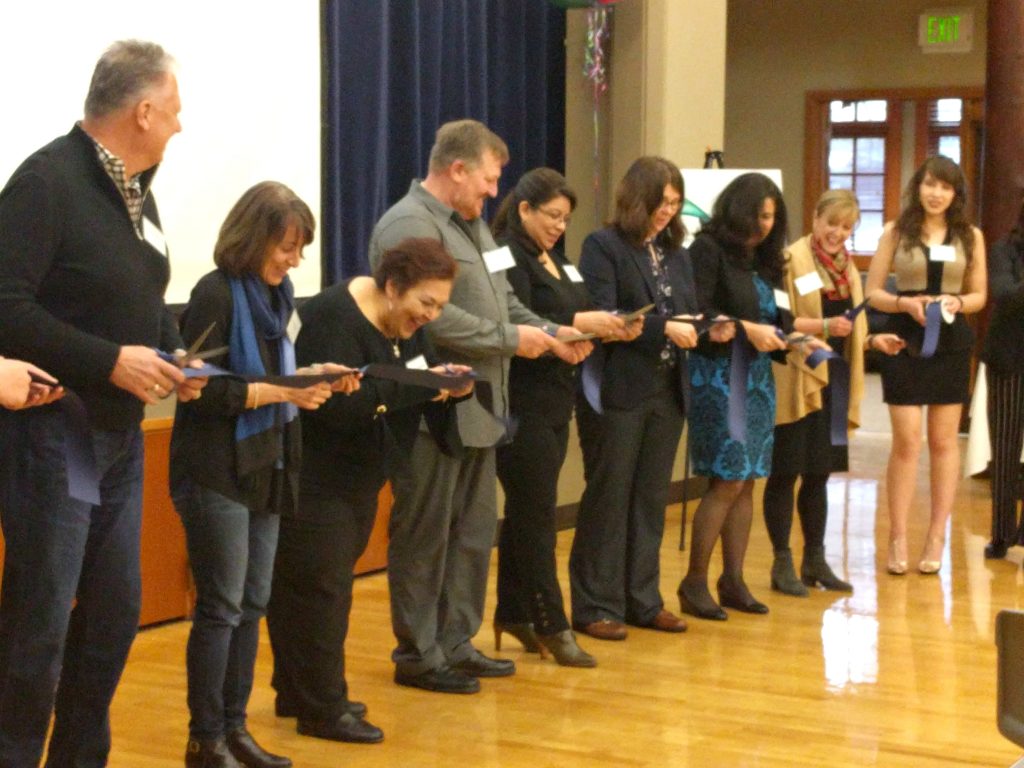 Although all eight promotores were bilingual to some degree, all training was intentionally done in Spanish.
"When talking about community issues with a lot of emotion, we needed to communicate in their primary language," Habib said. "I could see the growth of the promotores and how much more they could express and become involved when it was all done in Spanish. They gained confidence. Quite often I would ask them to speak in Spanish and get their answers translated to me in English. When you do things in a language that's not your native one, things get lost."
"That was one of the most critical success elements — everything in Spanish," said Eastside Pathways Executive Director Stephanie Cherrington. "That became such an important value to getting people to open up. There is this propensity at American events where we have translators there. Well, why don't we have the events in Spanish and then English translators? It really does shift the environment of the gathering and the engagement of individuals in attendance."
Training the promotores
The Promotores Project trainer and project lead is Mercedes Cordova-Hakim, a bilingual community organizer, educator and advocate for marginalized communities. For more than 30 years, she has developed and promoted this model in Mexico, in California and throughout King County, particularly in migrant camps and immigrant and refugee communities. Until this past October, she was the SOAR early learning program manager, where she oversaw community-driven projects that engaged more than 50,000 families and trained more than 500 promotores.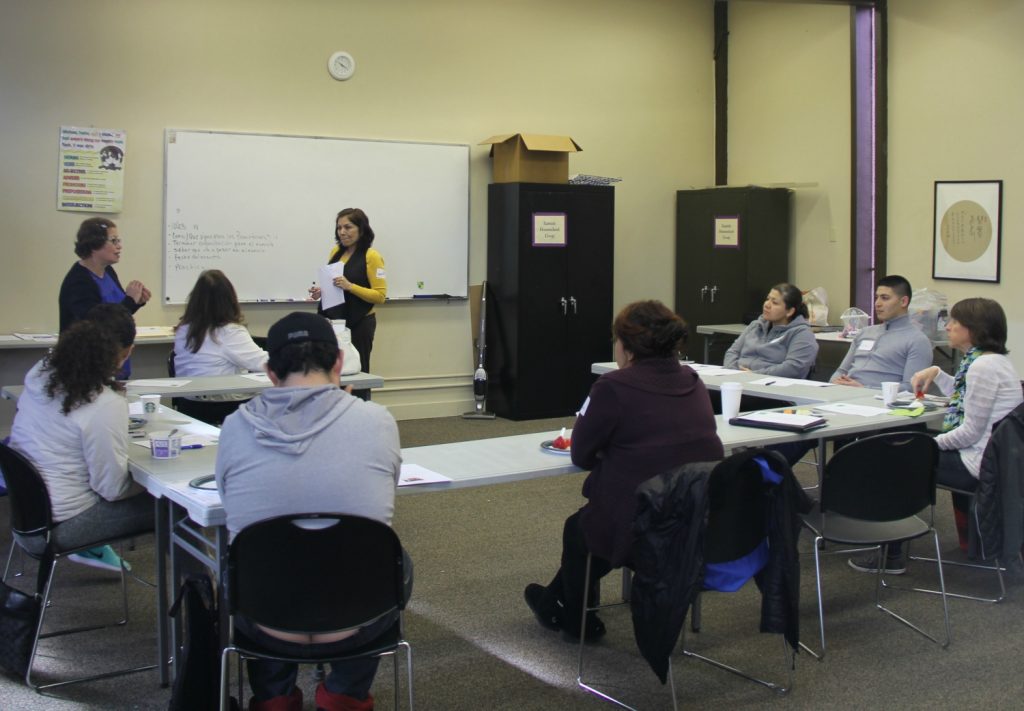 During the past 10 years, 675 promotores and liaisons have been trained and certified in this model, Cordova-Hakim said, which focuses on developing knowledge and skills in culture, parenting, education, health, special needs and civic engagement in 12 languages and three Mexican indigenous dialects. The model is currently being replicated in Mexico, Spain and other communities in Central and South America.
"My highest motivation comes from the quest for a better understanding and responsible practice of equity, race and social justice," Cordova-Hakim said. "I firmly believe that when community members are motivated, engaged and valued, they significantly become more productive and potentially live a healthier life. When members of the community are presented with the appropriate set of opportunities and resources, they can experience and see how their contributions impact both their lives and that of each child, youth and family in their community."
Mentors
Edilberto Flores (Jubilee REACH)
Alma Gonzalez (Eastside Latino Leadership Forum)
Cecilia Martinez Vasquez (city of Bellevue)
Nahyeli Mendivil (Eastside Pathways)
Eastside Pathways ensured other bilingual people at partner organizations were part of the project to support and mentor the promotores and contribute to the conversation. The mentors also were instrumental in doing translations, including for printed materials.
The promotores were paired with mentors, who also participated in the training sessions. Lessons included core values, leadership skills, how to do outreach and approach people, and how to hear different opinions and voices. The promotores looked at data for the school district and the city of Bellevue — outcomes for Latino children and families — so they could understand why they were doing this work.
"During the training, the most challenging was adapting my dialect of Spanish to speak with people from other Spanish-speaking countries on sensitive topics," Londoño Quintero said.
Paulo Perez Medina, one of two male promotores, shared that "all parts of the training will help me do my job as a promotor, especially recognizing myself as a leader and the focus on the community."
The promotores were involved in their community already as Bellevue School District parents, Highland Village residents and/or participants with Jubilee REACH or city of Bellevue Wrap Around Services.
"Educational inequity exists in our community, but other things exist that get in the way of it, like health care and housing," Habib said. "The trainer encouraged us to make sure we didn't just focus on parents, because we wouldn't get the full picture. We also tried to get a cross-section of home country. We tend to lump together everyone who speaks Spanish as the same nationality, but we had diverse representation there."
Giving Latinos a voice
After completing a two-hour orientation and 14 hours of training, the promotores developed and conducted a survey asking community members about issues around education, health care and housing. They also identified current levels of knowledge in areas of high interest and need within the community.
They conducted the communitywide assessment of the Bellevue, Redmond and Kirkland Hispanic/Latino community in October and November 2016, with results shared with the community in spring 2017.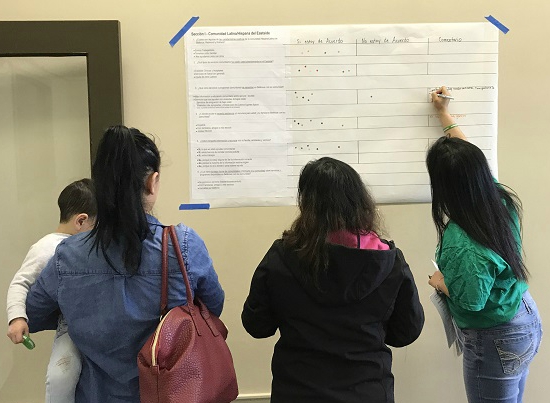 "The Promotores and their mentors really developed what questions they wanted to ask," Habib said. "If you had asked me to design it, I would have asked entirely different questions and it wouldn't have served the community as well. It's really key that they played a role in asking the right questions to get open-ended answers and authentic voices."
Each promotor collected responses from 20 community members through in-person, one-on-one meetings where they asked questions and took notes. It was a huge effort to translate everything into English for analysis, but well worth the work, Habib said.
In April 2017, the promotores and many volunteers celebrated with their families and community members at an event at Jubilee REACH. The promotores designed the event, which drew 100 people. They shared survey findings and received additional input on opportunities and needs of the Latino community in Bellevue and the greater Eastside. There was also a resource fair, where providers gave information in Spanish on housing, health (mental and physical), legal services, programs for youth, education and social services.
At the event, each promotor partnered with a mentor and displayed a big poster of the survey findings in Spanish. Attendees visited different rooms and interacted with presenters in small groups.
"We did learn in the Latino community that personal relationships are extremely important," Habib said. "One-to-one dialogue is better."
"The whole idea of the promotores model is to have the community create and lead the work that's important to them," Cherrington said. "When we started this, we had no idea about the survey. That was not the goal at all. The promotores came up with the idea of really needing to understand and formally document what's important to the community and community needs."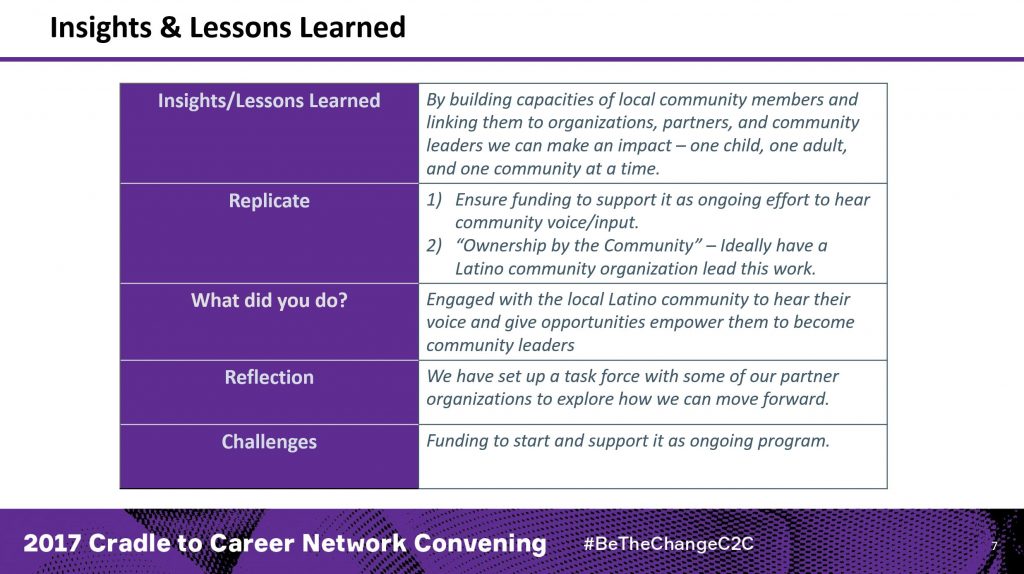 What's next for the promotores
In fall and winter 2017, Eastside Pathways was having conversations with leaders and residents to find a permanent home for the Promotores Project. In January 2018, that happened with the official launch of a new Eastside organization, the NISO Promotores Program. More than 50 community members and Eastside Pathways partners attended its grand opening at the Highland Community Center in Bellevue.
"This is a tremendous accomplishment and step forward by a very passionate, dedicated set of community members," Habib said. "The majority of the promotores have been involved in the formation of this new organization."
NISO's principal and director is Alma Gonzalez, who was a mentor for the Promotores Project. Gonzalez has spent the last six months convening community members to develop a mission, vision and set of services that NISO will offer to the community. Supporting her in this work is an advisory council whose members share the vision of "creating opportunities to promote self-development and stronger, vibrant, diverse communities" through the use of the Promotores model.
"In the more than a decade I've been volunteering in the Bellevue area, I have seen and been part of many different efforts to try to serve the Latino community," Gonzalez said. "By far, the Promotores Project has been the most effective. I learned that when you approach members of the community in the right way by providing fair opportunities and helping them to regain their confidence to advocate for themselves, they can improve the community at large. I feel inspired — and I am ready!"
Key takeaways
Value voices from the community. As members of minority (immigrant/refugee) and underserved populations, the promotores are in a unique position to use their cultural knowledge to engage with community members authentically. The understanding and trust they built allowed them to better address unmet social and health needs in their own community.
Think about diversity from all angles. There's a tendency to group all Latino/Hispanic individuals as the same nationality. Eastside Pathways worked to ensure diversity across home country to include many voices across the promotores.
Language matters. Conducting trainings in Spanish allowed promotores to be more confident and expressive. Rather than translating from English to Spanish, prioritizing the community's native language changed the environment and engagement at events and in conversations.
Top survey findings
The promotores surveyed community members by asking open-ended questions on a range of topics. Here are some of the key learnings that emerged:
What are the strengths of the Latino/Hispanic Community? The top three answers were community unity, family and hard work.
What community services and/or programs are needed in your community? The top three responses were mental and physical health services, community programs and out-of-school programs for children/youth.
Housing: Over 80 percent of respondents said they felt like there is not enough accessible and affordable housing, and 90 percent reported issues with current housing.
Education: Two-thirds of respondents indicated they wanted relationships between the Latino community and the education system/local schools to be strengthened. Specific improvements needed included better communication, more events focused on the Latino community and in Spanish, and increased cultural sensitivity from school staff.