'We cannot do this alone'
The City Heights Partnership for Children rallies organizational partners, community members and parents to break down barriers for kids.

Bags were filled to the brim with educational goodies — crayons, pencils, flash cards, books, scissors and magnetic letters. More than 30 parent volunteers were ready to distribute these "Ready for K" toolkits and teach fellow parents about preparing their children for kindergarten.
The initiative started in 2013 in San Diego's City Heights neighborhood as part of United Way of San Diego County's (UWSD) local cradle-to-career partnership, the City Heights Partnership for Children (CHPfC). Parent volunteers, or promotoras, hosted "Ready for K" workshops during kindergarten registration and the early spring. Already, they have helped 1,200 families in the community understand the importance of kindergarten readiness and parent engagement, as well as given them the tools that they need to make it happen.
"Parent engagement has to start in preschool, and if not, we lose them," said Michael Martin, who is a promotora at his daughter's school, John Adams Elementary. "(We tell other parents,) 'Commit yourself to this, because this is just the beginning of what your child will need.' "
In a neighborhood with a high percentage of immigrants and refugees and 10 elementary schools, roughly half of incoming kindergartners speak a language other than English at home. At Central Elementary School, nearly 75 percent of students identify Spanish as their first language. This makes the promotoras, who are often bilingual volunteers, even more important, Central Elementary School Principal Elizabeth Castillo-Duvall said.
"When (the training) comes from another parent, it feels more supportive than if it was coming directly from the school," Castillo-Duvall said. "My message to parents is 'We cannot do this alone.' The time they invest in their own children benefits all of us."
In 2013, fewer than half of the neighborhood's third-graders scored proficiently on the state's reading test; proficiency rates were even lower in elementary schools with higher populations of English language learners.
Looking at the data, Partnership for Children found that incoming kindergartners often lacked basic literacy skills needed for kindergarten readiness and early grade reading. In response, the partnership convened its early literacy partners to create the "Ready for K" toolkits and workbooks, written in English, Spanish, Somali and Vietnamese.
"We talked with our partners about the tools they use with families that focus on what kids need to learn, such as letter names, sounds, numbers and colors," Director of Partnerships Tia Anzellotti said. "Kids also need to be read to and should know how to write their names."
The toolkits were created by the partners, including Community Housing Works, Words Alive, the San Diego Library and the San Diego Council on Literacy, and funded by The Parker Foundation and UWSD.
"We pulled together things that people were already doing and aligned them to the effort," Anzellotti said. "It was great to see the partners come together and understand that their collective effort was going to be much more impactful than their individual, isolated efforts."
Ensuring leadership and community are on the same page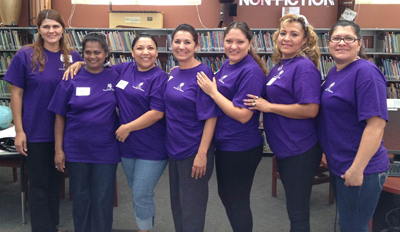 CHPfC started when several curious San Diegans attended a Collective Impact Conference at Stanford University where StriveTogether Managing Director Jeff Edmondson spoke about the StriveTogether Cradle to Career Network.
"His cradle-to-career comments really stuck with them," Anzellotti said. "They came back to San Diego and started talking about how to make it happen."
Edmondson followed up with those colleagues to talk about starting a collective impact partnership. Through support from Price Philanthropies, The California Endowment and United Way, the group pulled together funding and fulfilled the backbone function.
From there, starting the partnership was not an easy task, according to partnership administrator Torrey Albertazzi.  It involved long hours in school cafeterias, parent centers and libraries to build trust with skeptical parents who had seen many initiatives come and go. There were also one-on-one meetings with school principals, community-based organizations and local foundations in an effort to align the often siloed work throughout the neighborhood.
Finally, in October 2011, more than 50 parents, community leaders, partners and funders attended a San Diego Unified School District Board meeting. After listening to testimonies of Partnership for Children's vision "for every child, every step of the way," the school board voted unanimously to join the partnership and its approach to improve cradle-to-career outcomes.
Today, the partnership has five full-time staff and brings together cross-sector representatives from around the City Heights neighborhood. The leadership table is co-chaired by the superintendent of San Diego Schools and the local program manager of The California Endowment, and has a diverse membership including the police department, San Diego State University, the teacher's union, the Workforce Partnership, parents and nonprofit organizations.
Partnership for Children also convenes collaborative action networks focused on early language acquisition, preschool, early literacy, third-grade reading proficiency and an Early Warning Continuum that helps keep kids on the right track.
But perhaps most importantly, Partnership for Children focuses on engaging the community to ensure everyone is on the same page. After prioritizing data points and action plans at the leadership table, the partnership talks with community members to make sure everyone is ready to work and move in the same direction.
"It's going to be like pushing a big rock up a steep hill if your leadership table picks a priority that the rest of the community thinks should be at the bottom of the list and there's not any alignment," Anzellotti said while facilitating a panel at the StriveTogether national Cradle to Career Network Convening. "We need to find a way to balance that community voice and expertise. We really see that as qualitative data to use in concert with quantitative data."
Using data to develop targeted strategies to help students
Having StriveTogether as a strategic partner has been beneficial for Partnership for Children's data work, Anzellotti said.
"We were slow to the data piece of the pie," she said. "That's where the StriveTogether coaching has really helped us — seeing the importance of using data to inform our strategies."
Now, the partnership uses data to find and develop targeted interventions for students.
"We use data on a high level to see where there might be needs and what the trends are, but then we bring it down to the individual students to consider how we can make an impact," Anzellotti said. "Data helps us figure out the specific populations that are struggling so we can make sure the interventions help those students."
Recently, Partnership for Children collaborated with two university partners, the County of San Diego Health and Human Services Agency, local service providers and the school district to leverage college-level social work interns who, with clinical supervision, work in schools to provide specific interventions to students that the data identify as "starting to slip."
Ten interns are placed in four pilot schools, working directly with principals, staff, struggling students and their families to figure out what is needed to get kids back on track. Some may need academic support, while other families may need assistance outside of school.
"We're using the data to carefully track which interventions students and families are linked with to see what works," Anzellotti said. "If a majority of the students who are slipping have families that are struggling with housing or food, perhaps our network needs to look at those issues."
"We're using the data to carefully track interventions to see what works" #CHPfC http://t.co/EKeG8iCLGq @liveunitedsd pic.twitter.com/nVHRApzgll

— StriveTogether (@StriveTogether) May 15, 2015
The program launched in October and the partnership has been diligently using continuous improvement to make adjustments and modify the work to ensure better outcomes.
"It's a great, concrete way to illustrate collective impact for people," Anzellotti said. "We were able to tie it all together as the backbone and people can see that."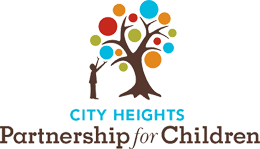 The City Heights Partnership for Children brings together leaders from the education, health and human services, nonprofit, business, civic and philanthropic sectors to improve outcomes for young people in the urban core of San Diego. Partnership for Children is focused on generating results through collaborative action, the effective use of data and the alignment of resources that work for children and students. Partnership for Children is an Emerging member of the StriveTogether Cradle to Career Network.